Belvederes
RADOVAN BELI MARKOVIĆ, WRITER FROM THE VOYAGER'S BRICKYARD, OLD-STYLE CAVALIER
The Wounds We Live From
Belo Valjevo, Lajkovac, Gornja and Donja Psača… are his wounds, for which, as he says, he doesn't search for herbs or medical books. He knows that as long as his wounds are alive, he will not die. We need people with visions, not clogged visors. With a pencil or without it, here or there, in dream or reality, writers are slaves of their story. With the Creator's mercy, he says, he proudly lives in Serbia. He is trying, without success, to understand those who are leaving. Perhaps they are right, if everything is really in money. Although it's not
By: Vesna Kapor
Photo: Guest's Archive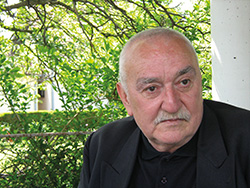 This is what this conversation actually is: talking to an old-style cavalier and a story about him. In literature. In language. A story about The Writer, as they call him in Lajkovac and, to tell the truth, even further, about how not to denounce, how to endure in this battle with the obscure flashing new era and its imperative: self-oblivion.
Our Writer warns us and shows that this is possible; it's also possible to recreate the entire new-old world, made from the new-old language. Solid. And permanent.
Radovan Beli Marković is essentially the greatest lyricist in prose. The quintessential feature of each row he writes certainly leaves our souls, restless and always hungry, completely breathless. Deeply immersed into new questions, through old sufferings.
By building his narrative threads into the hard, yet airy house of our literature, nation and language, measuring the entire time of our duration, our ancestors and those coming in the future, RBM told many of our stories, built worlds in which we both are and are not. With his language, he touches the alchemy all writers dream of: weightless, bodiless, quintessential. He leads us through worlds of wonders as if passing through ordinary rooms. Time there is a unique, yet disassembled unit; time is eternity, we are all participating in, for all times and chaotically.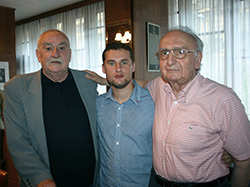 When in Lajkovac, it is enough to say: The Writer and everyone knows it is you. How did something that didn't exist for a long time happen: building such a relation towards a writer?
Writers, "wherever they walk the emperor's land", have a duty to let the illiterate walk one step ahead of them, and in no case push their books into the hands of the literate…
Writing, or literature, is the only life existing. The only place where one can gain comprehensiveness and meaning. It can be read from your manuscripts… or not?
I chose literature, first of all, as a knight's armor in my everyday tilting at windmills, and later – as a space of earthly duties, especially as a reading guard…
Your writing is not linear. Is that the symbolism of life: nothing is flowing successively, straightly?
Only Holy Liturgy is an excerpt from Eternity. Other literary works can be discussed, whereas the so-called linearity of narration can certainly not be included into style features of even a court record, let alone a good story…
REALITY TURNED UPSIDE DOWN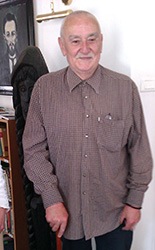 "Imaginary literate", "ambassador of dead souls"... You somehow passed to the other side of reality, like a magician who creates a new reality?
Writing, according to my understanding, is, to a certain extent, a thing of commotion of the soul and increased temperature, heating of the mind, with the knowledge that a real writer doesn't look for protection or cure for his "diseases", and doesn't keep in quarantine a single "infected unfortunate" in front of the doors of his soul… No, it's not a new reality. It's reality turned upside down.
With all this you show that there is nothing without what has already happened?
There isn't, there isn't, nor can be! The book says that everything bound to happen to us has already happened, and our ancestors are leading us through the darkness of this world… We shouldn't be ashamed of that and shouldn't look for other guides!
Serbia – Belo Valjevo, Lajkovac, Gornja and Donja Psača… Are you indicating that our personal microcosm, our homeland, can become the entire universe?
You unintentionally stated only five of the myriad of my wounds, deep and swollen. I haven't searched for healers for them, or paid for healing herbs and balms ("for a price given by the market"), or went through "medical books", knowing that as long as those wounds are alive, I will not die…
The indivisibility of the world as a spiritual category, as a mythical point of origin, sprouts from the heroes themselves, takes place around them, in locations familiar to us, but always in higher dimensions, in a new reality leaning upon and interlacing with the past?
Solid faith in a different, higher existence of Serbia, in a Serbia above clouds, kept me in these lands, among Serbs who are not masters and aristocrats any longer, but I have a sour expression on my face, often gulping with anxiety, whenever I remember that some Serbs mock Heavenly Serbia… Without it, the proud heroes of my narration cannot bow before time, renounce the "higher dimension" and settle on one of the desolated cemeteries or a local inn, "some slaughtered, some drunk" – as my compatriot, Petar Pajić, great poet, sang.
FOG FROM OUR VISORS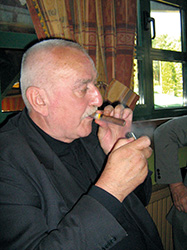 Does reality have borders and where are they?
There are no borders, but there are, in this world, idle checkpoints and idle frontiersmen. This is both funny and sad at the same time, however we shouldn't worry about it, since no one is authorized to issue earthly deeds for God's property!
Do you connect your worlds with the worlds of your predecessors, as professor Radivoje Mikić says? Why is that important?
Literature that doesn't begin with what was told and written earlier is senseless and without any stronghold. There are also, first and last, secular books, which, like the ecclesiastical ones, never grow old…
Do you think that the fog from our visors in this century can be lifted?
National leaders should be, according to the spirit of Dušan's Code, people who will raise the state as their own home, those who see through the fog and over the hills, not those who, like Domanović's Leader, take us from one darkness to another in broad daylight, stumbling upon their own feet and sticks for the blind… We are therefore in need of people with visions, not visors, because the first don't mind the fog.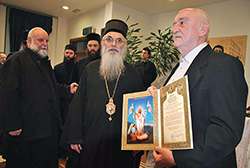 While reading your rows, we enter the meat of the story; it forms over us like a net. We encounter the picturesque world of our ancestors. Is it important, to what extent and why take the reader through such an experience?
Everything at its own time, every writer is the successor of his literary ancestors. Some debts need to be repaid… When talking about ancestors in general, our duty is to, literary-wise, leave an enlarged heritage to our descendants, so that they wouldn't pick cherries and mulberries in other people's orchards! Regarding my narration, I attempted to depict even the so-called present time to the reader as a still "unbooked" past… I hope we understood each other!
Your style is specific and your poetics is an isolated topos in Serbian literature. You play with conventionalities; you seemingly break rules, both in form and style. Grotesque, sentimental and lyrical take turns. Everything is now and here…?
It seems as an unusual circumstance, but I never thought about the details, style and poetics that feature my prose… Simply: I weave my story from colorful threads, often also from old and used ones, paying attention that the connections and knots cannot be seen… Finally, I'm not sure I can explain all that!
TRANSFERRING ONE'S "SOUL ORDER"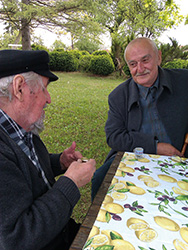 How do you write? How do you prepare for writing?
With a pencil, in bed, in small squares of recycling paper… I am not familiar with the so-called computer, but I somehow manage to transfer my small squares to it, using it only as a kind of typewriter… I don't have any special rituals when preparing to write, nothing … With a pencil or without it, here or there, in dream or reality, writers are slaves of their story!
Everything is real and everything is fiction at the same time? How do you manage it? And is it, actually, life and the world: a place where the visible and invisible touch: where everything is possible?
I simply transfer my "soul order" to paper. Whether I'm successful in it, it's a question to which, to be honest, I don't have a satisfactory answer!
You advocate the need to merge the lyrical and narrative, temporary and out of time, to have everything become one?
An end of one story is at the same time the beginning of a new one, and only in itself can a good story search for and find strongholds… So it seems to me!
The imaginary writer, R. B. Marković, shows that the world has no borders, that literature can do anything. Is it what you aspired to from the very beginning of your writing?
Imaginary writer, R. B. Marković, as a literary character, sometimes rashly identifies himself with writer R. B. Marković, thus the debts the first makes on behalf of the latter, and that is something not easy to untangle, I admit… I tried it in my novel Blue Gate, but there is still a lot to speak about … You say: "From the very beginning…" Yes, from the very beginning I aspired to erasing the mentioned borders, as well as to navigating my story. However, the story fortunately took over command and now we're here… Actually: nowhere!
ON THE OPEN SEA OF THE MOTHER TONGUE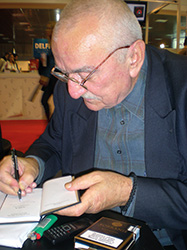 When people say: we're a small nation, our literature is small… Do you agree?
I don't agree! I never measure or count nations, while I believe literature is a general human property, just like the air we breathe!
People also say that your literary engagement has its purpose in revealing, in determining and showing the creative power of the Serbian language, its endless strength and beauty?
The peasant and royal Serbian language luckily wasn't reduced to my literary lowliness revealing its endless strength and beauty… Every writer just takes from the treasury of the priceless treasure of language, praying to God that he will also add something to that treasury, and even if he doesn't – the treasury will not be emptied, as long as there are people who speak, write and are silent in Serbian!
Uncommonness of language, plot, structure. Neologisms, in all levels, equaled with archaisms. You have been building your path in that area comprehensively and systematically?
Something of what you said can be accepted, but don't exaggerate… My literary boat is just floating on the endless open sea of the mother tongue!
What is the power of the story? When is it a story, when is it a lesson, when does it exceed the individual?
A good story is featured by the stated characteristics, but a good story, besides the stated features, must, firstly and ultimately, be good!
Homeland and patriotism – words that sound a bit empty in this century…?
Depends to whom! To some they do sound and echo emptily, whereas to me they mean a lot and I don't like them echoing…
***
Biography
Radovan Beli Marković (Ćelije, 1947). Writer. Attended school in Ćelije, Lajkovac, Lazarevac, Belgrade. He was reporter of the Valjevo newspaper "Napred" (1978–1994), political official in Lajkovac, manager of the City Library of Lajkovac, member of the boards of "Literary Word" and "Literary News".
From "Arsonist and Theresa Full of Mercy" (1976) to "Voyager's Brickyard" (2016), he wrote nearly twenty books. His selected works were published in 2012 in thirteen books. Winner of "Ivo Andrić", "Nolit", "Branko Ćopić", "Bora Stanković", "Meša Selimović", "Račanska povelja", "Žak Konfino", "Stevan Sremac", "Ramonda Serbica" awards.
He lives and writes in Lajkovac, Serbia.
***
Save Us and Have Mercy on Us
Writing then and now? Position of a writer, intellectual?
I used to write, half a century ago, young and with a pure soul, hoping that what I'm writing is important. I'm also writing now, aged, watching into the line separating this and the other world, convinced that my writings will "stop being valid" as soon as the Lord sends someone else to this world to replace me… So, in the past, when I was nothing, in literature and otherwise, it seemed to me that I was something, while now, when people around tell and prove that allegedly I'm something, especially in literature, it seems to me that my significance in the world has never been closer to zero… The position of a writer, intellectual? God, save us and have mercy on us!
***
To Leave or To Stay
Serbia! What is that country to its children, does anyone have a Homeland today?
Serbia! With the mercy of the Creator, I live proudly in Serbia! I try to understand those who say that it's no good here… I try, but I only partially succeed. Everything is, finally, reduced to money, although not everything is in money!
***
Certainly a Cradle
Do you think childhood is the cradle of life?
A cradle, certainly a cradle!