The Winner
VOLLEYBALL PLAYER MILENA RAŠIĆ, EUROPEAN AND WORLD CHAMPION, THE BEST BLOCKER ON THE PLANET
Girl Made of Gold
Born in Priština, she lived in Obilić until the end of 1999. She holds the Serbian land of Kosovo and Metohija forever in her heart, on the way from it to her. She started playing volleyball in Aranđelovac, continued in Pančevo, Cannes, on Bosporus. In all the competitions in which she participated in the past year, she was on the winning pedestal and golden. Educated, with good manners, with warlike spirit and ethics, she is still firmly upholds the values she brought from her birthplace
By: Dejan Bulajić
Photo: Archive of Milena Rašić
What a year Milena Rašić has left behind! The winner in all fields – with the national team she won the world championship, defended the title of European champion with the club "Vakifbank", won the title of the best club in the world. She is the best blocker of Europe and the world, a member of the best team of the world championship and who knows how many awards could fit into the triumphal description of the great volleyball player...
– I really could not even imagine that I would be on the podium of every competition in which I participated this year. And with gold medals around my neck. This is certainly the year that I will remember and I hope that this is just the beginning of a long series of successes, both of our national teams and the clubs for which I will play.
You went to the World Championship with the reputation of European champions. It seems, however, that neither you nor the other participants there was an impression that that the role of the favorites belonged to you?
It is certain that we were favorites on paper. There was a rumor that Serbia was one of the main candidates for winning one of the medals. However, we did not want to impose any pressure on ourselves, because it is so much easier to play like that and do our best on the court, no matter who is on the other side of the net. From the very beginning, we have sensed great success and we knew that we can do a lot this year, but we somehow kept it to ourselves.
What do you think was decisive for winning the world championship?
I would say it is perseverance. First of all, because we managed to fight to the very end, despite long competition and exhaustion. For us it was simply all or nothing, which paid off in the end. We have a great team, great atmosphere, and this is certainly one of the more important factors, in addition to the values ​​each of us has individually.
A team matures over the course of years. What has it acquired in the meantime, and what it previously lacked?
Although there have been some changes in recent years and a lot of younger girls have joined the team, we stick to the system that has existed for a long time and gives results. Yes, the team matures year after year. There are many little things missing in the game, but they are compensated by other things and we manage to cover them as much as possible. We have desire as well as motivation, and we just want to leave our hearts on the court whenever an opportunity arises for us.
THE RIPE TEAM
A good environment is the foundation of every long-term work...?
The atmosphere is important in team sports. To be here for each other, to play for each other. This is something that describes a large and successful team. Without the atmosphere, it is hard to make results. We are all different personalities but, again, we all have the same goal and we know why we are here.
Did you believe that Serbian women's volleyball could rise so high?
Honestly, I did! We only waited for the moment when we would get to the top. We always lacked very little, but we finally succeeded and I am overjoyed because of it. We mature, we are more experienced and we know how to deal with difficulties, how to overcome them as quickly as possible.
Do we have the right to hope that Serbian volleyball players will be able to remain among the best in the world in the long run?
In all world teams there has been a shift in generations. It also happened with us. But, nevertheless, we have proven that we can do a lot, both last year, at the European Championship and at the World Championship this year. Young girls who join the national team are very talented, they work hard and have a great desire to advance. There are quite a few coaches in Serbia who know their job well and I believe that many talented girls will grow up like that and quickly make it to the national team list.
Do you have the impression that sports results outmatch the conditions in which the Serbian sport functions and that a number of changes should be made in that area?
The conditions in our country cannot be compared to the conditions that Brazil, America or other major sports forces have. But, on the other hand, we have everything we need for adequate preparation before the competition. Of course, it can always be better and I hope that in the near future it will all be as it should be. Our country certainly has great sports potential.
For years you have been a sports migrant worker. And in that you have achieved great results?
This is my ninth year "across the border". I was fortunate to work with top experts from the very beginning of practicing volleyball. Also, I had more experienced players in my teams from whom I learned a lot. With my current club I have won a lot of things at the world and European level, and I would like to repeat it all. Because, as any other athlete would confirm, there is never enough of cups and medals.
TWO SIDES OF EVERY MEDAL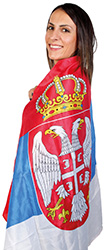 Does the game in top teams create pressure that is sometimes difficult to bear?
The pressure is enormous. From the very beginning of the season, they make it clear to you that you are going after winning every competition where you play in that season. Sometimes it does not feel good, at least to me. I have learned to simply forget the pressure and do what I love – play volleyball and give my maximum.
Do you sometimes long to rest?
The negative side of professional sport is that you must quickly forget about the success you have just achieved and commit yourself to the next challenge. Some new goals await you only a few days after winning a medal. It can be hard, because you are mentally still on that podium where your anthem is heard. You get used to it, but let's say that these are the moments that I would like to replace with some rest, when you can savor the success.
Has the experience you gained during your career justified your decision to commit to professional sports?
When you start to practice some sport while you are young, everything is much easier. You do not go to school field trips, excursions, birthdays, because you would not miss the training. This is all insignificant when compared with the fact that, when you enter professional waters, you are separated people closest to you at least nine months a year. There are periods when it feels really hard, but with age it also becomes a thing of habit. I have had the ball in my hands since y very young age, I fell in love with volleyball at the very first practice. Even if I decided to do something else, I think that it would certainly be close to sports.
Do you think that young generations understand how much of yourself you are giving to what you are doing?
They must know this before they decide to engage in sports at a professional level. It requires a lot of sacrifice, but there are also many nice things that happen to you. You get to know new countries, cultures, make friends. Like everything else, this has advantages and disadvantages. It takes a lot of effort and work, even stubbornness, so that you do not give up your set goals, no matter how many obstacles you face along the way, and there is always plenty of them.
BEING A ROLE MODEL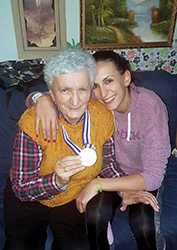 Do you feel the burden because you might be someone's role model?
It is far from being a burden. It is a great honor! I am happy to have the opportunity to be somebody's role model. Many of these children will someday be right here one day, and then they will be somebody's idols. I believe that athletes are people to whom children should look up to.
Who was your greatest support while growing up, in sports and life?
My mother. She supported me in every decision I made during my career and I am grateful to her for that. First of all, I thank her for my upbringing, the lessons she gave me about true life values.
Your family is from Kosovo and Metohija. Does this knowledge hide a special sentiment for you?
Yes! I was born in Priština and lived in Obilić until the end of 1999. I will never forget the place where I was born. I have special emotions and memories about my childhood. Kosovo and Metohija will always be in my heart.
Are you nostalgic?
I have to admit that I am. Even more so as I get older. Nostalgia is something I often struggle with, but so far I have always been a winner.
What else attracts your attention, apart from sports?
It all depends on the day and the mood. I cannot live without music. I always find it too quiet when there is no radio or some special playlist on. I like to read books and watch movies, which is what I usually do in my free time. There are few opportunities for the theater, but I try to go as often as I can.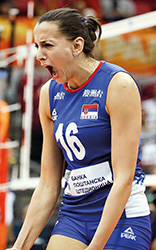 Do you like traveling and how do you feel about them?
Since my work entails constant traveling, it simply becomes a part of life. I like to travel, I like to visit and meet new places. When it is not part of the competition, I like to go around the surrounding places and just enjoy something new. It happens quite often that I have a guide to introduce me to the entire story of that place, because you can always find out something interesting there.
Do you like experimenting in the kitchen and what do you like to eat?
I am very specific about that. I eat only what I am used to eating as a child, I rarely try something new. And I would like to change that. I only cook when I have time, when I can do it in a relaxed manner and enjoy doing it. Then I turn up the music and completely lose myself in the kitchen!
Are you aware of how much pleasure sports successes bring to the nation?
Sometimes it is hard for me to believe in it until the moment we land in Belgrade and everybody in the street approach you and congratulate you. It happens that they hug you and kiss you. These are moments to be remembered. Only then you realize that these people actually follow you and cheer you with all their hearts while you are somewhere far away. This support means a lot.
***
Biography
Milena Rašić (Priština, 1990). She started playing volleyball in "Šumadija" in Aranđelovac in 2002. She played for Pančevo's "Dinamo", French "Kan", currently she is a member of the Istanbul's "Vakifbank", the club champion of Europe and the world. She has won all major European, world and Olympic medals. She is 193 centimeters tall and is officially the best blocker of world women's volleyball in 2018.
***
Friends
– Friends are sacred for me. I really have many of them, from the time when I was a kid, until the moment when I left Serbia and started getting to know new people. My dearest friends are those who have been here for me since the very beginning. From childhood and the moment I came from Kosovo and Metohija. I am generally very sociable and I like to meet new people, but no one can replace old friendships.
***
For one's Country
What does it feel like to fight for your country?
It is an incredible feeling! It cannot be described by words. It is an honor and pleasure to fight for the colors of your country!
***
Health of all kind
What is your wish for the nation in 2019?
I want them to be healthy and happy, above all! Because when we have that, everything else is much easier to get and achieve! And that we all celebrate some new successes in the coming years!