For Rereading
OBSERVING THE DOUBLE ANNIVERSARY OF MILORAD PAVIĆ (1929–2009), THE MOST TRANSLATED SERBIAN AUTHOR
Every Book Is a Virgin
He is considered one of the most attractive writers of our time, together with Borges, Eco, Márquez. He taught millions of readers throughout the world how to choose their own path through the book, not necessary from beginning to end, and that each one of them is creating his own vision, a unique item. He pulled them into a creative game, in which no one is innocent, neither the writer nor the reader. He feels as a writer of the first, not the XXI century. He despises amateurism, doesn't worry about the fate of books, and is not afraid for the unfinished ones. "An unfinished book is like life without death"
By: Mila Milosavljević
Photo: Željko Sinobad and Guest's Archive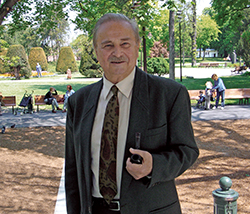 Milorad Pavić's creative biography is made of a series of varied literary and scientific achievements. He entered literature with his book of poetry Palimpsests, followed by the History of Serbian Literature in the Baroque (XVII–XVIII), studies Gavril Stefanović Venclović and Vojislav Ilić, books of stories The Iron Curtain, Horses of St. Marco, study History of Serbian Classicist and Pre-Romanticism Literature, book of stories Russian Greyhound, scientific synthesis Birth of New Serbian Literature.
He became internationally famous with his novel Dictionary of the Khazars (1984), translated into twenty-eight languages, and his fame was later confirmed with his novels Landscape Painted with Tea, Last Love in Constantinople, The Inner Side of the Wind, The Star Cape and Writing Box, Colorful Mirror, Unique Item, Bathroom Wedding, Second Body, The Glass Snail, Damascene… The series will undoubtedly be joined by the newly published Artificial Birthmark.
Observing the 90th anniversary of the birth and 10th of the death of the most translated Serbian author – in the eve of the International Book Fair in Leipzig – we are reminding our readers of the interview Pavić gave to National Review several months before his departure.
Since last summer, you are the only living writer whose bust was placed in front of the Moscow Library. How much does the unquestionably planetary popularity mean to you?
I am very grateful to Russian sculptor Gregory Pototsky, who made the bust in Moscow. He has carefully chosen the pedestal made of light-pink marble, so that the monument doesn't resemble a post-mortem bust. That monument, however, would not exist if it weren't for the Russian readers of my books.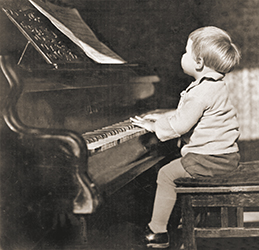 You taught millions of readers in the Serbian cultural area and throughout the planet a different way of reading, non-linear?
I taught them to choose their own path through the book. Non-linear prose is something like a buffet. If you're not afraid of the freedom to choose, you will take what you like, as much as you want, as much as you need. Non-linear writing is wonderful and joyful for a reader. It allows us not to read a novel or story only in the classical, well-known way, from beginning to end, but to choose a path of our own. All my works can be read in the classical manner, but also open a possibility of being read differently, as a dictionary, as a crossword, to be turned in the middle of reading as a clepsydra, to be understood as a manual for fortune telling or astrological guide. That means that the book is a virgin for every reader.
THE ART OF READING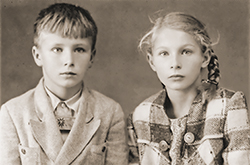 You have often written about writers' ideals. What is your ideal?
Perhaps I could say that my ideal is behind me.
You are giving the reader a very important role, not only passive?
I realized the writer-reader coproduction. Writers or composers are only assemblers of sheet music. Music doesn't exist until it's performed, played. It's the same with literature. It doesn't exist until someone reads it. I understood readers as artists and divided roles with them: I assemble the sheet music, they perform it. A reader is, therefore, a reproductive artist.
When a journalism student asks you in his graduation interview "how you find subjects for writing", what do you say?
They find me. Even now they occasionally knock on my window, but I drive them away.


Today, in the explosion of new media, many predict books an ill fate?
I don't think so. Paper books will die, because there will be no more forests on Earth to cut for making paper for books and newspapers. However, book has died numerous times and reappeared as a phoenix in an even more powerful form. It died in the bark of the tree, in stone, in scrolls, in parchments, in handwriting, so it will also have to die in its paper form. It will be replaced with electronic books. An American publisher asked me recently to publish six of my novels translated into English in electronic form, as an e-book. E-books have numerous advantages: you can take them to bed, you don't need a night lamp (because it has its own illumination), you don't have to put your glasses on (because letters in an electronic book can be increased or decreased), you don't need a book shelf in your apartment (because a hundred novels can fit in one electronic book – which, by the way, looks like any other paper book). Whether we like it or not, that is the future of books. There has never been more reading in the history of books as the case is today. Worrying about books is false. It will only share its duties with new electronic media. My involvement in interactive drama made me feel as if I'm writing in the first, not the twenty-first century.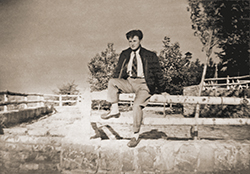 Your works are read, translated, you are awarded and popular both in your country and abroad, every step you make is followed, each of your words has a special echo. Can we say that Milorad Pavić is a satisfied writer?
Am I a satisfied writer? The world does not condone success. Besides, if you constantly have to live above your physical and medical powers, you cannot speak about satisfaction. Despite all that, I'm a happy man, because my books and the books of my wife Jasmina Mihajlović make me happy. Her books, so different from mine, always surprise me in a specific way. I especially take pleasure in meeting my readers. I receive numerous touching letters by internet or regular post from all parts of the world. Six years ago I made a file for storing the most wonderful letters from my readers.
FROM ZERO ALTITUDE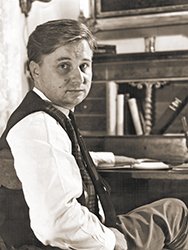 It is certainly not easy to bear the dynamics of an active creative life such as yours?
I have a growing need to travel somewhere, to take a break. However, discovering such places for resting is difficult. A reader once offered me by e-mail to use his houses in the Aegean islands. I like zero altitude most. I sometimes bring stories from such travels, such as "Two Hand Fans from Galata" from Constantinople or "The Story of Grass" from Cairo.
Which journey, which place has particularly impressed you?
Corfu. An island that has been occupied by everyone who ever had a ship. Only Turks have never conquered it. The famous Turkish pirate Hairudin Barbarosa docked his ship, tried to conquer the island, but when he saw that Greeks retreated to the cliffs, he wasn't in the mood to climb, so he took the wind and left Corfu play its music in accordance with the Venetian tune in the following centuries. The people of Corfu still sing and play music as if in Italy. Jasmina was finalizing her new book Love without Secrets, which will be presented by "Dereta" in this year's fair, and I was drinking "retsina"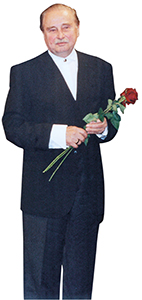 – the oldest existing wine in Europe (mentioned in the Odyssey). In Corfu I rememberedanother Greek city and wrote the story "Three Wise Waters from Ephesus". I was most impressed by the "Serbian House" in Corfu, where I remembered my grandfather who died at the Salonika Front, as well as Dositej Obradović, who stayed in Corfu three times (unfortunately, there is not a single plate stating it).
Every true artist, as well as any creative work, has a particular secret, a formula. Do you have any special form for those who are fatefully bound to books?
According to a XV century work (which is definitely much older), every book has a sentence or verse which are yours only and speak about you. Open a book randomly with your nail and count rows (verses) until you reach the one corresponding your date of birth. That is a place where the book has to tell you something personal. Never repeat the procedure with the same book. Another thing: don't worry if you sometimes don't read a book till its end. It's not bad for the book. An unfinished book is like life without death.
A BIOGRAPHY FOR EVERY CENTURY
What is your attitude towards bestsellers in literature?
One of the last sentences in my novel Second Body is: "Readers, not writers, are leading literature to the future."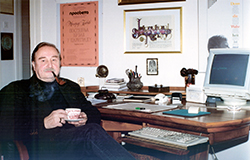 It is known that you have a very lively communication with your readers through the internet. What is it that they commonly or uncommonly write you, what are the most frequent questions?
I could say that I'm a lucky man, because I have millions of friends – readers who write me every day, more wisely than the texts I read about my books in the daily or trade press. I already said that I have a large file "Readers' Letters", which is filled at dizzying speed. I'll mention a few of the latest ones. One is from the Ex en Provence university in France. It is written by a postgraduate student, who is working on a thesis about my books, and wants to know my attitude towards postmodernism. A medical student from Smederevska Palanka wrote that he felt a wish to write while reading my books, and a Russian living in the US says that his girlfriend gave him one of my novels to read, so that he could better understand who she is. They often ask me for Serbian originals of my books. I'm sorry that, with the present state of our postal and other connections with the world, I'm not always able to answer their requests.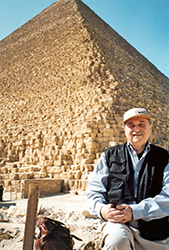 You have written your own Autobiography for the XXI Century?
If a man lives in two centuries, he's got two biographies. My autobiography for the XX century can be read on my website
www.khazars.com
. Now it's the first time I'm providing my autobiography for the XXI century. I married Jasmina Mihajlović a decade ago. She is about thirty years younger than me, but she says that, besides a biography, I also have a bibliography, and that she is over a hundred years old, because she adds my years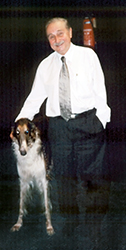 to hers. She writes novels in female language (for example,
Parisian Kiss,
"Azbooka", St. Petersburg, 2007). During the seven years of the XXI century, I published two novels,
Second Body
and
Paper Theater,
as well as a novel for children and adults, dedicated to my granddaughter Teodora. I also wrote the comedy
Bathroom Wedding.
During that time, my fame definitely moved from the West to the East (Russia, Poland, Japan, China, South Korea…). I learned another thing in my old age: fame moves in time as well. To my amazement, I won my only and dearest medal in the XXI century, "White Eagle", awarded by His Royal Highness Aleksandar Karađorđević. I had a literary evening in the most beautiful hall of Europe, "Megaron" in Athens. I spent two weeks in the most beautiful hotel in the world, "Adam and Eve" in Turkey. Instead of walls, that hotel has grass on the outside and mirrors on the inside. I have recently received
honoris causa
at the "Kliment of Ohrid" university in Sofia. It reminded me that I'm no longer able to climb Jungfrau or Grossglockner, as I have in my youth, while I was member of the mountaineering national team of a country that no longer exists.
WHEN MUSES ARE HEARD, CANNONS ARE SILENT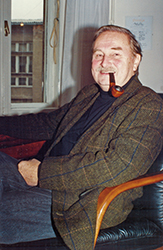 You have an army of readers. Who are your literary favorites?
Alexander Pushkin's Eugene Onegin, Bulgakov's Master and Margarita, Kafka's Trial. And a hundred of other titles, including Jasmina Mihajlović's two books Travel Album and Private Collection.
Milorad Pavić's life motto?
When muses are heard, cannons are silent.
Of all your talents, how was this specific one, which determined your present profession, singled out?
It wasn't. The Pavićs have been writers for over two hundred years. We had a poet or drama writer in every second generation, ever since the XVIII century, when one of my distant ancestors published a collection of decasyllabic verse poems in Buda, following the trend of gusle epic poetry.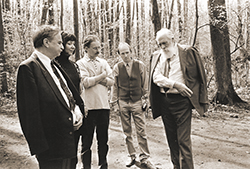 If you could, what would you change on the road you have passed?
Certain sentences in certain books. However, since I know how it ended in Dučić's case (as a disaster, he ruined his verses), I don't dare do such a thing.
Politics?
Something you should keep away from if you're not a professional (I despise amateurism).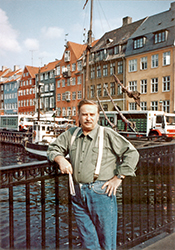 Religion?
I believe Christianity is inseparable from Christian culture and especially the artistic streams of the Balkans. When I say that I belong to the Byzantine commonwealth, as it is called today, I want to warn about the connection with Ancient Greece, which is still alive in the Balkans through epic traditions of different nations, through Byzantine tradition. In that sense, my novels are also part of that epic tradition.
You are currently reading?
An excellent book on reconnection, nothing to do with fiction.
And writing?
I have recently written my last story. That's its name. It is dedicated to a passed away poet. It wasn't published. Perhaps I'll never publish it.
***
Sounding
"I have a need, not only in case of poetry, but literary creativity in general, to read my sentences and texts out loud to myself, in order to check how they sound. I haven't learnt about sentences from writers. I learnt from Serbian XVII and XVIII century orators, especially the famous orator from Szentendre, Gavrilo Stefanović Venclović, one of the greatest stylists of Serbian language. Therefore, I have learnt sentences intended to be spoken out loud in church or other public place, not written and read by the eye. Such sentences have a rhetorical charge, a rhetorical base."
***
Theater
Pavić entered the XXI century, as he says, through the theatrical scene. Many plays based on his literary texts were performed in the past years, starting with the "Dictionary of the Khazars". A multimedia version of the famous novel was performed in the Prague Theater. A theater from Augsburg is performing the same play. The drama "Forever and a Day" was staged by the Moscow Art Theater (MHAT) and a theater from Voronezh. The St. Petersburg theater "Osobnjak" is playing the "Lexicon" (a version of the "Dictionary of the Khazars" in commedia dell'arte style)…
***
Artificial Birthmark
The latest novel written by Milorad Pavić, "Artificial Birthmark", published by Matica Srpska from Novi Sad, recently printed for the readers, includes two more novels of the same writer ("Glass Snail" and "Damascene"), as well as a CD with a Greek film about the life and work of the prominent writer. The novel, as the writer has revealed us, speaks about the fact that, at one of the crossroads in our life, we are forced to choose our future, this or different one, depending on our decision in the critical moment. The book reflects both futures, following the main character on both roads after the crucial decision.
***
Autumn
"A conference about my books has recently been held in the Rača Monastery on the Drina, within their permanent manifestation. My 'Short History of Belgrade' will be published this autumn in Russia, translated by Larisa Savelyeva. I have contracts with European and Asian publishers for a series of my books, and Matica Srpska will publish a book about the reception of my books in the world. Since there are about 40 translations of my books into foreign languages, it is a really big job."