Inscription

BOSS-MAN KLIME, OF THE OLD SOUTH SLAVIC KIND
Ohrid Original
He is a bon vivant, collector, with degree in physical education, violinist, hotelier and caterer, traveler, master of good atmosphere. "It is all about timing", he says. "Intuition and inspiration are complementing each other with me. Even in work, I follow emotions rather than rational analyses"
By: Mišo Vujović
I met him about ten years ago at the Belvedere Tavern in Ohrid. At that time, I still did not feel at home in this ancient city, with the patina of centuries, good energy, bright and hospitable people. People who are above all cheerful and friendly. A winter Saturday, relaxed night. People had dinner, chatting over every bite. First, rakia, as an overture, with a mandatory salad, sometimes two or three shots of žolta or mastika, then the menu starts as a music repertoire. Stuffed or crumbled. A little bit of everything, from the heart, with enjoyment. Like always, the temperature on that Saturday evening would bring to the boiling point by Klime, the boss, the hero of this story, one of the most original locals or living symbols of Ohrid.
The jolly crowd at the big table was led by a grey-haired gentleman almost in his sixties, with a compact body, benign bohemian face, boxing nose, green-blue eyes.
Two musicians played for him. A violinist was sitting on a chair placed on the table. He decorated them with denars rolled in cones, sticking the notes between the strings. He led the musicians from the Adriatic, Neretva, Drina, Ibar, Morava, to Vardar, Ohrid and Bitola...
The bohemian "Zone Zamfirsko" made the whole restaurant stand on their feet... Tozovac, Toma, Cune, Zafir, Usnija, Nedžad, Halid Bešlić alternated. (Ivica Dačić did not yet perform at that time.)
Klime or Četkar, as they call him, surrounded by music, in the ambience where he was the true master, with his dynamic movements for a moment resembled a conductor or, even better, a temperamental director-perfectionist who makes the actors start over until he gets the perfect scene.
INTERPRETATION OF KARASEVDAH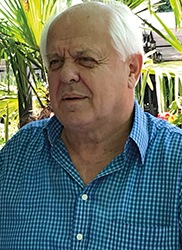 I left Ohrid then, nostalgically filled with this fine energy of hospitality and the Balkan mishmash, in which everyone grabbed something from someone else, enriched them with his spirit, painted them in other colors, accelerated or slowed them down with his temperament. There were, at this wannabe Tourism Fair gathering, a lot of mentally costumed people full of prejudices that melted already on the first evening at the reception in the luxury hotel "Ineks Gorica". From Serbia, the unavoidable Bata Hores with an entourage of acrobats of tourism and adventurism and General N, called Multislice Scanner. There was also the always enigmatic Ragin, a Bulgarian, former high security officer, now a successful hotelier, then Marko – a nice representative of Montenegro, energetic Dončo from Ohrid – president of hoteliers of Macedonia, two handsome Bosnians and several mixed Albanian representatives of hotel industry from Kosovo and Metohija and Albania.
All those experienced entrepreneurs of tourism, hospitality and hotel management remained outshadowed by Klime the Boss and his performance, but also the organized feast that is rare to find.
Klime is a fan of old things, a passionate antiquarian who brings items from various parts of the world for a collection exhibited in his hotels and taverns.
He played violin so passionately that he used to greet his wife, then girlfriend, Ljiljana, with those silky tones at the Ohrid Promenade. He enrolled in the Faculty of Physical Education in Belgrade, completed it as a regular student to reassure his suspicious father about his mischief, played in the military orchestra into the ear of General Mamula, knows half of the old Yugoslavia, and there is almost no significant place in the world that he has not visited.
"It is all about timing. Intuition and inspiration are complementing each other with me. Everything I do, a lot of things including work, is with me a matter of emotions, not rational analysis. When I drink, I do it devotedly and responsibly towards this act. That what always makes good atmosphere", says modestly, as we sit in the beautiful garden of my blood brother Goce, an Ohrid socialite, also a man of a broad soul, a master of good atmosphere.
When I organized a bus of journalists and tour operators from Serbia nine years ago to visit Ohrid, along with a magnificent welcome and the entire stay, an unforgettable party was organized by, who else but Klime.
A bit tired after a day-long tour of the city, we dined with soft tamburitza music, and many only waited to be evacuated to the hotel and to sink in the pillow. This chamber ambiance of fatigue, drowsiness, and moodiness toward the end of the dinner is broken by Klime – leading the trumpeters.
The sound of the famous "March on the Drina", with which the Serbian Army performed in World War, One not only awakened those present, but it also created such havoc, in which everyone participated without exception, and the music was enhanced by five more tamburitza orchestras. Naturally, the main tune-giver and conductor was Klime, a great fan and frequent guest of Belgrade.
"I miss that fat greasy burek and cone-shaped PKB yoghurt!"
"Nostalgia of youth, Klime", Master Mitke would say, brought back to life by Klime in his bohemian performances:
"Do you know what karasevdah is!? The heavy, enormous karasevdah!? Here, you grow old, haven't lived enough, haven't sung enough and haven't loved enough. The road is wide, straight, imperial. Horses, caravans, gardens, fountains scattered around it. The moonlight is warm... Martinka is in my lap, the horse, my Dorča, walking one foot in front of the other, and musicians, who I hired at the tavern, walk behind me on foot. They sing and they play for me."
***
Proverb
Once you get to know Klime well, you understand the folk proverb: "Do not sing through Bosnia, do not dance through Serbia, do not sing or dance through Macedonia!"