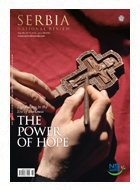 SERBIA - National review, No 72

Prologue
"Where is the life we have lost in living? Where is the wisdom we have lost in knowledge? Where is the knowledge we have lost in information?" Networked from the outside and from the inside, we can hear these Eliot's words from somewhere, but we discern them less and less. In the chapters of books on network wars we recognize descriptions of our own everyday lives. We see detailed lists of destruction to which the Serbian society, the Serbian state is also exposed. It is high time that the best among us deal with strategies, tactics and defense practices. The new edition of National Review is here as one of the answers to open questions and closed roads. <



CONTENTS
Prologue
APPROACHING THE BOOK FAIR IN LEIPZIG
Introducing Ourselves
Vitrage
NUMBERS, EVENTS, INTERESTING THINGS
Album
APPROACHING THE GREAT SERBIAN JUBILEE
Eight Centuries of the Church
Heritage
A SMALL REMINDER FROM THE HISTORY OF SERBIAN BOOK (1)
Lighthouses in Times of Darkness
Those were great feats, first-class cultural heroism. In almost impossible circumstances, in the XV and XVI century, at the time Serbian lands were under Turkish slavery, Serbian books were made in printing houses in Cetinje, Goražde, Venice, Rujan, Gračanica, Mileševa, Belgrade, Kosjerić… There is not a single copy among the forty-odd known titles from that time without traces of several centuries of use. Serbs were the only enslaved nation in the Ottoman Empire who printed books, expressing a higher cultural, spiritual and technological degree than their invaders
By: Predrag R. Milovanović
Visionaries
SMALL CONTRIBUTIONS TO UNDERSTANDING SERBIAN CULTURE AND SPIRITUALITY
Five Great Men
The first gave legal status to the Serbian church and consecrated the state, placing the Serbian foundation in the Holy City. The second performed the greatest "conservative revolution" in Serbian culture, at the end of the time of slavery and darkness, returning the resurrected nation to culture and culture to the resurrected nation. The third wrote the timeless epic of Serbian survival and ascension, dreaming of Prizren, Peć and freedom. The fourth made discoveries stretching into the secret of the creation of the world. The fifth mathematically expressed the heavenly and divine mechanics, enlightening eons. (…) Those who don't perceive them will hardly perceive anything important in Serbian culture and spirituality
Anniversaries
SOME IMPORTANT DATES IN SERBIAN LITERATURE 2019
To Stop and Remember
It will be exactly a century since the publishing of the "Lyrics of Ithaca", a milestone collection of poems by Miloš Crnjanski. It is the 70th anniversary since the death of Rastko Petrović, 30th since the departure of Danilo Kiš. One hundred and twenty years ago, Rade Drainac was born, ninety years ago Aleksandar Popović. Through their literature and fate the depths of the centuries open up before us, especially the 20th, filled with noise and cries. And we understand again why it is the feat, beauty and shame that will save the world
By: Vesna Kapor
For Rereading
OBSERVING THE DOUBLE ANNIVERSARY OF MILORAD PAVIĆ (1929–2009), THE MOST TRANSLATED SERBIAN AUTHOR
Every Book Is a Virgin
He is considered one of the most attractive writers of our time, together with Borges, Eco, Márquez. He taught millions of readers throughout the world how to choose their own path through the book, not necessary from beginning to end, and that each one of them is creating his own vision, a unique item. He pulled them into a creative game, in which no one is innocent, neither the writer nor the reader. He feels as a writer of the first, not the XXI century. He despises amateurism, doesn't worry about the fate of books, and is not afraid for the unfinished ones. "An unfinished book is like life without death"
By: Mila Milosavljević
Oases
TOPČIDER, A PARK IN THE VALLEY OF CANNONS, SINKING BEFORE OUR EYES
Saving What Can Be Saved
In the XVII century, Evlija Čelebija called it "the heavenly part of Belgrade". This is where Miloš the Great built his home and ended his life in 1860. Isidora Sekulić is still watching over this park. Trees and plants for it were brought from faraway lands. (…) The park has been neglected lately. Trucks are roaring through it. Every year, the same number of reputable trees and reputable Belgradians disappear. New wide thoroughfares are planned. (…) But what will happen with those for whom this is an important part of homeland and biography?
By: Dragan Lakićević
Paths
IN THE SERBIAN SHOPLUK, FROM VLASINA AND CRNA TRAVA TO SMILOVSKO POLJE
Old Knowledge and Crafts
They humbly state that they are "beautiful and smart, nothing you can do about it". They are masters in building, making cheese, preparing lamb, dancing kolo. The Shopian Salad is famous afar. They have four ways of drinking rakia, as the case may be. They are in communication with the deeper Slavic layers of the Balkans, especially through music, language and legends. Nowhere do kaval and bagpipes sound as they do here, where even flocks listen to music. In Bulgaria they are considered Serbs, in Serbia Bulgarians
Text and Photo: Dragan Bosnić
Bastions
CRIMEA, ON THE BLACK SEA, WHERE RUSSIA TOUCHES THE SOUTH
Resoluteness Leads to Holiness
Great questions arise before the observer here in Crimea, on the shore of this sea. About Russia, the Empire, Slavic Ukraine, identity, ideals. Great questions and great inspiration. This is not a battle for individual national and economic interests; it is part of the epochal war for the Continent and the Heart of the World. For divine law, against the demonism of money. We reject skepticism and renew our faith. Faith in our own strength inspired by the Lord. A great man with clear visions, a monarch who creates the Empire and returns the divine feeling of life into people, is the one people are waiting for. The wished one. The one being created
By: Dragan M. Ćirjanić
Life, Novels
PREDRAG DRAGOVIĆ, PAINTER AND SCULPTOR, SEARCHING FOR ARCHETYPES, CONSTANTLY ANCIENT AND YOUNG
Looking up at the Mountaintops
Only the worst of the worst can negate their fathers and ancestors. Fake knowledge has always been more dangerous than ignorance. Montenegro is the libertarian Serbian Sparta. The union of three evils and two wicked ones cannot deny it in the long run, just like dwarfs cannot hide Njegoš and Lubarda. Saying that Kosovo is not Montenegrin fatherland, hey! There were artists in different epochs, who artificially increased their significance, but time, the masterly filter, erased all of them. Certain people, who are building and decorating Serbian churches today, including some bishops, have fallen into kitsch and have nothing in common with the aesthetical values of St. Sava. And the "holy scale" is waiting for us where it has always been
By: Branislav Matić
Arena
MILORAD DOKMANAC, PHD, SELECTOR OF THE WRESTLING NATIONAL TEAM OF SERBIA
By the Power of the New Generation
Last year was the crown of the fifth generation of Serbian wrestling, with champions such as Štefanek, Fris, Maksimović, Nemeš, Kadžaja. We do not forget the previous giants, says the selector, but this is the best generation in the history of this sport in Serbia. From 1992 to 2002, we won only one European bronze and remained average. And in 2018, we came to the point where, in two big events, the World and European Championships, Serbia won six medals
By: Dejan Bulajić
Inscription
BOSS-MAN KLIME, OF THE OLD SOUTH SLAVIC KIND
Ohrid Original
He is a bon vivant, collector, with degree in physical education, violinist, hotelier and caterer, traveler, master of good atmosphere. "It is all about timing", he says. "Intuition and inspiration are complementing each other with me. Even in work, I follow emotions rather than rational analyses"
By: Mišo Vujović
Examples
AWARD TO RUMA FOR OPENNESS AND TRANSPARENCY IN WORK
Constant Participation of Citizens
This local self-government has been systematically applied transparency in its work and encourages the citizens to get involved. Citizens have important influence on the creation of the budget and deciding which projects would be supported. Over the past four years, over twenty ventures have been achieved in this way, in urban and rural local communities. And the award within the project "Improving Good Governance at the Local Level", supported by the Government of Switzerland, confirms that this has been recognized
Recognitions
GREAT GLOBAL AWARD TO "MERKUR" FROM VRNЈAČKA BANЈA
The Best Traditional Spa Resort
The award is given by the "Travel and Hospitality Group" from London and "Merkur" received it in the category "Best Traditional Spa of the Year". Among the laureates are institutions, companies and individuals from six continents. The award shows that the European market continues to highly value the quality of "Merkur"