Heights
ON THE BISTRICA SPRING IN DONJE LIPOVO, UNDER LUČKA GORA, IN THE FOOT OF SINJAJEVINA
Clear Eye in the Stone
There, on a thousand meters altitude, in the immediate vicinity of Kolašin, everything gives fruit: vegetables and fruit, peony, avocet, daffodil, even people. "When you drink that water, you feel as if you were reborn." Life is too short to stay there too long. The Bistrica gives you what you need, it was no accident we were born there. Now an uninvited and ungrateful guest arrived: Progress. Some powerful people, with money, their own and others', came to enslave and muddy the Bistrica
By: Dragan Lakićević
Photo: Vedran Vujisić
A clear eye in stone
Open for eternity
With a fourfold kiss of a stick
Vasko Popa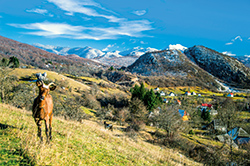 When are we going under the Vrelo (Spring)? – people used to ask for ages.
When a guest arrives to our mountain log homes covered with straw, we run to the pen, grab a lamb and skin it on the plum tree behind the house. We light a fire. Bring a ten year-old rakija. Take out towels and white sheets with basil from the chest... A guest is someone who brings something holy with his arrival.
While we offer him food at the table, the biggest possible treat is: to go under the Vrelo... And tomorrow, God help us, we're going under the Vrelo...
The Vrelo is a large spring of the Bistrica (Clear Water) river in Donje Lipovo, under Lučka Gora, a branch of the Sinjajevina mountain.
Small villages the Bistrica flows through are called Bistrica and Divno Brdo (Wonderful Hill), and the meadows between the Bistrica and Plašnica rivers – Sredorijeka (between rivers). There is also Jošanica – alders grow in groves and forests around the water... There are also Blatina and Rujevik. ("I will not fence the cemetery, even if tomorrow everyone in it rise and start climbing up Rujevik!")
There, on a thousand meters altitude, in the immediate vicinity of the city of Kolašin, everything gives fruit: fruit and vegetables, peony, avocet, daffodil, even people. Yarrow, poplar, lenten rose, wild tea... All of it fed and spread by water from the Bistrica Vrelo.
GAMES AND STORIES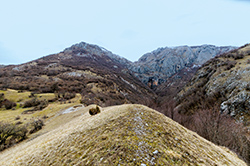 It is not easy to reach Vrelo. First you walk up the hill from our houses, to Donji Podovi (Lower Floors), then to Gornji Podovi (Upper Floors), then to Šušića Glavica (Šušića Head). (Football is played on the Donji Podovi plateau, and shepherds' games klis and plovka on Gornji Podovi. Trinte or petkaši (the game with five round stones is elsewhere called piljaka) – everywhere. Loose horses are running and storming around with their unfurled tails... Boys are secretly "catching" horses and riding them without saddles, holding their mane – imagining Boško Jugović. Fires are lighted in Šušića Glavica on holidays, and Šušića Kamen – a rock resembling a modern sculpture, wandered from the time of the creation of the world, is seen in Zdravko Velimirović's film Lelejska Gora, based on the novel by Mihailo Lalić.)
Everything is memories and legends.
While walking to Vrelo, a long, long time ago – as the Bistrica people tell – Minjo Petrov met a beautiful girl (he never asked who she was) and she took him somewhere. He was gone for three months – they looked for him, called him day and night, searched the mountain to Jablanov Vrh peak, went down into ravines and chasms – but couldn't find him anywhere. Then, one day, when people had already mourned him, Minjo came in the morning and told them how he went to a country where beautiful women and beautiful people live, but that he was told that he mustn't tell anyone what he had seen there, because if he did – he would never see them again...
One story follows another...
DEPTH AND HEIGHT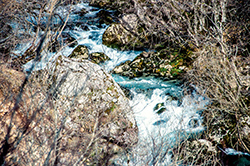 Šušića Glavica rises above the Bistrica canyon. Leaning over the beams, into the depths, is dangerous.
From there, you go upstream towards Vrelo, up a wide rift flowing forward to us, from the spring to the place where the water branches – one for each small village. Crops are irrigated with that water according to a determined order – that is why potatoes weighing a kilogram are born, pričak beans, fast ripening corn.
The water is drinkable in all the streams.
You have to walk a long way upstream the rift – a hill is on the left side, and a steep slope and falling into the canyon on the right. That is how you reach "under the Vrelo".
The water is the cleanest in the spring, arriving from the depth of the mountain and enormous rocks. A vertical cliff, which seems to reach the sky, is above the Vrelo. Under the rock is a cave with high ceilings – a two-storey building could fit in it, and a small lake in the depth of the cave – the water flows over the rocks and runs: the Bistrica.
The water from the deep depths is ice cold, therefore it is cool under the cave even in the middle of the summer.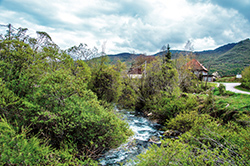 An untouched lake is under the stone dome: a spring of purity and clearness...
A vault made of white rock – foundation of the Sinjajevina, is above the small lake. Bistričke Grede. Traces of smoke: fire used to be lit here. Hayduks, fugitives, pilgrims... This is where people found shelter from bombing and deadly roaring of airplanes during the wars – an entire village could have been placed here.
Footsteps engraved in the rocks – someone tried to climb to the heights, but no one remembers anyone has ever succeeded.
A small cave in the form of a gate: that is where St. Sava used to stay overnight. Whoever climbed up to it said that there is a candle and an icon in the cave. And some coins from the old times.
Smaller holes – wild pigeons.
Wild bees live in numerous openings in the rock, resembling windows. Their honey is collected there for thousands of years. Every generation has someone preparing to reach that honey – "entire Yugoslavia can be fed with it"...
SOURCE OF LIFE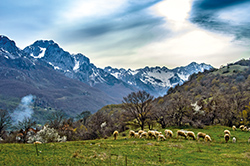 Warmed up and breathing hard from the strain and fear of height, a passenger or guest takes a rest in front of the hospitable Vrelo. The coldness of water and rock touches him, but nothing recuperates and refreshes better than the deep clearness, full of colors, shades, sparks, eternity.
The source of life.
"You can never get enough of that water." Life is too short to stay there a sufficient number of minutes, because you cannot endure long under the Vrelo – due to the cold and a feeling of the beginning of the world, duration of life. And many other feelings, including: this award is not only mine. More people will be born to see this beauty.
"When you have a drink of that water, you feel as if you were reborn."
People in Lipovo say that all waters, from the Sava's water in Sinjajevina to the small waters in Lučka Gora, from the Umukli Vir in Tara and Biograd Lake under Bjelasica - are visited and guarded by St. Sava. His stone pillow, where he rests, is here.
The Bistrica flows from the lake, downstream over shiny pebbles and colorful rocks, through its canyon, perhaps one kilometer long, or it just seems so long – through rocks, flowers, bushes, mountain plants. Purity and freshness in every step of the way.
They say that great painters are attempting to create colors of mountain butterflies. It is impossible, because the colors are created only by God. However, shouldn't we be aspiring towards the impossible?
In the small river, from its very spring, to the Janketić mill, Drašković mill and Džale's mill, near the Bošković family houses – to the confluence with Plašnica – trout is swimming. Small, fast and smart, with red and black spots. Ilija Bošković and Uncle Mali used to fish it in the middle of the winter. Only they know how they managed to reach the water through the great snow and throw their hooks... Trout is skinny in winter – there is no food under stone and ice, but you have to find it to welcome guests: that is the gift of the Bistrica, it is no accident we were born there. A bit from the mother, a bit from the land, a bit from the water – everyone has fed and gifted us with something...
UNINVITED GUESTS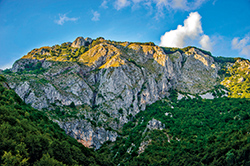 But now an uninvited and ungrateful guest arrived. People from our lands have always been afraid of it – it has rarely brought any good: Progress. Bad things have often happened under that name.
Powerful people came, with money, their own and others', with the intention to enslave and muddy the Bistrica. To catch the water into pipes and offer it for sale, or to build a hydroelectric power plant in the canyon and destroy the Vrelo.
To destroy the life of previous and future people – their origins. And this sentimental memory of mine – all made of goodness and hospitality of that world: Radović, Drašković, Janketić, Kovijanić, Cmiljanić, Grujić, Todorović, Vujisić and other families fed by the Bistrica, with its abundance and health, language and stories.
There are a few people left in our villages – others passed away and migrated to cities and cemeteries, as in other places. But those mountains, rocks, waters and forests are nobody's!
I mourn them like Kočić's hero, from the schoolbook, when the cut Vuk's Woods.
"Wherever he went, he was told that Vuk's Woods are possession of the sipahi, who could sell it to whoever he wants. Finally, feeling desperate, Čočorika offered the sipahy money for the woods on behalf of Zmijanje, but he didn't want or could accept it, because he had already signed an agreement with a foreigner and the thing was done..."
We live in a schoolbook, which also gave birth to us.