Target
DAMIR MIKEC, MEMBER OF SERBIAN NATIONAL TEAM IN TARGET SHOOTING
Expecting the Olympic Games
Next year in Tokyo, he will try to achieve his perhaps only unfulfilled wish: the Olympic medal. He says that sport opened the roads before him and helped him mature as a personality. He considers it contemporary chivalry, which only the best are worthy of. Despite negative things, from doping to nepotism, he still believes that sport today is basically honest. No one can reach the highest achievements "using connections". He is happy to see sports grounds in Serbia full of children again. He will also, after finishing his career in competitions, remain in sports
By: Dejan Bulajić
Photo: Guest's Archive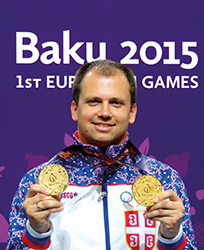 Target shooting has been a trophy winning Serbian sport for a long period of time and Damir Mikec (Split, 1984) is one of the most successful shooters. His specialty is shooting with sports and air gun. He won numerous medals at the highest ranked competitions, and was brilliant at this year's European Championship as well. He has already met the qualifying standard for the Olympic Games, where he will try to achieve his perhaps only unfulfilled wish: the Olympic medal.
– It is true that this year began well for me. Already in February I met the Olympic qualifying standard and then won two medals at the European Championship. That was my main objective this year, which doesn't mean I don't have a motif for further performances. On the contrary. An old sports rule states that there is no relaxing during the season. Many have failed on it. They lose attention and concentration, and when they need to bring them back, they are powerless. One shouldn't gamble with oneself. I am ready to perform with the same ardor in every following occasion. Completely relaxed, because I have already fulfilled my main objective, but with a greater wish, because you can never get enough success.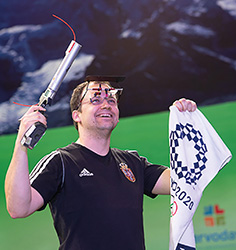 Is such decisiveness a consequence of the rich experience behind you?
I am proud of being in my sport so long. I am thirty-five, but unlike sports which my peers are slowly saying goodbye to, these are the most productive years in target shooting. I am convinced that the biggest successes are in front of me, although I can also be proud of what I have achieved up to now. I have won medals in all competitions I've participated in, including world and European championships and world cups, with the exception of the Olympic Games. That is my unfulfilled dream. I've participated at the Olympics three times, I remember them for the incredible atmosphere in the Olympic village and the arenas, but I still haven't won a medal. I met the qualifying standard for Tokyo next year, so I hope that I will have luck in the Far East. I know how medals are won and how they're lost. Deep are traces of such experiences and sometimes I believe that I'm the only one who feels it. It's good that it is so, because these are limits waiting for me to pass them. I'm ready and my wish is growing stronger every day.
When you entered sports, have you ever anticipated what roads it will take you to?
Even if I had, I'd never resist a single step. I was lucky to be in a place that helped me realize myself the way I wanted. I can thank my family for it, most of all my mother, who introduced me to target shooting, although I was training karate before that and reached the brown belt. I think those experiences were of great help in target shooting. By the way, I grew up in a sports family. My brothers are also in target shooting, Goran is my coach, and my mother was junior champion of Yugoslavia in discus throw. It's interesting that I immediately started with the gun, which is not often the case with beginners, and only nine months later I won my first medals, largely thanks to coach Srećko Pejović. Sports have opened me new roads, helped me mature as a man. I've traveled more than half of the world, visited 75 countries, met my wife in El Salvador, with whom I have a three-year-old son. Most dominant is the feeling that I'm in the right place and that I should enjoy it.
THUNDER OF THE HEART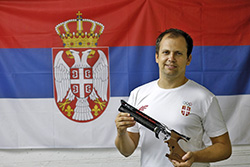 Unlike other sports, target shooting resists the force of passion and insists on calmness?
Adrenaline is our enemy, unlike other sports, where it is a code to success. It doesn't mean that our sport is less dramatic. On the contrary. You must restrain your emotions, waves of passion and remain calm. The competition lasts an hour and a half and you must keep full concentration, although it has been proven that it is impossible to achieve for such a long time. That means that moments when attention weakens actually seem crucial. Those who manage to conquer them without bigger deviations stay in the game for the medal. During those ninety minutes, we seem almost motionless, with reduced movements of the upper part of the body only. I try to achieve the necessary level of concentration with certain techniques. Correct breathing in with full lungs, keeping the breath and easily breathing out can help me achieve the necessary peace before firing the gun. Sometimes heartbeats seem like thunder and you are aware that only millimeters decide about medals. When the competition ends, we have a feeling that we've been carrying a huge weight, although we actually haven't moved at all during the hour and a half. Target shooting is a very requesting sport.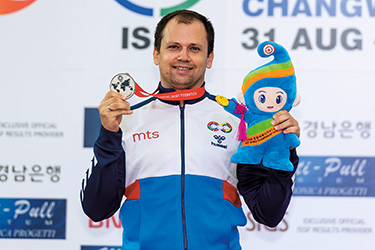 Will sport resist the standards of contemporary living?
I'm convinced it will, because it doesn't make compromises with is not up to it! I know there are all kinds of things in sports, from doping to nepotism, but I claim that sport is honest in its essence. In order to be the best, you have to achieve it yourself. Your father, godfather or sponsor cannot arrange you to receive a medal at the biggest competitions, and the best are recognized only on that level. At a moment it seemed that sport stopped being attractive due to the new way of living and technical means, which offer easy entertainment and many benefits without too much effort. I see, however, that sports courts are full again, that children coming to clubs are ready to have a good sweat in order to learn to win. Sport is a phenomenon which cannot be replaced by any surrogate of the contemporary age. It is contemporary chivalry and as such, it will forever keep the incomparable charm of a spectacle, which only the best are worthy of.
THE THING THAT FORMS US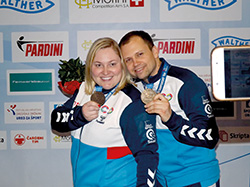 How does it feel to be a winner?
Wonderful and incomparable! It makes me attend trainings with the same wish and participate in competitions with the same ardor. The moment you become aware that you've won a medal gives you satisfaction for all invested efforts, for all moments you asked yourself whether it's time to take a rest, but never submitted to them. Finally, if you only knew how it feels to win a medal for your country, to stand on the winning stand, watch your flag and sing your national anthem! An unusual thing happened to me in India, when I met the Olympic qualifying standard in February. We were on the winning stand, I won second place, the Indian anthem was playing, but I watched our flag, tears were running down my face and I was internally singing our anthem. I've never experienced such an emotional moment, not even when I won gold medals. Such moments are more valuable than trophies and they contain the full meaning of our job and all that forms us as people as well. What we are in the sports court, in the line of fire, we are most often the same in life. And vice versa. We created our own results ourselves and they made us what we are. The moment we confront the feat or failure is actually an encounter with ourselves as we are. We cannot play what we'd like to be and expect glory from it. That's not sport. Only if we're sincere in what we do and give our best, we will know that we deserved everything we've gained. Whether it's a medal, fifth, eighth or any other place is a different issue. What's important is that we've given our best and that there's no reason to regret.
Your wife is from El Salvador. Did she recognize the main features of our social being and got used to them?
It's an interesting story and a nice discovery for me as well. I spent a month or two several times in that country and discovered a similar stand to my wife's as well as of many people around us. There is an impression that we, Serbs, have much in common with Latinos. Our temper is similar, we are hospitable and like to socialize, we accept people openly and, what's especially important, even despite many troubles, we show our joyful nature. Thanks to that, my wife got used to living in Serbia very quickly. Besides, since she is also in target shooting, she managed to improve her technique of target shooting with a rifle, and I'm trying to help her as much as I can. All in all, it's good for us in Serbia. We understand each other and share moments with our son who made our lives more wonderful.
FOR A FULL SPORTS CIRCLE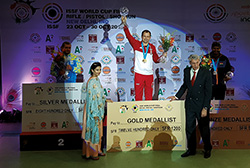 Have you ever thought about what you'd like to do when you finish your active sports career?
Of course I have, even more because I will soon get the national pension. That certainly doesn't mean that I'll stop competing. On the contrary, I will continue shooting as long as I enjoy it and as long as that, together with results, makes me satisfied. However, I've already recognized the wish to start a coaching career after I stop competing. I think it's logical to transfer the great experience gained at the biggest competitions and preparations for them to younger people. If I don't prepare at least two people for what I was doing, I've done only half of my job and I'll consider I haven't done everything I could. My wish is to prove myself as a coach as well, and only then I will consider myself a complete sports personality. I know what young competitors are going through and how much they need good professional support. Unfortunately, I spent most of my career alone. I've been without a coach for as long as eleven years, including the period of transferring from junior to senior competition. I've done both the competing and professional part of the job completely alone, so I know how much a coach means and how much he can unburden and motivate a shooter, fill him with self-esteem, convince him to believe in himself and continue his work, not to turn around to every voice which inhibits him, to be persistent and determined, because that's the only way to reach the top.
***
Reality of Sports
– I am entirely in sports and my entire environment is aspiring to it. Sport has determined my standards of living, set criteria and helped me get a better orientation in the world and time. I'd like to form my son the same way. My wife and I will certainly orient him towards sports, but it depends on him how deep he will enter it. No one has to try to reach titles and medals, but he can play something recreationally. For his own health, better growing up, gaining experience which could be very valuable for the entire life.
***
Outside of Sport
– I particularly enjoy traveling. It fills me with special emotions and wakes up constant curiosity in me. I love discovering new countries, new cultures, meeting different people. I am grateful to sport for offering me the opportunity to fulfill my great wish. When I have free time, I like to go out of the city, to the nature, especially by bike. It's a great pleasure, fills me with special energy and helps me get rid of excessive, unimportant and negative impressions.