Memorial
SERBIAN MILITARY CEMETERIES IN AUSTRIA
Decent Remembrance
It is estimated that approximately 25.000 warriors and prisoners of war from then Serbia have ended their lives in the territory of present Austria, as well as several thousand Serbs from the area of Austro-Hungary. They were buried in individual and mass graves, marked or unmarked, in Mauthausen, Aschach, Boldogason, Neszider, Vienna, Bruckneudorf, Sopronyek… Today, the "Black Cross" takes care of them, supported by the Serbian church, state and diaspora. However, many graves, especially in smaller cemeteries, were left to namelessness, weeds and oblivion
By: Nenad Leibenshperger
Photo: Pavle Marjanović,
Republic Institute for the Protection of Cultural Monuments in Belgrade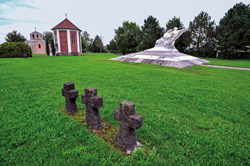 There are several dozens of military cemeteries in the area of present Austria, where soldiers and civilians who died in concentration camps during World War I were buried.
While preparing for the war, Austro-Hungary wanted to provide a calm background for its troops and, after the assassination in Sarajevo, began sending Serbs it didn't find trustworthy to internment camps. After the military activities had started, Serbian soldiers became prisoners of war and were sent to camps in the Austro-Hungarian interior. Furthermore, more Serbian people from occupied territories were sent to internment camps.
Besides Serbs, soldiers from other countries – Russia, Romania and Italy, were also imprisoned in camps formed throughout Austro-Hungary. There were four big internment camps, where mostly Serbs were imprisoned, in the area of present Austria: Mauthausen, Aschach, Boldogason and Neszider.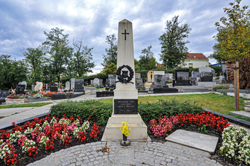 The conditions in camps were bad, causing high mortality among prisoners, especially during epidemics of infectious diseases. It is assumed that approximately 25.000 soldiers and prisoners from then Serbia and another several thousand Serbs from Austro-Hungary died in the area of present Austria. The deceased were most often buried in separate camp cemeteries, in individual or mass graves. Memorial markings of different forms and made of different materials were built above the graves, most often wooden crosses. In some camp cemeteries, prisoners raised bigger memorial markings during the war, to honor their deceased comrades.
Not long after the end of the war, the Austrian organization "Black Cross" (Österreichisches Schwarzes Kreuz) took over maintenance of most cemeteries. The Kingdom of Yugoslavia was also involved in caring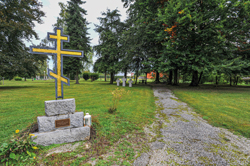 about the graves of Serbian soldiers, through emissaries and consulates in Austria and priest Mihajlo Mišić, guardian of military cemeteries. However, except rare visits to cemeteries, the Yugoslav side didn't succeed in doing much on their preservation. It participated in only severa conservations. The main reason was a constant lack of financial means. Due to the great economic crisis, a lack of means appeared on the Austrian side as well, followed by World War II. It resulted in most cemeteries being devastated and almost all wooden crosses disappeared. That is why the "Black Cross", in the post-war restoration of cemeteries, decided to symbolically mark the area of military cemeteries by arranging groups of several stone crosses on the cemetery space, along with keeping the remaining markings. Only in some places all graves were marked with special stone or metal markings.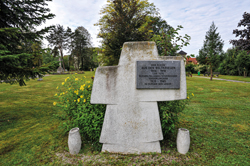 Military Cemetery in Mauthausen. A total of 40.000 soldiers from different nations, including 30.000 Serbs, were interned in the military camp in Mauthausen. More than 10.000 people died there, thereof 8.000 Serbs. Individual graves in the camp cemetery were marked with crosses, while mass graves where Serbian soldiers were buried were marked with six stone markings. Only five stone markings remain today, with text in German stating that Serbian soldiers were buried there. During the war, Austrians built a chapel at the cemetery for memorial services for all buried soldiers. In time, Italians claimed the chapel for themselves, so the Serbian Orthodox Church, together with Serbs from the diaspora, began building an Orthodox chapel in 2016, which is still not completed. There is a large monument at the cemetery, ceremonially unveiled in 1922, made by Italian sculptor Paolo Boldrino, also a prisoner in this camp. The monument represents figures of three soldiers attempting to break free from imprisonment.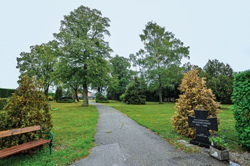 Military Cemetery in Aschach. Several tens of thousands prisoners of war, thereof about 25.000 Serbian soldiers, have passed through the internment camp in the vicinity of Aschach. About 6.000 died in it, including around 5.400 Serbian soldiers. There are eight preserved memorial markings to Serbian soldiers at the camp cemetery today and a large central memorial marking dedicated to deceased Serbian soldiers. It was raised by the "Black Cross" and unveiled on May 7, 1929. Socialist Yugoslavia placed a memorial plate on it.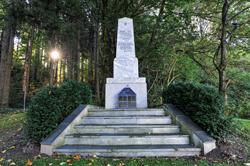 Military Cemetery in Boldogason. An internment camp was located in the vicinity of the Boldogason village, through which more than 11.000 prisoners of war and interned civilians of different nations, mostly Serbs, passed. About 6.000 of them died there, thereof about 5.500 Serbian soldiers and civilians. In certain mass graves at the camp cemetery, up to 400 soldiers were buried. During the war, prisoners raised a memorial marking at the cemetery, in the shape of a cross, without any inscription, several meters high. Austrians call it the "Serbian cross". The second monument was raised in 1954 by the Association of Fighters of the National Liberation War of Yugoslavia. Convenient texts are carved in the monument, and much later, after the disintegration of Yugoslavia, a new memorial plate was placed over one of the inscriptions. There is an old tombstone at the cemetery today, dedicated to a Serbian man from Vlaola Požarevačka, raised by the deceased soldier's family.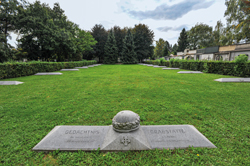 Ossuary in Neszider. A camp mainly for interned civilians of Serbian origin (although there were Serbian soldiers in it as well) was in the vicinity of Neszider. More than 17.000 people passed it and about 4.800 Serbs died in it. The camp cemetery was exhumed in 1953 and the remains moved to the ossuary raised at the local Catholic cemetery. The existing monument was then also moved from the cemetery to the new ossuary. A delegation of former interns visited Neszider in 1955 and a memorial plate with text in Serbian and German was placed on the monument. A wreath made of cast iron with a modified coat of arms of Belgrade and sash was place on the front side of the monument. Below it is a memorial plate raised later, by Serbs in Austria.
In 2014, the area of the former cemetery was marked with a memorial marking.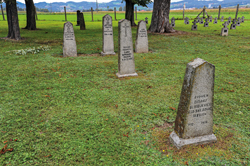 Serbian Military Cemetery at the Vienna Central Cemetery (Zentralfriedhof Wien). Prisoners of war who died in Vienna during World War I were buried at the Vienna Central Cemetery, in parcel 68а. 130 Serbian, as well as three Montenegrin soldiers were buried there. In the period between two wars, parts of the parcel with Russian, Italian and Romanian soldiers were decorated with separate large stone memorial markings, while the area with Serbian graves grew into weeds, and was decorated only in 1934 by the Embassy of the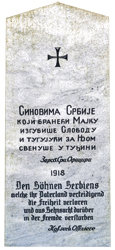 Kingdom of Yugoslavia in Vienna. However, it dilapidated in the following years. World War II, new Yugoslav diplomatic staff in Vienna and lack of interest for the legacy of World War I caused this cemetery to fall into complete oblivion. It was forgotten both by Yugoslavia and Austria, since all physical evidence about its existence disappeared. The area with Serbian and Romanian tombs was redecorated at a time, with individual crosses marking graves, with an inscription "1914–1918". The Romanian monument remained standing in the background, so this entire part of the cemetery was called Romanian cemetery. Only thanks to exploring archive material, people regained knowledge about this eternal resting place of Serbian heroes.
At the same cemetery, in parcel 91, there is a military cemetery where members of the Austro-Hungarian army were buried. There is a memorial marking dedicated to soldiers from enemy countries of Austro-Hungary and plates with their names, among them 125 Serbs and three Montenegrins, buried on the previously described parcel 68а.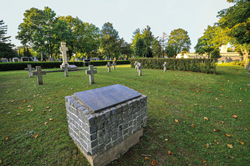 Other Camp Cemeteries. In cemeteries of other camps, where Serbs were a minority compared to Russians, Italians or Romanians, there are also graves of Serbian soldiers. Thus there are 76 Serbs and 2 Montenegrins buried at the military cemetery in Bruckneudorf; 59 Serbian soldiers (and 22 Austro-Hungarians from the area of former Yugoslavia) in Kittsee; 20 Serbian soldiers and 4 civilians in Grödig; 42 Serbian and 9 Montenegrin soldiers in Matzendorf; at least 20 Serbian soldiers and civilians in Braunau am Inn; 27 soldiers and civilians in Vegsheid near Linz, etc. There are memorial markings on those cemeteries, stating that Serbian soldiers were buried there. Especially remarkable is the monumental memorial in Grödig, raised by imprisoned Serbian officers to their deceased comrades in 1918. There are cemeteries with separate tombstones for Serbian prisoners of war, such as Helpfau-Uttendorf / St. Florian Military Cemetery (four) and Grieskirchen Military Cemetery (one soldier).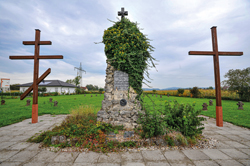 Some Austrian military cemeteries don't have memorial plates stating that Serbian soldiers were buried there (although some have info-boards with such data). Some of them are: Sopronyek Military Cemetery (more than 1.000 Serbian prisoners, mostly from Bosnia and Herzegovina); Wieselburg II Military Cemetery (47 Serbian and one soldier from Montenegro and Dalmatia); Hart Military Cemetery (15 Serbian and 28 Montenegrin prisoners); Marchtrenk Military Cemetery (10 Serbian and one Montenegrin soldier); Sigmundsherberg Military Cemetery (9 Serbian and 9 Montenegrin soldiers) and Purgstall – Schauboden Military Cemetery (5 or 6 Serbian and 4 Montenegrin soldiers).
The "Black Cross" still takes care of all those cemeteries today, with the support of the Serbian state, Serbs in the diaspora and Serbian Orthodox Church. The Serbian public has never heard of most of them, let alone visited them. There is most interest in the biggest camp cemeteries. Soldiers buried in smaller cemeteries don't deserve the oblivion they have fallen into, and it is up to Serbs and the Serbian society to find a way to remember them more decently and place memorials on unmarked Serbian graves.
***
At Austro-Hungarian Military Cemeteries
Soldiers of Serbian origin, who died as Austro-Hungarian soldiers, as well as other soldiers from Yugoslav lands (Croatians, Slovenians…), were buried in military cemeteries of Austro-Hungarian soldiers, who died from wounds and diseases in rear hospitals. These soldiers are in the cemetery of St. Barbara in Linz (240 Yugoslav soldiers, thereof 44 or 46 Serbs).
***
From World War II
During World War II, new burials were often done within existing cemeteries from World War I. Thus about 2.000 prisoners from "Mauthausen" Internment Camp, as well as Italian soldiers, were buried at the Mauthausen cemetery. Soldiers of the Red Army or members of Nazi Germany armed forces were buried in other cemeteries. Sometimes the cemeteries were expanded, while at times burials were done over the existing graves.