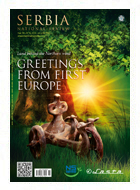 SERBIA - National review, No 76

Prologue
Our horizons are filled with "magnificent buildings destroyed by the breeze". Of immeasurably powerful people who are "buried in their backyard as canaries". The eternal empires we now call the former. Those who built towers and roads but lost their souls, so they had nothing to say where it mattered the most. Those who realized too late that they could lie to the whole world, but could not lie to themselves. Our lives are filled with signs and lessons, examples fr the heavens and the underworld, and we do not have time to notice and understand. We are in a hurry to get to work, to the game, to the New Year, to Europe. To a delirium.
And here it is enough to click on the NEW ISSUE and enter a completely different world. <



CONTENTS
Prologue
TERRIBLY BEAUTIFUL AND HORRIBLY INTERESTING
Derangement
Vitrage
NUMBERS, EVENTS, INTERESTING THINGS
Album
"A TRACE OF LIGHT IN THE STONE" EXHIBITION
Micrographies
Pilgrimages
NOTES FROM THE HOLY LAND
Where All Doubts Disappear
It is difficult to find an unpublished detail about Jerusalem, the ancient city, the bellybutton of the world, cradle of Christianity… However, the internal feeling in the eruption of praying emotions is indescribable – midnight liturgy in the Church of the Resurrection, Mount of Olives, Gethsemane, Golgotha, Via Dolorosa, Mount Zion, Tower of David, morning services in the Church of the Nativity in Bethlehem, midnight liturgy in the Church of the Holy Sepulchre, colorfulness on the Jerusalem market…
Text and Photo: Mišo Vujović
Bridges
SERBIA AT THE FRANKFURT BOOK FAIR 2019
Supported by the Greatest
In accordance with available means, the Serbian stand was not large, however the appearance was very impressive. Great men of European culture, who spoke about Serbs and Serbia, were watching visitors from one side. Important Serbian writers and clergymen, whose anniversaries we're marking in 2019, were watching from the other. Professor Robert Hodel PhD, from the Institute of Slavic Studies in Hamburg, attracted much attention. Instead of to the Austrian, the Western media first rushed to the Serbian stand, to see reactions to Handke's Nobel Prize
By: Milica Despot
Shores
A BIG BANK OF SWANS ON THE ZEMUN QUAY, DECORATING THE RIVER AND THE CITY
Birds, Our Neighbors
They acclimatized and became real Belgradians, much faster than many newcomers. They have food in abundance, both from the Danube and from bakeries. Not to speak about popcorn. In the coldest days, when the water near the banks turns to ice, the people of Zemun never forget their beautiful neighbors, thereby confirming the ancient and sometimes mysterious connection between man and those birds, described from Greek mythology to Andersen and Tchaikovsky
Text and Photo: Josip Šarić
Explorations
ARCHAEOLOGICAL EXCAVATIONS CONTINUED ON VELIKA HUMSKA ČUKA
Golden Ornament of Prehistory
The site is located six kilometers north of Niš, at the junction of routes connecting the central Balkans to Asia Minor, Thrace and the Aegean world. There are multiple layers of culture on an elevated, spacious and difficult to reach plateau. The oldest and best preserved is that of the early Copper Age (ca. 4300 BC), which belongs to the Bubanj-Hum culture. Several objects and interesting findings have been processed. Particular attention was attracted by this year's discovery of two fragments of a vessel decorated with gold paint, which is a very rare example
By: NR Pres
Origin
"KORENI" EDITION IN REPRINTED IN "SLUŽBENI GLASNIK"
The Threads We Are Successors of
The visionary endeavor was commenced by Jovan Cvijić more than a century ago, and continued by his best successors: Jovan Erdeljanović, Tihomir Đorđević, Veselin Čajkanović. The entire Serbian ethnic area was encompassed, landscapes are only fragments of the whole, "pieces of the entirety". The subtitle of the edition explains it all: "Serbian Lands, Settlements, Origins of the Population and Customs". By restoring this valuable edition, "Službeni Glasnik" greatly contributes to preserving Serbian heritage and consciousness about its origins, existence and lasting
By: Miloš Lazić
Reminder
SMALL LESSONS FROM GREAT POETRY: PROFESSOR ANĐELIJA POPOV
Unforgettable Lessons
She taught young people to write, think, see, feel, live. She knew how important preserving style, literacy and language is. She admired masters of style, especially Andrić. Many great poets, such as Vasko Popa, were introduced to the refinedness of language and literature by her. She knew Bogdan Popović's Anthology of Old Poems by heart. In her last class, together with her students, she sang Branko's poem "Girl on a Well" in a low voice. Solemnly and seriously
By: Dragan Lakićević
Traces
SERBS AND SERBIAN LANDS IN RUSSIAN LITERATURE, THEN AND NOW
Expanses of New Romantic Heroes
Ever since Pushkin, Lermontov, Tolstoy, Tyutchev, Andreev… Serbian subjects and heroes have been present in Russian literature. The attractiveness, closeness and elusiveness of the Balkans still last. It's the same today. Many contemporary Russian literature works are related to Serbs. War prose, patriotic poetry, science fiction, mythology and epic poetry, action and detective novels… We bring you this small review as an incentive for reading, translating and publishing
By: Ana Jakovljević Radunović
Belvederes
BERISLAV BLAGOJEVIĆ, WRITER, ONE OF THE IMPORTANT NEW VOICES OF REPUBLIKA SRPSKA
Literature Has Its Powers
Reading means caring about oneself, becoming better. Truly valuable literature explores and uplifts, deepens and helps. The problem is not in trivial literature, it has always existed in different epochs; the problem is in the fact that it was turned into a dangerous poisoning instrument, pushed into the foreground, aggressively advertised as high culture and the only value. Trash has to be taxed, the hierarchy of values needs to be established and genuine culture should be provided a fair fight. In spite of problems, many unique authors have appeared in Srpska, and they are somehow cutting their way through
Text: Sandra Kljajić
Arena
ROKSANDA LAZAREVIĆ, IMPORTANT NAME OF SERBIAN KARATE
With a Fighting Spirit
She was champion as an athlete, now she's champion as a coach. Both are the road of virtue, code and personality. Young people should know that nothing in life is implied, not even love. Even that is something one must fight for and cherish. Our nation minted its character, featured by pride and freedom-loving, during our difficult history. We don't have the right to be unready, fainthearted and cowards. What we love is not improvisation, it's creativity, it's not mocking, it's healthy humor and game
By: Dejan Bulajić
The Capital
BELGRADE BECOMING A TOURIST METROPOLIS
Big Steps of Progress
This season, the cultural offer of the Serbian capital will be the focus of promotional activities. The new promo film "Belgrade Walks Through History & Culture" also deals with it in an attractive way. Belgrade was presented this fall in Budapest, Moscow, St. Petersburg, Ankara, Sofia, London, while these will be followed by Vienna, Istanbul, Timisoara, and Thessaloniki. Most guests are from China, Turkey, Germany...
Examples
VRNЈAČKA BANЈA CONTINUES ITS DEVELOPMENT STRATEGY
Strengthening the Leadership Position
With the opening of the airport in Kraljevo and the Moravian highway, large investments in hotels and infrastructure, as well as tourist facilities on Goč Mountain, Vrnjačka Banja will significantly expand its offer, be even more accessible and even more attractive. Recognitions and confirmations that this is the right path are coming from all directions
By: Violeta Kostić
Development
NEW PRODUCTION PLANTS DEVELOPED IN RUMA
Improvement for Everyone
The newly opened production and export-oriented factories are the spinning wheel for the Ruman economy. Employees, the local community, and the state also benefit from this. Some of these companies place almost all of their products in the foreign markets, with the export amounting to hundreds of millions of euros. Domestic and foreign companies have the same treatment in Ruma. The best indicator of what the business environment is like: almost all start-ups expand their capacities in 2019
By: Mile Vajagić
Models
SERBIAN EXPERTS AT HEALTHCARE CONGRESS IN TEHERAN
"Merkur" in Iran
The Serbian spa model and "Merkur" as a healthcare center with a long tradition have attracted great interest. Of particular interest to Iranians is this combination of modernization in business and the preservation of traditional treatments, based on the indispensable benefits of nature
Seed
INSTITUTE OF FIELD AND VEGETABLE CROPS IN NOVI SAD IS READY FOR ANOTHER IMPORTANT YEAR
Facing the Challenges
The second Commercial-Sales Forum, held at the beginning of November on Kopaonik, was an opportunity for a quality meeting of the Institute's experts with the largest seed distributors and sellers. The latest range of "NS seeds" products intended for the market was presented. In 2020, the Institute will also host two "Science World Championships": the International Sunflower Conference (in June) and the International Soybean Conference (in September)
Connections
TOURIST AGENCY OF "LASTA" TRANSPORTATION COMPANY
Six Decades With Us
Important achievements in domestic and foreign travel arrangements, organizing excursions, excursions, visits to fairs. Very attractive offer for the upcoming New Year holidays in Budva, Madrid, Krakow, Rome, Berlin, Vienna, Szeged, northern Italy