Treasuries
ANATOMICAL MUSEUM AT THE SCHOOL OF MEDICINE IN BELGRADE
Hundred-Year-Old Collection
Its beginnings date back to the founding of the School of Medicine and Anatomical Institute in 1920. It became a separate Museum almost four decades ago, thanks to the efforts of Professor Vera Draganić, PhD. Generations of medical students gained important knowledge with those valuable exhibits, on the first floor of the Anatomical Institute in Dr. Subotića Street. Previous teachers handed over the treasure to the present ones, while they will hand them to the future ones. It is very valuable but priceless
By: Miloš Lazić
Photo: Željko Sinobad and Anatomical Museum
The Serbian capital city officially has forty-nine treasuries of the past, present and future, in museums, memorial collections and legacies, technical and natural history museums. Some are of general character, some narrowly specialized, some dedicated to a single man or group of like-minded people, but cover probably all fields of interest of curious visitors. All are classified and can be found on the City Assembly website, or the printed tourist guide of Belgrade, so one doesn't have to roam around.
Thus, the more confusing is the fact that the Anatomical Museum has been missing from the list, a collection which began emerging ever since the founding of the School of Medicine and Anatomical Institute in 1920, and thanks to the efforts of Professor Vera Draganić, PhD, established as a separate museum almost four decades ago.

Perhaps it would still be hidden from the eyes of the public if it weren't for a strange coincidence. Three years ago, the Department for Preservation, Conservation and Restoration of the National Library of Serbia began working on three of thirty-six extraordinary drawings created by Hippolyte Frantz, French painter from early twentieth century. It is a collection of large format anatomical drawings, which were, as far as it's known, ordered and brought from Paris by Niko Miljanić, first anatomy professor and founder of the Institute, with the idea to have them as illustrations for lectures, as well as for the future textbook.
Hippolyte Frantz' colored drawings on paper were strengthened with wooden panels and hanging in the Anatomical Institute classrooms for years, without anyone thinking that they could have a value different from practical. It would be so today as well, if professor Vladeta Živković from then Academy of Fine Arts didn't come to visit and, sincerely amazed, noticed that their teaching appliances were also valuable works of art!
Since Dr. Niko Miljanić, then graduate medical student from a reputable doctors' family, couldn't in any way afford such extravagance, an interpretation was born that regent Aleksandar Karađorđević was personally behind the entire story. He allegedly provided financial means, ordered the collection, paid it in golden francs, and that Niko was just a mediator in it.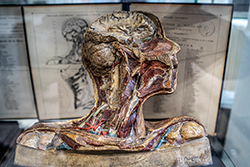 – The price was certainly royal, so a legend was born – says Professor Milan Milisavljević, PhD, custodian of this museum lost for two decades. – We dug through the archives of the School and Rectorate, as well as the Archive of Serbia and found interesting documents explaining the purchase of this collection. In a letter dated May 21, 1921, Professor Niko Miljanić, PhD, kindly asks the School of Medicine dean to approve his journey to Vienna and Paris, in order to purchase necessary appliances for the Anatomical Institute and give directions for creating anatomical boards necessary for classes. In a letter dated August 16, 1921, the dean, Professor Milan Jovanović Batut, kindly asks the minister to issue two checks to Professor Miljanić, one amounting to 220.000 francs for Paris and another amounting to 300.000 francs for Vienna. With that money, he paid the paintings in Paris and bought plaster models from the "Nicolas-Augier-Roux" collection (kept in the Museum). In Vienna, he purchased instruments for dissection and injection of corpses, a set of 2.000 glass plates with pictures of preparations, as well as a diascope for their projection, which is now part of the collection. If this was really the king's legacy, it would be an unpreceded gesture of personal virtuousness. Everything is possible, so the fact that our professor Niko Miljanić held a speech to the gathered people at the revealing of the "A la France" monument, known as the "Monument of Gratitude to France" in Mali Kalemegdan on November 11, 1930, as president of the board for the erection of the monument, is brought into relation with it. That is why our collection of drawing is still called – Professor Miljanić's collection.
CONSIDERABLE WORK ON THE RENEWAL AND PRESERVATION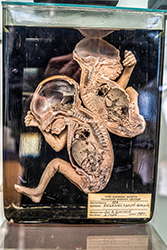 Experts of the National Library of Serbia from the Department of Preservation, Conservation and Restoration, noticed another detail contributing to the claim that the collection was ordered by someone else. Besides the painter's, Hippolyte Franz' signature on each pastel, there is also the signature of Niko Miljanić; first because of authorship, and the second probably to confirm the scientific validity of the drawing for someone who is not really an expert in anatomy.
– We are dealing with the preservation of books, but we have colored drawings here – explains Željko Mladićević, technology engineer and head of the Department for Preservation, Conservation and Restauration in the National Library of Serbia. – However, we certainly noticed that it is an exceptionally valuable work, shown by the technique of the drawings, their dimensions as well as used materials. The drawings are made on paper cached on canvas, so it was very difficult for us to determine the methodology and find an appropriate replacement, in order to reconstruct the irrevocably damaged parts. We found it in the so-called "Japanese paper", made of endemic plants growing only in the Far East. Believe me, it's much easier with books… although the technological procedure is very similar.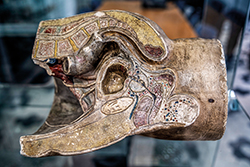 He helplessly pointed to the dimensions of the drawing which was first "in progress" and compared them to the printing press, which was, roughly estimated, predicted for at least ten times smaller objects. Largest format books, for example.
– We have done tests to the presence of microorganisms on paper – says Slavica Janaćković, biologist. – Although they are almost a century old and obviously not adequately protected in the meantime, tests have shown that the drawings are generally in good condition. However, we still have at least one or two years of work.
Due to the volume of the works on the reconstruction and conservation of thirty-six drawings, as well as the approaching hundredth anniversary of the Anatomical Institute's founding at the School of Medicine in Belgrade (December 9, 2020), the professional team of the Serbian Orthodox Church's Archive Laboratory for Conservation and Restauration of Paper, experts working in the treasury of Chilandar, led by Radovan Pilipović, PhD, have been involved in these activities as well.
FOR MANY GENERATIONS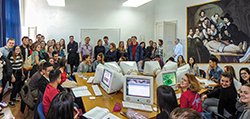 As a comparison, the entire surface size of Hippolyte Frantz' thirty-six colored drawings is about a hundred square meters. Thus it would be inappropriate to ask the conservers how much their work is worth, just like it's unsuitable to ask about the price the Anatomical Institute could pay without any problems.
– We are not used to miracles, and are getting used to continuous belt-tightening – states the custodian a Solomon solution. – When such works are placed on one side of the scale and lack of money on the other, we all know which side should prevail. However, it is good to know that we are not owners of those drawings; our teachers entrusted us to keep them, and we, when the time comes, will hand them over to our students. Luckily, all medical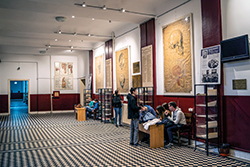 students know very well the value of both the collection and our museum: with them, in the same place, we made our first steps in medical science. It is a mission in which have the sincere support of academician Nebojša Lalić, School of Medicine dean, and professor Laslo Puškaš, PhD, chief of the Department of Anatomy.
The Anatomical Museum is located in three connected classrooms on the first floor of the dignified edifice of the Anatomical Institute, decorating Dr. Subotića Street, which furthers leads to the Deanery. Its regular visitors are professors, students, postgraduate students, doctoral students, participants in continuous anatomical education…
– We've lately had shy visits of dedicated high school teachers, bringing a few of their talented students – says professor with a smile. – They were probably careful not to disturb our academic peace? However,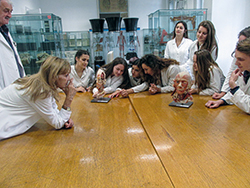 the Museum is open to everyone, and we can only hope that its collection will perhaps prevail when those young people decide about their future education one day. Joining the "Museum Night" was not a bad idea. We have a lot to show. We had the famous Anatomage Table in the Museum for a week in February, thanks to the Institute's director, Professor Branislav Filipović, PhD. The students ascertained that this latest teaching appliance in anatomy gives a powerful picture of the dissection and cross-section of the human body, but we were discouraged by its high price. Furthermore, a group of about thirty medical students from Amsterdam visited us on March 6, and they were sincerely surprised by such a big reproduction of Rembrandt's Anatomy Class on our wall. Thanks to donorship, an idea almost forgotten today, two plastinated heads arrived to the Museum, from the collection of German professor Gunther von Hagens, worth 40.000 Euros. Both I and my colleagues are convinced that such virtuousness must always be mentioned, and people be reminded of it continuously!

***
About Money and Music
The doubting ones will ask why the restauration and preservation of Hippolyte Frantz' colored anatomical drawings is so slow and if it will be completed until the mentioned jubilee.
– There are significant damages and the conservation is requesting, so the expenses are high as well – explains custodian Milan Milisavljević. – Furthermore, these drawings made on paper had to first pass the professional processing of the commission appointed by the Museum of Science and Technology, led by custodian Jelena Jovanović Simić, PhD. Only when the "Collection of Anatomical Boards Miljanić–Frantz" gained the status of cultural good in January 2018, we could apply to the Ministry for co-financing the preservation project. The Ministry of Culture and Information is actually our only stronghold for the final implementation of museology preservation of this significant cultural good.
***
Value
There is another collection of anatomical drawings, similar but older. It was created by ingenious Leonardo da Vinci, but it is, unfortunately, unavailable, since it is private ownership of the British Royal Palace. It is not exhibited, the public can see only reproductions, and without originals it is impossible to make judgments about their artistic and material value. We can only guess that it's priceless. It is interesting that the Anatomical Museum in Belgrade still doesn't know the exact value of its collection in money, but they are expecting experts from the National Museum to finally estimate that artistic and cultural treasure.