Old Masters
OCCUPATIONS AND DAYS OF THE GREAT POETIC CHRONICLER OF BELGRADE
Legends about Duško Radović
He did everything his own way, different from others – when he was encouraging, teaching, criticizing, saving from trouble. When he was writing poems, telling aphorisms, when he was just silent and smoking. And it was always his own, unusual way, genuine literature. Many of his deeds were short stories with a remarkable point. Whenever he could help, he never waited to be called. Perhaps that is what the book of books he left us was built of
By: Dragan Lakićević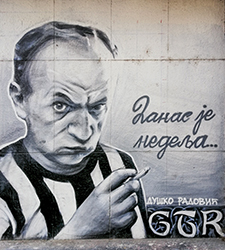 Such a great poet he was – Duško Radović.
Original = unique = great!
People know many things about Radović.
He was 27 when he wrote the poem "Horrible Lion" (in 1949). Was it written by a boy or grown-up writer? Did he write for children or adults?
He wrote for everyone. And that was his exceptionality.
REQUIRED READING CALLED DUŠKO
He was also exceptional in his occupations and days: he did everything different from others, his own way. Just like Grigor Vitez' Antuntun, he had "an unusual mind": "He did everything his own way / he planted eggs for hatching in the garden…"
He was author of unusual newspapers, magazines, books, radio and TV shows. He wrote and drew at the same time – with words. His thoughts were bitter-funny, but true. Literally.
His Poletarac (Nestling) was important required reading, a small library.
High up in the "Borba" building, where the editorial desk of Poletarac magazine was, he was sitting and thinking: what to write, choose, illustrate – for children, as well as for teachers/professors/parents. To make them laugh, to provoke their interest, to teach them, introduce them to the system of thinking and game of language and spirit. From there he called associates – writers and painters: asking them to do whatever.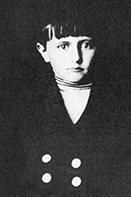 Later, on the highest floor of the "Beograđanka" palace, in "Studio B", he was sitting and thinking about comments and messages to Belgradians – at the beginning of the day. Those ambiguous thoughts, proverbs, reminders, remarks, entitled Belgrade, Good Morning, were his faith in words and mind. The same day, the thoughts, scenes and aphorisms became the voice of people or the voice of conscience. Hidden truths – serious, witty – satirical, paradoxical… Wisdom and love accompanied listeners of Duško's mini-show the entire day.
"This morning too, women are jumping into busses and trams, taking them far and further from home and children. – The equality of women was paid with the inequality of children."
"I remember Zmaj's Pevanija – he wrote about his childhood – a large, ceremonial book. Our neighbors in Subotica, the Erić family, had this book, loved it and respected it. It seemed to me like the Holy Bible."
Duško's poetry for children, entitled Dear Children, represents a kind of a literary Holy Bible. Everything this unusual writer had written could be classified under that title.
However, less is known about Duško's civil life. Stories about him perhaps cannot be worthily told, but let's try.
It is known that he helped others – with words and activities.
FIRST LEGEND – THE CASE OF THE DIRECTOR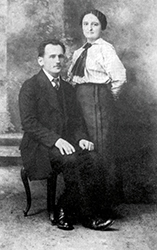 At that time – according to a legend – Duško had a friend, director in the just established Television Belgrade, and that friend, just imagine, children, had a wife and a lover. In Duško's time, lover was not one of the favorite words, but even worse was the word mistress. Be as it may, his friend was in it, Duško knew about it, but as appropriate, kept quiet.
(Perhaps it would be appropriate we kept quiet as well, but the story sheds particular light on Duško's profile, especially for those who don't remember him. And when none of the heroes of the story is no longer alive.)
One night, the director stayed too long with his girlfriend and came home only in the morning. His wife was waiting for him, worried, listened to the elevator all night, walked around the telephone, wrote down numbers of the police and ambulance from the newspaper, hoping that her husband would come home after all. She was used to his coming home late: the television workers were always filming day and night…
Morning came, she was ready for work, when her husband came in, breathing heavily from climbing up the stairs.
"Where were you, for God's sake? I wanted to call the police, I thought something happened to you!"
"Nothing happened to me, but Duško wasn't feeling well, so we spent the entire night with doctors… I'm just coming back from the hospital."
"Which hospital? Is he still there? Can I visit him?"
A director wouldn't be a director if he didn't have original directing ideas.
"Certainly… But please wait for me, I'll pour some gas in the car and first drive you to Duško and then to work. You buy some oranges and wait for me in front of the building… Call your colleagues to tell them you'll be a little late…"
Then he rushed to Duško, rang the bell, and the poet opened the door in his pajamas – it was seven in the morning.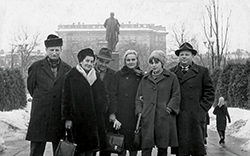 "Dule, you have to come with me, now!"
"Let me just get dressed…"
"No, no, I need you like that, in your pajamas… And don't forget your cigarettes" – the director was thinking of everything.
(Duško's friends could count on him day and night.)
Along the way, the director told him that he messed up badly, that he told his wife Duško was in the hospital and that they are driving there now… The director's wife will be coming visit in twenty minutes.
He left him on a bench in the park of "Dragiša Mišović" hospital and rushed to bring his wife.
In the following scene, the director was walking through the hospital park with his wife and from a distance they saw the poet in his pajamas: sitting on a bench, smoking.
"Look, Dule came out, he must be feeling better…"
They approach. The lady asks him:
"Dule, how are you feeling? What did the doctors say?"
"I'm smoking", said the poet – he didn't like to lie.
"It will be better, Dule, you're too tired. You are working too much, just like this man of mine… I brought you some oranges. Rest here, when you can't rest at home…"
Duško was sitting without a word.
The director then drove his wife to work and returned to take Duško home.
Duško was just smoking without a word the entire way.
Of course, this story was later told by the director.
FIRST SHORT STORY – VISITING IN THE HOSPITAL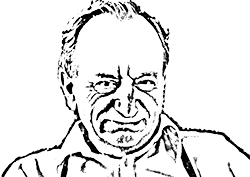 A literary magazine of that time wrote that young poetess M. was admitted to a hospital due to anemia.
At the time, journalists could write and remind the society about the position of young writers, and the society cared about how it was described in the press.
Duško Radović read the news.
He didn't know the poetess, but he asked the editorial of the literary magazine which hospital she was in. He bought chocolates, figs, mandarins, bananas and went to visit her. He entered the hospital lobby carrying two big bags.
"Duško Radović is asking for you", rushed doctor Ljilja into the room, "he asked me how you were and if you'll get better soon. He's in my office, waiting to see you…"
In the past, doctors used to know living poets.
"Tell him I'm already better", said the poetess and went to see Duško.
Duško's words and thoughts were enough for one to recuperate.
SECOND LEGEND – ABOUT TWO POETS
Zmaj was a poet for XIX century children, while Duško was a poet for XX century children. In both cases, children of both centuries were growing up without their poet shrinking at the same time.
This story also confirms that he had a specific attitude towards children.
A young poet, Nikola, a boy from Velika Gradusa near Petrinja, won first prize at a literary competition of the Modra lasta (Blue Swallow) children's magazine from Zagreb. The prize was a trip to Belgrade, all expenses paid by Blue Swallow, to deliver gratitude plaques for cooperation and life achievement to famous Yugoslav writers for children: Desanka Maksimović, Aleksandar Vučo, Branko Ćopić and Dušan Radović. Nikola received a train ticket and a bag with plaques in Zagreb and arrived to Belgrade.
He had addresses of famous writers: author of the poem "Summer is Approaching", poet of "The Five Little Roosters Gang Feats", wizard from the "Eagles Fly Early" poem – they all greeted him politely, thanked him and escorted him to the elevator…
"A boy from Zagreb, he brought some diploma" – they'd say to their household.
Duško, however, asked him to come in. He asked how his trip was, who he was, when he was coming back. Then he took him to lunch, to "Dušanov Grad" restaurant and then for a walk in Knez Mihailova Street and Kalemegdan. Until that day, Nikola saw Belgrade only on TV.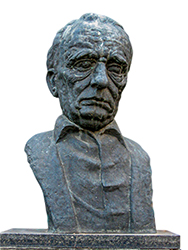 Duško asked the boy whether he had anyone in Belgrade, and the boy said he didn't.
"Strange – said Duško. – Everyone has someone in Belgrade: an aunt, an uncle, a friend from the army… You have me. Whenever anyone asks you: do you have anyone in Belgrade, you tell them: I have Duško Radović… And when you come to Belgrade again, you have someone to come to – to Duško."
The boy didn't forget his words. Time passed quickly, he graduated from high school and went to study – to Belgrade. With his talent, the only right decision was to study literature. He applied, like many other, the competition was strong back then, straight A students from the entire country…
And he went to "Studio B", to visit Duško.
"I don't know if you remember…", he started.
"Sure I do, Nikola! Didn't we say that you have me in Belgrade and that when you come, you come to me…"
Nikola told him that he applied to the Faculty of Philology, that he has taken the preliminary exam and hopes that he will be admitted – the number of students is limited, only sixty, and three hundred had applied…
"We mustn't leave it to chance" – said Duško. He took the phone, called his friend, an academician, and asked for the number of a reputable professor…
"This is Duško Radović. I wanted to ask you, dear professor, to see the results of a young man from our western lands at the preliminary exam, he's as good as a good day… I know he will be admitted, he's hard working and talented, but still take a look, I would like to be certain…"
Nikola was third or fourth on the list, but Duško didn't leave anything to chance.
When he enrolled, Duško took him to lunch and said:
"Now that I've enrolled you, you mustn't embarrass me. You have to study and pass exams. And you must come every month, to tell me how it's going, whether you need anything… And I will also ask about you… Take care… I'm responsible for you now!"
Nikola came to Duško every month. He'd order a cake or Coca-Cola, or give him a notebook, a nice pen – just not to forget that he's by his side… They have a nice talk. The poet asks him how his studies is going, if he needs anything… Does he regularly call his folks in Velika Gradusa?
One spring, Nikola received news that his mother died – he rushed to Sisak, then to Petrinja and then to Gradusa. He stayed a month or two with his father. He was an only child… The father will be left alone…
One day, a note appeared on the bulletin board of the Department of Yugoslav Literature: Nikola, his surname, please come to the Department secretary.
Nikola's friend, the one who's writing all this, went to inform the secretary where Nikola was. And the secretary, dear Mileva, said:
"Duško Radović called. He is worried because Nikola hasn't called him for two months…"
Such was Duško Radović.
SECOND SHORT STORY – A CALL OF CALLS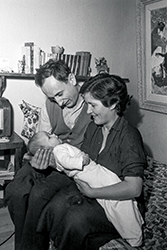 There were many courageous and witty situations with him. Many literary workers and contemporaries would tell many more.
He once called the writer of these legends on the phone.
I was young and one of my early books was marked as inconvenient by the public prosecutor: "dark and unilateral presentation of reality" – that's how it was stated back then… The publisher was afraid and didn't say a word. I was lonely and didn't belong to anyone … There were strong criticisms and heavy words stated about books and writers. Such was the time and order.
One day my phone rang. I recognized the voice, although I've never met Duško in person before.
"Good day, this is Duško Radović. Is that you, Dragan? I heard about the turmoil regarding your book. I immediately found it and read it. The book is good, that's the only thing that matters. Therefore, don't be afraid. You don't have to be afraid of anything. If anyone asks you about the book, I told you to publish it without any dilemmas. Tell them to ask me… And come to "Studio B" for a cake…"
I'm still getting ready to go there.
Once upon a time there was a Lion.