Champions
BRANKICA MIHAJLOVIĆ, ONE OF THE PILLARS OF THE WOMEN'S NATIONAL VOLLEYBALL TEAM, THE BEST IN EUROPE
We're Giving Our Best
Many gain medals with discipline and hard work, but we must add strong feelings as well. Everything we achieve is a gift to our nation and all the people who support us, in all our lands and regions. It is worrying that today's young generation is formed to believe in shortcuts, in instant solutions, in trick success, in having all doors open "through connections". We must all learn again: no pain, no gain
By: Dejan Bulajić
Photo: Serbian Volleyball Association Archive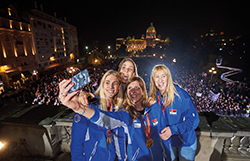 Our volleyball girls have been shining in all their glory this year too. They became European champions and qualified for the Olympics. Brankica Mihajlović had a particular contribution to the excellent results.
– This year was very successful for me. I continued the series of results from previous years, full of triumphs in both club and national team competitions. Certainly, everything we achieved in the national team jersey is of special importance. If it weren't for that, we could hardly be proud today, however successful we are in our clubs. The national team is the final crown of all our efforts.
Although you are very professional in what you do, we cannot help but notice that your engagement in the national team is accompanied with special emotions?
All the girls in the national team feel the same. If it weren't for it, I think that the results would be far from those we have now. A sincere wish to shine in full splendor is burning in us. We understand each other excellently, we have a good atmosphere, which makes us stronger and doesn't allow us to falter, even when things are not going well. Bigger responsibility and pressure are behind everything, but victories are an unmatched satisfaction for the enormous efforts. Perhaps it is the way to show that small nations in the big world can be better than others in something important and valuable.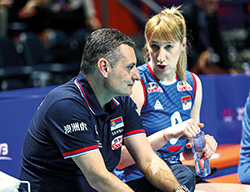 How difficult was it to build an environment in which you are all breathing as one?
It requires years of working together, with members of our team management, who understand us perfectly and know what they can expect from us. Certainly, the victories and medals had a crucial contribution. If it weren't for them, perhaps our entire story would seem different. That's the magic of triumph – achieving it requests so much efforts, but it repays wonderfully and multiply. It turned us into an organization, in which we feel nice and secure. Many athletes gain medals with discipline and very hard work, but we cannot do it without strong and sincere emotions.
Your club career is also very intensive. You have played in different leagues and different parts of the world?
From the moment I set off from my Brčko, I traveled to all parts of the world. I changed clubs, countries and continents. I played in Europe, South America and Asia. I spent time with people from Turkey, France, Switzerland, Brazil, Japan, China. I have wonderful experiences and friendships which mean a lot to me. I think that is the great benefit of my career. I got to know different cultures, met different characters, realized their measures and values, and all that made me more complete. All those encounters undoubtedly had a strong influence on me, but it's important that I also had to show what I was carrying from my home and nation.
HOMELAND, PERSISTENCE, SPONTANEITY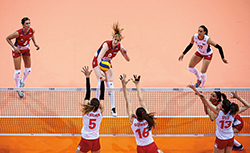 Does all that make the return to the homeland more significant?
Homeland is a pendant which is always by your side, wherever you are. My Brčko is the foundation of my life. It is a gallery of dear people, valuable memories, places which never fade in my memory. After all the traveled kilometers, different experiences and moods, returning to my homeland is a kind of recuperation. It is the only place in the world where I'm entirely my own and which unconditionally accepts me as such. All my roads end in Brčko.
What do you see as the greatest virtue of the nation you belong to?
I'd say persistence. Sometimes it seems to me that we can't do anything easily. Whatever is common for others, we achieve with great efforts. It is especially visible when we fight for grand causes. Many volleyball girls I played with noticed it in our ladies, the feature of never giving up. Perhaps the circumstances we have been in as a nation caused that. We have a rule built into us: that you have to be the best when its most difficult, when the obstacles are the highest, and it's good it's that way.
Besides, I like our spontaneity, the simple human sequel of events, without premeditation and plans. It's still keeping us together, in big and small events in life, from morning coffee to offering help whenever it's necessary.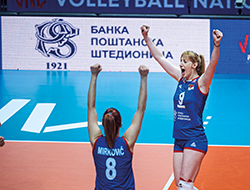 Many of our nice stories begin and end in families…?
Those who still haven't lost it are very lucky. I'm afraid it's slowly disappearing. Children who have everything in their childhood except for parents' love know it particularly well. Luckily, we did have it – unconditional love of our parents, their commitment and readiness to protect us from everything bad and direct us towards something without doubtful humaneness. My sister and I had a happy childhood and I think it is the basis of many of my achievements. Everything I win, I return to them to a certain extent, because they created my spirit, my wishes, destroyed my fears and lifted me up when I fall. Thus, I'm happier because my parents are thrilled to see what I'm doing.
FIGHTING, NEVER GIVING UP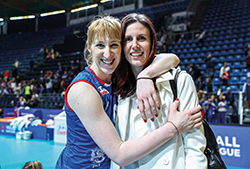 Parents used to create fighters from their children. And today…?
To be honest, more and more parents today are not creating anything in their children. They are leaving them to themselves, which very often leads to a wrong direction. The main feature of today's young people is hiding. They are hiding behind false pictures, false profiles on social networks. In those places, they are searching for shortcuts, for fast solutions and they are convinced they're on the right track. They are strangely convinced that everything in life can be bypassed easily and achieved without any problems. That's why I'm glad they have our example and the example of our other athletes, testifying about how difficult it is to reach real heights. I will never forget my beginnings and my 20 Euros salary. That moment of joy is still lasting in me today, and I know many of my colleagues have similar memories. I'm afraid, however, that time is running out for that too, because our contemporary age has a magical attractiveness and is capable of easily convincing young people that one can reach far in life by "tagging along". It is comfortable for their senses and they don't want to see the truth around them.
From your perspective, what are the specifically important lessons for children?
There are many, of course, but I believe that it's especially important to teach them to fight for their objectives themselves and never give up on them. I see that young people today give up easily, as soon as they encounter the first obstacle. It's perhaps because they're used to someone else opening doors for them, but I'm convinced it's not good. Each of us had the support of our parents, but ever since we were little, we knew that success in what we like depends only on us. Today many children are provided with the care of their parents, even if they're not doing anything. They will certainly not understand me, so I'm not talking to them.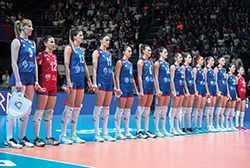 What is the future of women's volleyball in Serbia?
Being part of our story is a great satisfaction today. There is a story going around the world that highest caliber players are born in Serbia and many coming from much bigger and richer countries don't know how to explain it. We know the cause of all that, but we also know that our time is passing. This generation will be active for another few years and then our heiresses will have to take our place. I hope our clubs are aware of that and that coaches won't miss a chance to create players, who will not permit the destruction of everything we have been creating for years. It is great and very hard work – choosing the best from a myriad of players and making them winners. However, this is the only way to make a champion story. There is no alternative.
THE VALUE OF BROAD SUPPORT
Do you ever think about what you will do after volleyball?
That question is often on my mind, but there is still no real answer. Whenever I start thinking about it, my obligations interrupt me and force me to concentrate on current events. I really enjoy my career, I can take the pressure well, I like to travel, to frequently change the place I'm living in, meet new lands and people. Finally, I enjoy the feeling that I'm growing up through all that and putting together my personality as a mysterious mosaic.
What will happen in the future, I still don't know. Whether I will I stay in sports, be a coach or do something else, is still unknown to me.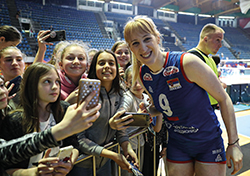 While settling accounts for 2019, full of numerous triumphs, what impressions would you share with people who are attentively following you?
First of all, I want to tell them that everything we do is addressed to them. We simply feel how much attention and trust all we receive from those people, who are not just our fans. They are members of our teams, they are our strength, we talk about them, we would be ashamed if we let them down. We are grateful for the emotions they are transferring to us and the support they're giving us. May they continue being with us and be certain that we will always do our best, without any reserve. That's the code of our team and it will last as long as we last on the court.
The public will also follow you at the Olympic Tournament in Tokyo…?
We are aware of it and know what is expected from us. Despite our trust in ourselves, we know that we'll compete with the best national teams in the world, who can't wait to take our scalp. It will be hard, harder than anything we've ever been through. The pressure is already rising, but I think we learnt to cope with it. We want gold, but we are pretty cautious and ready to go step by step. The only thing that's sure is that we'll leave our hearts on the court. We'll see if that will be sufficient for a final victory. Believe in us as you have up to know. Be patient and persistent as we will be.

***
Fatigue
– Fatigue certainly exists. We have been playing on two fronts for years, there is constant pressure and sometimes I wish I could have a break. However, our generation still hasn't achieved all its objectives. We want the Olympic title, and we have to work very hard for it. Furthermore, it's still early for settling accounts, regardless of the efforts needed to stay on the top.
***
Solitude
– Being so far away from home certainly forced me to get used to solitude. Especially when I stayed in other parts of the world. Those are situations that require more from us, make us endure, become stronger and rely on ourselves much more than we usually do when we are near the world we come from. I think such experiences made me stronger.