Chronicle
RECORDS FROM OLD PARAĆIN
Under the Hand of a Master
Confectioners, watchmakers, shoemakers, bakers, pastry chefs, juice-makers, tailors, photographers, inn-keepers, shopkeepers, coppersmiths, glassmakers, potters, painters, hairdressers, blacksmiths, gunsmiths, rope-makers, barrel-makers, candle-makers... Doing their trade every day, they have woven the fine web of old-town life. They have preserved the spirit of the city, the secret of craftsmanship, etiquette, elegant intimacy. And then different times came, people who don't understand many important things have arrived
By: Slađana Ristić
Photo: Paraćin Home Museum, Bojan Petrović, Slađana Ristić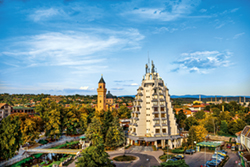 Paraćin, a town on the bank of the Crnica and only four kilometers from the Great Morava, breathes in Pomoravlje. Throughout history, the proximity of the imperial road, which for centuries linked the Roman, Byzantine and Ottoman empires to the central part of Europe, was favorable for the development of trade, transport, industry and, above all, craftsmanship. Many young men from different parts of the Balkans came to Paraćin to learn the craft. The city was pulsating and, according to the testimony of old citizens of this town, the taverns were open almost all night long. At that time, Paraćin had 52 taverns, nine inns, two cinemas, two theaters...
Between the two world wars, many traders and craftsmen had their own shops in this city. "Teokarović" Factory exported textile made on state-of-the-art English machines, "Serbian Glassworks" worked in full capacity, "Factory of Candies, Turkish-Delight and Chocolate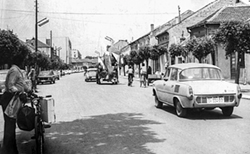 Milojković" produced tons of Turkish-delight, halvah and cookies. In 1937, it had as many as fourteen manufacturing departments. Turkish-delight especially stood out for its quality, and was supplied the royal court of Karađorđevića, as well as Hilandar Monastery. In those times, the city was filled with scents of fresh baked bread, crust, wax, brandy, klaker, shoemaker's glue...
After World War II, many stores were closed. The factories were taken over by other people. But one group of craftsmen proudly continued to work. At the bridge on Main Street the string of shops began, some old, but also new ones, belonging to the time of modern industry.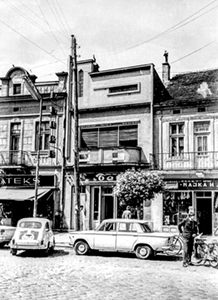 The old craft stores retained their authenticity and persistence. In the street from the Monument to World War I heroes towards the village of Striža, a long chain of shops was strung, starting with the watchmaker's shop led by the brothers Boža and Nane, as well as Dule Koda. A large clock was mounted on the pillar in front of Boža's watchmaker's shop. Not far from them was Rade, the gunsmith. There were as many as four shoemaking shops. The Petrović and Genčić families were famous for making leather garments and they worked until the end of the 1908s. The best shoemakers in the neighborhood, who also made new shoes, were the Kačarević brothers. Trajče's Bakery worked in the 1960s like a fine watch, just like Zećir's. The best quality phyllo dough in Pomoravlje was made by dough-maker Uncle Damnjan, who was from Macedonia. The phyllo dough was sold by his wife and three children. When Uncle Damnjan died, that famous phyllo dough workshop died with him. Leaning against each other were photo shops: "Koda" and "Dule". Krsta Petrović had a pastry shop not far from the World War I Memorial. From the 1960s until the end of the 20th century, that was an oasis for the gathering of young people, for growing up and falling in love with the best ice cream and chocolate cakes. Today, this family-owned manufactory is maintained by Krsta's son, as he says, with a lot of effort and sacrifice, as he is surrounded by cafes with new Italian ice cream.
IN THE SPIRIT OF OLD NOBILITY
There were also coppersmiths. They were breathing and did other things as one. The glassworks shop of Mr. Branko Golubović, a well-known merchant, was established during the Kingdom of Yugoslavia. After World War II, Mr. Branko continues to work until the end of his life, and is then replaced by his stepson Dragan, who passed the trade to his son. This shop also featured the works of Moravian painters. The existence and lives of these family-owned craft shops were immortalized by painter Miodrag Anđelković Đele of Paraćin.
Žarko Mladenović's Barber Shop had an appointment list, and one could also read the morning papers. At that time, Tača's hairdressing salon was also known (one could also have their haircut for free), as was the case the hair stylist Vojkan. The most popular hairdressers were Dule and Mica, a married couple, dressed up for work as if they had stepped out of Parisian fashion magazines. One had to make an appointment a week in advance to get hairstyling.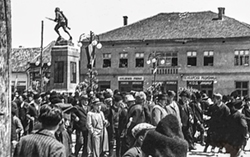 In the 1960s, there were three pottery shops, three dye shops, and by the mid-1950s as many as two horseshoe shops, and a rope-maker was also located not far from old Mija Ljubenović of Paraćin, a candle-maker. Soda-water shops of the Velјković family, the chief soda-water-maker Dobrosav who came from Babušnica, worked until the end of the 1970s. Since then, one can no longer find good soda-water for spritzer. Today, there is only one soda-water shop in Pomoravlje, in Jagodina, run by relatives of Dobrosav Veljković. In the 1950s and 1960s, there were hardly any taxis and cars. In the street then called Marshall Tito Street, today Vožda Karađorđa, carriers Žaca and Milan had most business.
The famous "First Serbian Glassworks" had its own glassmaking school at the time. The most famous glass craftsmen were Czechs, Germans and Russians. On Saturdays and Sundays, the brass orchestra of the "Serbian Glassworks" played and marched along the main street of the artisans. Then all the artisans would go to the doorstep of their shop to greet the musicians. Dressed in their formal clothes, with ties and bow-ties, they looked like gentlemen. On that day, they would have a coffee together and be treat themselves with the best rakia from Pomoravlje. Apprentices had a day off to rest and socialize. They sighed of some kind of anxiety in their chest. The artisans of this town nurtured their guild, socialized and organized craft parties, celebrated saint days. Many of them donated contributions to churches and monasteries in Pomoravlje.
ABOUT BLEAK VAGUENESS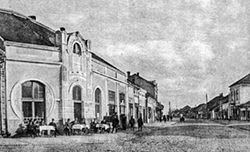 They would begin their morning work with coffee and a Turkish delight at the "Three Carps" Tavern. Someone put out the "Three Carps" and the life of a guild. This monument of the city and witness to the historical turmoil, unfortunately, did not retain its authenticity. Someone has failed in protecting this establishment and the spirit of the city. The tavern turned into a Chinese department store, then into a drugstore.
The owners of the craft shops did their businesses exactly at this famous tavern, which was lately filled with poets and actors who toured in this town. Upon their return from literary meetings, they would stop by Ristić wax shop, as actress Branka Veselinović did several times, or by Krsta, the pastry chef, for an ice cream and the fermented beverage called boza, or by Šaban for lemonade and roasted chestnuts... Šaban still roasts chestnuts today on Vožda Karađorđa Street and packs them in paper cones. He is part of the cultural heritage, and autumn in this city cannot begin without him. The masters of Paraćin also hung out in the taverns "Timok", "Three Grape Clusters", "Hunter", "Athens", "Three Villagers"...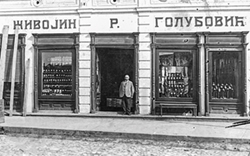 Nothing seemed to have changed since the 1970s. That attractive hubbub of the city, that promenade of dressed-up customers from shop to shop, left a mark in the memory of the elderly Paraćin citizens, with melancholy and respect. And then, at the beginning of the 21st century, the shops were locked one by one. The name boards on shops were torn down, and some new ones were mounted, with foreign names, without inscriptions in Cyrillic. Shops with upstairs apartments were expropriated very quickly, and in some vague yet legal way were given new owners. With their new urban and architectural designs, they erected glass floors, mixed styles, ate up those beautiful facades with reliefs that were testimony to a gentlemanly and commercial town. Thus, the artisan street has changed its face and ate up its own history.
Many artisans moved to their eternal heavenly resting place, others quit their jobs because of poor earnings, or pressure from new "controversial businessmen" who rushed to open their boutiques, pizzerias, and bookmakers in place of old stores. The third, the youngest, the heirs of the old masters, realized that it was impossible to make a living from the craft. They sold everything and bought a ticket for a flight overseas.
WAX IMPRESSION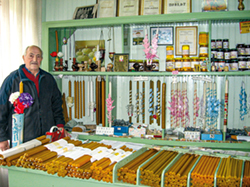 This is the story of the disappearance of a long-lasting world in a small oasis, the present Vožda Karađorđa Street.
– Mr. Spasoje, one of the famous candle-makers, was buried that rainy day. The tamburitza players played and sang the song "My Master's Pipe". His apprentices bid him farewell with respect and tears –an eighty-four-year-old candle-maker Živojin Ristić, one of the last knights of the local crafts, opens up his diary before us. In Vožda Karađorđa Street, only his shop does not have a key in the lock and candles have been burning from the windows for over sixty years. His father Čeda and brother Aleksandar, Cane, also worked at the wax shop. Their two brothers are also candle-makers in Varvarin. Živojin's uncle Čedomir Sokolović from Varvarin was known throughout Serbia as a master and bohemian.
Aleksandar and Živojin Ristić opened the family wax and confectionery shop in Paraćin in 1954, but they also opened the door of their home for travelers and young men looking to learn trade and make bread. It's hard to work with wax today. Manual molding is no longer used by anyone, now it is done with machines with rollers. Cotton wrapped on rollers passes through a vessel in which hot wax and paraffin are boiling, thus making kilometer-long candles.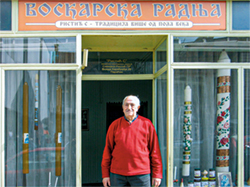 Modern technologies have suppressed trades that were once indispensable. Živojin says that candles are used when we are baptized, when we are getting married and when we die. Once upon a time, when Serb soldiers crossed the Thessaloniki Front, they carried a candle to remain themselves, to stay alive, to pray to God, to light it for saint day, to light it for an injured comrade.
Živojin used to make licider hearts livery hearts, dolls, cookies, necklaces, gingerbread. Necklaces were strung by wives and daughters with their skillful hands. It was an authentic family-owned manufactory. The family was also engaged in beekeeping and making honeycombs of wax.
Master Žika still welcomes and bids farewell to his customers with the words: "Long live, happy saint day". Many fellow citizens stop by this family shop to feel the antiquity and warmth, cultural heritage...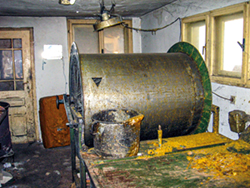 Živojin's Uncle, brush-maker, Uncle Čeda is gone. The famous family brush shop in Vožda Karađorđa Street has been closed for more than two decades. His son and grandson continued the tradition of this craft with the help of modern technology. They turned the family home into a work space. The Stojković family has been making brushes since the 1920s. Uncle Čeda used to visit his artisan neighbors with coffee and silk candy every year for Saint Sava Day. He celebrated both Saint Sava and his birthday. And he did so every winter, for as long as his legs were still serving him. He would say: "I also remember that small shaving brush I happily made and which ended up at the Royal Court."
In the last few years, three days in September, in the main street not far from Vožda Karađorđa Street, about one hundred artisans from Serbia gather during the Ethno Fest. Through this array of guest artisans, pass the shadows of the Paraćin masters who are somewhere on the other side of the riverbank...

***
Carts
In front of "Zaječar" Tavern was the initial station for carts.
They provided transportations in all directions: towards the Railway Station, Ćuprija, Ćićevac and the surrounding villages.
***
Masters Are Remembered
Among the candle-makers there were also such masters who left a really deep mark in their trade.
– Vujić from Čubura, Šterić from Vračar, Spasojević from Đeram Market, Sveta Manić from Kruševac, Aca Vasić from Niš – Ristić remembers them. – They worked from morning till late evening. The candle-makers cooperated without vain.
***
On the Wing of the Abbot
Abbot Danilo from St. Nicholas Monastery, from the village of Svojnovo, often stayed at candle-maker Aleksandra Ristić's place. He did that when he would go to Hilandar. Candle-maker's apprentices and children learned their first prayers from abbot Danilo. Aleksandar's daughter Snežana Ristić continues the tradition of this craft on the route Belgrade-Paraćin, thus preserving her family heritage.