Renascence
ONE OF THE BEST SERBIAN ETHNO BANDS APPROACHES MATURE AGE
A New Generation of Trackers
"Trag" bring us pearls of Serbian music heritage from the depths of time, as well as new generations through which the music will continue living. Anika was born at the beginning of last year, Vasilije and Filip in spring and Vukašin and Anđela in summer. They call them "small trackers", "the most beautiful track of 'Trag'". With them, the brilliant example of those wonderful young people is shining even more brightly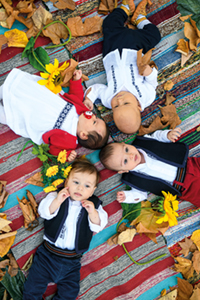 "Track of tracks. Revealing our golden musical threads in the depths of time and memory, in forgotten treasuries, so that we could hear them again inside of us. They adapt them to contemporary arrangements and sensibility, showing that tradition is not anachronous but all-timely, and that we must return to ancientness in a fresh way. They fascinated audiences in Russia, the Netherlands, Germany, Switzerland, and revealed most to ourselves."
This is how we wrote about the ethno-band "Trag" ("Track") seven years ago, when its members were on the cover page of our National Review "Srpska". We could repeat all this now, even more convinced it's true.
"Trag" celebrated sixteen years of work in 2019. It is approaching mature age. Every year, they receive invitations to perform around the world and strive to show the rich cultural heritage of the Balkan nations, firstly Serbian, through creative and up to date arrangements of old folk songs. However, previous year was wonderful in a completely different way.
For that occasion, Valentina Milekić Kovačić, art manager of "Trag", was speaking for National Review on behalf of all trackers.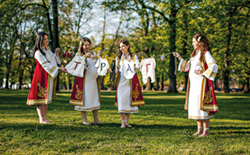 Trackers. We had to take a break from our concert performances and postpone all travels, because our music family became richer for an entire new generation of new trackers. Anika arrived at the beginning of the year, Vasilije and Filip in spring and Vukašin and Anđelija in summer. Motivated by these wonderful events, we made a series of photographs, hoping that we will thereby remind younger generations that one of the basic values in the tradition of our nation is certainly the family. Even before they entered this world, the small trackers already had their first performances, which, of course, only their mommies knew. We then started searching for traditional songs that could be adapted for the youngest children and adjusted for them. We were motivated by our babies, as well as numerous children who regularly visit our concerts, write to us, give us their drawings and know all our songs by heart. It is touching and almost incredible, when teachers send us videos of the entire class singing one of our songs, and some kindergartens have made choreographies. Therefore, we will certainly, if we have the possibility, dedicate several songs to children.
... And friends. After Sounds of the Balkans (2008) and Vows (2013), we finally completed our third album entitled Trag and Friends in 2019. We have been preparing this project for a long time and we're very proud of it. Besides current and old members of "Trag", we had many interesting guests who participated in creating music for the album: Mladen Matović, composer, "Istočnik" ensemble, fantastic percussionist from Syria Hadi Hrekes, our violinist Marko Zoranović, world famous gusle player Bojana Peković, clarinet and drums player Dejan Trkulja… Cooperating with these artists was a great pleasure. We are excited and can't wait to share the album with our audience. It will be accompanied with Tea Jagodić's art photographs in a booklet designed by Saša Ostojić.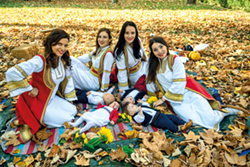 Here today, next year in Prizren. When the guys from "Beogradski sindikat" suggested us to cooperate on the song "Next Year in Prizren", I was pretty surprised. "Trag" is used to making "a fusion of different genres", combining traditional melodies and rhythms with different forms, but hip-hop, at first glance, seemed incompatible with what we're doing. However, when I heard the subject, there was nothing to think about. I knew it was a subject capable of connecting different poetics, genres, Serbs from both sides of the Drina, as well as being a bridge between our nation and others, who don't have the opportunity to hear and see the real picture about us. We have worked long, polished the song, tried to clean it from daily politics and stick to universal messages and values. We didn't want to make a "rabble-rousing song", but a song that will tell the truth about the suffering of Serbian civilians and shrines in Kosovo. A song what will bring a different picture about our slandered nation into the world. The real and truthful picture. The video is a documentary, but in choruses, the pictures of war madness disappear and become replaced with amazing shots of nature, monasteries, monastic life, frescoes which wake up faith and hope that everything will be better and different one day and that people will return to their homes.
Live music. When we became engaged in this kind of music, there was a prejudice that it is old-fashioned singing of old men and women in mountains. We tried to show the people how rich and wonderful the heritage of Balkan nations, before all Serbian, is. And how important it is to cherish our national and cultural identity, which is a precondition to essentially understand and respect others. Our ensemble has been performing music of different Balkan nations, and teaches about the cultures of others as well. We succeeded in leaving a trace in the hearts of people worldwide, shown by millions of views of our songs on YouTube and the great popularity of our albums. Concert halls we perform in are full in our lands as well, and there are many young people there.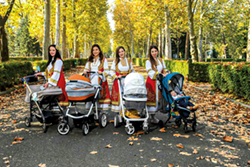 Interest. We know the difficult position of our genuine culture in this époque. Furthermore, we deal with non-commercial music. Despite all that, we have many concerts and performances, about forty a year. In average, we have performances every nine or ten days. We often cannot accept interesting invitations, because our primary jobs don't allow us.
I have to admit, with a heavy heart, that our people are still fighting with the rural syndrome and think that everything foreign is more attractive ("if it's ours, it surely isn't any good"). With exceptions, of course. We show people that we should respect our own and proudly present it to the world. When we see how audience worldwide experiences our traditional music, we become more aware of our rich folk treasury. If we had better marketing and just a bit more time for this, I believe we could work miracles. However, we are where we are and we're satisfied with it.
***
Type
– It's not easy to determine the type of music we are engaged in. We cherish traditional music and old folk songs, but not in the way ethno-musicologists do. Our task is not to find and note a song, and then interpret it as we've heard it or as someone noted it a hundred and fifty years ago. That's the task of science, ethno-musicology. We want to bring these already somewhat forgotten songs to young generations, to enable the songs to live among people through new forms and expressions, to be sung and transferred, testifying about everything we have been through.
***
Worldwide
– We've had more than 600 concerts in several continents up to now. We performed in America, Russia, Belarus, the Netherlands, Germany, Austria, Macedonia, Serbia, Croatia, Montenegro, and, of course Bosnia and Herzegovina.