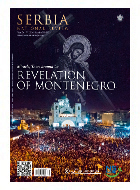 SERBIA - National review, No 78

Prologue
Miracles are, of course, possible. We are the best proof of that: the miracle of survival. And the events in Montenegro after the adoption of the infamous "Freedom of Religion Act" – the sudden overthrow of shackles of forgery and the emergence of the true face of the people – are a real miracle. (And they thought that the devil's work had succeeded and that authentic Montenegro no longer existed.) The entire Orthodox universe responded to this miracle. Naturally, National Review was there. At the processions and supplications in Nikšić, Podgorica, Pljevlja, Berane, Bar, Boka, Piva... We saw "eruption of prayer, goodness, beauty, feat, wisdom". Let us testify. <



CONTENTS
Prologue
TRAPPED IN "AUGMENTED REALITY"
Human and Humanoid
Vitrage
NUMBERS, EVENTS, INTERESTING THINGS
Album
MIRACLE, THERE AROUND US
Revelation of Montenegro
In Focus
BISHOP OF BUDIM AND NIKŠIĆ JOANIKIJE EXCLUSIVELY FOR NATIONAL REVIEW
Vox Populi, Vox Dei
Since the Parliament of Montenegro committed open lawlessness, we have convened this largest and most beautiful National Assembly, so that its voice can also be heard. It is composed of all people of faith, both old and young. We have not allowed the brothers of the same religion and origin to get divided, nationally or politically, in the churchyard. Thus we received the great blessing of God. The people longed for reconciliation, unity and truth. It has been persistently defending its holy sanctuaries, with amazing cheerfulness, faith and harmony. Piously and creatively. The regime-poisoned tricks were overcome, they no longer have effect in the local community, let alone in the Church
By: Mišo Vujović
Homeland
UNDER GRMEČ, FOLLOWING THE TRACES OF BRANKO ĆOPIĆ, THROUGH THE GARDEN OF MARSHMALLOW COLOR
A World Endless and Narrow
He wasn't unbreakable, we know that. However, his laughter before the weight of the world is still healthily roaring. In the famous writer's hometown, many things have changed compared to the time he used to visit it. Older people still remember him, tell his anecdotes and puns, recognize his "idlers" and "inborn dummies", people who "embrace the entire world". His grandpa Rade and his "girl from Bosanska Krupa" are actually all of them. Will we really silently watch the house Branko Ćopić was born in being renovated by the government of Azerbaijan?
By: Ilijana Božić
Time Machine
AN INTERESTING PREHISTORIC RECONSTRUCTION IN RADMILOVAC, NEAR VINČA
Life and Dreams of Ancient Fishermen
The Danube has been feeding their blood, faith and imagination for millennia. It has been giving and taking everything they needed. They didn't move or participate in wars for thousands of years. They lived simply and with measure, used a solar calendar, the mountain served them as a target on a sight, they defended their homes and lives with fire, artistically expressed the most sublime... We discover all this by walking through the unusual settlement of prehistoric fishermen reconstructed in the vicinity of Belgrade, on an experimental estate belonging to the Faculty of Agriculture in Belgrade
By: Gordana Simeunović
Pilgrimages
IN KUĆANI, UNDER MURTENICA, ONE OF THE MOST UNUSUAL LOG CHURCHES IN SERBIA
Small Giant
It was raised in the difficult times of slavery, as a guardian of bearings, sanctuary of hope. An invisible hand preserved the little church and its people, the two wonders. It has been standing there for almost two and a half centuries without a single nail. It was burning, it was plundered, and erected again, since it "flew down here from somewhere". The royal doors were painted in 1780 by priest Simeon, member of the famous Lazović painting family from Bijelo Polje. You cannot reach it by impatience or stumble upon just by accident. In order to see it, you have to make an effort, you have to want, you have to know how to outlive empires
By: Miloš Matić
Chronicle
RECORDS FROM OLD PARAĆIN
Under the Hand of a Master
Confectioners, watchmakers, shoemakers, bakers, pastry chefs, juice-makers, tailors, photographers, inn-keepers, shopkeepers, coppersmiths, glassmakers, potters, painters, hairdressers, blacksmiths, gunsmiths, rope-makers, barrel-makers, candle-makers... Doing their trade every day, they have woven the fine web of old-town life. They have preserved the spirit of the city, the secret of craftsmanship, etiquette, elegant intimacy. And then different times came, people who don't understand many important things have arrived
By: Slađana Ristić
Endowers
LUKA ĆELOVIĆ TREBINJAC (1854–1929), ONE OF THE GREATEST BENEFACTORS IN MODERN-AGE SERBIA
High Education in Nobleness
Yes, he knew how to deal with money, but that's not the point. He was a visionary. He didn't serve money, but his money served his entire nation. It was in accordance with his sublime patriotism and old-school honesty. He had only four years of elementary school, however he was president of the "Belgrade Cooperative" since he was thirty-three and president of the National Bank management board until his death. He left his entire estate, an incredible amount of thirty million then dinars, to the University of Belgrade
By: Miloš Lazić
Renascence
ONE OF THE BEST SERBIAN ETHNO BANDS APPROACHES MATURE AGE
A New Generation of Trackers
"Trag" bring us pearls of Serbian music heritage from the depths of time, as well as new generations through which the music will continue living. Anika was born at the beginning of last year, Vasilije and Filip in spring and Vukašin and Anđela in summer. They call them "small trackers", "the most beautiful track of 'Trag'". With them, the brilliant example of those wonderful young people is shining even more brightly
Examples
EMILIJA STOJANOVIĆ, FORMER YOUNG BASKETBALL CHAMPION, NOW EXEMPLARY SCIENTIST
No Less Challenging
She was Serbian junior and cadet national team member, played professionally in Kovin, Niš, France. Now she's completely dedicated to her doctoral studies and university career. Her focus is on the problems of doping in sports, as well as other complex subjects, such as bone metabolism in athletes. Winner of "For Women in Science" National Scholarship
By: Dejan Bulajić
The Capital
THE BEGINNING OF 2020 IN BELGRADE REMAINS MARKED BY TOURISM
Continuation of a Fruitful Formula
The upward trend was maintained in 2019. Foreign guests account for 75 percent of the total visit. The promotional activities of Belgrade Tourist Organization are particularly focused on markets of China, Russia, USA, Turkey, Germany and Greece
North
BOGDAN LABAN, MAYOR OF SUBOTICA
The Reaches of Capital Projects
After decades of ineffective stories, construction of the city bypass and reconstruction of the National Theater are being completed. Serious investors continue to arrive at Commercial Zone "Mali Bajmok". A comprehensive revitalization of Palić is underway, as well as the protection of its biodiversity. (...) The challenges are great, but so are the plans for 2020
Direction
ČEDOMIR BOŽIĆ, PRESIDENT OF ŽABALJ MUNICIPALITY, ON DEVELOPMENT STRATEGY, PLANS AND ACHIEVEMENTS
For Diverse Quality
Great effort creates an attractive investment environment. Direct and harmonized cooperation has been established with the farmers. Investments are made in infrastructure, activities of public interest, young people. In culture and folk art. All this has created a modern vision of the future
Centers
VRNЈAČKA BANЈA ON THE UPSWING AGAIN IN 2020
Better and Wealthier
After extensive infrastructure investments in the past years, Banja is now focusing on developing tourist facilities. This will directly affect the further increase in the number of tourists and overnight stays. The tourist improvement of Goč Mountain, completion of sports infrastructure, panoramic gondola, expansion of the walking trail, aqua park, strengthening of existing and launching of new events – are just some of the things planned
Steps
LARGE AGRICULTURAL LOGISTICS CENTER IN THE "RUMA LOOP" ZONE
Built on New Technologies
The Dutch-Macedonian company "Gresto" is involved in the promotion of modern agricultural systems, construction of greenhouses, the use of the latest fertilizers and technologies. There will also be a training center for Serbian farmers here. In addition to quality, it is important to have a product when only few have it. Then profitability and profit are greatest. The investment is worth two million euros
Text and Photo: Mile Vajagić
Seed
INSTITUTE OF FIELD AND VEGETABLE CROPS IN NOVI SAD, AN INSTITUTION OF NATIONAL SIGNIFICANCE
In the Top Worldwide
The readers of "National Review" were able to see how successful the past year was for this Institute. In 2020, its domestic and international position will be further strengthened. Big investments in cutting-edge science and its application, in new technologies and the best young scientists, in expanding the assortment and getting closer to direct farmers
Health
BENEFITS CONTINUE IN "MERKUR" FROM VRNJAČKA BANJA
Winter Boons
Significant discounts on specially tailored programs "Living with Diabetes", "Pain-Free Movement", "Gastro Package", "For Every Pocket", "Rest for Body & Soul". For healing, refreshment, rest. For children and adults, young and old, individuals and families
Connections
TAKING "LASTA" TO THE LARGE SERBIAN TOURIST CENTER
On the Golden Mountain
"Lasta" and Zlatibor have been known for a long time. Ever since this reputable carrier moved its route toward the coast there. And now, "Lasta" is there every day, both in summer and winter. It rides through beautiful landscapes to the heart of the mountain. And "Lasta's" travel agency will arrange your vacation there exactly to fit your needs