Lens
ON MEDVEDNIK, NEAR VALJEVO, LIFE SIZE
Life Simple and Bright
It is in the middle of the mountain range stretching from the Drina in the west down to Suvobor in the east. Over Gučevo, Boranja, Sokolska planina, Jablanik, Povlen, Malјen. With no makeup, unspoiled, not conceited. Patriotic and quiet. From here you can see Serbia, which kept saving us even when we, careless and unbelieving, forgot about it. And at the heart of this mountain is the shrine of which Desanka Maksimović wrote: "How would I go to the other world without having been here and bowed to the icons in this sanctuary?"
By: Violeta Milutinović
Photo: Zoran Milutinović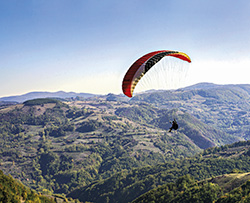 Not far from Valjevo, the scents of beech forest gently introduce us into the mountain range that begins in the west with Medvednik, Jablanik, Povlen and Maljen, and is closed in the east by Suvobor and Rajac.
Medvednik, with its peak at 1,247 meters above sea level, is rich in watercourses. Almost all of them belong to the Drina River basin. These fields, meadows and forests are rich in wild strawberries, raspberries, blackberries, mushrooms, fragrant flowers and medicinal herbs. There are Vukobratski, Rujevički, Diklinski streams... Many caves (Janjina, Red Cave) and the name of the mountain itself evoke the times when bears roamed this area.
Our first two-day stay on Medvednik was within a group organized by the Photo Alliance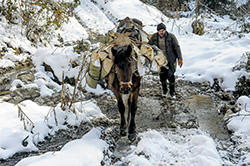 of Serbia. We were accommodated in "Krušik" Mountain Lodge, where our host Sveta welcomed us. We attended the magnificent take-off and landing of a palaglider. Connected with nature, they toyed with the energy of heaven and earth, freedom and "cosmic silence". The bodies of these flyers rose to infinity, becoming transparent and almost reduced to a dot, only to descend again and rise again. Imbued with enthusiasm, they returned love to nature and became almost untouchable.
We walked through the forests and paths of Medvednik. Autumn here is truly yellow, in all the hues of that color. As the sun rose from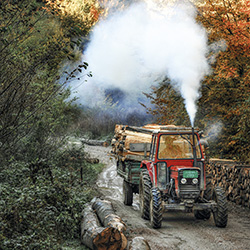 its silence, orange fields appeared and the leaves moved. Autumn rustled and twisted the branches from which the birds peeked, wet from the rain. The grass was wet, its scent strong. The fog was mystical and the streams glittering. The cold rain broke the silence, pounding on the roofs and gutters.
We wrote: "We were photographers of solitude and silence, hiding in valleys, meadows, water, stone and plants. It was there between every step, between heaven and earth, between conversations and birds chirping. It kept us together and erased our differences. It made us happy and carefree. It took away our fatigue and apathy, gave us new healthy energy and optimism. The silence sharpened our senses, focused our attention and restored confidence. It gave us a solid dream under the starry sky. It snatched away our phones, the internet and our TV. It brought us back to each other and laughter. It put books into our hands and hid in the rustle of their pages..."
WINTER RETURN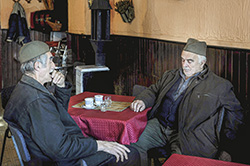 After three months, we come to Medvednik alone, for a new piece of our silence. This time the mountain is covered with snow and protected by ice. "Long morning walks breathed in energy and elicited a smile. There were lots of desolate paths and meadows that offered magnificent views. We reached the top of Medvednik over Kedina Voda where we happily took a break and ate our cold sandwiches. Winter here is not old and grumpy, it is full of energy and joy. It stopped the rivers and streams, silenced the birds. Covered the flowers, put animals to sleep. Only an occasional raven would caw, defying silence."
The paths also led us to the surrounding old villages (Rebelј, Bobova, Mijači, Suvodanje, Dragodol...). The snow flew over the deserted alleys, hiding the rooftops of the houses.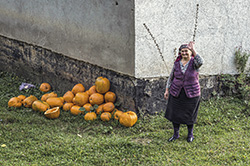 Behind the frozen windows, the warmth of the homes and the silhouettes of their occupants could be discerned. These people established their relationship with pines, hills, meadows, rivers. They are part of the sun, snow, rain, lightning and silence. Therefore, they are full of brightness and strength. They are engaged in agriculture, livestock, more and more tourism. They are not alienated and lonely. They help one another, old and sick, celebrate and grieve together. Their life is not easy, it involves a lot of work and giving up some of the benefits of city life. However, they skillfully take advantage of life in the village and create their own stories.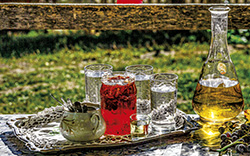 Notebook: "The children here are hardworking and happy. Although they have mobile phones and computers, they spend their free time in nature. They genuinely laugh, play, socialize and talk to each other. They live their beautiful childhood loves. They participate in various local competitions and festivities. They play tug-of-war, football, roll on the sand, they are not afraid to fall or scratch. They can quarrel and fight and then they would take their glass marbles and be best friends again. They love animals, rain, darkness and thunder. They skillfully climb trees and are not afraid of heights. School, numerous obligations and modern technology do not prevent them from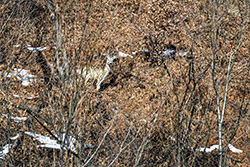 growing into healthy, courageous and strong people."
One of those former children is now the good old Đura. That day he showed us how he carries wood through the forest on his little horse. Afterwards he warmly welcomed us into his humble home, in which fire crackled merrily. As we ate a slice of hot homemade bread and a slice of cheese, Đura smoked a pipe and told some good old stories through the smoke. He remembered his childhood, snow up to his ears, broken wooden sleds, Christmas days and his family. He remembered jokingly stealing neighbor's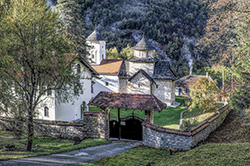 eggs, opened sheep pens and sleep on hey. Because of a girl he was stealing neighbors' apples, making up stories about encounters with a bear. He laughed out loud when he remembered his dog whose back he had painted red, or when he and his friends summoned ghosts near the cemetery... Yes, he was a happy child. Time passed quickly, the hearth crackled quieter, and darkness completely covered the windows. Then we said goodbye to our host and set off toward the mountain lodge.
We left behind a village with its smoking chimneys. The paths got dark and we walked without fear or looking back...
THIS HOLY PLACE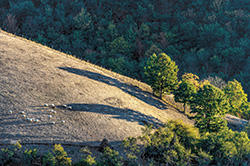 The next afternoon we visited the Pustinja Monastery. Tucked away in the gorge of the Jablanica River, it is invisible from the road. It is hidden by the forested slope of Mount Orlovača on the north and Bela Stena on the south. For this monastery, built at the end of the 14th century, poet Desanka Maksimović said in 1992: "I am happy to visit this holy place. How could I go to the other world without having been here and bowing to the icons in this sanctuary."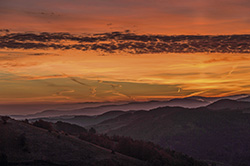 With peace of our minds, we too have left this beautiful mountain, its inhabitants. A place of silence and connectedness with nature. There are no skiers, market chains, burgers and hot dogs to go. There are no seesaws, swings and slides, screams and wheezing... There are no souvenir stands, cafes and prestigious restaurants with good music. But there is so much more that is needed. And this difficult spring of 2020 shows us: the time is coming when we can no longer delay, we will have to start rediscovering it.
***
Wreath
On the Valjevo side, they say, the mountain looks like a huge bear lying and resting, hence the name. Or there used to be many bears here after all. Thirty kilometers from Valjevo, Medvednik is in the center of the mountain range that starts from the Drina River and ends at Rajac. The following are stringed one after the other: Gučevo (highest peak 779 meters above sea level), Boranja (856 meters), Jagodnja (939), Sokolska planina (973), Medvednik (1,247), Jablanik (1,275), Povlen (1,347), Malјen (1,104), Suvobor (864), It is considered to be one of the most beautiful mountain ranges in Serbian countries.
***
Everything
To find yourself here, you have to make the effort yourself. But when you come, everything is at your fingertips: hiking, walking, picking mushrooms and medicinal herbs, sledding and skiing... From the villagers you can buy their home-made products: med, sir, honey, cheese, kajmak, hand-knitted sweaters, socks and scarves made of natural wool...
***
Praise to Silence
Silence draws away greed, creates a zone where we can renew our beings and everything around us. It allows us to put ourselves together and make the right decisions. And silence, in the world of modern man, is such an "endangered species".