Arena
MIROSLAV RADULJICA, MEMBER OF THE SERBIAN NATIONAL BASKETBALL TEAM, ABOUT TEMPTATIONS, DISTANCES AND FREEDOM
Show Must Go On
He played in three continents, lived in seven countries. Won many medals. Wherever he stayed, he wanted to show Serbian goodness and immediacy, boldness and persistence, talent. He believes that, in crucial moments, that's what makes a difference in the court as well. He's aware of the cruelty of contemporary sports, but "if you start dancing, you rely on your legs". He likes motorbikes, reads a lot, speaks four languages and is learning the fifth. He often remembers the sentence of his favorite comic hero: "Millions long for immortality who don't know what to do with themselves on a rainy Sunday afternoon"
By: Dejan Bulajić
Photo: Guest's Archive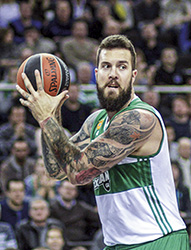 With its last swings, winter handed over the breath of worries, anxiety and bad anticipations to spring. The corona virus moved into the lives of people as an unwanted guest, abruptly discontinuing everything we are used to. Everything suddenly stopped, from direct conversations to moving. Everything stopped, including sports. Modern gladiators retreated from their fighting positions, waiting for the heavy clouds of the sudden threat to withdraw, and to return to their arenas. We found Miroslav Raduljica, basketball player, on his way back to his club, Chinese "Jiangsu". While the darkness of the epidemic was still lasting in Europe, it was already dawning in the Far East, so he was able to start off to China.
– This situation bothers everyone, including sportsmen. However, we learned to cope with pressure and uncertainty during our entire career, so such lessons are one of the most useful experiences in such a situation. What's more important, we are used to follow and adopt rules enabling us to conquer challenges more easily. So, in this situation, new for all of us, I tried to apply the skills I learned in sports.
Fear has crept into entire nations. How does an athlete, who must be bold when entering the arena, sees the phenomenon of fear and hopelessness?
Fear is a natural reaction to everything that creates a serious disturbance in the lives of people, but we mustn't feel hopeless, because it's the last thing we need when we have to fight. We need something to encourage us, not take our strength away. It's normal to have a certain degree of realistic fear, but people should be encouraged not to have irrational fears and not to feel hopeless.
How can we explain the phenomenon of boldness?
The answer can be easily found on the value scale of our nation. We are famous for our boldness and decisiveness, especially in crucial moments of our history. I think that crucially affected our survival. From the competing perspective, I think this helped our players and teams, in any sports, to be the best. To put it simply – it's in our genes.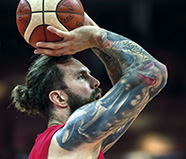 How different is that feature in various nations? You can tell us a lot about it, since you played in different countries.
The phenomenon definitely differs in various nations and reveals the in-depth attitude towards life in different lands in a specific manner. The attitude towards courage is not the same everywhere, although we tend to believe that it is a general feature. Those revelations, as well as encounters with other cultures, have enriched me. The first time I went abroad, I had a wish to stay in one club, city, country, and not to change anything. The opposite happened and I was lucky to live in many countries, meet completely different cultures, their dominant features, tradition and culture. I played in three continents and lived in seven countries. That made me richer, more than any money I've ever earned.
THE IMPORTANCE OF WHAT WE'RE DOING
Which country or nation left a particularly strong impression?
I like to think of myself as an adventurer. Such people have strong impressions wherever they are. Same with me. I discovered interesting things everywhere, something that left a strong impression on me and a reason I'd return there again. However, if I had to choose a few countries, it would certainly be Greece, because of closeness with people and the energy we exchanged, and America, because of the possibilities and opportunities it offers. If you asked me where I'd like to live after my basketball career, I wouldn't have any doubt – it's Serbia. If I had to choose another option – it's Greece.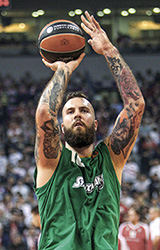 How did you want to present your nation in countries you had lived in?
My wish was to present people in the right way, because, finally, I'm just an ordinary guy from Serbia. I wanted to show our goodness, immediacy, boldness (which I often emphasize), persistence and honesty. Actually, everything that makes our people so special. I hope I succeeded, because I made very good friends wherever I lived.
We are used to the fact that "many of us" represent Serbia throughout the world in a doubtful manner. They straightforwardly say that they despise, condemn, even insult their people?
There are good and bad people in every nation, those who want to help and those who want to make damage. However, we shouldn't judge such things. We must make an effort and be the best we can in the given moment, in the place we're in. Then many things become easier and better, even the environment we live in. We, athletes, have no dilemmas and know what we must do to present our country in the best possible manner. I will quote someone smarter than me: "If we want all of us to be better, we ourselves must be better."
Achieved results are a great satisfaction, both for you and for the public?
Sometimes, in the middle of the battle, it's difficult to see a wider picture, which is, in such cases, much more important than our personal satisfaction. While developing as athlete and human being, I realized the importance of what we do in aspects other than those related to sports.
How difficult is it to cope with constant pressure?
I believe that ordinary people might see it as pressure that breaks you, but we dedicated our entire lives to overcoming it and not feeling it as a burden. Already as children, we were growing up under pressure and are simply used to it. However, there is also something in the saying that "after great pressure comes great relaxation".
MOTOR FOR THE SOUL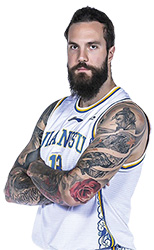 Do you sometimes wish to make a pause?
Of course, just like anyone else who tries to do their job the best they can. However, unlike them, we are aware that a longer pause is not possible, because we chose to be in something that constantly requests full power. Sport is cruel, it requests the utmost from its participants and doesn't recognize any kind of absence. It's less important how we feel about all that, what we sacrifice and if we would change anything. The show must go on.
What attracts your attention besides sports?
Many things help me turn off from time to time. I like reading very much. One of my favorite authors is Steven King. I also like classic literature, even philosophy. A special pleasure for me is learning foreign languages. I hope that I'll be able to join a solid knowledge of Chinese language to English, German and Russian. Music is my constant companion, because it's available on every step. During the day, I mostly listen to electronic music, but if I have the opportunity to afford real relaxation, I use rock music for it. When I have time, I like to see a good movie. I think an intelligent man can never be bored. I also often remember the sentence of my favorite comic hero: "Millions long for immortality who don't know what to do with themselves on a rainy Sunday afternoon."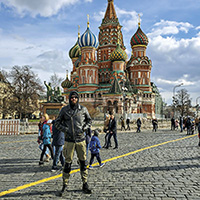 Can you go from philosophy, down the winding paths of literature, through ups and downs of music, to the labyrinths of contemporary film, on a motorbike?
I never had a wish for anything like it. The motorbike is something special in my life. It is a story about distances, expanses, freedom. I always remember the great American saying: "Car moves the body, motorcycle moves the soul."
Tattoos?
Many say that they're my fetish, but I wouldn't agree. I'd rather say that it's a way to express myself without many words. Sometimes pictures are sufficient.
Have you ever thought about what you will do after your basketball career?
I've been thinking about it since I was a teenager. It's probably a reflex of my being. The pragmatic part of me, insufficiently expressed. I'm aware, however, that I should be ready for one of the biggest changes in the life of a professional athlete – the end of my career.
SUCCESS FACTOR
What else would you like to achieve until then?
I'd love to participate in the EuroLeague Final Four and play in the NBA once again. Of course, I'd also love to win at least one more gold medal with our national team.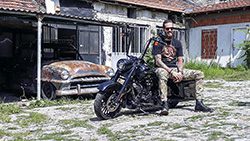 What do you think our national team is capable of in the following period?
I'll refrain from concrete answers to such questions. Wishes are one thing, realistic achievements are another. Many times we have surpassed expectations, but also many times we stayed below the expected level. Besides, the circumstances in world basketball are such that names of favorites don't mean much. One has to be patient and wise. My presentations are not as important as the specific things I can do for the national team and thereby help it be the best in the given moment.
How do you explain the success factor of Serbian basketball?
We have already mentioned boldness and decisiveness. We have plenty of them, but they just need to be occasionally sharpened and softened, in order to be more useful. That's the task of all of us, experienced players, together with the coach. Furthermore, there is also great dedication, serious professional involvement and constant wish to prove ourselves.
Are we doing enough to save our basketball or is the threatening crisis becoming more obvious?
It seems that we should always do more, while the actual situation is always much different and depends on many things. I always emphasize that everyone should do their best. In that case, we won't be answering such questions. We should reduce our ego, dedicate ourselves to collective good and everything will be easier and more certain.
Do you think that the deficiency of "boys from working-class families", who have a strong character but lack opportunities to become involved in sports, is becoming more obvious in our sports?
I cannot give an adequate answer, since I've been out of Serbia for a long time and therefore out of our club basketball. I hope it's not so, because if it is, it's not good. Such boys are material for building strong foundations in sports.

***
Throughout the World
Miroslav was born in Belgrade in 1988. He started his senior career in FMP, followed by "Borac" from Čačak and "Partizan" in Serbia. His career abroad began in Turkish "Efes", continued in German "Alba" and Ukrainian "Azovmash". From there, he went to the NBA for the first time, to "Milwaukee". His path has then taken him to China for the first time, to "Shandong". He returned to the NBA again, playing for "Minnesota" for a short while. Then followed episodes in Greek "Panathinaikos" and Italian "Armani". He has been successfully playing in the Chinese "Jiangsu" for the last three seasons.
***
Trophies
Miroslav won the champions' title and Radivoj Korać Cup as member of "Partizan". He won the titles of national cups both with "Panathinaikos" and "Armani". In the senior national team, he was member of the generation who won gold at the 2009 Universiade and silver at the European Championship. He contributed to winning silver medal at the World Championship in 2014, as well as silver medal at the 2016 Olympic Games.