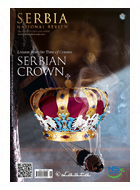 SERBIA - National review, No 79

Prologue
Corona? It looks like we arrived where we started from. Only death makes these events and people serious, otherwise everything would slip completely into a cheap global show, a mockery. From the mouse holes we defend ourselves with humor. Do not collect pieces of information in one place, because then they will get interconnected by themselves. It goes without saying even more than you can bear. Yes, the guvnor will pay the drinks for everybody in the tavern, but still let's not overdo it. We, the old opposers, did not want to either coronate or corrode. We have made a new release in quarantine. It is not a joke. Check it out, but from a distance. Social and psychological. <



CONTENTS
Prologue
THE WORLD AND US IN THE MIRROR OF THE PANDEMIC
Sharpening
Vitrage
NUMBERS, EVENTS, INTERESTING THINGS
Album
DRAGOLJUB ĐOKIĆ'S SCULPTURES
Evocations of Metohija
Destinations
PALIĆ AND ITS CENTURIES OF MEDICINAL ELEGANCE
The Largest Natural Lake in Serbia
It first appeared on the map of Europe exactly 330 years ago. Today, in 2020, it will bring together many of its anniversaries, rejuvenated and old-fashionedly, attractively and always in a new way. Regardless of whether it is a corner of an extinct sea, or whether it arose from the tears shed behind the golden-fleeced lamb, it is today the main tourist destination in northern Serbia. Famous for its beaches, park, zoo, villas, promenade, thermal water ... it will be there for us in the same place when this pandemic predicament has passed. And it will pass
Text and Photo: Miodrag Grubački

Lens
ON MEDVEDNIK, NEAR VALJEVO, LIFE SIZE
Life Simple and Bright
It is in the middle of the mountain range stretching from the Drina in the west down to Suvobor in the east. Over Gučevo, Boranja, Sokolska planina, Jablanik, Povlen, Malјen. With no makeup, unspoiled, not conceited. Patriotic and quiet. From here you can see Serbia, which kept saving us even when we, careless and unbelieving, forgot about it. And at the heart of this mountain is the shrine of which Desanka Maksimović wrote: "How would I go to the other world without having been here and bowed to the icons in this sanctuary?"
By: Violeta Milutinović
Photo: Zoran Milutinović
Breed
ŠARPLANINAC, A UNIQUE DOG FROM OLD SERBIA
Guardian until Death
One cynologist says that he is "a dog with Serbian mentality" and another calls it "spirit of the mountain". Very smart and brave, balanced and proud, with an inborn feeling for righteousness, requests education and refuses training, requests consistency and refuses capriciousness, requests meaning not reward, fulfills his duties with his life. He will never retreat just because he has low chances of winning a fight. He will stay with his man, with touching devotedness, even when everyone else leaves him. He is not a modern pet, doesn't stand chains and unfreedom, he's incorruptible
By: Vesna Vujaklija
Symbols
IT IS NOT A VIRUS, BUT DEFENSE FROM IT
Serbian Crown
King Peter's crown is the only crown of all Serbian rulers that is kept in Serbia today. It was cast in France from the handle of Karadjordje's cannon from the First Serbian Uprising. It survived two Balkan, two world wars, communism, and is now stored in the Historical Museum of Serbia. During World War I, it was buried for three years at the Seminary in Prizren, during World War II it was in Žiča. The only crown from the Nemanjić era is that of Stefan Dečanski and it is kept in Cetinje
By: Miloš Lazić
Reminder
OBSERVING EIGHT CENTURIES OF THE MILEŠEVA MONASTERY
The Temple is Ascending Us
Chronicle writers called it the royal lavra and great monastery. The holy remains of St. Sava, which rested there more than three and a half centuries, single out this holy place forever. Experts consider its painting high "Byzantine Renaissance", much older than Giotto and XIII century Italian painters. As such, Mileševa was attacked by evil ones many times in its dramatic history: devastated, plundered, set on fire. Each renewal was a particular feat. This time, we remind of the great restoration 1863–1868, when Mileševa was actually resurrected before our eyes
By: Dragiša Milosavljević
Benefactors
NIKOLA SPASIĆ (1838–1916), A BENEFACTOR, PATRIOT, DREAMER OF REALISTIC DREAMS
The Bell that Tolls Forever
People were waiting in queues in front of his shoemaking shop. At the end of the 19th century, he helped Serbia by buying back part of its national debt. He later supported the liberation movement in southern Serbia, built shelters for children, hospitals for the wounded, sent the first church bell to occupied Prizren. He was the President of the Stock Exchange, "Prometna banka", a member of the board of directors of the National Bank. He himself borrowed money only once, for his first shoemaker's shop. The property he left to his nation is worth as much as the Nobel Foundation. He is buried in Topčider Cemetery in Belgrade, in his church-endowment
By: Bane Velimirović
Traces
REBECCA WEST (1892–1983), THE FAMOUS IRISH-SCOTTISH WRITER, IN OLD SERBIA IN THE EVE OF WORLD WAR II
Signs of Disturbing Height
In her travelogue "Black Lamb and the Gray Falcon", one of the finest works from that genre in the past century, a special chapter is dedicated to Serbian sacred heritage in Kosovo and Metohija. Accompanied by the lucid Stanislav Vinaver, she stands in awe before the heavenly Gračanica. She kisses the relics of the Holy King in the Visoki Dečani and testifies on how Albanian families come to pray for healing in the Serbian sanctuaries on Fridays. In Ohrid, she meets Bishop Nikolai and calls him "the most excellent man in the world". (...) What would Serbian enemies do today if they had such arguments on their side?
By: Ivana Stojanović Šešlak
Old Masters
MOMIR VOJVODIĆ (1939–2014), WRITER, SERVANT OF HIS NATION AND LANGUAGE
Writer at Dawn
He lit us up with his sharp and witty words, defended sense and memory. Descendant of the Morača Voivode Mina, sprouted from the land of legends and forge of language, created an arch between the lyrical-philosophical and the epical and decasyllabic. He became a national bard. He sings about the most important homeland subjects: St. Sava, Kosovo, Karađorđe, Njegoš and Lovćen, Chilandar, Serbian language... He put up with all the strikes of Vienna, Rome, Istanbul, let alone the Comintern cap-wearers
By: Dragan Lakićević
Life, Novels
PROFESSOR MILO LOMPAR, PHD, ABOUT SERBIA IN EPOCHAL VORTEXES AND THE MEANING OF EFFICIENT PESSIMISM
Sinister Triumphs of Mediocrity
Serbia depicts a double idea. It is tragic in what has been great and brilliant in it, and grotesque in what the triumph of the small and mediocre, conceited and distorted has brought it. The colonial government and its nongovernmental intelligence are fighting a simple fraction battle inside the same ideological and occupying platform. The rule of the spirit of self-denial and "Yugoslav imprisonment" must be exited gradually, since the present state has also been developing gradually. European countries are exposed to a long-term process of Americanization of consciousness. In such a simulacrum, religion, history or culture are not a link, only money is. And the one managing the money rules. As if, in the world of contemporary nihilism, there is no more hope in hope
By: Branislav Matić
Arena
MIROSLAV RADULJICA, MEMBER OF THE SERBIAN NATIONAL BASKETBALL TEAM, ABOUT TEMPTATIONS, DISTANCES AND FREEDOM
Show Must Go On
He played in three continents, lived in seven countries. Won many medals. Wherever he stayed, he wanted to show Serbian goodness and immediacy, boldness and persistence, talent. He believes that, in crucial moments, that's what makes a difference in the court as well. He's aware of the cruelty of contemporary sports, but "if you start dancing, you rely on your legs". He likes motorbikes, reads a lot, speaks four languages and is learning the fifth. He often remembers the sentence of his favorite comic hero: "Millions long for immortality who don't know what to do with themselves on a rainy Sunday afternoon"
By: Dejan Bulajić
Health
SPECIAL HOSPITAL "MERKUR", VRNЈAČKA BANЈA, AT THE TIME OF THE COVID-19 PANDEMIC AND THE STATE OF EMERGENCY IN SERBIA
Responsibly through Crisis
From day one, "Merkur" has been implementing all measures of protection of its guests, patients and employees. It has also fully adapted its internal organization to the situation, and has become involved in the implementation of measures throughout Vrnjačka Banja. Tourism is the industry most severely affected by the pandemic and the consequences must be addressed now
Seed
54th COUNSELLING OF SERBIAN AGRONOMISTS AND FARMERS IN ZLATIBOR
On the Basis of Science
In the organization of the Institute of Field and Vegetable Crops from Novi Sad, 1,300 agricultural producers, agronomists, and representatives of educational institutions and the state gathered again this past winter. The main topics were adaptation of agricultural production to climate changes, plant breeding, a new era in plant protection, application of new technologies and digitization in agriculture, conservation of seed production, land and other resources... At the same time, the forty-sixth Symposium "Agricultural Engineering" was held, organized by the Faculty of Agriculture in Novi Sad
Summer
WHEN THE PANDEMIC IS OVER (AND IT WILL BE), UNDER OLYMPUS BY "LASTA"
Sea to Recover
"Lasta" is already thinking about it. In the hope that the crisis caused by the pandemic will pass as soon as possible and with as few unhappy marks as possible, and knowing that we will all need significant recuperation, "Lasta's" travel agency prepared for us a place in Greek resorts of Paralia and Olympic Beach. In the area well known to Serbian tourists and where, not by accident, most of them spend their summer holiday