Notebook
AN ALTERNATIVE GUIDE TO BERLIN
A City that Walks on Art
Berlin is a historical monument and center of political power, paradise for yuppies, hipsters, clubbers, gastro-nomads, joggers, visitors of Sunday flea markets, island of museums, salon of modern architecture, stage for street musicians, European capital of graffiti… It remembers its great ideas, ones it doesn't speak about often or with everyone, but attracts visitors today mostly with its daring creativity, originality and freedom
Text and Photo: Dragana Barjaktarević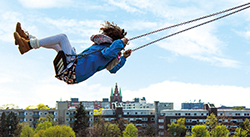 There wasn't a shred of doubt whether I'll like it. Everyone spoke highly of it. An architect, a marathoner, a fashion blogger, cook, pediatrician, a dozen of artists… Great expectations make me tremble and fear. They often turn into disappointment. However, this wasn't the case with Berlin. During those seven days in July, it was only for loving.
Before I started my trip, I was going through the internet, travelogues of soul mates, filmography, Google maps… I finally made my own list, so as not to scatter my attention. I knew what I wanted from Berlin. At least for the first time.
My list didn't include any of the items from the "must see in Berlin" lists. I didn't see the Brandenburg Gate or the Holocaust Memorial. I didn't climb the Television Tower nor tried to enter Berghain. Berlin is a place fit for every being. Before you set off to that city, you just need to ask yourself what you truly enjoy. My passion is street art, and in Berlin it is prancing more than anything else.
ON THE THIRD FLOOR OF THE UNIVERSE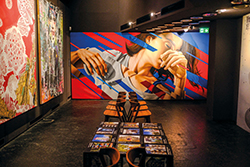 The Berlin subway is divided into the underground (U-Bahn) and overland (S-Bahn) system. I used line U2 to reach the Schöneberg quarter and my first destination: Marina Zumi's "cosmic mural". That Argentinian half-artist half-astronaut dressed an entire residential building into galaxies, stardust, black holes… I watched the building closely, from afar, from every side and every detail. Then I saw an open window in the attic and envied someone behind that curtain who can say: I live on the third floor of the universe!
It is only one of the numerous murals in Schöneberg. Since 2013, the Urban Nation collective has been transforming the quarter into a genuine open-air gallery. About a hundred and twenty artists, whose names have a long echo, have participated in their projects, both painting façades and group exhibitions. Therefore, in the vicinity of the "cosmos building", you can see murals created by legendary Shepard Fairey or brilliant Fafi! Not in an "Instagram" gallery. Live! In full size and splendor. So that any modern Stendhal would feel dizzy.
Artists have also given their works to the collective, so, after creating an enviable artistic collection and chosen friendships, the collective has grown into a museum in 2018. Urban Nation is currently the biggest street and urban art museum in the world. Its address is Bülowstraße 7, but we could say that it actually spreads along the entire street – on walls, shop windows, passages, lampposts, electric meters… The museum façade is covered with painted panels. The idea is to replace the murals periodically, but still preserve them, in order to move them into the interior at a certain point of time. The interior was designed by architectural studio GRAFT. They simulated a street in a closed space and built a hanging path connecting two floors, putting the observer in a perfect position for watching large pieces.
MIXTURE OF ORDER AND DISARRANGEMENT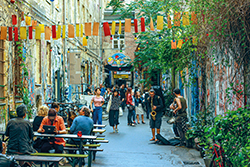 Another artistic complex, Urban Spree, is located in the postindustrial part of the city, in Revaler Strasse 99, about a ten-minute walk from the Wall. While Urban Nation is a very serious institution, Urban Spree is more of a street art squat. Those two places perfectly represent Berlin: the ideal symbiosis of order and chaos. That is perhaps my most intensive impression from there – the feeling that I don't have to be tight while everything around me is perfectly functioning.
Urban Spree is the residence of artists on exchange, whose studios are open for watching and chatting, a gallery of urban art, a bookstore in which you can go through a book illustrated by Dabs & Myla, artistic and love tandem, whose imagination is beyond limits, a concert hall, the home of Pictoplasma – the biggest world festival of contemporary design, and when the already distracted attention asks for rest, there is the biergarten, with deckchairs, flags, colorful walls… Happiness is in details and, if you ask me, in the flags on the persistent Berlin wind.

Somewhere half down the checklist, breakfast appeared with Dexter and Vidam, artists from the The Weird collective, which painted a façade in Savamala in 2014. "How do you like Berlin? What have you seen, what else will you see? (then I proudly take out my list) Where is 'Neurotitan' here?!" Vidam gave me space for some spontaneity. "Neurotitan" is the first alternative gallery in Berlin. It exists for twenty-three years already, and for all that time never yielded to the dictate of mainstream culture. It appeared as a platform for promoting unknown avant-garde artists from throughout the world. Our young street artists EmaEmaEma, Fat Kid Beny, Fuck New Rave, Weedzor and Dulait had exhibitions here a few years ago.
"Neurotitan" is just far enough from Alexanderplatz to avoid the exhausting turmoil common for any big city center. It is tucked in one of the numerous bedestans in Berlin. Berlin is famous for its hidden inner yards, originally built for separating social classes, now real labyrinths full of small galleries, cafés, vintage shops… Besides the "Neurotitan" gallery, there are also the Monsterkabinett (monsters' museum), Museum of the Blind and Museum dedicated to Anne Frank.
AIRPORT FOR BICYCLES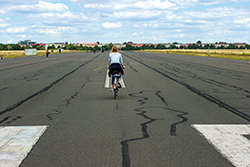 Eventually, you don't even have to visit any of the three galleries. All kinds of forms of street art are tempting on every corner, crawl into the subconscious and, whatever objectives and curiosities bring you here, impose as one of the strongest impressions. However, Berlin is not only colorful walls. Berlin is, according to my own experience, an opportunity to do something for the first and perhaps last time in life. For example, however unbelievable it may seem, ride a bike on the airport runway.
"Tempelhof" was built in 1923, and it was the first passenger airport in the world. It was closed eleven years ago, and the vast airport land was turned into a city park, where carefree citizens of Berlin jog, ride their bikes, rollers, scooters, fly kites, make barbecues… I rented a bike in one of the numerous nearby cafés that offer that possibility and rode it in the middle of the broken line on the runway, where airplane wheels rolled only a decade ago. And exactly there, while you are flying down that unique bicycle track, the statement that freedom is the main feature of Berlin gets its full meaning.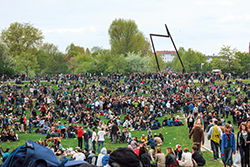 Another perfect place for a picnic is Mauerpark. It was the border zone between two Berlins from 1960 to 1980. Mauer (Wall) Park was made after the fall of the Wall. A part of the Wall – painted in graffiti, of course – is still there.
You end your day on one of the Berlin roofs. Upon the recommendation of my hosts, I went to the "Klunkerkranich" bar, located on the roof of a nearby shopping mall. While climbing the escalator through the mall and a concrete slide through the suffocating garage, doubts began nibbling the hope that something special was waiting on the roof. However, it turned out that "Neukölln Arcaden" is leading a double life. The roof of the shopping mall hides a happy oasis full of greenery, benches, lamps, interesting people… There is an admission fee for the bar, but the view over the roofs of Berlin bathing in the setting sun (if you're there at the right moment) justifies the expense.
***
Short History of Graffiti
Besides murals on walls and in frames, the Urban Nation museum also keeps the photo-material of famous Marta Cooper, who documented the development of the graffiti scene in photos – from New York in the seventies to this day. Furthermore, you can go through literature about street art, participate in workshops or discussions about it. The best of all is – entrance is free of charge.
***
Mauerpark
It is best to visit it on a sunny Sunday, because the place spontaneously turns into a festival. All you have to bring is a mat for the grass, everything else you can find there – food, drinks, people to hang with, music… Food and beverage stands are on every corner, bands playing for a few pennies, acrobats, the biggest vintage flea market in the city…