Treasuries
"ADLIGAT", AN UNUSUAL ASSOCIATION AND MUSEUM IN BELGRADE
The Magic Called Book
The library was created by generations of the Lazić family, starting from the XVIII century. The books were taken through wars, revolutions, breakdowns of many states. Saved and still collected. The crown of the entire endeavor was formed by Viktor Lazić, by founding the "Adligat" Association. Today it keeps more than a million of bibliographic units, several tens of thousands rarities, collections of newspaper, vinyl records, philately, numismatics… Legacies of many great men of Serbian culture. You will also find books made of rice, bones, palm leaves, elephant excrement, goat skin, silk… And all that is available to us in the extraordinary Museum of Books and Travels
By: Gordana Simeunović
Photo: Željko Sinobad, Momir Alvirović, "Adligat's" Archive

In early XVIII century, when books were so rare that each copy was entered into wills, priest Mihailo Lazić began collecting them. He could hardly even anticipate how much the library he established will grow in the ninth generation of his family. In the village of Kumane near Zrenjanin, in 1882, honoring the proclaiming of independence of Serbia, he opened a library for the public. At that time, paper was still a rarity, so negligent readers sometimes returned books without pages. Luka Lazić rewrote those pages with his own hand and glued them together. Some books from this library passed over Albania during World War I sawn into Luka Lazić's coat. In order to save his friend, brave Luka jumped into the sea and thus sacrificed the hidden treasure he was carrying with him. However, love and passion for collecting books had never left him. For instance, in Corfu and Thessaloniki, he collected a valuable collection of Serbian refugee press, one of the richest in Southern Slavic lands, which was recently digitalized by the British Library in London in cooperation with the "Svetozar Marković" University Library from Belgrade.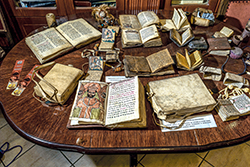 Between the two world wars, the Lazić Library had about twenty thousand books. Luka Lazić founded a network for delivering books and newspapers throughout Banat on bikes. During World War II, Danica Lazić delivered German press to villages in Vojvodina, at the same time delivering patriotic pamphlets, information and food for the partisans. The Lazić family kept a copy of the newspapers in their library and thus collected a unique collection of German and partisan war press, a valuable testimony from those times. After the war, fearing that new authorities would confiscate their library, and at the same time fearing for their lives, they buried the most valuable books, and those that could be problematic, in their vineyard and thus saved them. In late 1950s, Milorad Lazić revived the library and complemented it with a large collection of comic books. "Adligat" keeps all numbers of Politikin Zabavnik, which was first published in 1939, and the Lazić family has been buying it from the very first issue.
THE PATH OF THE GUARDIAN OF BOOKS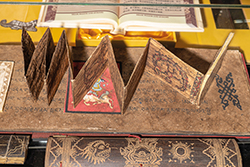 Mošo Odalović, poet, one of the founders of "Adligat" writes:
"The Lazić family has become guardian of books a long time ago. It could be said that they have entered their third century, and their offspring Viktor, travelogue writer, polyglot, lawyer, absolute devotee, is increasing the ambitions. The entire planet is his desktop! We don't know where he is heading or where he's returning from, but it's always with his 'Lada' full of rare, invaluable gifts. The honor is mine, and of my offspring, to have my own space in the Museum, which I will joyfully fill with my own trivia, my childhood memories: books, pictures, illustrations, artistic woodwork… If any school excursions visit, I believe I'll be interesting… Someone once asked me if I had any real estate in Belgrade and I replied that I have the Museum of Books! If we ever come to a court process, I'll be a loser! Victor's parents are renowned lawyers and Victor is doctoral candidate in Chinese law!"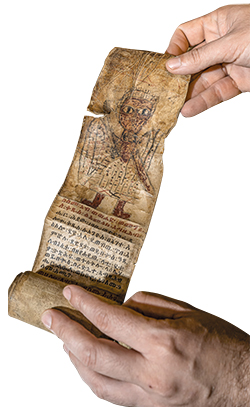 Viktor Lazić was born in January 1985 in Belgrade. He is a lawyer by education and important Serbian travelogue writer. He is member of the Association of Serbian Writers, ambassador of the Serbian Bibliophile Society, licensed tourist guide, philatelist and numismatist. He speaks several world languages. Following the thought of great Goethe that "a clever man gains best education by traveling", he traveled around the world. According to his words, he gained "knowledge which cannot be revealed in any other way but by staying among materially seemingly poor, yet spiritually often extraordinarily rich people". In his "Lada Niva", he traveled unusual landscapes of planet Earth, sometimes wild, and brought rare books and objects from his cognitive journeys.
Viktor's passion for books began already in elementary school. He bought books from his pocket money and often stayed hungry because of it. His mission requested much sacrifice later as well. His grandmother Danica, although illiterate, with the wisdom of a woman whose teacher was life, recognized the successor of the "Lazić" Library in him. And she was right. Viktor founded "Adligat", non-governmental and non-profit citizens' association, dealing with the forming and business activities of the "Lazić" Library, Museum of Serbian Literature and Museum of Books and Travels. It is an association for culture, art and international cooperation. Derived from the old Latin word adligatum, adligat means several books, mostly heterogeneous, in single covers. It is a book binding several different publications or manuscripts. According to Viktor Lazić, "Adligat" is "a symbol of several nations, cultures and generations under one roof". It is located in a peaceful part of Belgrade, in the Josipa Slavenski Street in Banjica, in the Lazić family house. The biggest supporters of "Adligat", with donations in books or money, are its founders. They are writers, university professors, diplomats and many other intellectuals with various interests and political affinities. "Adligat" has a signed Protocol on Cooperation with the Serbian Academy of Sciences and Arts. It realized a successful cooperation with all important institutions of Serbian culture.
RARITIES AND VALUABLES

The entrance to "Adligat" is an entrance to a special world, a kingdom with book on its throne, a treasury in which each object has its own unusual story. From his journey to India, Viktor brought three large figures and "made them Serbian". He named them Banović Strahinja, Kraljević Marko and Mali Radojica. This temple of books is, therefore, guarded by the greatest Serbian heroes.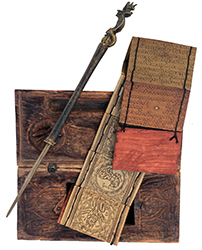 People pray in different ways in various parts of the world. A collection of old Orthodox monastic books from Ethiopia, written on a parchment made of sheep and goat skin, is under the glass of a large oval table. The smallest books are made of sheep fetus skin. Viktor brought a prayer book from the jungles of northern Myanmar, made in the form of a comic book, with the biography of Buddha on one and hand-written prayers on the other side. The prayer book from Sri Lanka is in the form of a fan, so the faithful can cool themselves with it during praying. In "Adligat" you can see the magical book of the Batak tribe, made, written and painted by hand; its covers are made of bones and its pages of palm leaves. There are also unusual Tibetan prayer books in round metal covers which turn, because people believe that prayers travel to heavens faster that way. Especially voluminous and significant is the collection of orthodox literature, including ecclesiastical books from Chilandar Monastery, with which the Association has been cooperating since its founding. "Adligat" keeps a special collection of Bibles. It includes the first entirely printed Serbian Bible. Stefan Novaković, famous Serbian printer in Vienna, started printing it in late XVIII century, and the University in Pest completed it in the fateful year of 1804.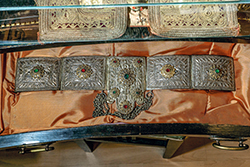 You will be surprised by the self-portrait of a three year-old female elephant, "student of a drawing school in Thailand", as Viktor wittily says, and a book made of elephant excrement. "The book made of rice is edible." The beauty of a rare edition of the Chinese book The Art of War written by Sun Tzu, made of the finest silk, will enchant you.
The permanent exhibition of the Museum of Serbian Literature presents rare and first editions of Serbian authors, their autographs, manuscripts, correspondence. For example, there is Tin Ujević's poem written in Cyrillic alphabet and ekavian dialect, manuscript of Oskar Davičo's novel Concrete and Fireflies, the book about Zmaj by Laza Kostić, first edition of Miloš Crnjanski's Lament over Belgrade, Jovan Dučić's Lyrics printed in America on the day of the poet's death and many more.
DISBELIEF AND ADMIRATION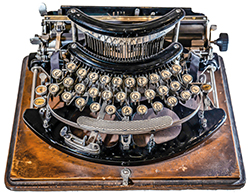 The Museum includes the valuable collection of books of Peter Urban, one of the best German translators from Slavic languages. He especially studied the work of Anton Pavlovich Chekhov, so the legacy contains a rich collection of books about this great man of Russian and Slavic literature.
Ljubivoje Ršumović, poet, gifted "Adligat" a collection of miniature books, collected by his wife Nataša. Unusually constructed shelves were made especially for them.
Leko family legacy, besides numerous books, also includes a saved wardrobe belonging to Queen Natalija Obrenović. Also important is the collection of books from the personal library of Božidar Kovačević, writer and professor of King Peter the Second.
The legacy of Professor Darko Tanasković, PhD, reputable Serbian Orientalist and diplomat, includes a large collection of publications and books in Oriental sciences.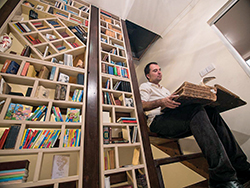 The legacy of Tanja Kragujević, poetess, and her husband, Professor Vasilije Vinca Vujić, grandson of famous Joca Vujić, one of the most important Serbian bibliophiles and collectors, also includes numerous books. One of them has the inscription written by Vislava Šimborska. There is also the belt of Princess Ksenija Petrović Njegoš, one of the most beautiful objects in "Adligat".
Vukica, wife of reputable surgeon Ivo Bešević, donated "Adligat" the rich legacy of the Bešević family. A part of this legacy is a chest, exhibited in 1900 at the World Exhibition in Paris, where it won Grand Prix as the most beautiful object in its category. Attorney general for Russian Empire's maritime navigation bought it for his daughter Alisa, who, running away from Russia in 1917, packed all her belongings in this chest. She met Serbian painter Nikola Bešević in Rome. One of the most remarkable paintings in this legacy is the portrait of Alisa crying.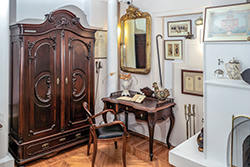 The Salon of Female Nobel Prize Winners was recently opened in "Adligat". The light room, breathing with femininity, is illuminated by three crystal chandeliers. Each Nobel Prize winner has her own comfortable chair. They are arranged in a way that, if the Nobel Prize winners sat on them, they could have a pleasant conversation. One chair was left for the possibility of Serbia getting its female Nobel Prize winner.
"Adligat" today has more than a million bibliographic units and several tens of thousands rarities, important collections of vinyl records, philately and numismatics. Viktor Lazić's vision to make the biggest temple of books between Vienna and Istanbul is getting more realistic contours. "Adligat" became one of the pillars of Serbian culture, an institution internationally recognized as an important confluence of values. The realization of this dream, which grew with great sacrifice, surpasses the strength of an individual, although the strength, on strong family foundations, has already performed a miracle. A miracle whose richness provokes disbelief and admiration.
***
Miodrag and Vladeta
Miodrag Pavlović's legacy looks the same as the great poet's room did. His typewriters are there, the shirt he loved, suit and ties with cut off tops. His manuscripts and eyeglasses are on the table, under the glass. Next to Miodrag Pavlović's room is the corner of Vladeta Jerotić, neuropsychiatrist and great Orthodox philosopher. They were godfathers and wanted their libraries to be next to one another, breaking stereotypes about bad relations between Serbian godfathers.
***
Multitude of Valuable Legacies
The legacy of actor Pavle Vujisić and his wife Mirjana, including his three original witty wills, manuscripts of poems, a set of keys, attract particular attention of visitors. There are also legacies of Milovan Danojlić, writer, Pero Zubac, Petar Pajić, Petar Bingulac, Srba Ignjatović, Branislav Veljković, Moša Odalović, Dragan Mraović, Nikola Kusovac, Ivan Bekjarev, Branka Veselinović…
***
Even a Fine
Many people supported the work of "Adligat". For instance, consul Milan Varadinović helped Viktor collect and transfer books. "He came to Paris at his own expense, transferred books at his own expense, worked hard in France, and after everything even paid a fine for speeding", tells Viktor Lazić.
***
Working Hours and Visits
"Adligat" Association encompasses the "Lazić" Library (since 1882), Home of the Legacies, Museum of Serbian Literature, Museum of Books and Travels. More about their work can be found at www.adligat.rs. Phone number for information: (+381 11) 36 72 807. "Adligat" is located in Banjica, 19a, Josipa Slavenski Street. It is open for previously scheduled visits, on Thursdays, Fridays and Saturdays.