Alphabet Book
THE REPUBLIC OF SRPSKA ENCYCLOPEDIA, MONUMENTAL CULTURAL ENDEAVOR
Foundations of Serbian Identity
All institutions of Srpska, led by the Academy of Sciences and Arts, stood behind this project. Hundreds of professional associates gathered in 28 editorials, for 38 academic fields. There will be six volumes in total, with about 13.500 entries. The first two, published up to now, include 3.247 entries, 890 photos, 460 maps. The project confirms the maturity of the people and institutions in Srpska, the awareness about the importance of the great cultural and historical heritage, as well as belonging to the entirety of the Serbian and European culture
By: Sandra Miletić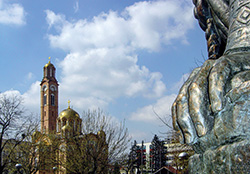 The idea about the Republic of Srpska Encyclopedia came from a group of members of the Academy of Sciences and Arts, accepted by the president of the Republic and government, and made official by the National Assembly in late 2007, by bringing the Law on the Republic of Srpska Encyclopedia. It was the legal and material basis for beginning the work on the Encyclopedia.
Extensive preparations were first made in the Academy, who was entrusted with the work on the Encyclopedia. Preparations lasted for about five years, and then concrete work began.
– The Academy first appointed the Editorial Board, which further appointed the managing editor and editors for certain areas. The second step was forming expert teams: copy editors, historians, lawyers and associates of other profiles, and 28 expert editorials for 38 academic fields. Furthermore, criteria were defined for determining which people, concepts, processes, events, maps, photographs and others can enter the Encyclopedia – explains Rajko Kuzmanović, president of the Academy and Encyclopedia Editorial Board.
Municipal editorials were established, in charge of collecting and processing data about residential areas within the corresponding municipality. Hundreds of associates were involved in creating entries.
RELIABILITY AND SOLIDITY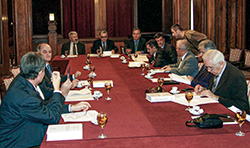 – After the first processing of entries, we could clearly see how difficult and serious the project is. Each entry must pass five or six phases, or to be more exact "hands", in order to have a complete check of information stated in the texts. It simply cannot happen that a single wrong record passes – emphasizes Kuzmanović.
The information is checked by comparing with accessible information in archives, libraries, museums, encyclopedias, dictionaries, lexicons, statistical newsletters and other reliable sources. Exactly due to the fact that information in it is checked several times, adds Kuzmanović, the Encyclopedia should be trusted.
– The first two volumes include 3.247 processed entries, 890 photographs and 460 maps. There were no objections from the scientific and professional public to the contents. The awards which the Republic of Srpska Academy of Sciences and Arts received for the first and second volume at the International Book Fair in Belgrade prove its trustworthiness: in 2017, it won first prize for the first volume as the best publisher from diaspora, and in 2018 special award for the second volume for the best publisher – says Kuzmanović.
While searching for real data, they discover new information and facts, notice wrong quotes, for example in names of settlements, institutions, toponyms and alike, as well as in historical dates, geographical features, biographical and bibliographical references, while they also stumbled upon incomplete texts.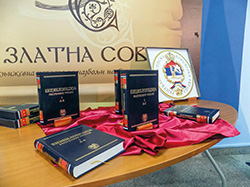 – There are many examples for it. For instance, until recently, there were about 70 archeological sites registered in Srpska, and we determined the existence of about ten new ones, such as Detlak near Derventa, Skelani near Srebrenica, Zmajevac near Čelinac, Orlovača near Pale, Rastuša near Teslić and others. We discovered different facts about people such as Ban Svetislav Milosavljević, writer Pero Slijepčević, diplomat Sava Vladislavić – reveals Kuzmanović.
The project encompasses a total of 13.500 entries from different fields, which are processed and will be published in six volumes of the Encyclopedia. Several hundred reputable people of different nationalities, from science, culture, art, religion, army, sports, economy… will be presented.
– We are attempting to encompass all important historical and contemporary processes, relations, events, people, institutions and values, which present our cultural and historical heritage. That is why this is our most significant, as well as most requesting project, which will strongly initiate the entire cultural and civilizational prosperity – emphasizes Kuzmanović.
SIGN OF HISTORICAL SERIOUSNESS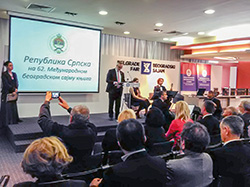 The Republic of Srpska Encyclopedia has multiple significance. Before all, it will show the local and international public that Srpska has a wish, will and professional staff to create the most complex lexicographic works, believes Kuzmanović.
– Furthermore, this publication will prove that the territory of Republic of Srpska has never been an unknown land, because life has been blossoming here in its full potential throughout history. The project confirms that there is a maturity of the nation in Republic of Srpska, which feels the need to have an encyclopedia as the most important written work, with systematized knowledge and reliable facts. Thus, we become one of the progressive nations, we show spiritual strength and strong creative potential, we prove that we belong to the European cultural circle with our cultural and historical heritage.
Kuzmanović also believes that the Republic of Srpska Encyclopedia will show the public, both wider and professional, that the history of a nation is written based on objective truth and multiply checked facts, and not on improvisations, subjective beliefs, simplified, false and scientifically unbased arguments.
– This representative lexicographic work will realistically represent our culture, history and tradition, opposite to stands of certain individuals and groups from our environment and further, who, due to ignorance or on purpose, wrongfully interpret our basic values. With the investigative approach and scientific processing of entries, the Encyclopedia will give a true answer to questions related to the past and present of Republic of Srpska and its spiritual heritage.
It will be an inevitable handbook with systematized knowledge from various scientific disciplines, culture and art, and present Republic of Srpska and its rich heritage in the best possible manner.
– Although our population is not too big, we in the Republic of Srpska are writing the Encyclopedia as an outstanding work, inspired by the words of Milutin Milanković, great Serbian scientist, who said: "The size of the cradle never determines the grandness of the child."
AN ENDEAVOR FOR ALL GENERATIONS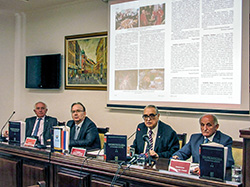 The creation of an encyclopedia is a complex and long-term collective work, and is most often approached at times of substantial social changes, reminds Kuzmanović.
– For example, The French Encyclopedia was printed immediately before and after the French Revolution, British Encyclopedia at the time of the English Bourgeois Revolution, Encyclopedia of the Kingdom of Yugoslavia after World War I. After the disintegration of SFRY, working on encyclopedias began in all newly-founded states… Creating an encyclopedia reflects the vitality and wish of a nation and state authorities to have such a work as one of the important civilizational legacies and announces a new wave of cultural revival – says Kuzmanović.
In times of great social transformations, including the globalization process, he adds, the national identity of small nations and their state realities is violated.
– It is visibly expressed in states established in the territory of former Yugoslavia. The identity of the Serbian nation is jeopardized, despite the fact that Serbs are the most numerous nation in Southern Slavic lands. The Republic of Srpska Encyclopedia testifies that Serbs are an old, autochthonous European nation, an unbreakable part of European heritage and civilization with its language, alphabet, culture, history and tradition. The Encyclopedia, based exclusively on objective truth, is a solid barrier before historical forgeries. All that strongly contributes to preserving national identity – emphasizes Kuzmanović.
Compiling the most famous works of such kind, indicates president of the Republic of Srpska Academy of Sciences and Arts, always requested a long period of time. For example, the French Encyclopedia was prepared and created for almost an entire century, Encyclopedia Britannica about eighty years and working on the Serbian Encyclopedia, published by the Serbian Academy of Sciences and Arts and Matica Srpska has been lasting for more than a decade.
– We in the Republic of Srpska have completed two volumes and the third is in process. Our estimation is that all six volumes will be completed in six to seven years. According to the working dynamics up to now, one volume will be published each two years. It will be a monumental cultural asset of the Republic of Srpska – concludes Kuzmanović.

***
First and Second Volume
The first volume of the Republic of Srpska Encyclopedia, published in 2017, includes entries with the first letters A and B. It has 783 pages and about 1.500 entries. The second volume, published in 2018, includes entries with first letters V and G. It has 760 pages and also contains about 1.500 entries. Their creation involved 324 authors in 16 expert editorials.