Old Masters
RANKO JOVOVIĆ, REBELLIOUS LYRICIST, "THE LAST TEAR OF MARKO MILJANOV"
Aristocrat in an Age of Ungraciousness
He used books to build a fortress of language and lyrical flame, he created ethics from righteous rebellion and voluntary exile. He belonged to the brotherhood preferred by the divinity of poetry, not by the regime. He too was sentenced to closely watch the violent deserbianization of Montenegro, the delusional "investigation of ancestors", which only strengthened his opinion that shame is harder than death. He was proud of Belgrade, just like all genuine Bjelopavlići and Montenegrin Serbs. The grand processions in resurrected Montenegro were the dreamed funeral of his Serbian dust
By: Dragan Lakićević
Photo: Family archive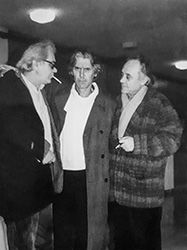 His mother called him "Rano". In vocative case: Ranko and (h)rana (food)!
Ranko Jovović, poet. Born in Kosić near Danilovgrad in 1941, died in 2020 in Podgorica.
As student of the Titograd gymnasium, he was member of the Young Writers Club of the "Budo Tomović" Youth Home – we were younger than him and proud because sometimes he talked about poetry and books there, recited his new, fresh, rebellious verses, the kind he wrote his entire life.
Just like many others, almost everyone, he went to study in Belgrade, where, just like many of us, he had an uncle.
Belgrade was a second hometown to us poets: we were born the moment we were discovered as poets in Student and Vidici (Belvederes), at literary evenings from Kalemegdan to Slavija, in kafanas from Brankovina to Lipa, Grmeč and Šumatovac. That geography was our literary homeland.
HOMELAND AT "KOLARAC"
Instead of at the University, he spent time in Kolarac – there, at the kafana tables, "brothers in pen and insomnia" spent their days. Both professors and waiters knew the poets. Poets-newcomers gained their reputation there and became urban bohemian legends. Spoken and written word were equally respected.
Already waiting were: Aca and Brana and the rest – most of them immortal by now: Pajić, Grobarov, Krca, Ambro, Čude. There are living witnesses as well. They were accompanied by actors and painters... Those who remember and those who forget.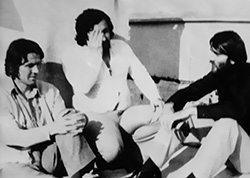 The central figure of the bohemian epoque was Brana Petrović, an ingenious poet, witty sage, enigma for the enforcement of law, order and heritage of the revolution. Until the end of his life, Ranko considered him the greatest poetic star from the times when Tasa and Mija, Matija and Steva used to walk down Knez-Mihailova Street, when we were all family with Desanka… Aca (Sekulić) was always in line with Brana. Only he, among many poets, was blamed for writing a poem about Tito, "Such a Man Will Never Be Born Again". Although an anticommunist, Ranko never held it against him. (When Aca justified to Raičković that many others – for example Miljković – also wrote poems about Tito, the latter said: "Miljković killed himself!")
Ranko arrived in Belgrade with two printed collections of poems: Iron Woods and Touch of Darkness – the first was printed in Titograd and the second in Cetinje – everything was in Cyrillic alphabet at the time…
It seems that Ranko found it more important to be present and awake among poets, living legends from the street and school reading: Desanka, Ćopić, Davičo, Vukosavljević, B. V. Radičević, Vasko…
In that Olympus, everyone knew who Ranko was.
He worked as a reporter for some factory or combinate newspapers – he had to make a living, although Petar Pajić used to tell that, at that time in Belgrade, you could be drunk every day without a penny in your pocket: wherever you enter, people wave and invite you: Come on, Pero, have a drink!
Then he returned to Titograd.
JOB IN THE PARLIAMENT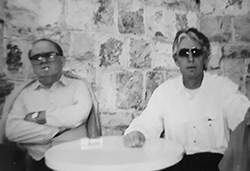 Titograd also had its bohemians. Vitomir Nikolić before all.
As the thirtieth anniversary of the Revolution was approaching, communists were increasingly winning and defending their heritage, which, despite all the glory, became suspicious to them as well. The Party was growing in members and closing ranks. Ranko had a problem: his father, professor of literature, disappeared with the army of the King and Monarchy during World War II. The son was, on the other hand, considered talented – young, handsome, smart… And jobless.
In his love poem "Ballad", he wrote the following verses:
And while you swing back and forth
All night like an evil spirit
A blurred thought comes to your head
Is he coming… He's coming, yes…
Enough to be interrogated: Who were you thinking about? Who is coming? From where? Admit everything!
The head of Montenegrin communists of the time, Veljko Milatović, ordered to find a job for Jovović – in the Parliament of Montenegro… Someone asked:
– In the Parliament, comrade president? Do you know whose son he is?
Milatović replied:
– If Ranko is a danger for the Parliament and State, the Parliament and State might as well collapse!
The poet's workplace was in the Documentation – we imagine him in some basement, among documents and folders, working with a copying machine and paper clips…
PERSONAL AND GENERAL PAIN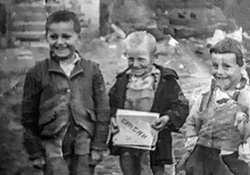 Living was wonderful, but not easy. The poet and his words were overtaken by great bitterness. Language was an expression of resentment and lack of love… The supremacy of poetic aristocracy was a target of attacks of many – mostly career hunters and rednecks in city clothes, administration and committee clerks… It was a time convenient for developing the craft of spying, which existed in Montenegro a long time ago… "Vito, Mišo, Pero and Ranko sang Who Says Serbia is Small! in Crkvina, in a road inn" In such cases, people would lose their jobs and be charged with a criminal offense…
Political divisions began. They captured the literary and artistic world as well.
Communist separatism was conceived: the leader is irreversibly aging; warriors are dying, and worse people are coming to power:
Gentlemen have disappeared,
Now it's all bareheaded punks,
Schmendricks and tramps –
Look at those faces, those crooks
They steal, greedily munch the food in restaurants…
Slowly, increasing in speed, values are collapsing, and the poet is watching, reacting, depicting in sharp images and angry words… Vojvodić and Ćupić write articles and pamphlets, Jovović writes verses.
The regime does not accept criticism, it defends itself and accuses the poet of being unsatisfied with the order won in the Revolution, and having the aim to bring defeated and conservative forces to power…
He was familiar with mercy and brotherhood and forgiveness – only sometimes pain would burst from him: a childhood lacking and marked by fatherhood and tragedy of an individual and a nation.
Personal pain becomes general, it receives a poetic form and meaning.
When Gojko Đogo's trial was scheduled, for his book Woolen Times, a year after the Marshal's death, recognized by hunters on duty in symbols and profiles of unusual poetry, Ranko flew to Belgrade – to be present, to take over a part of the poet's guilt on himself, since he couldn't take over a part of his sentence…
AMONG MONTENEGRINS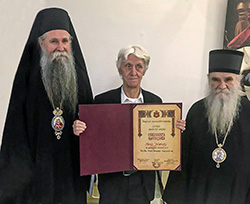 In Montenegro, breeding ground of Goli Otok, not a single evil has passed: there has always been at least a seed, to repeat itself at a time convenient for the birth of evil: governors, plunder of Kuči, Nikola's royal sycophants, komitas from Gajet, spies of all lands… The subject is as lonely as the poet:
I'm as black as the eagle's wing
I'm as lonely as my father
I'm dreaming of wine, company, homeland –
How do you live among these Montenegrins
How come you don't kill yourself!
Jovović's books build a fortress of language and lyrical flame – unsatisfaction: Wild Cry, A Kiss for Ana Akhmatova, Accumulation of Fear, Soil for a Burial, Crnjanski, Pagans before Crucifixion. Miodrag Perišić, Nikola Milošević, Srba Ignjatović, Vladimir Sekulić, all write about him. Tripković dedicated his poem "Sufferer" to him.
The poetic circle of Titograd separated. Serbian and pro-Yugoslav on one side, anti-Serbian and communist on the other. The divinity of poetry prefers the first, the regime prefers the latter. The first write and print in Cyrillic alphabet, the latter transfer to Latin – it was their withdrawal from the Serbian language, culture and origins… The same line divided both the people and the nation. The poet's job is to cry in the desert.
However, he is not alone. Momir Vojvodić is drilling in Podgorica, Miodrag Tripković is singing in his fairy-like voice and in the younger generation: Savo Lekić, Ilija Lakušić, Slavko Živković, Vlajko Ćulafić, Milica Kralj… Belgrade is not far away – shining like a mirror… The Montenegrin regime realizes that everything has to be separated from Belgrade: first the party and police, then the currency and state border, and if it all goes well, they would rename and usurp the language, church, name and surname… Following the assignment given by the party, the investigation of ancestors (Dragan Stanić) begins.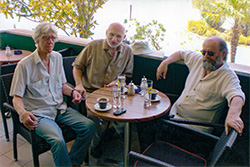 The poet finds it all painful. His spirit is burning. The verses he writes are like cries in the night. The poems are portraits of negative heroes and seals of shame in the ethical and traditional discourse. The subject of Ranko's poetry is a kind of exile.
Yugoslavia is disintegrated both from the outside and the inside. Serbia is attacked from all sides. Ranko was then editor of Stvaranje (Creation) magazine. One day, the Ministry of Culture canceled support to all newspapers and magazines in Cyrillic alphabet and their publishing stopped the same moment… Instead of complete Cyrillic alphabet, from the beginnings of Montenegro, they introduced complete Latin alphabet, as it was at the time of 1916–1918 occupation...
The reflection of it on the Serbian poet can be seen in his poetry, even the titles of his books: Dark Bread, What Is a Man without Feats, Dear Lord, Soil for a Burial, Sunset Forever.
Ever since his early verses, Jovović always had the motif of authority and cowardness in his mind and verse. Ethical dimensions are implied in those topics and relations, although emotions are prevailing in his early poems and morality in his mature ones.
Poetry is full of pain and rage, despair and moral eruptions. Getting distant from Njegoš's philosophical gold, the poet is getting closer to the imperatives of Marko Miljanov and his teaching that shame is harder than death!
LAMENT FOR POETS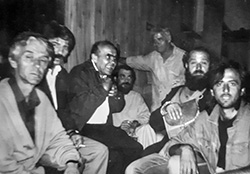 Jovović won the greatest poetry awards. The prizes are Serbian: Marko Miljanov, Laza Kostić, Decree of Gračanica, Jelena Balšić, Jovan Dučić, Branko Ćopić, Replies to Filip Višnjić, Chrysobull of Žiča, Sparkle of Njegoš and many others. However, as special punishments, as sentences to solitude, arrive the deaths of poets and friends: Ranko came from Podgorica to bury Raičković – there is no state or state television, only about a hundred poets walking in the funeral procession… He cried over the deaths of Aca Sekulić, Rakitić and Momir, he never fully accepted the death of his close friend Miodrag Tripković, or his life partner Nadežda Lazarević (who renewed the "Kolo srpskih sestara" association in Montenegro in the nineties). However, his biggest lament was over Brančilo Petrović and the world he ruled:
My B. Petrović left
To clear heavens –
Suspicion and bitterness
Broke him into stars and depths.
I wished for Belgrade faces
Streets and kafanas. And drinks.
Our imperial life
Until dawns and over dawns.
And the stars and me began crying
Over "Kolarac" and "Lipa"
I wished to once again fight and kiss
Some unknown guy
In those divine places.
But today
When I don't have much reason to live,
Although I cannot do differently,
I walk through the city,
And hear the whisper of books in windows,
And think: It's your Heart beating –
It's horrible to live from life
When life is not life anymore.
In gardens and kafanas in Podgorica, Jovović was talking about Belgrade and its legends every day. Those listening to him, even those who have never visited Kolarac or the Writer's Club, have it all before their eyes – names, faces, words, replies. Brana is sitting on the throne, as a bohemian chief.
A LYRICIST WITH EPIC COURAGE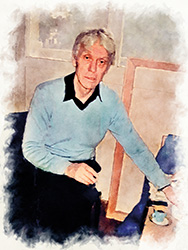 The Belgrade "Prosveta" published him in 1981 and Serbian Literary Cooperative three times – in three of its most reputable editions: Accumulating Fear in "Savremenik" ("Contemporary"), Passing Away on the Balcony in "Atlas", Waiting for the Jacobines in the blue "Kolo"…
When coming to the promotion of "'Kolo' in Kolarac" – it was one of his last trips to Belgrade – waiter Boža from Kolarac recognized him after thirty years: Where've you been, Ranko! How are you doing?
He was proud of Belgrade, just like all members of the Bjelopavlići and Montenegrin Serbs.
Visiting the Book Fair was an obligation for Ranko. Brana Petrović confided in him: "When I enter the Fair, I constantly keep a cigarette in the corner of my mouth, so that I don't have to kiss Montenegrins – you know how they pounce!"
Ranko was elegant and a gentleman. Bećković spoke about it at the commemoration in the Serbian Literary Cooperative.
He was a lyricist with epic courage.
He was always late for meetings – he was greeted in the streets and stopped to talk with people. He wanted to show respect to everyone.
He was very popular and earned the respect of many from the opposite camp.
He received indirect offers from the authorities to join them and get everything: a national pension, Njegoš Award, house and driver.
He, however, was a literary descendant of Marko Miljanov, Drainac, Dis, Vasiljev, Crnjanski… Compatriot of Jovan Dučić…
In his last book, he enclosed the letter of Dobrica Ćosić, full of skepticism and bidding farewell to the life and union of Serbia and Montenegro – two countries with the same nation, faith and language.
Those two countries can perhaps be separated in Dobrica Ćosić. Not in Jovović – neither now nor ever.
He died at the time of grand Orthodox processions in Montenegro, in early 2020. He lived to see the resurrection of the larger and better part of the nation. Upon hearing about the departure of the poet and friend, I wrote:
May those grand processions of Orthodox people in squares and streets of the "upright country" of Montenegro be the funeral of his Serbian dust.