Introduction
Arrivals and Departures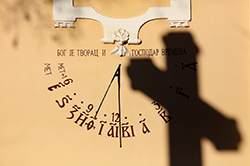 Before us is the new issue of National Review, the last in 2020. In one detail, it differs from all previous ones, but we leave that to the eye and judgment of a good reader.
In this issue, we take you to the "Zemun Salon", held despite the pandemic. We are flipping through a notebook from a journey to Pešter. From the towers in Ečka we observe the plain. We remind you of the great battle in Varvarinsko polje in which Serbs and Russians, under the command of one Celtic, defeated the Turks and Albanians. We are sending off the Metropolitan with the pen of the editor-in-chief of the Serbian Literary Cooperative. On the occasion of shaping his legacy in "Adligat", we are sorting through the memories of the great Serbian actor Pavle Vuisić. We are talking about the spirit of Njegoš's nationalism with the excellent writer Dr. Duško Babić, the author of a new important study on that subject. We hosted on our pages, starting with the cover, the great master of art photography Vukica Mikača Lovren. There is also Dejan Milojević, an important name in Serbian basketball. (...)
And so that no one forgets what time has struck in this epoch of ours, there is also this beautiful sundial from Kikinda, much more accurate than the news at half past seven.