Paths
A SMALL NOTEBOOK FROM JOURNEYS AROUND PEŠTER
On Serbian Tibet Again
Whenever we come here, everything is the same, as if time stands still. And everything is different, as if centuries have passed. Years and destinies line up like on that wolf-tooth necklace found by the archaeologists. These long-lived people will offer you cheese, smoked mutton, buckwheat pancakes, juniper brandy, pine needle juice, qurabiya or kalburabastı. And a story that smells and crackles like pine log in a shepherd's fire, there, in the mountain katun. And you never get to wonder why you keep coming back
By: Violeta Milutinović
Photo: Zoran and Violeta Milutinović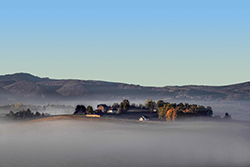 Reka Ličina, a famous local professor, is preoccupied with the phenomenon of healthy people from Pešter. His scientific assessments that various civilizations lived here have come true, despite the opinion that this is a desolated land where humans and cattle can hardly survive. And they survived. Archaeologists have found here prehistoric objects and tools made of deer antlers, as well as a necklace made of a wolf's tooth. The harshness of the Pešter's climate, along with hard physical work and healthy home-made food, make these people long-lived. Numerous centenarians live here. Jusuf Kožar from the village of Radmanci lived for 135 years, Đula Kožar 120 years, Kaja Ličina 130 years...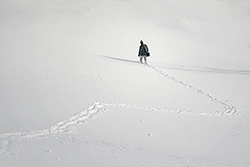 Pešter plateau offers countless impressions and images. From the mountain peaks of Jadovnik, Zlatar, Giljeva, Javor, Golija, Ozren, Žilindar, through cold caves and celestial lookouts, to meadows and pastures, misty daybreaks, wetlands and marsh habitats, flora and fauna, orchids, diurnal butterflies, Pešter snails, Montagu's harrier. is famous for its Sjenica cheese, stelјa (dried mutton of the autochthonous breed of Pramenka sheep), prosciutto, cheese pie, buckwheat pancakes, juniper brandy, pine needle juices...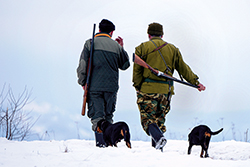 Sjenica is the center of Pešter, from which everything begins and where everything ends. The highlanders of Sjenica have their own way of life and codes of conduct, in the spirit of good neighborliness and the beauty of different religions. They are humane, hardworking, smiling and loud. They respect family, their herds, nature, food and tradition. They openly express their opinion, appreciate the honesty and good intentions of every passenger, and they fully accept them.
Back in 2009, we met the local rangers Mesko, Zija, Šeki, Draga, and we crossed a lot of trails with them, visited many villages, and walked on pastures. We ate, drank, quarreled and laughed with them... Those memories bind us to this day. Fatmir's pastry shop, in the center of the town, was the base where we gathered and made plans for each day.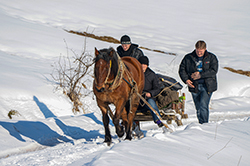 Every misty morning lured us to get up early and run after the endless, mystical landscapes. Just like our hosts, we didn't pay attention to rain, snow, ice or wind. Everything was compensated with admiration in front of good view and a good shot. We were fascinated by the speed of fog moving from one place to another. We watched as the legless fog crossed the street, climbed the meadows to the hills, and descended from the hills to the valleys and villages without wings. It carried the colors of the rainbow in it, joined forces with the wind, which raised sand and dust without hands, refracting light. All that magic usually lasted a very short time and then gave way to an ordinary morning.
PAN FROM THE PASTURE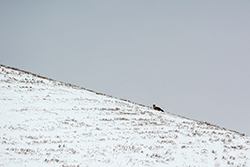 As the morning mist lifted, peaks, hills and meadows revealed themselves to us. We saw Feković hill. Cheerful and mushy Roma kids ran to meet us, and we understood why we had bought so many chocolates, lollipops, biscuits that morning... After the distribution of gifts, the initial restraint of their elders soon disappeared and the doors of their homes opened for us. Around us were troughs in which children bathe, buckets in which laundry is washed, ropes with clean laundry, old cars, scattered bottles, a pot in the middle of the room with simmering lunch, discarded shoes, a chubby child, a child with a red lollipop and with big brown eyes, a handsome deaf-mute boy with white teeth, a curly sleeping girl, a man with a leg bracelet, a woman combing her hair... The walls are peeled, damp, with holes or carpets with a picture of a deer, a roof covered with beams, sheets, towels, underpants, cardboard.

Although the municipality of Sjenica provided them with about thirty prefabricated houses in the immediate vicinity, they have not yet left their original settlement. It is interesting that in the new settlement, next to the houses, we saw a couple of tents... They carry the nomadic spirit of their lives in themselves and they can't do without it.
In the early, misty mornings we visited the Uvac canyon, which is located between Sjenica and Nova Varoš. The waters of the Uvac River, diamond green and cold, pushed our boat into trapped meanders. The surroundings are rocky and overgrown with low grass, but the bank is accessible for thirsty animals. We were convinced of that by a fox that watched us carefully one morning and waited for us to leave.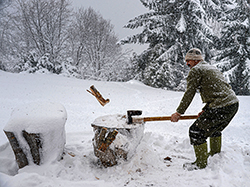 Of course, we also visited the Ice Cave. And we watched the griffon vultures as they soared into the sky from their terraces, with a wingspan of three meters. We visited Molitva and Lopiža lookouts. All this is well known to the readers of National Review, and we will not repeat it.
From the top of Jadovnik (Katunić, 1,733 meters) endless fragrant meadows and pastures could be seen, with scattered houses of the villages of Stranjan, Svičević, Tičje Polje... and their farms. We slowly descended to the pasture, from which we heard a sound like the whistling of the wind or the singing of nightingales. A man with a cane, a woolen hat and socks, brown pants and a green jacket was surrounded by sheep. Next to him a black fuzzy dog with a suspicious look and a bent tail. The man happily walked towards us. He pulled a piece of hard cheese, bread and prosciutto from his bag. He was eager to talk and entertained us with his story of Pan and his flute. Our shepherd Rile used his flute to drive away leisure and wolves, entertained himself and the sheep, which he says sometimes dance to his music.
IN THE VALLEY OF THE WOLVES
He led us to a wooden house with a thatched roof. We had a hard time getting into it, because the threshold was quite high and the roof was low. Inside were two wooden beds with wool mattresses, and on the shelves were homemade food and juices. It is a katun, a temporary apartment where a shepherd stays during the summer grazing of cattle. He gets up before sunrise and follows his herd all day, crossing great distances. At dusk he returns to his katun. Sometimes shepherds from the neighboring katuns come here, and, under the light of a gas lamp, a game of cards is played, coffee and brandy are drunk, and they all go to bed early.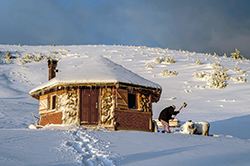 – The tradition of going to the katuns is slowly fading – he says, parting reluctantly. – There are fewer and fewer of those who are ready to live on the mountain for months. That is why the traditional ways of making cheese are lost, old recipes are neglected.
Meho, the owner of the "Valley of Wolves" tavern, takes care of the elderly and children who are trapped by snow in their villages throughout the winter. He tirelessly pushes through the snow and winds, bringing them food and medicine. On one occasion, he put an old man from a village in his car and drove all day through a blizzard to a village at the other end of Pešter, so that this old man would be with his great love from his youth.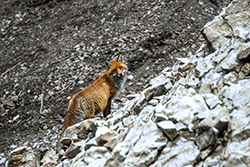 In January 2015, Meho drove us to his log cabin, near the hamlet of Caričina, "in the middle of nowhere". In the log cabin, a table, two chairs, a bed, a stove, wood, blankets and an ax. We brought water, the electricity was replaced by candles. A journal entry: "We put things down and went outside. We were left alone and suddenly felt all the seriousness and opacity of winter, the abandonment of space. One is almost afraid of the coming of so much loneliness. We remembered a joke in which a guy at a date says to the girl: " 'I'm waiting until minus 30...' There were no signs of animals, no flowers, no birds... The cold air and hard walk quickly slapped us in the face, made us take a dive into the snow scene and breathe it into ourselves."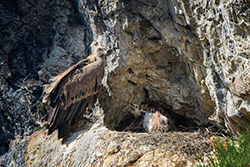 That is how loneliness and fear are overcome, you become a part of that space and scenery. We were photographers, observers and participants in the abandoned scene. We climbed, fell, threw snowballs, laughed, like children. Afterwards, in the log cabin, the safety and warmth are brought by the crackling of the fire, the smell of the wood.
Grandma Milijana, from the village of Višnjeva, was waiting for us on her doorstep every year. Tender and sickly, but always upright, in clean clothes, with a woolen vest and a silk scarf. She would secretly smoke a cigarette, while bringing us long-roasted coffee, stale Turkish delight, honey and ice water. We never drank better coffee, nor ate sweeter Turkish delight, than at Grandma Milijana's.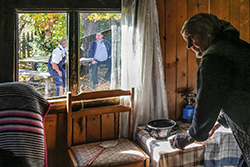 Her stories, which we have been listening to since 2009, are always true and new, and even the old ones, only told in a different way. That's why the story of her bear is only hers.
– One winter, while I was staying with my daughter in Sjenica, a hungry bear entered my house in the village of Višnjeva. He wandered around the yard, broke old flower pots, overturned wood, smashed the shed door, and then destroyed all the hives and took all the honey – she said.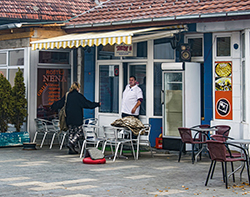 Next time we met:
– Did I tell you the story about a bear that slaughtered five of my cocks this summer?
And so on until 2019, when the bear was replaced by a beautiful fox that stole eggs.
Over time, grandma Milijana grew weaker, her look changed, but her steel will and cheerfulness still amazed us. She gave us an old red broom, tied with a metal wire, as a trophy or a silent amulet.
After each of our Pešter adventures, we returned to the pastry shop near Fatmir. For refreshments, boza or lemonade, coffee, and then tres leches cake, qurabiya, kalburabastı... On the Sjenica promenade, plenty of beautiful young people, dressed both in modern and in oriental style. This multinational community puts it all together in a harmonious whole, just like we put it all among the covers of our Pešter travel notebook, to which we are always happy to return.

***
Gurabije
With the consent of Fatmir Miftarij, we reveal to you his old recipe for qurabiya.
It takes three eggs, three cups of sugar, two cups of milk, two cups of oil, and one baking powder.
Whisk all this with a mixer, gradually add one kilogram of flour and mix by hand. Take lumps of dough and work them into twelve balls, lightly press them on a grate (to get patterns), then stretch the ball like a paw. Bake at 180 degrees, 15 to 20 minutes. They should not be baked too much. When they cool, put them in a box with a lid.
***
Katun Ice Cream
When a child came to a katun, he or she would be treated with an interesting sweet. They would take snow, sprinkle some sugar over it and cover it with a little bit of milk milked directly from a sheep. The children from the katun called it ice cream.