Holy Men
METROPOLITAN AMFILOHIJE (1938–2020), A SHEPHERD WHO LEFT A TRACE
The Bright Boy
God sent him to religiously desolate Montenegro after it became obvious that the atheist government, near the end of its reign, intended to complete the destruction. His resistance and religious service lasted thirty years. He raised churches and monastic communities, renewed the nation and faith, ascended asceticism and the highest role-models of our ancestors. He wrote, translated, published books. He embraced poets. He told stories, sermons, taught, recuperated and comforted, reached everywhere. He brought Montenegro from dark obedient burrows to Holy Processions. When he passed away, someone said: "We lost a shepherd and theologian, but now we have a saint"
By: Dragan Lakićević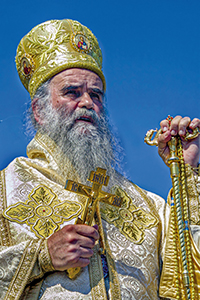 In our village of Bare, in Lower Morača, in two houses immediately next to the Biljezi cemetery, two women, before and after World War II, gave birth to fifteen children each. One was Blažo's Milka and the other was Ćiro's Milena.
Among her fifteen children, and, naturally, not all of them survived wars, illnesses and poverty, Ćiro's Milena gave birth to her son Risto Radović, her fifth child, who will, after entering the monastic community, become Amfilohije, later professor and PhD in theology, bishop, metropolitan, archbishop…
CRADLE OF MORAČA
He was born on Christmas, so he was given Christ's name in the spirit of folk etymology: Risto. His other brothers were also given names from the Morača, Serbian and Christian tradition: Vasilije after St. Vasilije, Veljko after hayduk Veljko Petrović (people in Morača believe that ancestors of the great hero of the First Serbian Uprising and Negotin Valley were originally from Morača), Rade –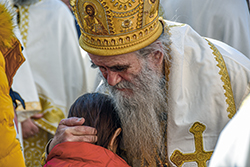 after the ancestor of the Radovići clan, Dobrija after the son of Bogić of Morača, our forefather, Vučica – after Vučo Vučetić (the fresco presenting him, without an aureole, stands above the sarcophagus of founder Stefan Nemanjić in Morača Monastery), who renovated the XIII century monastery of the Nemanjić dynasty in the XVI century… Metropolitan Amfilohije was raised in that nest of legends and epic poetry.
Memory is a character trait in Morača. Children are breastfed and raised with gusle and stories, while the Morača Monastery, older than anything, lavishing lavra and Christian temple, endowment of Stefan Nemanjić, son of Vukan, grandson of Nemanja, nephew of St. Sava, illuminates it all with its peacefulness and holiness.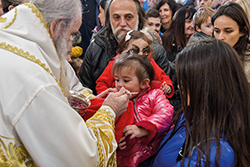 From that homeland, little boy Risto, who will grow into one of the greatest figures of Orthodox Christianity of our time, not just Serbian, set off to the world of education and science about faith, to serve God. His many talents enabled him to do so: upbringing, learning, talent for languages, and, most of all, deep understanding of faith. Faith was within him and he was within faith.
He went to school, served and prepared himself in Belgrade, Rome, Paris, Athens, on Mt. Athos. He always kept a book of epic poetry and Mountain Wreath together with a Bible… Local legends had their heroes, looking up to the epic configuration of old Kosovo and hayduk poetry, starting from cousin Mina voivode Radović to priest Dragović, Zeko Lakić and many other from the battles during the entire XIX to the Battle of Mojkovac in the XX century.
METROPOLITAN AND BUILDER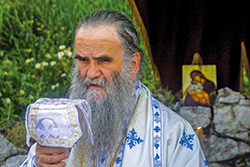 God sent him to Montenegro when it became obvious that, approaching the end of its epoque, the atheist and communist authorities wanted to the destroy what was already destroyed – what was left from the revolutionary terror which reached its zenith in World War II. The church resisted in praying silence, desolate, impoverished, in faded priest clothes next to the great shrines of Morača, St. Trinity of Pljevlja, Đurđevi Stupovi above Berane, Monastery of Cetinje, Ostrog and holy ruins of Majstorovina, Kumanica, chapel of Lovćen.
First Bishop of Banat, Amfilohije became Metropolitan of Montenegro and the Littoral in 1990. His knowledge and abilities as bishop and feeling for Njegoš's spirit, foundation in folk tradition of St. Sava and Kosovo, made him a worthy heir of the throne of Cetinje and successor of the vow of St. Petar of Cetinje.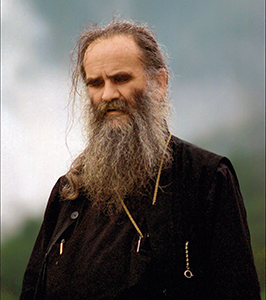 In the religiously desolate Montenegro, prayers became the songs of people. They began buzzing in old monasteries and churches, destroyed churchyards and shrines, in cemeteries and gatherings. A renewal began, both from the outside and the inside. New churches were raised, one more beautiful than the other, and a series of replicas of Njegoš's chapel, destroyed in Lovćen. What was intended for oblivion and eradication replicated and became holy. The state canceled the vows of the greatest poet with its parties and forgeries, and the church gilded and decorated them with its Metropolitan. People returned to their ancestors, started baptizing their children, celebrated patron saints. Fear and hope received their religious foundation.
The Metropolitan was flying for thirty years – by planes, cars, on foot. He used to wake up in Russia, in Mt. Athos, in Canada and America, as well as in any remote village of Montenegro, wherever anyone was praying to God and wherever candles were burning. He put bells, which used to hang on old ruins, on newly built bell towers. He held services, sang, spoke, blessed. Many monasteries were raised and in them crosses and candles shining, the joy of existence and belonging. Grandiose churches in Podgorica and Bar resemble old lavras-ships in the sea of the European and NATO tempest, who loathe the faith of ancestors.
His activities were not limited to the area of the Metropolitanate of Montenegro and the Littoral. He was invited and greeted everywhere in the Orthodox world. He was at home wherever he went – in Dalmatia, Herzegovina, Macedonia, and "wherever there are any Serbian souls" (Šantić).
SVETIGORA FROM MORAČA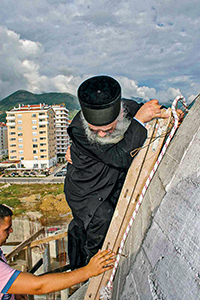 He wrote, translated, published books. He founded a publishing house and religious magazine "Svetigora", named after the waterfall below Morača Monastery, where all our roads take us, both better and worse.
He embraced poets. He founded "Jelena Balšić" literary awards, in memory of the educated and faithful daughter of Prince Lazar, wife of Đurđe II Stracimirović Balšić – both of them rest in the renewed temples in Beška on Skadar Lake, and with them her martyr sister Olivera Lazarević… He loved the assumption that the prototype of the epic hero of Kosovo could be that master of Zeta: "Straehin Ban, Serbian hawk, / your horse and your heroism / are admired wherever you go!"
While sitting on the throne of Cetinje, touching with his priest clothes the walls which St. Peter I of Cetinje leaned upon, as well as St. Peter II of Lovćen, the Knower of Mysteries, as he called the poet of Mountain Wreath and Light of the Microcosm, the Metropolitan never missed anything in Belgrade, traveled around the world and in 1999 served in Metohija, as exarch of the throne of Peć. He saved the living and buried the dead – he joined them with the eternal and the incorruptible.
When some pests set the mosque in Belgrade on fire, Bishop Amfilohije was in the Patriarchate on business. He immediately rushed with his friends to distinguish the fire and save the Muslim shrine and the face of Belgrade. He yelled: We don't set things on fire, we are the people of God! (Critics of the Serbian church, 88 of them in Serbia, didn't notice this event.)
RENEWER AND ADVOCATE BEFORE THE LORD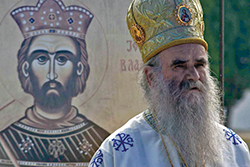 Orator, preacher, professor, a man of wonderful words and vivid examples, reminiscences and quotes – wrote an entire library. Religious philosopher, expert in the dogma, wrote studies and discussions. His work on the foundations of faith has a decasyllabic verse in its title: There is no more beautiful faith than the Christian … Just like his predecessors and role models from the XX century, St. Nikolaj of Lelić and St. Justin of Ćelije, he wrote different genres: science, theology, literature. Certain subjects, especially during his travels, in airplanes and in shrines, grew into poetry. A collection of his poems is entitled Salvation Is in the Lamb.
Despite the opposition of authorities, he renewed the St. Sava academies in the cities of Montenegro, with sermons, choruses and recitals, at times when Zmaj, Ćopić, Desanka, Duško Radović… were expelled from Montenegrin schools. When Karađorđe's monument in Podgorica was endangered, as well as the bust of Voivode Božidar Vuković of Podgorica, because of the inscription on it: "first Serbian printer and publisher"… They changed the name of the street "Nemanja's Bank" in Titograd, and the Street of Vuk Karadžić, Njegoš's best friend, in Cetinje.
It happened during the regime whose only program – political, economic and cultural – was the need to cancel, abolish and expel anything Serbian "at any cost" – from names, history, language, to faith and memory.
In spite of that, our Metropolitan renewed the memory of heroes and poets, ascetics and holidays, the glorious and the forgotten ones. He gave everything he had. He created in order to give.
Those buried by him were considered mourned by the state.
He was a contemporary of Patriarch Pavle. He was his deputy while the holy Patriarch was in the hospital.
In Morača, in Bare, on a hill near our Biljezi cemetery, he and his brothers raised a little church to decorate the magical landscape. Every summer, on St. Pantelija's day, they gathered there, above his birth house in the orchard of his childhood – brothers, cousins, friends, people of Morača and Rovci. The Bishop held services from early morning to lunch, he sang without stopping.
ĐEDO LEADING PROCESSIONS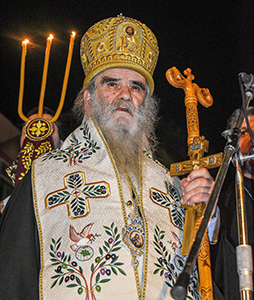 Just like he called old Metropolitan Danilo (Dajković, from Cetinje) and Patriarch Pavle Đedo (Grandpa), the entire nation started calling him Đedo recently. Just like heroes of the greatest work of Serbian literature called Prior Stefan:
You're in deep thoughts, đedo,
Or are you falling asleep…
The Metropolitan was not falling asleep.
However, he couldn't baptize and bless everything… On the other hand, from their states and stakeouts of former Yugoslavia, from revived Ustasha and anti-Serbian politics, newly founded parties and nations, inferior media and hideaways of envy and poverty, opponents of Orthodox faith, Serbian church and magnificent culture were howling. They did not even resist on the day of the burial, just like those who mocked Christ ("They spit on him, and took the staff and struck him on the head" Mathew 27:30). Everyone spoke their own language, from their own mind and face. Both the regime in Montenegro, with its media, and the regimes of neighboring countries behaved as they deemed appropriate. The worst was in very Montenegro…
When "under the shadows of the night and their own darkness" (Raičković), they brought the godless "Law on the Freedom of Faith", which affected the property and being of the Church, the Metropolitan stood up for the last time, put on his mitre and exited the Church in Podgorica, raised by him. His nation set off after him. They took out their children, icons, raised flags, pictures of Njegoš, Marko Miljanov, Patriarch Pavle – they were shining with youth and beauty. Those were historical Processions, never seen before, marches of faithful men, women and children, woken up from numbness by the glow of faith and justice, following their shepherd.
The Processions in Montenegro, in late 2019 and early 2020, recuperated the people, and not only Orthodox ones. From dark, obedient burrows, formed by the television and Government, people went out into daylight, showed their clean, true face. Every day was a holiday. There is a belief that the Processions will be marked in the calendar in red letters one day.
CHRISTIAN PATH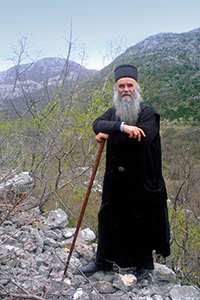 In the middle of Podgorica, the city where Grand Prince Stefan Nemanja was born in early XII century, a big Cathedral Church of Christ's Resurrection is shining, raised by Metropolitan Amfilohije, whose relics are now resting in it. God help us. Just like so many holy men in the history of Christianity – he was persecuted by evil masters and attackers on Christ.
Just like the hundreds of thousands of people from the Cathedral Church in Belgrade to the Rakovica Monastery, who set off following the traces of Patriarch Pavle, hundreds of thousands of people from the Herzegovina, Pljevlja and Durmitor areas to the sea and "bride of the Adriatic" – set off down the great path of Metropolitan Amfilohije. The eternal, Christian path. We are only about to start our journey.
An assembly with heroes from Mountain Wreath has already gathered in the place our Bishop has arrived to. They are handing over the gusle to newly arrived Đedo. He sings about Holy Men – Sava and the honorable Prince of Kosovo, while the saints listen and smile.

***
Soldier of Christ
Then came the time for Risto's generation to join the army. He also received an invitation from the military department.
Risto was studying theology in Belgrade. He sent the military department a confirmation that he was a regular student.
When they saw where the confirmation came from, its stamp and signature, they were enraged, but the only thing they could do was call him again every year, threatening with the law and prison for not responding.
One day, Risto took a piece of paper and pen and, in beautiful handwriting, in ink, wrote a letter to the military department secretary:
"Dear comrade secretary,
I am regularly receiving invitations to join the military. Therefore, I would like to inform you that I have already been recruited to the army of our Lord Jesus Christ, to serve my nation, homeland and freedom."
The secretary remembered a poem from the prewar textbook – about St. Sava, so he put Risto's folder to the lost bunch, took the letter home and put it in a chest where he kept medals, diplomas, ducats and memories.
***
Bishopric Stick
After he was appointed Bishop of Banat and came to the court in Vršac, Bishop Amfilohije saw many bishopric sticks in a corner – one more beautiful than the other, carved in wood, gold and silver, with crosses and apostles, ornamented with pearls and filigree.
He put the stick Patriarch of Serbia German gave him.
– Whose are those sticks? – he asked the court manager.
– Those are sticks belonging to former Serbian bishops. One of them belonged to St. Sava.
– Which one?
– I couldn't say. The former bishop did not tell me. But you can take whichever you please – they are for you.
The following day, Bishop Amfilohije wanted to take the stick he brought, but could not remember which one it was. So he took another one, believing it was the stick of St. Sava.