Arena
DEJAN MILOJEVIĆ, IMPORTANT NAME OF SERBIAN BASKETBALL
Waiting for New Challenges
Both as player and coach, he is the silent, unmovable rock which everything rests upon. Which he holds on to in the most difficult and most dangerous times. He won many national and international trophies, as member of a club and the national team. For eight years, he has been creating the wonder called "Mega", which gave birth to a multitude of extraordinary players, such as Jokić, Micić, Dangubić. He believes that basketball in the Southern-Slavic area still doesn't have anything better than the regional league. He believes that a future in NBA is opening before him. The situation in Serbian basketball is not impeccable, but there are people who will preserve its high ranking
By: Dejan Bulajić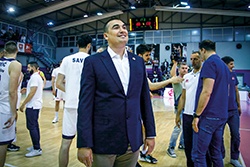 Many believed than Dejan Milojević ended his playing career too early. They expected him to play a few more seasons as member of "Partizan", but he decided to end it in 2009. Three years later, almost unnoticeably for the wider audience, he took over the position of coach of then "Mega Vizura". In eight years, he matured as one of the most talented Serbian coaches, who had a crucial influence on the development of the club and many of young players. Against expectations to continue in the following season, he decided to make a new, big turn. He ended his story in "Mega", setting new, very high objectives before him.
– It was realistic to think about continuing my career in NBA. There were clear hints that I will be able to realize a cooperation with one of their clubs. Negotiations were in progress and perhaps already last summer they could've been crowned with a deal if the situation in sports, including NBA, weren't disrupted by the epidemics. It threw everything out of its constant rhythm, the entire season was moved, clubs are in state of emergency, therefore my plans were not realized… this time. However, I'm not giving up. The NBA is my objective and I'm sure I'll realize it very soon.
What attracts you to the strongest basketball league in the world?
I love the NBA and I think it's by far the strongest league in the world. I especially like the fact that their basketball is first a game and then everything else. That collection of the best players and best coaches is really impressive. If anyone thinks that there is some slowing down during the league, the playoffs come to dissuade them. The events in the NBA during the playoffs is the best thing world basketball can offer.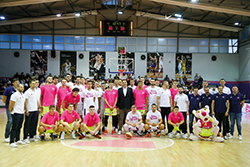 Can European basketball adopt anything from it?
I think it has already adopted a lot, most of all through the Euroleague. What we, coaches, notice is the system of trainings. With so many games during the season, the old European system including many trainings breaks down and all attention turns towards the games. They are fighting for points, but it's also the best way to hone skills. It's certainly also more suitable for players, who feel best when playing games.
Can waiting for the NBA result in an unexpected engagement in European basketball?
I don't think so. A big part of the season has already passed and I haven't even thought of it. Finally, it feels good to have a break after a long, intensive period.
YOUNG PEOPLE SHOULD BE TRUSTED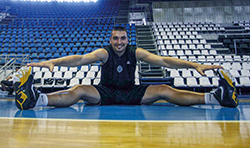 What do sudden pauses in the sports calendar really look like?
The period of resting is very comfortable for me, because I finally have time for things I had to push aside due to my commitment in "Mega". It doesn't mean I left the club because I was fed up. On the contrary, I sincerely enjoyed it. All these years we've been creating something unexpected, something that grew into a unique phenomenon of Serbian basketball. I'm glad for my contribution in it, but I also felt it was time for a change. Therefore I decided to leave.
What was crucial for the "Mega" project to reach its present level?
I have to admit that we were surprised as well. We were far from such ambitions when we started eight years ago. Our objective was to offer an opportunity to young players who didn't find their place in "Zvezda" and "Partizan", and make it the basic concept of the club. It's still so, because we saw that young players could be trusted much more than we thought in the beginning. Thus, we had Jokić, Micić, Dangubić growing up with us, as well as many others who created the specific charm of "Mega" style and who weren't burdened with bigger, more famous and richer clubs in the region. After all, the results we achieved have justified the endeavor.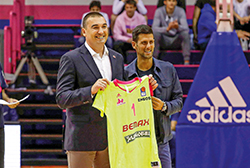 What is your opinion about the Adriatic League?
The regional league has been subject of criticism lately, and there are those who believe that national leagues would be much more useful. I don't share their opinion and I think that the Adriatic League is the best solution for the region because only that league has the money which promises competitive quality. Just look at our league. If "Zvezda" and "Partizan" returned, who would be a worthy opponent and what would such a competition look like? We can wish for a lot of things, but what we currently have is a general lack of money in clubs, which are hardly surviving. That's why the establishing of the second Adriatic League for clubs trying to break free from a bad average is good. Besides, the Adriatic League offers an open road to the Euroleague, which we could all only dream of if we returned to our national championships. I support the Adriatic League and I hope it will last.
SPORT IS A QUESTION FOR THE ENTIRE SOCIETY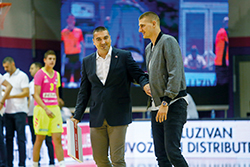 What does Serbian basketball offer you – reasons for pleasure or concern?
The situation is definitely not great, but there aren't too many reasons for concern as well. We are simply used to seeing ourselves as one of the best and we expect it to last eternally. However, it's not realistic. A small country such as Serbia cannot continuously create the best basketball players. There are periods of ascension, but after them comes a decline, until a new good generation appears. I'm convinced that we have something to hope for and that the players gathered in our national team will achieve many good things in the following years. Besides, Serbs love basketball. There are always many interested boys who have both the talent and the heart. They will preserve the high ranking of Serbian basketball, but we should always be realistic – declines are something happening in much bigger and richer countries, so Serbia is no exception.
Can the national team be bound by high expectations of the public?
I believe not. The public expects victories without retreat and that's good. You simply get used to it, become aware of the environment you are active in and what is expected from you. Those not ready for it should stay away from the dancefloor! Such an approach forces you to give your best. Whether it will be sufficient for success is another issue, but if it proves not to be, then you're at least in peace with yourself.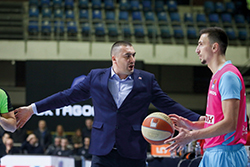 Does it mean that the impressions from the national team coach bench are favorable?
Very favorable! It was a pleasure to amend my experience with such a challenge. Meeting and cooperating with Igor Kokoškov showed me that he is a great man and great coach. I'm convinced we'll achieve many good things with the national team, although the situation with the qualifications is very complicated due to the relations in world basketball and is of no use to anyone.
One of the apparent problems is shutting down centers which used to give a good base for Serbian basketball?
Money is the cause of everything. The entire system of contemporary sports stands on the power of money and that will not change. There are people who nostalgically speak about amateurism, but it's a long-gone time. Vršac, Leskovac, Subotica and some other centers had great clubs, which were generously financed. When it stopped, they simply disappeared. It's a big pity both for them and our basketball, because they created excellent players, but that is something the entire society should be dealing with. We cannot make long-term plans before the system of financing sports is established.
STEP BY STEP THROUGH DREAMS
How do you explain the talent of contemporary generations?
The same as before, with certain additions. There have always been hardworking and lazy people. Today there are also boys ready to seriously dedicate themselves to sports, ready for any risk. I think that it's much easier for them than it was for our generation. They have the support of contemporary technologies. They can find so many things on the internet, useful for their personal growth. Same with young coaches. The communication system with the entire world is simplified. They find solutions for challenges which brought us serious problems much more easily. Many things are much easier today, but trainings are still crucial. Internet can't help with that.
What is the situation with experts in Serbia?
Serbia has excellent coaches. Our coaching organization is one of the best in the world. Whoever wants to have a good education as coach, has a good basis in Serbia. However, money is dominant in that area as well, or, to be more precise, the lack of money. Many coaches work with boys as a hobby and have another job to make their living. In such a situation, it's difficult to dedicate yourself to searching for talents and honing them. On the other hand, other young coaches go abroad very early, looking for better working conditions, therefore that segment of Serbian basketball also entirely depends on finance.
Are there any unrealized ambitions and those you aspire to now?
There are no unrealized ambitions. Both as player and coach, I'm very satisfied with what I've achieved up to now. I otherwise don't accept long-term planning. I try to confront what's immediately before me, to give my best to do my job the best I can, to enjoy it and share my feeling with players. Where that will take me, I don't know and I don't think about it. Dreams are easier to approach when you go step by step.
How much did sports contribute to your maturing as a human being?
Probably crucially, because it also helped me become immune to the constantly present pressure. Already as a player I tried to reduce important communication to my team. I wanted to hear criticisms, recommendations and advice from my coach and people near to me, while everything beyond that circle was just along the way. Today, as coach, I don't pay attention to daily comments and texts in the daily press. I realized early that many of those who loudly express their remarks most often don't know or understand what they're talking about. I loved maturing in a team and that made me feel safe. It helped me make a difference between important and unimportant, which is a very useful lesson both in sports and in life.

***
Path
Dejan Milojević started his career as player in 1997 in "Beovuk" and then moved to FMP. Life took him to "Budućnost" in Podgorica in 2000, where he spent four years and won his first national trophies – the championship and the cup. He played in "Partizan" for two years and won two champion titles. Then followed "Valencia" and "Galatasaray". He won two gold medals at European Championships with the national team. He began his coach career in "Mega Vizura" in 2012. With this club, which created a number of excellent basketball players, he won one Radivoj Korać Cup.
***
Incompetent
– There are incompetent people in every area of life, including sports. Such people are most often the loudest when it comes to disapproval. When I think about it, it seems that our entire career cannot be imagined without such people nearby. Comprehensive maturing is simply not possible without them. In a way, they show you what you're up for. If you stumble upon them, there's nothing you can hope for beyond them.