Introduction
Roads of Tomorrow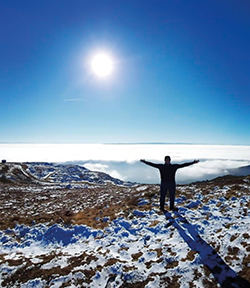 It's going. We may not know how, but it's going. We are in the saddle, on the track, and we believe that it is not bad. Do we believe? The whole world is in dramatic and far-reaching turmoil. There are many more questions than answers, doubts than certainty, crossroads than signposts. But it's going. It cannot stop even if we wanted to.
In this issue of the National Review, we painted Serbian spas and dealt with Belgrade monuments, their symbolism and interesting history. We researched Serbian carpets, interpreted the ancient "thread path". We were in Mesa Verde, Colorado, in a maze of canyons. We observed the valuable art collection of the Bogdanović family in Sremska Mitrovica. We remembered the poet Petar Pajić, hung out with professor Vladimir Božović and motorist Dušan Borković. From the top of Kopaonik, we watched the white sea of ​​clouds over the plain of Kosovo, where our roads of tomorrow will lead. We did not forget, of course, our regular travel companions: Ruma, "Merkur", "NS Seed"...
Let's steer clear from long introductions. This is the right place to put a full stop and turn the page.