Arena
DUŠAN BORKOVIĆ, THE MOST SUCCESSFUL SERBIAN MOTORIST
The Thing above Talent
The only real idol in my life and career was my father, champion of Yugoslavia in motorcycling. I dedicated my European champion title in 2015 to him, posthumously, and cried. When you are on the racetrack, you quickly realized that you don't have the right to make a mistake. And the meaning of "driving in heights", mastering great speeds. I traveled the entire planet, I consider myself citizen of the world, but there is no country more beautiful than Serbia, nor a city I love more than Pančevo
By: Dejan Bulajić
Photo: Personal Archive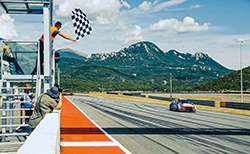 There are sports in which it is very difficult to achieve good results, because they don't depend only on talent, but also on the level of organization, influenced mostly by financial means. Motorsport is one of them – reserved not only for the fastest, but for the rich. When you survive and impose yourself with excellent results in such an environment, then you truly deserve attention. For years, that has been the role of the best Serbian motorist Dušan Borković, who, already as a child, competing in carting, proved that he was determined for speed.
– Yes, gasoline has been in my blood since my earliest childhood. My father Jovan was champion of Yugoslavia in motorcycling, but he also participated in truck races. He took me with him everywhere. My first victory in carting was when I was nine, and already at ten I began my professional career. I never thought I could be anything else in life but a motorist.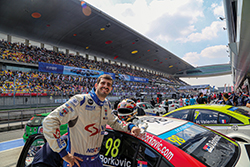 With your victories and titles, you realized your own wildest wishes, as well as the wishes of your father?
Every parent wants only the best for their child. Thus, my father wanted me to become champion and my motif was to be like my father. He is the only true idol in my life and professional career. He lived to see many of my achievements, except the title of European Champion in 2015, which I dedicated to him. It was definitely the most emotional moment in my career. One of those moments when you cannot stop tears from falling and you are not ashamed about it.
You were state champion for six years in a row and youngest winner of the "Golden Helmet". Carting is obviously impressed in golden letters in your life?
That is right, and I would always advise future professional drivers to take that road. You start in carting, that is where you grow. Then local championships, and, with lots of trainings and sacrifice, you can reach the European and world motorsport.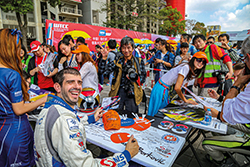 You were growing up with the wish to subdue speed and now you are 207 centimeters tall, which is far above average for motorists?
I'm used to my height. It's a fact that race cars seats have to be manufactured especially for me, so that I could put my legs in, which requests additional procedures. However, now I have the impression that I couldn't drive if I were shorter. People laugh when I say that I'm waiting for someone to finally take me off the throne of the tallest professional motorist in the world.
NO GIVING UP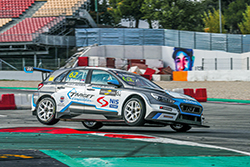 When you became aware of your height, did you think of trying any other sport?
No other sport was ever an option for me. I remind of a basketball player, but no – I've never trained basketball and watch it only as a fan. I am a fan of the NBA and, when I'm in the States and have time, I go to see live games. Especially when our boys are playing. I also like to play tennis, but only for recreational purposes.
There is a clearly emphasized strong winning mentality in you, which seems to have contributed even more to your results than your undoubted talent?
Ever since the beginning of my career, the phrase "giving up" has never existed in my dictionary. As a child, while I was still in carting, I almost lost my right hand at the race in Hungary in 1999, when it slipped behind the wheel. The injury was so serious that it brought my career into question, but I never surrendered, and by the end of that year, I won my fifth consecutive state champion title in carting. It's not difficult to imagine, if a child has such strength, what winning spirit a mature man has.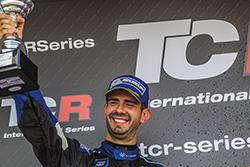 Do you think that this is the basic feature of Serbian athletes in general?
I believe so. In the recent years, we see it best in Novak Đoković, although many other Serbian athletes also have dominant self-esteem. Competitors who have that winning mentality always try to surpass themselves with continuous hard work. Talent itself, even the greatest one, is not sufficient for becoming a supreme athlete. Sometimes it can even put you to sleep. The winning mentality is what creates world champions.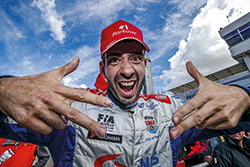 What did you find in the world of professional motorsport? Are there any unpleasant discoveries?
It is always unpleasant when you face the problem called "budget", especially in expensive sports such as motorsport. I believe people don't have any idea how much financial means it takes for European and international competitions. I will just tell you that the racecar chassis, without the engine, costs about half a million Euro. My team, led by my wife, is doing its best to save me from thinking about such things, but still, we confront the same issues every year. Furthermore, it is always unpleasant when you realize that rules in a competition don't apply to everyone and, unfortunately, I felt it well several times on my own skin.
FOR MEMORY AND OBLIVION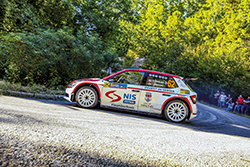 Motorsport is an inaccessible sport for many. Is there certain injustice in it?
I will try to portray it. Just imagine how many children would drive carting and start their champions career, if only they had financial means for it. It is almost impossible to imagine the number of talented children deprived of an opportunity to at least show what they can do. Then transfer all that to the level of world competitions and multiply it with ten.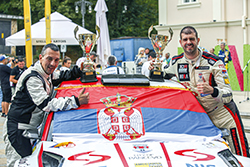 You had the opportunity to compete with the world's best motorists. What kind of experience is it?
When I entered the WTCC championship in 2014, I competed with sixteen best world drivers, including Sebastian Loeb, best paid motorist in the world at the time, Ivan Miller and many others. I was on the track with names whom I only imagined before. That was already a success for me. There is also the fact that more than 530 million people worldwide watched the TV broadcast. It is an indescribable feeling and all my boyhood dreams coming true.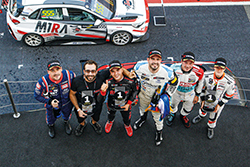 What races do you remember and are there any you would like to forget?
I won second place at the 2014 WTCC World Championship in Japan and became the only motorist from the Balkans who had ever climbed the pedestal. The media featured it as a historical success for our motorsport and that is how I actually felt – aware that I have done something that will become part of Serbian motorsport history. Sebastian Loeb, then nine-time world champion, also participated in the race and ended seventh place, which was an additional reason for my satisfaction. On the other hand, I would like to forget 2019 and the injustice I suffered in TCR Europe. I couldn't be at peace with decisions which destroyed both my ambitions and the plans of my entire team, who is working hard so that I could achieve results worthy of attention. Sometimes, unfortunately, doing your best is not enough, because I assume there are certain interests which exceed fair play.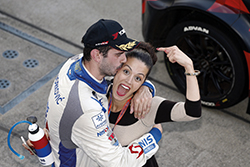 What laws did the racetrack reveal to you and did the experiences in highest class competitions change you in any way?
When you come to the racetrack, you immediately become aware that you don't have the right to make a mistake. And that is the law of any racetrack, which has to be respected. Every future motorist must know how complex this sport is and that his skills are the main stem, but not the only one. Many things must fit in to become a champion. The higher the rank of competition is, the more all other factors are expressed.
AWARENESS OF OUR VALUES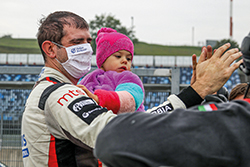 How do you see the fact that many people in everyday traffic play with the wheel, unaware of the risk they are causing?
As professional motorist and famous sportsman, I use every opportunity and all channels of communication to speak about this subject. I constantly repeat that the street is not a racetrack and not a place to use your adrenalin. All traffic regulations must be obeyed in the street, because of your own safety and the safety of all other participants in traffic. Those who want to enjoy speeding should find specially designed tracks, with reduced risk. The Agency for Traffic Safety, with whom I've been cooperating for years, invests great efforts to raise the awareness of all participants in traffic, but in many places, it is still not producing expected results.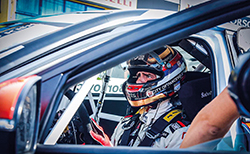 Motorsport has opened many doors for you. You have traveled almost the entire world, but you always return home with particular pleasure?
I really consider myself citizen of the world and privileged person, since I had so many opportunities to travel, meet different cultures, customs, peoples, but there is no country more beautiful than Serbia, and I cannot love any city more than I love Pančevo. It was simply engraved into me with my birth, as well as the awareness about how valuable we truly are.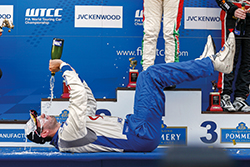 You have often used the opportunity to promote your country in the right way?
Every sportsman promotes his country on the pedestal, accompanied with the anthem, and I had many such moments. I have always given my best also due to the obligation I have towards my homeland and my faithful fans. Whenever I had the chance, I promoted Serbia in other ways too, so during the FIAWTCC, FIA ETCC, TCR International and TCR Europa championships, I succeeded in placing a banner on the racetrack, writing "Invest in Serbia", in economically strong countries such as China, Russia, Germany, United Arab Emirates, or faraway Thailand.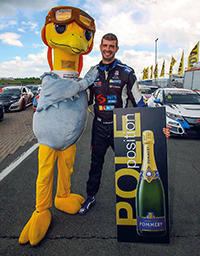 What are your further plans and what can we expect from Dušan?
Although I certainly hope that this year, in terms of the pandemic, will be better than the previous one, it is still very difficult to speak about plans. I thought that the last season was lost, but I still drove TCR Eastern Europe and won the champion's title, and won the "Serbian Rally". I started receiving offers for championships already by the end of last year, but it's early to say anything for certain. In this moment, it seems to me that the pandemic and its consequences will be dominant this year as well and influence my selection of championships to a large extent.
***
Trophies
Dušan Borković (Pančevo, 1984) won more than three hundred trophies during his career. He won fourteen national champion titles and is the youngest winner of the "Diamond Helmet", the most valuable award in Serbian motorsport. He was champion of Europe on mountain tracks (2012), European Touring Car champion (2015) and champion of Eastern Germany in the same category (2020). He achieved his best result at the World Touring Championship in 2014, at the "Suzuka" track in Japan, when he won second place. He was winner of the "Serbian Rally" for the past two years.
***
Engine and Team
– My career brought me numerous titles, pedestals, tears of joy, pride while listening to our anthem. It also brought me personal fulfilment, because I'm doing what I love and make a living from it. I traveled the entire world and became its citizen, but I cannot say that I have achieved everything. There are more wishes, mostly for competitions, which motivate me. Motorsport is very complex. Besides the driver, the car and the team are the most important links. I wasn't always lucky with cars, but I have always had an excellent team, who was my great support.