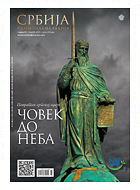 SERBIA - National review, No 84


Prologue
The state of emergency has become the only regularity in our lives. The year is somehow passing, but it seems it cannot get rid of the baggage from the previous one. While some persistently divide and make as argue about all issues, big and small, real and imaginary, the National Review continues to find what brings us together, reconciles, unites us around common values, and thus makes us stronger. And the fact that we bring before our readers from our searches are not comforting crumbs. On the contrary, there are many boulders and pearls, important ingredients "without which there would not be us in ourselves". That is why we have been here for fifteen years, everyone. Both the readers and us. <



CONTENTS
Introduction
Arrivals and Departures
Vitrage
NUMBERS, EVENTS, INTERESTING THINGS
Album
MEDICINE BEAUTIFUL, BEAUTY MEDICINAL
Serbian Spas
Omens
MONUMENT TO STEFAN NEMANJA AND THE GREATNESS OF THE SERBIAN IDEA
A Man to the Sky
Let us not mix up. Who placed it, how much money was spent, who is defacing and who is celebrating it – all that will be windblown by time. (How many of us know the name of the president of the Belgrade municipality at the time the Monument to Prince Mihailo or the Victor were raised? And was he loved by people?) Only the saint and monarch will remain, as well as the artist who created it, and the sky above it. He is unearthly, beautiful. He reminds us of our own height and peaks. It has something of infinity, ceremonial, evading finality. He comes from the depths of time, permeating with a feeling that eternity exists. He glorifies the vertical around which we have woven our entire history
By: Vesna Kapor
Notebook
MONUMENTS IN BELGRADE AND THEIR HISTORY
Mirror of the Society and the Times
More has been saved in stories and legends of the Serbian capital city, the only real metropolis in the lands of Southern Slavs, destroyed so many times, than in stone and bronze. However, it still has 260 monuments and 240 sculptures. And the number continues to grow. Some kept in the Lapidarium in the undercity of the Belgrade Fortress are from the ancient times. This is a small reminder of those we often forget, as well as those who had been there once, and disappeared
By: Miloš Lazić
Heritage
"RUGS. ROAD OF STRINGS" EXHIBITION IN THE SANU GALLERY OF SCIENCE AND TECHNOLOGY
Marked by Ancient Strings
Stanko Kostić, art photographer, in a personal endeavor worthy of praises and respect, revealed us great treasure. He followed the entire process of rug weaving, from meadows to guest rooms and ethno-museums. He was in Stapar, on the Pek and the Mlava, in Pirot and Stara Planina, in Pešter. He made an ode to rug weaving, a wreath of praises, wishing to preserve an important part of us. He initiated us to restart reading ancient symbols and dive into primordial times. Will we be so lost and not even take a look?
By: Bane Velimirović
Distances
MESA VERDE, COLORADO, IN A LABYRINTH OF CANYONS
Green Table of the Vanished Civilization
The Pueblo People lived there from mid-VI to early XIV century, first in half-dugouts on a large plateau, and later in unusual settlements raised in alcoves in the Canyon cliffs. Traces indicate their continuous development and advancement. Then, around the year 1300, in one or two generations, everything vanished. The inhabitants of Mesa Verde (Green Table) moved towards New Mexico and Arizona. The first noted encounter with these uncommon dwellings in the modern times was in 1765, and in 1906, following the decision of American President Theodore Roosevelt, Mesa Verde was proclaimed national park
Text and Photo: Josip Šarić
Eye
BOGDANOVIĆ FAMILY COLLECTION IN SREMSKA MITROVICA, IMPORTANT ART TREASURY IN SREM
Treasure from the Wheat Square
Paintings and sculptures are exclusively from the high modernism period (1950–1980), the creatively most spontaneous and most valuable period in new Serbian art. Therefore, the collection has a monumental character of a representative part of a crucial period. It is so rich, that it allows creating thematic intersections of Serbian modern art
By: Dejan Đorić
Old Masters
PETAR PAJIĆ (1935–2017), A POET WHO COULD LIGHT THE WORLD WITH A MATCH
Boy and Classic
He has been part of Serbian literature and culture since the "Day" in 1958. There are certain poems of his, such as "Serbia", which everyone knows and consider their own, so the name of the poet can be easily forgotten. Texts about him are not numerous or tense, but there are reliable ones. He was a lyricist, a flower in the garden between two Brankos. He sang, traveled, had a long life with bards and bohemians. They say that he is the author of the famous graffiti: "Girls from Valjevo are the most beautiful girls of Belgrade." He knew that poetry always finds its own cursed boys, who will write and preserve it like a sparkle in the night. And he knew how to be one of them
By: Dragan Lakićević
Views
PROF. DR. VLADIMIR BOŽOVIĆ, ACTING RECTOR OF THE UNIVERSITY OF MONTENEGRO
And It Happened, What Men Thought Could Never Be
It was necessary to unite the processional political potential, that complex political-chess operation. But everything would be null and void without the fundamental ingredient of victory – miracle and God's providence. That cannot be measured by earthly measures. The main tailors of the bureaucratic "new identity" are distraught, defeated, and continue to fire Kumrovec mantras. The nationwide resistance with love led to the new baptism of Montenegro. However, nothing is over yet. Temptations are before us
By: Mišo Vujović
Arena
DUŠAN BORKOVIĆ, THE MOST SUCCESSFUL SERBIAN MOTORIST
The Thing above Talent
The only real idol in my life and career was my father, champion of Yugoslavia in motorcycling. I dedicated my European champion title in 2015 to him, posthumously, and cried. When you are on the racetrack, you quickly realized that you don't have the right to make a mistake. And the meaning of "driving in heights", mastering great speeds. I traveled the entire planet, I consider myself citizen of the world, but there is no country more beautiful than Serbia, nor a city I love more than Pančevo
By: Dejan Bulajić
Health
"MERKUR" FROM VRNJAČKA BANJA, AFTER WORKING IN COVID REGIME, RETURNED TO NORMAL OPERATION
In the Old Place
From January 18, "Merkur" welcomes guests normally again. Already at the beginning of February, more than three hundred of them are staying here. Special seasonal discounts are provided. Experience from working in Covid regime guarantees that the risk of the virus is reduced to a minimum, and that there is currently no safer tourist facility in Serbia and the surrounding area
Examples
RUMA, MUNICIPALITY WHERE EVERYONE CAN FIND THEIR PLACE
Power in Economy
Twenty-five companies have come (and are still coming), modern industrial zones have been created, and thousands of people have been employed. The budget has strengthened, a lot is being invested in infrastructure, in the quality of people's lives. Kindergartens, textbooks, and transportation are free. In 2021, Ruma will get a new bus station, a new wastewater treatment plant, a new kindergarten. The decades-long problem of district heating has been solved, modern natural gas boiler rooms have been built, and heavy fuel oil has been abandoned. The planned greening of the city continues. Small and medium enterprises, most affected by the stagnation caused by the epidemic, received a new package of municipal financial aid...
Seed
THIRD COMMERCIAL-SALES FORUM "NS SEED"
Profit of Science and Farmers
New achievements in the production of corn, sunflower, and soybean seeds were presented. A quality response of science to epochal challenges, such as climate change or the use of new herbicides. The Novi Sad Institute of Field and Vegetable Crops convincingly shows that its varieties and hybrids do not lag behind those of the most famous multinational seed companies, on the contrary