Introducing
Snow and Annunciation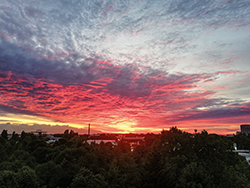 As in the song, the snow fell on the blossom, on the fruit. On Annunciation. You fall asleep in the fall, you wake up in the spring. And you're not a bear. So much the weather changes in one night. Some think that those who have "weather buttons" on the table in front of them have gone completely crazy. Others shrug their shoulders and contemplate where they will go skiing for Easter. Extraordinary has become the only regularity.
And in the new issue of the National Review, we explored on foot on the mountain, on Jelica. We visited the beautiful City Hall in Zrenjanin, which entered the third century of existence (stained glass from that building decorated our front page). We browsed through the Ruman film-loving history. Checked what it was like in the Dominican Republic, a tropical paradise, at the time of the Corona. Remembered old Milja from Donja Morača, "the last oral storyteller", as well as Vlaho Bukovac, the old master. We talked with the painter Mikan Aničić, a Parisian from Mačva, and with professor Goran Maksimović, an old Herzegovian from Niš.
There are plenty of reasons to drop by between these covers often. But as you wish.