Heritage
OLD MILJA FROM THE VILLAGE OF BARE, IN LOWER MORAČA, "THE LAST ORAL NARRATOR"
Stories from the Old Times
Her tales resemble landscapes she grew up and lived in, the birthplaces of dreams, fears, imagination, language mines. She listened to them in her childhood, mostly from her father Milutin and blind old man Bogdan and carried them within for a long time. She told them much later to the author of these lines, in a village above the monastery, in summer, from the depths of mountains and memory. In a voice in which legends and ancient images swarm, wise morals illuminating darkness. Luckily, there were people who wrote and preserved them, for remembrance and as a road sign
By: Dragan Lakićević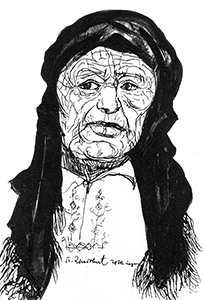 As we grow old, we know more dead people and less living ones.
However, among the dead, we choose differently than we had chosen when they were alive. We perceive people in a new frame, their faces and gifts.
We realize that sometimes, during their lifetime, they chose us as much as we chose them.
For example, Old Milja.
My cousin – grandmother from one side and aunt from the other. She preferred to be called aunt. And she was an Old Lady: as soon as a woman ties a dark scarf under her chin, to cover her gray hair, and as soon as grandchildren are born, she becomes an old woman.
My Milja resembled other women and old ladies in our lands: Kolašin and Lower Morača, Brda and northern Montenegro. She was born in 1909 in Smailagića Polje, near Kolašin, under Bjelasica mountain, and got married in Lakićevići, village of Bare, near Morača Monastery. She spent her life there: peasant woman, mother, martyr. She gave birth to twelve children – some of them died, and she brought up and educated seven of them.
Her maiden name was Vlahović – Rovčani.
MEMORY SEEDS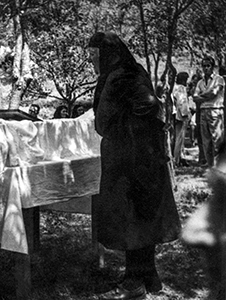 When they all finished schools and moved to cities in Montenegro and Serbia, she remained alone in the Bešića Tower (a stone house covered with thin stone plates) with a goat, cat and a dozen chicken. While the goat was nibbling, tied in the shrubs near the clan road, the two of us met under the old pear tree. A narrator and a listener.
I was a gymnasium student, then university student, and spent each of my summer vacations with my grandmother and aunt, in a village full of sun, fruit and love, embraced by hills and lush forests, and a bit further stone peaks of high mountains – Morača and Rovci. Lower Morača is the homeland of apple and pear, everything bears fruit there, even language and imagination and legends… Forests of walnut trees are replaced with oak tree forests and oak tree forests with beech tree forests. In the depths of forests and memory, images of the hayduk and hunting world are still sparkling. Evergreen trees will appear on a higher altitude, then blueberries: shepherd dances and songs: Run away, fog, towards the fog… A perfect place to plant Milja's memory seeds…
In times of leisure, during the long days in July and August, we came to stories: old, folk, archaic – "grandma" stories as they used to say in the zenith of socialism and atheism – stories no one believes! Milja remembered and told those stories and I listened and wrote them down… I would also tell her a story or two, usually those written by Vuk, which would initiate her memory and remind her of her own, long-forgotten ones… That liberated her: if educated people in cities "put such stories in books" and read them, she can also tell those from her childhood.
I was interested in her stories and she considered it a kind of gift or offer: like giving sugar cubes to a child or Turkish delight kept in cupboards for shy guests… They seldom went to the shop on the road near the monastery, or to the distant city: To see the city of Kolašin, and the darkness fallen on it…
WORDS LIKE DUCATS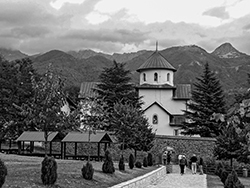 I first published the stories in newspapers, in columns entitled curiosities from our lands. There were old fables, similar to fairytales, folk beliefs and customs, ancient presentations, and most of all the ancient language avoided and forgotten in schools and cities, as outdated remains of the "dark past". I was attracted to it and Old Milja was surprised and encouraged.
Words were glowing in the darkness of the tale, like dug out old money – gold and silver.
At the same time, I met Professor Vladan Nedić, PhD, at the Faculty of Philology in Belgrade – he taught Folk Literature. At that time, we discovered Veselin Čajkanović's famous book Myth and Religion in Serbs, published in the blue Edition of the Serbian Literary Cooperative in 1973. I began realizing how much of that material – beliefs and legends, is included in the stories of my grandmothers and my homeland, especially in the clusters of stories told by Old Milja. As if the scientist had written his studies on old Serbian mythology and religion based on Milja's stories.
I showed Professor Nedić Milja's stories, collected and typed. It was already common in our department for students to enclose and study oral literature collected in their lands (poems, stories, spells, proverbs) as seminar papers. The professor praised my writings, in his own manner, discretely, mildly, with just a few words, which is exactly why those praises were enormous and serious for me… They were told by a first-class scientist… On my following vacation, I rushed to Morača to listen to Milja and ask her to talk… One summer she told me twelve new stories… As if she had been keeping them for me in an old floppy disk… Some of them were "A Night Vow Is no Good", "A Land without People", "The Singing Snake"…
I brought them to Belgrade, and Professor Vladan cried: "Your Milja knows a thousand stories.". When I told her that, she did not quite believe me. At the beginning, she was cautious with me too: she feared I, as a child from the city and school, would mock something many have already forgotten in new circumstances, and what is already disappearing and fading with old people dying in the hills, who still remember a few things from the old days.
Professor Nedić would indicate the archaicness of some rare motifs, direct me to other sources and versions. He knew that something natural and fresh is radiating from the remains of old structures – fairytales, tradition, mythology…
FATHER STORYTELLER FROM THE OLD DAYS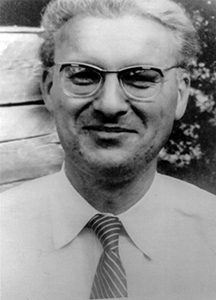 "I was a little girl when it happened. There, where the mountains and my father's meadows are, near Grančarevo, in a village which used to be Turkish, an assembly of Serbs and Turks was held one night. My father Milutin was there as well…" This is how the story "The Wolf is My Friend" begins. (I published them in my book Wolf and Hayduk – Serbian Folk Tales in New Writings (Belgrade, 1978 and 1992).
The story "St. Sava and Two Brothers" talks about how Biograd Lake was created. There used to be a field and wheat of two brothers there. One of them was blind. The other used his brother's blindness and divided the wheat unfairly. St. Sava punished the injustice made to the blind brother, cruelly, as he usually does: "The old man hit his stick and the brothers turned to stone. A lake appeared around them. – Now there are two crossed stones in the lake, on the upper side; they can be seen during droughts." – When she was a little girl, Milja herded sheep on the banks of the lake. She watched the crossed stones with her own eyes and the old man with the stick with her spiritual sight.
She listened to the stories in her childhood, mostly from her father Milutin Periša's Vlahović, who "participated in the uprising in Herzegovina", fought in the Balkan Wars, lived in the foot of Bjelasica – "shepherd, hunter, highlander"… "My late father told me that this happened before I was born" – tells Milja in the story 'The Singing Snake'", and we take the words from the book of this author Old Milja, the Last Oral Narrator (Podgorica, 2015).
Her father told her stories in the second decade of the XX century – she was a ten-year old girl… His memory reached the XIX century, and the motifs were from ancient depths… The slopes of Bjelasica mountain, with its heights, lakes and secrets, raised above the birth house.
She got married young, gave birth to children and raised them; she did heavy tasks with the crops, cattle, hay. She took the cattle to the mountain, carried heavy weights, shoveled and baled hay… "When the sun burns, when the heavy snows fall!" There was neither room nor time for stories. Everything disappeared. Great poverty… However, when she was left alone, with the goat, in the silence of the leafy village of Bare, near the crooked cornel and pear trees, old images and words appeared – the magic of stories in archaic images… I appeared as well, with my bag full of books – an idle boy on a long vacation…
When Professor Nedić died, I brought her his picture. She was illiterate, so she could not read the words in the obituary, but she recognized things I was telling her in the photo. Only then she believed me: that the professor exists and that I was taking her memory and storytelling to the right place. Later, for an entire decade, until her death, she used to tell me every summer: "My dear Dragan, you had a good professor, but he passed away young… I feel sorry for him as if he were my closest family." She mourned him, just as I did, until the end of her life.
THE DRAMA OF MOUNTAINS AND LANGUAGE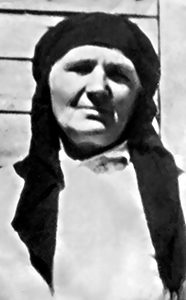 Her stories resembled landscapes in which she grew up and lived: hills and mountains around Kolašin, mostly Bjelasica – the mountain of her childhood and her father's life. Milja's ancestors, parents and brothers all lived in those endless expanses with mountain slopes, forests and lakes. Cliffs, caves, "muddy roads"… Shepherds and wolves… Those were birth places of dreams, fears, imagination, language… In one of the stories, she described her own experience – traveling through an enormous, mysterious mountain. "I set off late from Kolašin up the mountain, passed through the Krvnik shepherds' settlement after the last herd returned to it. Some women saw me and said: – A girl passed on a white horse, in a white shirt and white scarf, riding towards Jagančar…" – When she reached her destination, another shepherds' settlement, she found out that there was a drama going on at the same time with a white horse they were trying to catch, without knowing that the devil "possessed" it… "- What is wrong with your father – they said – to send you in the middle of the night over entire Bjelasica, to the Wedding Cemetery and to the Black Puddle and Fairy Meadow, when they searched everything last night, twenty of them were catching Panto's Zekan."
Milja's other "source" was Grandfather Bogdan. Bogdan was an old man from Morača, Milja's husband's grandfather. He lived long, perhaps even 120 years, blind. People remember him sitting in front of the barn, knocking his stick on this shoe top, waiting for someone to pass by, so that he could tell stories. He would hear someone approaching from the distance and guessed by the step "whether it was a wolf or fox". Milja remembered him too: "I heard Grandfather Bogdan say that there used to be a woman named Dobra Ćirović, widow, with two children, male and female. At those times, a plague hit the people, illness – and the female ghost…"
The main motif in Milja's stories are St. Sava and the wolf. The devil also appears frequently: đašo (devil), reponja (taily), the one that is not mentioned… "Sagrailo" and "Satanailo"… Kum (godfather), zduvač (dragon man), vila (fairy)… There are also humorous stories. And those about animals – why is it said that chicken is "poultry"…
Milja's story "The Wolf and the Hayduk" is the "peak of oral narration" as Professor Nedić said. She told it to me in 1971 or 1972, when I was near graduation. I sent the story to the editor of Titograd Pobjeda, Vitomir Nikolić, poet, who published it in the "Through Montenegro – Roads and Wastelands" monthly. Writers-narrators Čedo Vuković from Podgorica and Ćamil Sijarić from Sarajevo noticed it first – and told Nikolić that they were surprised and enthralled with the story… Later, Professor Nedić wrote a nice praise to Milja and her stories: "Regarding the artistic quality of the stories in the book, the story whose heroes are two greatest loners in the whole wide world, the wolf and the hayduk, is of supreme quality. A thought appears in its abyss that the unusual friendship was betrayed by – man."
"The Wolf and the Hayduk" talks about a lonesome hayduk in a snow-covered mountain. While wandering through the snowy desert, he saves a wounded wolf and takes him to his hut. Thus, those two loners became friends. The unusual friendship was betrayed by man…
FEARING ONESELF
Milja was a wise lady – protector of patriarchal moral, defender of the clan. People came to her for advice and conversation only after she was left alone and, from a common village woman, became special: with wisdom and experience, and ability to use correct words to say the truth or essence.
People remember that a very young girl, Milja's cousin, ran away with a young man from the village dance, and returned home three months later. When she heard that, Milja asked her to come by to talk to her. She was interested in the consequences of the adventure, because it had to do much with the honor of the family and clan… She first asked about members of her family, if they were working on the estate and then said: - How long did you stay there, in that homeland of yours? – Three months. – Do you fear yourself? – Not me. Why should I fear… That was how Milja formulated the question: "Could you be pregnant by chance?"
Milja was a good lamenter. There is a saved photo in which she mourns above a deathbed, next to the deceased exhibited in an orchard in Morača – it was summertime. She was a good mourner, as good as Milka Mašković, who was the best in this job or Mijajlo's Miluša, who was able to make anyone sad – "even a stone would start crying" … Milja spoke wisely about death and mourning.
Milja, just like many older women from those lands, and not only those, had a mine of words – ancient, picturesque, expressive. The language of oral narration, with its reliefs, music and onomatopoeia colors, was an extraordinary means for telling more or less important things. Some of the words from her stories were invented or created by Milja herself. She named a women wrapped in a lock of black wool pramača…
"It was a long time ago, in the old times which no one remembers…"
***
Book
Dragan Lakićević's book Old Milja, the Last Oral Narrator was published in 2015 by the Literary Cooperative of the Serbian National Council in Podgorica, in the "Raskovnik" library, with Slavica Garonja as its editor and reviser. It was dedicated to the memory of professor Vladan Nedić. Besides the presentation about Milja, her life and narration, the book includes Milja's stories, notes accompanying them, a reminder of the last oral narrators, a dictionary of less known words…
***
Defamiliarization
Archaic presentations, vampires, witches, sisters without a brother, plague in the form of a woman – all this fills Milja's tales. In one story, a girl lost in the mountain is guarded by angels and angels are souls of ancestors incarnated in the unusual mislica (thinking) plant – growing in a place called Žuber (murmur) as if something around is thinking and whispering – murmuring…
***
Understanding
Milja's favorite word was neposvaćaj (lack of understanding). She knew that many relations and misunderstandings, disputes and conflicts among people, even the closest ones – originated from that lack of understanding: we don't understand each other…