Arena
ALEKSEJ POKUŠEVSKI, YOUNG SERBIAN BASKETBALL PLAYER IN THE STRONGEST LEAGUE IN THE WORLD
Rise to the Top
From Belgrade and Novi Sad, via Athens, to Minnesota and Oklahoma, he climbed a number of big stairs and somehow reached the epicenter of world basketball via a shortcut. He is aware of where he has arrived and what he has to do, he knows which path leads toward his own maximum. He is fully dedicated and focused, which is increasingly evident from his playing statistics, even though he is only twenty-one years old. He also has the highest aspirations in the Serbian national team
By: Dejan Bulajić
Photo: Private archive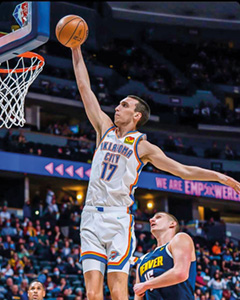 Unexpectedly quickly according to many, according to him just in time, Aleksej Pokuševski found himself on the stage of the NBA League. Compared to many other European players who made their way to the elite league through grueling national championships and through the Euroleague, Aleksej, waiting for the first serious senior opportunities in "Olympiakos", set off with the baggage of bold desires, from Piraeus across the Atlantic, not realizing that he will find a permanent address there.
– I couldn't even imagine what was waiting for me there. Like many others, I had strong but superficial impressions of the NBA. When I arrived, I realized how different everything was compared to what I knew about top basketball, from teammates to a completely different basketball philosophy – he said for National Review.
In the 2020 draft, he was chosen by "Minnesota" as the 17th pick, but two days later he was passed on to "Oklahoma". It turned out to be a good signpost, because "Thunder" is a club that offers him a real opportunity to mature gradually.
– "Oklahoma" was definitely the best place for me in the NBA. Without imposed pressure and bustle, they gave me the opportunity to get used to, get to know the new environment, adapt and get used to new conditions and requirements. I respect that and try to reciprocate the trust they have placed in me.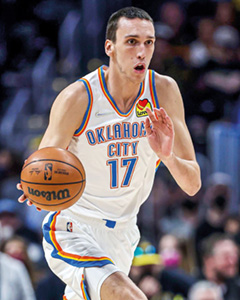 You have been in the NBA for two seasons. It was not easy to stay on such a stage. What are your impressions of it?
Mostly positive. The most important thing for me is to make gradual progress. I am aware of what is expected of me and I want to achieve it in the upcoming seasons. I am going for something that is my maximum. In the club they know what it is, and so do I.
Has the NBA itself met your expectations or perhaps exceeded them?
It has exceeded them in every way. Simply, it is difficult from the sidelines, no matter how informed you are, to get a real impression of what kind of top organization it is, in what way basketball is played and how it is approached. Definitely, everything is at the highest level.
In the last season, you started to impose yourself with statistics (points, rebounds), which mean a lot to the Americans. Do you seem more and more relaxed and confident in yourself?
Persistent work and adoption of the standards that dominate there are of crucial importance. I understand and adopt what is asked of me, and the club is aware of how dedicated and ready I am to advance. Finally, time takes its toll, and everything slowly takes on the desired appearance.
RHYTHM AND NOSTALGIA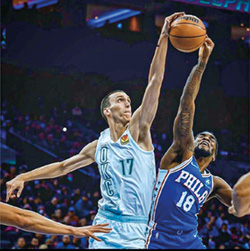 How do you see your further basketball development?
First of all, I associate it with the Oklahoma City Thunder. This is where I see the realization of my desires, through great work and effort. I want to earn a serious place in the rotation, enough minutes, and contribute to the club becoming a safe participant in the playoffs.
How difficult was it to get used to the pace of American life?
Honestly, the pace of the NBA is something that overshadows everyone around it. While the league lasts, you hardly have any time or opportunity to gain experience about something else. Everything is subordinated to matches, trips, obligations to the club.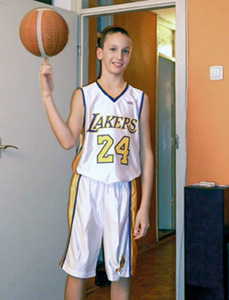 Is there any room for nostalgia in that busy pace, except for the family?
Of course there is. Nostalgia mostly brings me back to Novi Sad and Athens, cities that are particularly important to me. I have wonderful memories of them, dear people, that wonderful time of growing up and maturing. The memory of them takes me back to the days when basketball became more and more important in my life, as it was in Novi Sad, and when I was already convinced that I would devote myself completely to it, as it was in Athens.
How much do your occasional visits to Novi Sad mean to you, from where you set off on the rigorous sports trails at a very young age?
Probably crucial period in my life passed in Novi Sad – the period of entering and remaining in basketball. There I realized that I am ready to accept all those difficult demands that sport imposes, to overcome the first hesitations, not to give up. All that happened with my friends, whom I would like to meet more often, but the situation is such that we are very far apart. My first coach, Boris Pete, is also in Novi Sad, he greatly influenced my development, for which I am very grateful. I still keep in touch with him today.
As a boy, did you have any idea that you could rise to the elite stage so quickly?
I wanted to play in the best league in the world one day, which, after all, is the wish of all young players. But I couldn't have imagined that my wish would come true so soon.
BOLDEST WISHES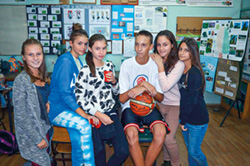 I believe that you are ready to invest all your potentials in order to continue the path that you have already started?
There is no doubt about that. My main goal is to leave an impressive mark in the NBA. It is clear to me that such a thing requires a lot of work and a lot of sacrifice, and I am ready for that. Without the slightest reservation, I am determined to commit to my obligations in the NBA, because only then will I have the right to hope for something. And the title in the NBA is certainly among the boldest wishes.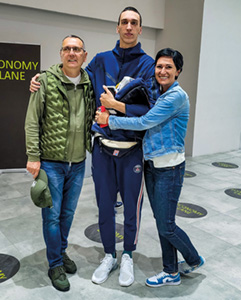 What are your ambitions beyond that, for example, in the Serbian national team?
Similar as with the NBA. First of all, to deserve a serious role and minutes, and then to contribute to the national team winning trophies.
Impression of Serbian basketball?
I have the impression that the level of club basketball in our country has been rising lately, which is a decisive condition for its further development. Our clubs are dominant in the Adriatic League, now we will have two representatives in the Euroleague, which is great. If our domestic league was a bit stronger, the overall picture would be even better. A lot of our players are in the strongest leagues, where they have an important place. I believe that the results of the national team will follow all that.

Would you like to embed your name into what is a great tradition of this sport among Serbs?
I can't wait for that to happen to me. That would be the realization of the second part of my boldest wishes.
ON THE WINGS OF TALENT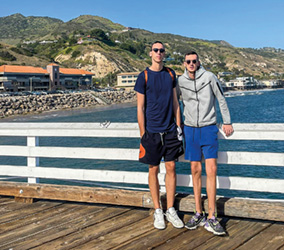 A sufficient number of Serbian players appear in the NBA. What does it say – about a good system of work in our junior categories or about the talent of young people from this area?
It is primarily about talent. We are indeed a very talented basketball nation. Many European countries can only dream of such talents. On the other hand, we also have a good coaching staff, which is extremely important for recruiting and excellent work with talented boys. Creating top players and generations capable of winning trophies is a very difficult job, so we should respect everything that Serbian basketball has achieved so far and is achieving now.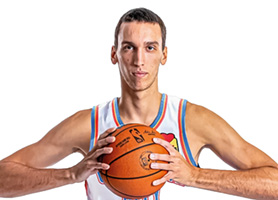 How difficult is it to survive in the world of professional sports today?
It is extremely difficult, and therefore the results achieved by our athletes, both in team and individual competition, should be respected. The sacrifices are enormous, so the support must be the same, starting from the family and the immediate environment, all the way to the system, on which the final results actually depend.
Are you aware how much the Serbian public follows the results of our athletes and that you are already a role model for many boys?
Honestly, I know that our public closely follows and knows sports and is very critical of the results we achieve. I admit, though, that I still have no sense of how much I'm being followed. Being a role model is an honor, but also a great responsibility. Thus, I have no choice but to do what I have already talked about – great work and sacrifice, in order to justify the trust that many have in me.


***
Early works
was born in Belgrade in 2001. He spent his childhood in Novi Sad, where he gained his first basketball experience in the "NS Stars" club. Then he wore the "Vojvodina" jersey, and in 2015 he became a member of the junior categories of the Greek "Olympiakos". Three years later coach David Blatt added him to the first team. It remained recorded that on 19 March 2019, in the match against "Bayern", he became the youngest player in the history of the Athens club to play in the Euroleague.
***
A Journey from Kosovo
The Pokuševski family lived in Kosovo and Metohia until 1999, in the village of Vrelo, at the foot of Goleš, where they moved in 1921 from Prnjavor. After the expulsion, in 1999, they fled to Podgorica, where Aleksej's older brother Onjegin was born, and then moved to Belgrade, where Aleksej was born. After that, the family permanently settled in Novi Sad. Aleksej's father Saša was a basketball player himself. He played for "Pristina", and was also a coach in Novi Sad.