Codes
KRUŠEVAC THEATER AND ITS GREAT NAMES
Actors' Anthology
Busts of legends of Kruševac were uncovered at the Actors' Square in 2019: Vlastimir Đuza Stojiljković, Miodrag Petrović Čkalja, Taško Načić, Radmila Savićević, Ljubinka Bobić, Milan Puzić. Theatrical plays have been regularly performed in this city since the XIX century, in kafana yards, squares, and the professional theater was established seventy-six years ago. Serbian film is also difficult to imagine without the great actors from Kruševac. How so? What's the secret?
By: Ivana Stojanović Šešlak
Photo: Kruševac Theater Archive and Ivana Stojanović Šešlak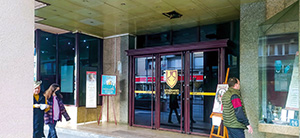 The National Theater in Kruševac, as a professional theater, was founded in 1946. However, the history of this city's theatrical life reaches deeper into the past. Already since the XIX century, there was a big interest in theater and many traveling acting troops performed. With the donations of the people of Kruševac, the "Kasina" kafana hall was adjusted for performing theatrical plays. The audience was building its theater.
The professional theater was founded on March 30, 1946, and its first manager was famous actor Borisav Mihailović. The first premiere was performed already on May 1. It was the Parents' Home directed by Miodrag Nauparac. Many talented actors played in it: Vera Nakić, Olga Stanisavljević, Rada Milenković, Vlastimir Đuza Stoiljković, Lazar Jovanović, Miodrag Nauparac and Jovan Aritonović. The same year, other plays were performed too: Branislav Nušić's Suspicious Character and Member of Parliament, Nikolai Gogol's Marriage, Stevan Sremac's Zona Zamfirova and Moliere's Miser.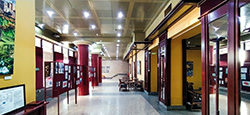 The Theater encountered problems in the beginning, but it successfully overcame them. In the Pobeda newspaper in mid-1947, Borisav Mihailović said: "Sometimes actors decorate the stage themselves, which often disturbs them in preparing for their performance." Still, they managed to endure all trials: "Everyone gave their best. Neither illness nor death were a reason to cancel a play."
During 1950, the Theater moved to a new hall in the former Home of Commercial Youth. On the tenth anniversary of its founding, educated actors from the Academy for Theatrical Art in Belgrade and Theater School in Novi Sad became new members of the Theater. For that occasion, manager Dragan Ćirović stated that "in the following season, the theater that will be formed shall be small only by the number of its members, and will give its audience a real picture of what a contemporary theater should be like".
From May 1, 1946 to June 22, 1959, the Theater in Kruševac performed almost two thousand plays. Then, unfortunately, it was temporarily canceled.
FROM NATIONAL TO KRUŠEVAC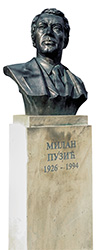 An entire decade passed since the canceling of the National Theater to the founding of the Kruševac Theater. Theatrical life was maintained mainly due to the efforts of the Cultural and Artistic Society "Abrašević" and the Adult Educational Center. The newly founded Kruševac Theater began working with actors from the Amateur Theater. Borisav Mihailović directed Milovan Glišić's Trick and Kosta Trifković's Picker. There were numerous excellent plays. Dušan Kovačević's Claustrophobic Comedy was played twenty-six times. Worthy of attention is also Zvonimir Kostić's Lazar, the Great Prince, directed by Nebojša Bradić. It was the fourth great play of the Kruševac Theater staged for observing the six hundredth anniversary of the Battle of Kosovo. Bradić worked in the Theater since 1982 and was its manager from 1991 to 1996. The Damned Yard, based on Andrić's novel, directed by Bradić, won at the 2000 "Sterija's Scene". And so many others – it's impossible to list them all here.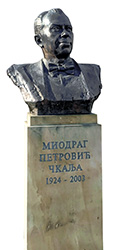 Numerous anecdotes and memories clearly testify that Uncle Bora was the most responsible for the achievements of the Kruševac Theater. The credit goes to others as well, but Borisav Mihailović was the forefather of its professional work. He noticed the talent in the Kruševac Gymnasium students and influenced their determination for acting.
Borisav Mihailović graduated from the Faculty of Philosophy in Belgrade, Department of German Language and Literature. During his studies, in 1921, he passed the audition for the first Acting School in Serbia. His acting diploma was signed by Branislav Nušić. It is therefore no wonder that two Nušić's plays were on the Kruševac Theater repertoire: Suspicious Character and Member of Parliament. Bora was very proud of having Nušić's signature on his diploma. Miodrag Petrović Čkalja testified about it as well. Borisav Mihailović became member of the National Theater in Belgrade in 1923. Two years later, he left it due to medical reasons. The doctors advised him to move to a cleaner environment.
He came to Kruševac, began working as professor in the gymnasium and became member of the theater founded by Dragoslav Vasiljević Figa. In the meantime, he was professor of the gymnasium in Štip and member of the local theater. While working as professor in
Kotor, he was member of its local theater as well. He was obviously wholeheartedly determined not to abandon acting. He returned to Kruševac in 1932 and became member of the Sokol Theater, led by Miodrag Nauparac. He founded the professional theater, as we have already mentioned, in 1946.
Most actors from Kruševac discovered acting in the gymnasium. Čkalja: "Only when Uncle Bora was certain that a student had the talent and really liked theatrical art, he gave them smaller professional assignments. It happened that many students did have the talent but didn't take the theater seriously." When he officially brought Čkalja to the Kruševac Theater, Mihailović told him: "Now stop. Take your cap off. You are entering a temple."
Actress Radmila Savićević said about him: "Great Bora. I think that he is absolutely responsible for everything called theater in Kruševac. Great pedagogue, director, actor." No one could match him on stage, said Radmila Savićević. "Bora loved Kruševac and the people he worked with. The fact that the Theater established an award with his name is a natural result of Uncle Bora's enormous importance." Many years later, Uncle Bora said that young people created the Kruševac Theater and that the Theater created them as well.
HOOKED NICKNAMES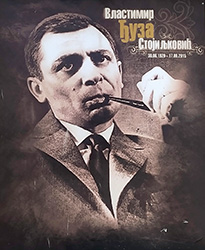 There are many anecdotes related to Miodrag Petrović, famous by his nickname Čkalja. He once told how he and his friends secretly watched actors. All that seemed unreal to him: "The 'Takovo' kafana had a wide windowsill, comfortable for sitting. Actors usually rested there. Across the street from the kafana was a grocery store whose owner was my schoolfriend's father, Debeljaković. We watched them secretly from there." That is where he saw Žanka Stokić for the first time.
People say that he got his nickname Čkalja while fishing. He asked his friend to give him a stick or "čaklja". However, he pronounced it wrongly and said "čkalja". He was "as skinny as a stick", so perhaps that is why this nickname remained. His birthday was on April 1, April Fool's Day, and he became one of the greatest comedians in Southern-Slavic lands.
He and his friends often made a theater behind his house. They performed plays known to them from school, most often the Battle of Kosovo: "I loved to play heroic roles. In this play I was Miloš Obilić. I start shouting and all of a sudden: Splash! Coka, our neighbor, splashed a bucket of water on the theater."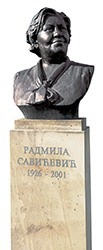 Čkalja was also student of the Kruševac Gymnasium. Since his results in school were not so excellent, Bora Mihailović, Čkalja's class teacher, wrote on his original certificate: "The student is not recommended to study exact sciences, since he will not achieve anything there. It is recommended, however, to enroll in an art school, where he will show remarkable results." It was in 1944.
Čkalja got his nickname from his friend and Vlastimir Stojiljković Đuza from his brother. Đuza came from "đuz", due to his stubbornness. In Kruševac, Đuza explained, that is how people called donkeys.
Đuza also started acting in Kruševac as a middle school student. He admitted that it was the time when he became infected with the theater. He was one of the actors in the Parents' Home, first play of the Theater. However, he didn't plan to be engaged in it professionally. He first started studying at the Mining and Geology Faculty, but he soon dropped out and returned to acting. Either you have acting within you, or you don't, he said. The 1950s remained in his memory as the best years. He remembered them for the numerous tours, journeys and friendships.
In Požarevac, in a family of Greek descent, the future great Serbian actor Mihajlo Paskalj was born. His family moved to Kruševac, where he attended elementary school and later the Gymnasium. Children constantly teased him because of his origin, yelling "Greek, Greek!" Thus, he decided to add the "vić" to his surname, and became Mihajlo Paskaljević, more famous as Bata. His wish was to become an actor in Kruševac, and he really became one.
COMEDIES AND TROUBLED TIMES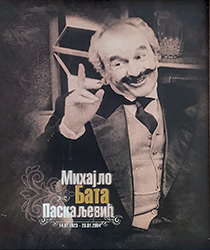 Milan Puzić also started acting already as a gymnasium student. In the yard of his house in Obilićeva Street, he made a theater for neighbors, children and adults. At the age of seventeen, he was already acting on the Kruševac theater stage. He had a wish to be a pilot because he was enthralled with airplanes since his childhood. He was member of the modeling section in the gymnasium: "Although I always said I'd become a pilot, life took me down a different road. While I was still in the gymnasium, I started getting smaller roles in the Kruševac Theater, which later grew into bigger ones… By the time I composed myself, I was no longer a pilot; I was an actor."
Radmila Milenković, married Savićević, born in Kruševac, emphasized that she owes her life to her homeland and her art to Uncle Bora. She was fascinated with the scene ever since she was little. She remembered a visit to a circus in her childhood. Her brothers and her were amazed with the knife thrower. They tried to repeat the scene at home. Radmila earned a leg injury and all of them earned a good beating. She began her career in the Amateur Theater in Kruševac. She said that Kruševac had always had strong amateur associations. The theater was very popular, all performances were sold out. She was then member of the Niš Theater, and later arrived in Belgrade.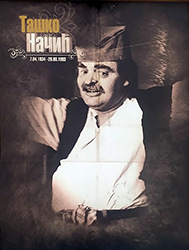 During 1915, Ljubinka Bobić stayed in Skopje, where she watched the actors and later worked as a stunt. Branislav Nušić once told her she will be Mrs. Minister. Resolute to start an acting career, she became member of the National Theater in Belgrade. In order to realize her dreams, she stated that Mr. Nušić recommended her. She was also famous for refusing to perform during the occupation: "I'm a comedian. How can I make the audience laugh, while my people are enslaved and dying?" She is most famous exactly for her role of Mrs. Minister. She played it 226 times, thus Nušić's words came true.
Taško Načić was of Zinzar origin, born in Kruševac. Hence his characteristic name. As graduate of the Kruševac Gymnasium, he enrolled in the Drama Academy in Belgrade in 1952. People say that he was brilliant in the role of Mitke in Koštana, and that he was accepted in the Academy of Theatrical Arts by playing the same role (...)
As confirmed by the names of these great people, the Kruševac area is fruitful for actors, both theatrical and film. The plead of actors originating from there is aware of that unusual fact. People of Kruševac are, of course, proud of it.

***
Actors' Square
In the eve of St. Vid's Day in 2019, Kruševac got its Actors' Square. Busts of acting legends were revealed: Vlastimir Đuza Stojiljković, Bata Paskaljević, Milan Puzić, Taško Načić, Radmila Savićević, Miodrag Petrović Čkalja and Ljubinka Bobić. The busts were created by sculptors Zoran Ivanović from Belgrade and Bogdan Dobrota from Kruševac. Branislav Nedić, manager of the Kruševac Theater, said that it was nice to be a citizen of Kruševac, when you get such a new square, and that the great actors and actresses will remain ambassadors of their city forever.
***
It Occurred to Them
In his show "Good morning, Belgrade", on April 1, 1977, Duško Radović said:
"Today is Miodrag Petrović Čkalja's birthday. Blessed those two people from Kruševac this occurred to."