Winner
TEODORA PUŠIĆ, VOLLEYBALL PLAYER, THE BEST LIBERO IN THE WORLD
Mysteries of New Objectives
We set off to the World Championship with the title, utterly decisive to bring it back. Hence our resolve on the court, hence our self-confidence in critical moments. Long, systematic work is behind everything and great efforts of many generations. Nothing truly valuable is easy to achieve. Yes, there is also the Serbian "X factor", still insufficiently explained. I expect from us the most difficult thing: to continue in the same manner
By: Dejan Bulajić
Photo: Personal Archive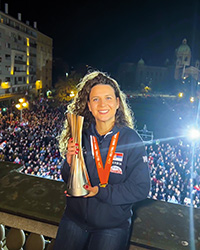 She is patient, persistent and ready to fight. She searches for her objective as if searching for a relic she needs to return to her treasury. She was the best libero at the Volleyball Women's World Championship, where our national team won gold again. Teodora Pušić.
Impressions have slowly settled down and the club season cast all the wonderful memories aside. How difficult is it, after everything, to direct your attention to your duties in the club?
Sport is cruel in that matter. There is little time for celebrations, because new objectives are immediately imposed. After all the episodes with the national team, I had only one single day for myself, my family and friends, and already the following day I was in the plane, heading to my club duties. It's not easy, but that is the life of professional athletes.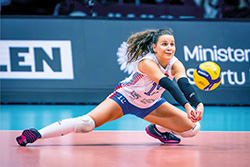 The impressions are, however, still fresh, so we'll return a few steps back. The self-assuredness with which you entered the games, won them in tight finals, was visible in every move of the entire team?
That is gained in the course of many years and comes out to the light when it's most needed. First of all, we have never, not for a single moment, doubted the triumph of our team and that is why we showed self-confidence in the most difficult moments.
You were one of the players who expressed utter optimism even before the championship. What was it based on?
I'm a determined optimist in general. The statements I made were not mere sports folklore. On the contrary. I firmly believed in my team and the individual qualities of all the girls. Furthermore, I knew how much each one of us wants to repeat the success we made four years ago. We set off to the Championship with a title in our hands and an unwavering decision to keep it.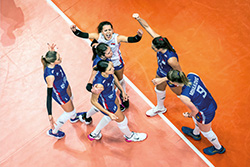 Many have worried that numerous changes in the national team could leave a visible trace in our team's games. It didn't happen. On the contrary.
The change of generations is really not easy, but in our case it's good that most of the girls have known each other for years. We were in the national team before as well, only in different roles. Now we became the leaders of the team. In the right way and in the right moment, we showed that we were up to it.
Does the great success take you back to the beginnings of your career, when daring dreams seem attractive, yet far away?
To be honest, I think I'm not entirely aware of the success and how serious it is. Sport itself imposes such an attitude. I enter each game, wherever I play it, with an intention to win, and when it happens, I accept it as something normal and move on. The joy of triumph is quickly replaced with the mystery of a new objective.
TEMPTATIONS ON THE TOP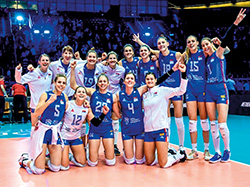 Being on the balcony of the City Hall is a privilege belonging only to the best?
It is really something special, completely different than the honors brought at the court. I had the honor and privilege to be on the balcony several times and each time it was different, always unreal. It's difficult to explain. In certain details, it is a challenge more difficult to conquer than events at competitions.
Only those who have the strength to climb to the top know how difficult it is to achieve. How does it seem to you?
You gain complete experience about it only when you reach the top and realize you have to stay there. There are many difficult moments and periods in professional sports. Everyone sees the wonderful, shiny side of the medal. We, however, know that the other side, which is rarely or never spoken about, has its burden and its width. Without it, there would be no short moments of joy and glory. I have experienced both sides of the medal, and I know they aspire towards each other.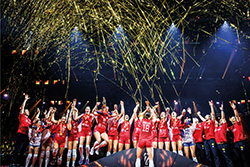 You always express great persistence, readiness to change and search for a better place for yourself. How is it so?
As I already said, I'm an optimist in my entire life. I'm ready to fight for my goals with all my strength, I'm persistent in it and thus search for my place under the sun.
What else has sport brought you, besides great results?
Experiences with wonderful people and lifetime friendships. Numerous travels, getting to know different cultures, customs, ways of life…
What are your interests besides sports?
I love to travel. Whenever – wherever. It greatly depends on my free time, which, unfortunately, I am always short of, although I try to use it in the best possible way. I love art, architecture, design… Reading books and spending time in nature, with a coffee or tea, are the most common ways I spend my free time.
EFFORTS AND THE "X FACTOR"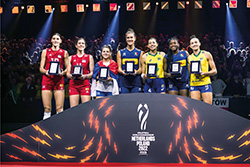 Are you nostalgic?
The rules of life of a professional athlete made me leave my home very early. It's a road I chose myself and I was aware where it was taking me. Still, I sometimes feel the sparks of nostalgia and then I realize that there is no place like home, among dear and close people.
It's becoming more and more difficult to make young people more active. Do you have any advice for them?
I believe it's very important for children to be engaged in sports during their growing up. It doesn't matter which sport. It's important that they feel comfortable in it, because through sprots they can develop good life habits. When I say sports, I don't mean professional sports. It might come later, as a wish or remarkable talent, or it might not. It doesn't matter. It's important to teach children since early age to love sports and be engaged in it in order to grow up as health people.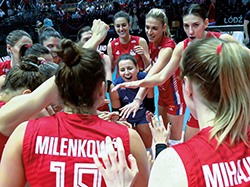 Light and easily accessible contents are prevailing in the perceptions of young people. How does it look from the point of view of a professional athlete?
There are rules which cannot be bypassed or neglected, whatever time we're living in. Perhaps athletes understand and adopt it earlier than some other professions and categories. Every professional athlete knows that no success can be achieved overnight and that nothing truly valuable is easily accessible. The only road that doesn't accept exceptions is a road of huge efforts and sacrifices. Whoever is ready for it – they're welcome.
How do you explain the phenomenon of success of Serbian sports, especially our women's volleyball?
Generally, all our sportsmen are very successful. There is much talent and wish to overcome averageness, to be among the best. However, there is also readiness to work hard and seroiusly. As for our women's volleyball, I think that many years of good, systematic work contribute to excellent results, along with everything I have mentioned before.
How much does the character of our nation contribute to it?
It is known that we, as a nation, don't take defeats too easily. We're ready to die on the court just to win. Besides, our famous defiance is probably our identity card, which we are famous for around the world. That is the "X factor", the still insufficiently explained phenomenon, which no one has except us.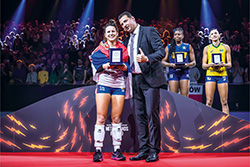 What do you expect in the future of Serbian women's volleyball?
I expect the most difficult – to continue in the same manger. I know, however, how difficult it will be. We are aware of challenges, competitions and the fact that our strongest rivals will try everything to bring us down from the throne. I also expect to continue the good work in the base, so that talented generations will be replaced with equally talented young generations, who will preserve the high ranking of our volleyball.
The club season is ahead of you. You returned to Romania, where you will be playing for "Rapid" from Bucharest. Do you expect that the national team's success will continue on the club scene?
Of course. I approach my duties in my clubs the same way I approach my obligations in the national team. I believe I'm in the right place and that, as a team, we can achieve much  in the new season.
***
Cross-Section
Teodora Pušić was born in Belgrade, on March 12, 1993. She wore the jersey of "Zvezda" and "Partizan" on the local club scene before she set off abroad five years ago. She spent most of the time in Germany and Romania, where she will spend this season in "Rapid". She won numerous medals at the greatest world competitions with our national team. She has two golds from World Championships, two golds from European Championships, and bronzes from the League of Nations and from the World Grand Prix.