IMPORTANT ELEMENTS OF THE NATIONAL STRATEGY FOR TOURISM DEVELOPMENT
Return to the tourist map of Europe
According to founded estimates, the tourist economy of Serbia will reach the income of 2 billion Euros per year and hire 105.000 employees. It will be an important contribution to the regional development of the country, revealing the truth about Serbia world wide, a better position of Serbian brands in the international market and a general improvement of life standards
By Bojan Dimitrijević Ph. D.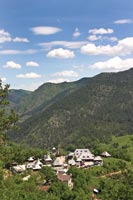 In accordance with the sudden improvement of the business atmosphere in Serbia, important changes are taking place in the area of tourist economy. Considering our really great potentials in that area, and in accordance with general strategic state goals, a tourist policy is being created on the principles of maintained development which will ensure a dynamic economic growth, new working places and the improvement of international commerce and exchange.
First, we have improved the legal and the institutional scope of tourism by passing the Law on Tourism, in accordance with the standards of developed countries. We have defined the relationships in the tourist sector and regulated planning and development. The Law on Skiing had also been adopted, and the Public Service "Ski Serbia" had been established. Law on Spas is also being prepared.
Among government's measures in this area, a Fund for Tourism is planned to be formed, as well as the realization of the program of subsidies and credits. In 2006, about 1.2 million Euros of subsidies and 8.5 million Euros of loans were given for the development of tourist products, as well as for building boarding capacities and tourist infrastructure. These were the biggest investment programs in the history of Serbian tourism.
The result of this investing support is large infrastructural projects and many local and regional entrepreneurship initiatives in tourism.
At the same time, Serbian tourism in 2006 marks the increase of the number of foreign tourists of 16 percent and the increase of incomes from tourism of 35 percent, comparing to last year's results.
This year, the Serbian Government will provide additional investments in Serbian tourism of 50 million Euros through the National Investment Plan. The biggest part of means is intended for the building of infrastructure necessary for the development of tourism, but for the regional development as well, for the increase of competitive tourist products, as well as for the marketing positioning, including promoting Serbia on CNN.

NEW AND DIFFERENT

A new Strategy for the development of tourism until 2015 started and our vision assumes that tourism in Serbia is a winning combination for anyone, an efficient lever for a bigger competitive participating in the international market. Serbia is coming back on the tourist map of the world because it is different and innovative.
This will be the year of founding important institutions for realizing these strategic goals. Agency for the Development of Tourism will be the instrument of firm coordination characteristic of the country in this area and in strengthening the competing tourist products, a partner in the public sector and to all domestic and foreign investors. Funds as well, public and private, on the principle of working capital, or long term government means, are also a part of it.
Therefore, we have a vision of tourism; we have plans and strategic directives to make of Serbia a relevant European tourist destination in very close future. We shall improve marketing and productivity, establishing a better managing of destinations.
The analysis showed several important weaknesses and obstacles which have to be eliminated very quickly. One of those is the absence of conscience of Serbia as a tourist destination, which has to change quickly, efficiently, through a very strong marketing. The other weakness is the lack of common national vision of tourism of Serbia. That is the root of absence of associating powers and partnerships of the public and the private sector; there is no care for tourist attractions, which has to be change by efficient measures of the government (organizing serious urbanistic planning, control of regulation about the protection and maintaining of tourist attraction, etc.).
A strong development of traffic infrastructure, which is now performing, will make easier the access to many interesting areas of Serbia. The lack of qualified employees, especially in new tourist branches, is also a very serious defect which has to be removed quickly (through skilled training and a system of constant education of employees in the tourist sector).

OPENNESS AND HOSPITALITY

The strategic potential of Serbia is important for success in this area is a positive attitude of the population about tourism, open minds and innate hospitality. That is why the guests of Serbia bring back a strong positive, often emotional impression about Serbia. Serbia has an exquisite position, lying on the crossroads of many cultural and civilization groups, representing a synthesis of important values of every each of them. Belgrade proved itself as an expansive tourist metropole in Eastern Europe.
A large field of possibilities are underground and surface waters, beginning with a large number of thermal healing springs and well known spas, ones that are little know or the ones (for now) completely unknown. Danube, Sava, Tisa, Morava and other Serbian rivers offer us a unique choice of tourist attractions in this part of Europe.
Untouched areas of mountains, forests, agricultural regions, vineyards and areas favorable for hunting and fishing are all images which make a recognizable picture of paysages of unique beauty in full contrast.
The monument heritage of different cultures, with a large number of Serbian medieval monasteries, the true treasury of sacral building and church art, make of Serbia a truly unique country.
The goal and the interest of the Republic of Serbia is that tourism, especially the one which includes a foreign guest, has to increase the economic growth, employment and life quality of the population, to strengthen the reputation of our country abroad, as well as the long-term preservation of natural and cultural resources and finally to provide international standards of quality and the highest protection of tourist consumers, in accordance with European experience.

REMARKABLE AREAS, COMMON GOALS

In accordance with it, Serbia is divided into four specific areas (clusters) in a tourist sense: Belgrade, Vojvodina, Southwest and Southeast Serbia. Their recognizable characteristics will be creatively developed, with the same goal.
The choice of products which will represent Serbian tourist portfolio is a strategic decision. They will provide Serbia to enter the international tourist market in a most successful and rational way. Serbian tourist products include tourism of big towns, various tours which can be recognized as special and interesting, monastery tours, business and health tourism, vacation on mountains and lakes, navigation, hunting and fishing tourism, various attractive events and festivals. According to detailed studies, it is established that these are exactly the products which deserve most attention and trust.

TRADITIONAL AND MODERN

A new tourist positioning of Serbia is based on many parallel politic, economic and social processes. According to detailed analysis, we have concluded that it should be developed through the affirmation of three valuable systems:
Tourist evaluation of the concept of the Balkans. The priority is the promotion of tourists' experiences of this area in a positive emotional context, especially for the nonexistent use of the concept of the Balkans in tourist sense.
Danube and Belgrade are the other values. As the capital, with all its characteristics and comparative advantages, Belgrade represents the option of "quick profit" for our tourism. The greatness and the importance of the Danube corridor through Serbia are so big that they can direct development in all Serbian regions. No other resource in Serbia is so nationally and globally competitive at the same time as this one.
Totality of our system of values is the third field of the new tourist positioning of Serbia. Serbian culture, people's creativity on the field of amusement, gift for art and literature, hospitality, passion and pride, connection between the traditional and the modern, are only some of the factors of that system of values. That could be tourist- commercialized through programs of short stays in Belgrade, river cruises, attending to happenings and festivals, spas and experiences of the authentic village.
With creative interpretation of these values, of the concepts of the Balkans and Danube, we can identify a suitable image of Serbia on the international tourist market which would provide a big middle-term growth of tourist circulation.
According to investment plans and projections of growth, it is considered that about 4 million Euros should be invested into the lodging offer of Serbia until 2015 (reconstructing and improving the quality of existing objects, new lodging offer, new projects). The strategy of investment project is based on the fact that the state should invest into infrastructure, leaving some space for quality investment of the private sector and the increasing of profitable investments.

REALISTIC OPTIMISM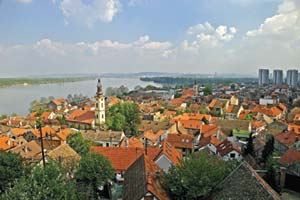 In July 2006, the Government of Serbia started a National investment plan as the starting investing impulse in priority areas, including tourism. The Ministry of Trade, Tourism and Services defined the priorities for investing in tourism and they are presented according to areas of investment. It is mostly about the infrastructure necessary for the intensive development of tourism, the even regional development and attracting future investors. Until the end of 2006, 18.5 million Euro is set aside for this purpose, and 31.5 million Euro will be invested by the end of 2007. It will include 8.4 million for eight projects for the Danube area, 20.4 millions in the infrastructure for 33 projects, 1.3 million in the cable railway Novi Beograd – Ada Ciganlija, as well as the amount for increasing the competing of Serbian tourist products and marketing positioning.
The expected image of tourism until 2015 understands Belgrade as the regional center and a recognized tourist destination. Kopaonik, Zlatibor, Golija, Stara Planina and Tara will be developed and favorable mountain tourist centers in the region of Southeast Serbia. Village and eco-tourist centers in Southwest and Southeast Serbia will be at the enviable level of development. This image would include farms and horse farms as a typical brand of village tourism in Vojvodina, but as well as the various offer of programs of "special interests" (rafting, hunting, fishing, safari, horse riding...). We should add developed sailing tourism to this picture, with several big marines build on a few strategic points of Danube, and several thematic parks in the offer of Serbia, inspired by natural attractions and cultural and religious heritage.
According to the less optimistic estimates, tourist economy of Serbia will reach the total income of 1.3 billion Euro at the end of 2015, employ about 100.000 people with the average monthly payment of 450 Euro. However, the most optimistic estimate says that we shall reach the income of two billion Euro and hire 105.000 employees.

(The author is the Minister of Trade, Tourism and
Services in the Government of the Republic of Serbia)