Textbook
A DISTURBING FUNERAL IN BELGRADE IN 1912, FOR WHICH THE WHOLE SERBIA CRIED, WHEREVER IT EXISTS
Tell Them, My Son
Ljubomir Kovačević, the famous Serbian historian, academic, teacher of Vladimir Ćorović and father-in-law of Milan Rakić, after the Battle of Kumanovo, escorted the body of his only son to the capital city, alone, in a separate wagon. Vladeta Kovačević heroically gave his young life on October 21, 1912 for the liberation of Old and Southern Serbia. Above the open grave, while everyone was crying in the immense crowd of people, only the hero's father did not shed a tear. He held a short immortal sermon, with which he touched the very core of the Serbian ethos and ethnos, dedicating the sacrifice, his son and his fellow soldiers in all centuries
By: Jovan Pejčić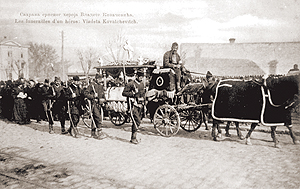 Stanoje Stanojević was the last friend who had seen Vladeta Kovačević (1882–1912) before his heroic death near Kumanovo. In the historical chronicle Serbian-Turkish War 1912, Stanojević wrote:
"On October 9 [21st according to the new calendar] my division entered the Pčinj valley. I was standing in front of the division headquarters that day in the morning, watching the army go by. The machinegun department of the VIII regiment was coming. A young, handsome, blond young man was riding a lively horse before the department. We greeted each other joyfully. I offered him coffee. He drank it and merrily rushed after his department.
In the morning of the following day, the Turks suddenly attacked us. An unexpectedly big and bloody battle began. It was a real fight, we were attacked by surprise and with a force which largely surpassed ours. We were confused and very worried.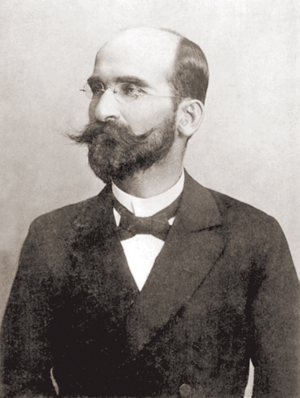 Bad news started arriving from the front lines, each worse than the other, and one of the first was that, while moving to his position with the machinegun department, Vladeta Kovačević died."
The survived fellow soldiers buried Vladeta the same day, on October 22, at the monastery cemetery of Mlado Nagoričane.
Immediately after the Battle of Kumanovo ended, his father, Ljubomir Kovačević, transferred his son's body to Belgrade to bury him in the family tomb.
On October 18 according to the old, November 1, 1912 according to the new calendar, Ljubomir Kovačević – in whose home, as Politika wrote, the festive candle was extinguished after the death of his son – bid farewell above the open grave to his only son Vladeta Kovačević, diplomat and division officer of the Serbian army, who died in battles for liberating Old Serbia, with the following words:
"My son,
For five hundred years, the Serbian nation has been waiting for the moment to liberate Kosovo, and it came. You fell in the war for this holy cause and I am proud today for being able to, as a father, consciously and proudly sacrifice you to the ideal for which I have also lived.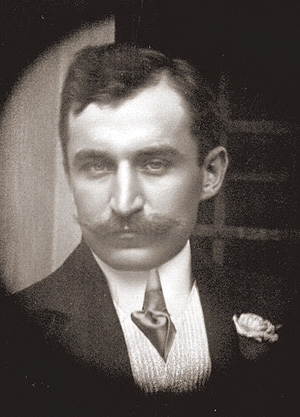 My son,
Go and tell Emperor Lazar, Miloš Obilić and all the Kosovo heroes that Kosovo is avenged. Give them news of our joy and be the messenger of a better era for the whole Serbiandom!"
This was according to the memory or writing of Milan Jovanović Stoimirović. The note about Kovačević's sermon printed in Ilustrovana ratna kronika (Illustrated War Chronicle) of Svetolik Grebenc (Belgrade) is somewhat different:
"My son,
Go with peace, since you have fulfilled your debt to your homeland.
My son,
I am not crying, I am proud of you, because you were with the knights who came to save lives of millions with their death after centuries of suffering.
Go peacefully to the throne of the Eternal and say joyfully to Dušan and Lazar, tell all the Kosovo martyrs: Kosovo is avenged!"
PERSONAL PAIN AND JOY OF THE HOMELAND
It was an indescribable sight, as the Novi Sad Zastava reports, "when the father approached his dead son above the grave to bid him farewell. The speech of the hero's father deeply upset all the present people who shed tears and wept."
All Vladeta's closest ones stood behind Ljubomir Kovačević, shattered by pain: his mother, sisters Stanka, Milica, Jelena, Vidosava and Olivera, godfather Stojan Novaković, brother-in-law Milan Rakić, friends Voja Garašanin, Jovan Vučković, Boža Marković, Kosta Kumanudi, Vojislav Marinković, Ljubomir Bojović, his fellow soldiers…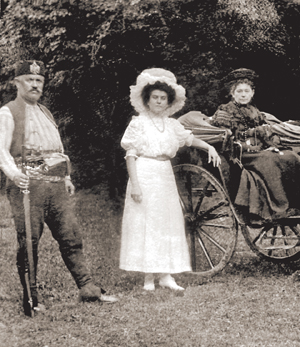 Stanoje Stanojević, who attended the funeral, wrote about Kovačević, his professor at the Great School, the following:
"So great he was in that moment, as a citizen and a patriot, as a man who could say goodbye to his only son in such a way…"
Ilustrovana ratna hronika of Kamenko Katić (Novi Sad) states:
"There was not a single eye that did not cry, nor a single heart which did not tremble with pride while listening to the great father who suppressed his fatherly pain in order to give way to the joy of the homeland."
Veljko Petrović bowed to the depth of the fatherly pain, the strength of Ljubomir Kovačević's national consciousness. The war reporter of the Novi Sad Branik cried with admiration:
"Have you read anything more distressing and more magnificent in the history of the Romans and Greeks than the speech of Mr. Ljuba Kovačević, academic, above the grave of his only son, with which the old historian, in a lively voice, while the immense crowd of people suffocated in tears, greeted Miloš and the Kosovo heroes:
– Tell them, my son, that Kosovo is avenged!"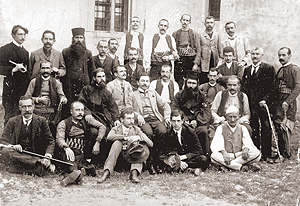 Stoimirović's memory is similar to Petrović's description: while Kovačević was speaking, the gathered crowd cried together, the people hugged each other…
Many have, adds Stoimirović, "remembered that sublime moment for decades and spoke with admiration that it was the most exciting moment in their lives".
In the Srpski književni glasnik (Serbian Literary Messenger) from December 16, 1912, Aleksa Šantić published a poem "Kosovka" ("Kosovo Girl"), dedicated to the "memory of Vladeta Kovačević".
The essence of Šantić's poem expresses the motif of victory and Serbian resurrection:
The Lord of dreams walks through Old Serbia
And loads large, full bouquets of freedom
From deep bowls...
The poem ends as an anthem:
Let's go!... Warm ourselves up!... Victorious and glorious
Sun emerged behind our mountain!
Avenged with blood the olden Graveyard dawned – :
The flag of dreams flutters and glows!
Behold! There, down plain Kosovo
The ancient armadillos ride resurrected!...
CLASSIC EXAMPLES OF PATRIOTIC VIRTUES
After Ljubomir Kovačević's death in 1918, Vladimir Ćorović wrote his most complete and most beautiful portrait.
Rhythmically replacing academic narration with the rhetoric of fine psychological analysis, Ćorović brings before the reader in an exciting, thrilling manner the spectacular personality of his teacher in science and life, the great historian, politician, national fighter, man – Ljubomir Kovačević. In the crucial spot of his wide exposition, he writes as if writing on a stone: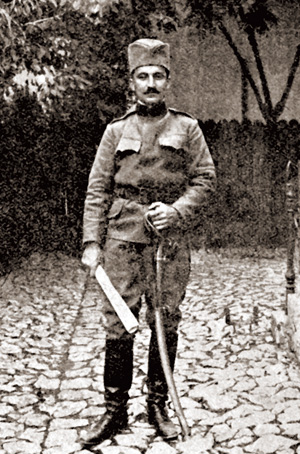 "His rare release of his only son, when speaking about general national success, his farewell to him at the Belgrade cemetery full of pain, but even fuller of pride, belongs to classic examples of ancient patriotic virtues."
In this place, Ćorović could have remembered another child of Ljubomir Kovačević, his third daughter Vidosava.
Not because Vida Kovačević (1889–1913) was a famous painter, but because her destiny was tragically connected to Vladeta's.
The news about her only brother's death came to Vida in Paris, where she had just begun her painting studies. She immediately packed and rushed to Belgrade to her brother's funeral.
However, she was not able to agree with Vladeta's death nor accept it. She suffered, withered and, thinking about her brother, died on September 11, 1913.
***
Camera
With the body of his only son in the wagon, the father moved his son's photo-camera from one hand to the other. Vladeta never parted with that camera during his last years, not even in battles he took part in while liberating the enslaved Old and Southern Serbia with the First Army. It was around his neck when the Turkish or Arnaut shot cut his chest; it remained intact, only its photo-lens fell out.
***
Wish
It must have been that in those moments, there, in the train, on the way to Belgrade, driving with his heroically died child, the father remembered his son's petition to the Serbian Ministry of Foreign Affairs sent from Lesen, Switzerland on June 15, 1907, where he stated what and where he would like to work:
"Since I would like to know better the circumstances in which our people in Turkey live, may Mr. Minister allow me to say that for those reasons I would like Mr. Minister to give me a position of a clerk there, if possible, and I am convinced that I will justify Mr. Minister's trust with my work."
The Ministry, remembered the father, did not grant the applicant's wish. With a decree dated August 16 [29], 1907, Nikola Pašić gave young Kovačević the position of a II class scribe in the First Degree Court of the city of Belgrade.
***
Visits
Even before the war, Vladeta Kovačević visited Old Serbia several times, to see his sister Milica who lived there with her husband Milan Rakić, first secretary, then chief of the Serbian Consulate in Priština, since 1905. These visits were not only family visits, they also had intelligence purposes.
Especially emphasized in the Serbian Ministry of Foreign Affairs was Vladeta's journey with his brother-in-law Rakić, consul, and his childhood friend Vojislav Garašanin to Peć and Visoki Dečani.
It was in 1909. Rakić left a note about the importance of this journey for Serbian politics in Kosovo and Metohija, which became known only after Milica gave part of Rakić's written heritage to the Serbian Academy of Sciences and Arts Archive.
The inscription says:
"Ever since the consulate in Priština exists, there has also been a longing of its clerks to see the areas where the Arnauts terrorize people most and where the greatest Serbian sufferers live, which the Turkish authorities and nature left alone and separated from the rest of the Serbs. For us, Peć and Dečani were the promised land we have dreamed of, but they could not be accessed. For years, the Turks have been creating all kinds of plots and troubles, making up disturbances and dangers, performing attacks of Arnauts on Serbian villages and murders of respectable Serbs only to prevent the representatives of Serbia from coming to these parts so they would not see the weakened and tired Serbian people, to cut the close connection between Serbia and these Serbs, and thereby show that Serbia has given up on them and that they should submit to their fate without struggling or resistance. Hence the natural wish of Serbian clerks to overcome those difficulties and refute what the Turks have systematically been trying to prove for years."
***
Vida
Vidosava Kovačević (1889–1913) graduated from the Arts and Crafts school in Belgrade as the most talented and most meticulous student of Beta and Rista Vukanović and Marko Murat. She learned painting together with Kosta Miličević, Živorad Nastasijević, Andjelija Lazarević, Miloš Golubović and has been prominent among them at collective exhibitions.
In Serbian Painting 1900-1950 (Belgrade 1973), Lazar Trifunović marks Vida Kovačević's portraits as masterly, and considers her painting The Head of a Girl as a masterpiece of its epoch.
***
Like a Dream and Like a Princess
Milica Rakić (1884–1975) – the wife of the poet Milan Rakić, volunteer in the First Balkan War, author of the most beautiful cycle of Serbian patriotic poetry: Na Kosovu (In Kosovo) ("Božur" ("Peony"), "Simonida", "Na Gazimestanu" ("At Gazimestan"), "Nasleđe" ("Heritage"), "Jefimija", "Napuštena crkva" ("Desolated Church"), "Minare") – is the second of five daughters of Ljubomir Kovačević (1848–1918), historian and academic, twice minister of education and clergy affairs of the Kingdom of Serbia, and sister of Rakić's childhood friend Vladeta Kovačević.
Milan Jovanović Stoimirović wrote about Milica that she was "a worthy spouse of the great poet and diplomat M. Rakić [...], beautiful as a dream and noble as a princess who knows her place, her role and her duties".
Rakić's wife certainly brought these features from her family, inherited them from her father.