Fate and Commentaries
MAGA MAGAZINOVIĆ (1882-1968), ARTIST, VISIONARY, FIGHTER
The Drama of Anticipatory Roosters
Originating from Metkovići from her father's side and from Derventa from her mother's, she graduated philosophy in Belgrade in the class of Branislav Petronijević. She was the first female reporter in the just founded "Politika". She perfected ballet in Germany, attending classes of the most famous artists and theoreticians of the time Elizabeth and Isadora Duncan, Minetta Wegmann, Jacques Dalcroze, Rudolf von Laban. She took acting lessons from the great Max Reinhardt. Everything she learned, she brought to Serbia. She also brought the eminent Gerhard Gesemann (1888-1948) to Belgrade and into orthodox faith, with whom she had a son Rajko and daughter Raina. So much of what made her life was too early, until it became too late. However, her indelible trace in Serbian culture and our memory remains
By: Dragana Bukumirović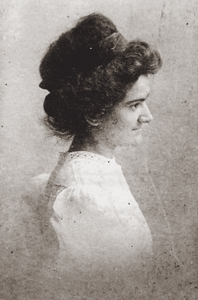 Imagine a woman extraordinarily slim, with a long and light step, royal posture, with an aureole of untamable dark hair falling onto her face. Her eyes are neither black nor blue, they are the eyes of a woman who has never yielded nor given up, the eyes of a vagabond, dreamer, restless, curious eyes. The eyes of a little girl, mother, artist, lover.
That is she, Maga Magazinović, the woman who brought modern dance to Serbia, the first female reporter at the beginning of the previous century in the just founded daily Politika, German student, student of Max Reinhardt. A woman of European education and width, an interesting personality. Her contribution to Serbian culture is grand, but she has not escaped the fate of those who walk the untrodden paths. She stepped on such a path very early and remained misunderstood.
In the first years of the XX century, Serbia, still facing the completion of some more important things, is not ready to accept Maga's avant-garde spirit. The sleeping theatrical audience is slowly becoming cultivated and putting on airs, trying to catch up with the world. However, it seems that it still has no understanding for modern ballet and barefoot dancers. It is still early.
Maga will therefore leave the world at very old age, without being able to enjoy her contributions to the culture of her nation, especially modern ballet.
And now? Now it is easy to admire.
Everything in the life of this woman was earned honestly and with hard work.
Starting with her surname. Before they took the surname Magazinović, they used to be Smiljanić, originating from the surrounding of Metkovići. Long ago, a family member, a little boy, got into a fight with an Italian boy and gave him a good beating. Out of rage and revenge, the beaten up boy shouted: "Magazin crushed me!"
So the family Smiljanić became Magazinović, and Maga, although given the birth name Marija, got a beautiful and short nickname. From her distant ancestor she inherited the surname, nickname and fighting spirit.
Maga's mother Stana, born Isailović, was from Derventa. That is perhaps how a drop of desirable Bosnian slow motion dripped into Maga's blood, a feeling for when one should "stop and not rush forward". The truth is that such days were rare in her life, since almost everything was rushing forward and fighting.
The history of the Magazinović family is the history of migrations in these lands. They moved from Metkovići to Trebinje, from Trebinje to Mostar, from Mostar to Užice, where Maga was born on October 1, 1882 in Cetina, and finished four grades of elementary school.
Their last stop was Belgrade. They unpacked their luggage in that city and remained there forever.
VIEW FROM THE THIRD GALLERY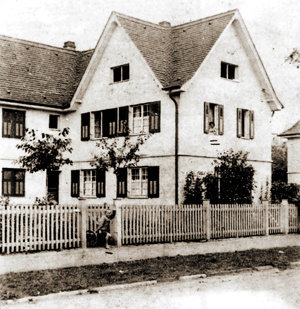 The real life, which chose Maga upon her birth, began when her father Risto began working in the National Theater. This introduced her to the world of art. He had the job of a traditional dress tailor and she had a free ticket. She spent her Sundays in the theater, on the third gallery, and the remaining six days of the week studying hard, along with singing and dancing in the Cultural Artistic Society "Obilić".
After her return from the first guest performance in Jagodina, she excitedly wrote her impressions in her diary (which she kept all her life): "I had a beige batiste dress with small blue dots, ornamented with white embroidery. I danced in the shoes my mama bought me in Isak Demai's shop 'Two Beautiful Girls' in Vasina Street, for four Dinars. And what a thrill began after the concert, at the dance in the 'Colorful Inn"! In the embrace of my partner, I danced as if I were flying…"
The magic of dancing would never leave her again.
The girl's youth, although filled with poverty, is exhilarating and full of expectations. And results. In June 1904, she graduated from the Faculty of Philosophy in the class of Brana Petronijević. Soon after the founding of the daily Politika, in times when the greatest success of a woman in Serbia was to marry well, she paved the way for women in journalism: for half a year, she was the editor of the "Woman's World" column in Politika.
The editors noticed her editorial Education of Females in Serbia. The owner of the newspaper, Mr. Vlada Ribnikar, employed her as full time associate, with two golden coins as advance payment. Maga writes shoulder to shoulder with her male colleagues.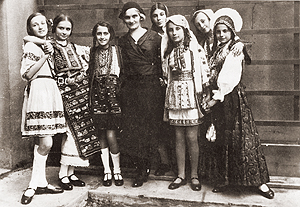 She ironically pictures the customs of matchmaking, dressing up for balls, showing off of young girls and their marriages for "sought-after husbands". She asks for more freedom for them, but also for herself, and their right to decide and choose their path of life.
Magazinović is more than a brilliant student, good reporter or dancer in "Obilić". She is a visionary. Gazing towards Munich or Berlin, boiling with art, she is longing for the world.
She is modern, as much as the time allows her. She is modern with control, so that she would not be proclaimed mad or eccentric. She learned how to live a double life. Before the world, she is submitted to the time where men are put in front. Secretly, without anyone knowing, she is conquering her freedom, step by step. One each day. She reads banned books, she asks questions nobody wants to ask, she moves the borders of jobs for "him" and for "her", she longs for a higher dignity of the women.
AN OLD LOVE BILL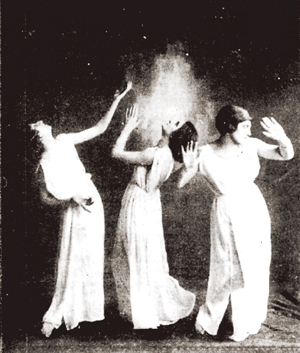 Professor Brana Petronijević encourages her to use her small savings to continue her education in Germany, to perfect her German and get a doctoral degree.
One humid July day, Maga sets off to her trip, she has a ticket for Europe. Her journey is led by her wish to learn rhythmics and plastics from the most eminent artists and theoreticians of the time: Elizabeth and Isadora Duncan, Minetta Wegmann, Jacques Dalcroze and Rudolf von Laban. Finally, she attended acting classes of the great Max Reinhardt.
This new artistic knowledge at the very source, where new scene sensations are born, is a unique victory of a young woman at the beginning of the century. Although still lonely and uncertain in her own visions, Maga makes the first step. She returns from Germany after four years, rich with knowledge about modern ballet and, with her friend from her university days Zora Prica, founds the School for Reciting, Aesthetic Gymnastics and Foreign Languages.
From the first day, it is an independent school, without accommodation and support of the then common protective board of ladies. Only children from wealthy families paid the scholarship, while for poor children the classes were free.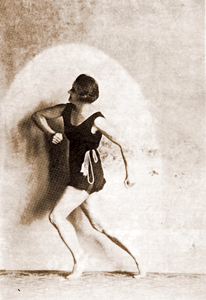 However, the story about Maga Magazinović would not be complete without a spice such as love. The man of her life is Gerhard Gesemann, whom she met at Max Reinhardt's acting classes. With great longing, she awaited their dates in the early afternoons, before the classes, in the Berlin Avenue of linden trees. He used to come towards her, slim and young, with a high forehead and books under his hand. She appeared from her heights, with a long walk of a gazelle, sometimes shining, sometimes frowning and moody.
Along with acting, Gerhard Gesemann also studied Slavic languages. He mastered the Serbian language with Maga Magazinović, read Serbian writers and especially liked Bora Stanković. He liked the Serbs; he was delighted with the folk poetry and collected it diligently. Maga loved him tenderly, and he, six years younger, returned the love. Because of that woman, fatal for many reasons, he changed his faith and joined the Orthodox Church. They married in the Belgrade Cathedral Church in 1914. He began working in the First Male Gymnasium, as well as a lector at the Belgrade University. She was promoted into a regular teacher of the First Female Real Gymnasium.
Soon the two of them will survive the Golgotha of World War I. They flee through Serbia. Kragujevac, Kraljevo, Vranje… She, pregnant, with a baby in her stomach. That is when she gave birth to their son with two names: German Harold and Serbian Rajko. She returned with their son to Belgrade alone. And her husband, a German, Serbian son-in-law, barehanded and tender, crossed Albania with the Serbian army.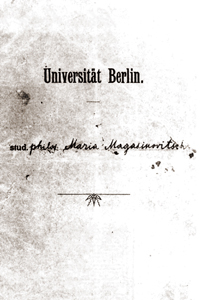 Maga is unlucky. Her husband is lost without trace, and their only son, the fruit of their love, the child about whom they dreamed while sitting together embraced by the river Spree in Berlin, dies before turning one. Soon the unfortunate woman hears from the German authorities in Belgrade that her husband is ill, and goes to Switzerland to see him.
That visit will be the final act of her love drama.
In the sanatorium where he was lying, Gerhard met and fell in love with another woman. He does not hide that he is in love.
Maga knows this is the end. She will not forgive him infidelity. She only wanted to be intimate with him one more time, so that she could again bring their child into the world. And, like in true melodramas, she will give birth to their daughter Raina a year later in Lucerne, and soon return with her to Belgrade.
An old love bill was settled with the birth of the little girl.
Maga Magazinović closed her eyes forever exactly two decades after Gerhard Gesemann, in 1968, in old age.
***
Prediction
The Politika desk remained in Maga Magazinović's best memory, although her colleagues did not hide their dissatisfaction because a woman was involved in their job. The owner of the newspaper Vlada Ribnikar often used to needle her because of her feminism and predicted that one day she would be happily married to an army officer. He used to say: "Miss Maga, you will not escape the fate of so many women. You will also melt into mediocrity. With rolled up sleeves, with a white apron and cheeks red from the stove, like all 'decent women', you will carefully put the bowl of soup on the table; in the meantime, your officer will take off his saber and uniform, roll up his shirt sleeves, and, while enjoying the soup, pinch his little wife on the cheek and say: 'My kitten', and then start singing 'Serbs readily become soldiers'."
***
Departures
After parting with Maga Magazinović, Gerhard Gesemann (1888–1948) married his new love, with whom he had a son Wolf. At the end of 1939, he founded the German Institute in Belgrade and was appointed manager. When the Germans attacked Serbia and Belgrade, disappointed and neurotic, he withdrew from the Institute and returned to Prague with his wife and son.
However, the end of the war was fatal for him. He had to leave Prague, all his manuscripts and his rich library of five thousand books (each of them had a vignette with the image of Filip Višnjić). With his wife and son, he found sanctuary in Tels, Upper Bavaria.
He died in 1948.