Gastronomy
"ŠARAN" RESTAURANT: SEA BASS WITH HAM FOR THE READERS OF "NATIONAL REVIEW"
Bull's-Eye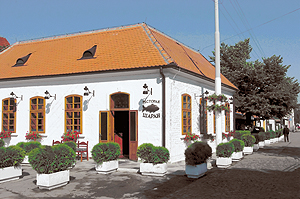 We are in "Šaran" again. It is like meeting old friends. When your guests come out of Belgrade or somewhere from Serbia, and top quality connoisseurs of gastronomy or wine, or when you wish to have that combination of research and safety of pleasure, then "Šaran", the symbol of Zemun and the Danube coast is your right decision. A bull's-eye. The building of a fisherman from Zemun, Vićentije Vukotić is more than 120 years old, renovated under the survey of the Institute for the Protection of Cultural Monuments in 1982, 1992 and 2004 still charms with its authenticity, beauty and warmness. No matter the season, whether you sit on the balcony looking at the Danube or on the upper balcony from where you can see St. Nicholas' Church (besides the river) and house roofs of the Lower Town, or you are sitting inside – the taste remains the same. Domestic mythology of the Zemun coast, the tambouritza players, beautiful bohemian and old town spirit.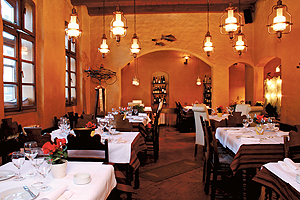 "Šaran", the oldest kafana of Zemun, having the same name and being in the same building since its beginnings, based its cuisine until 2004 on river fish, which was caught in the Danube and freshly delivered in this coast restaurant. The offer became more creative as the time passed; it was expanded on sea fish, sea fruits, many tasteful meat plates… Mediterranean cuisine, especially Italian, specialties of Serbian cuisine, then game plates and all other plates of the rich gastronomic offer of Belgrade will all be waiting for you. Your guarantee is a top-quality team of cooks and official categorization of this restaurant with four stars. We have already recommended cuttlefish to our readers, carp chops with quince and chestnut or with tomato sauce, along with cat-fish and perch… Many have followed our advice and then came back to us with compliments.
Cooks from "Šaran" recommend sea bass with ham to the readers of National Review. Enjoy it.
***
Sea bass with ham
Six hundred grams of sea bass filled and sprinkle with three sorts of pepper; some salt, olive oil and some garlic. Add some olive oil into boiled potatoes, then add some chard, add some salt, and then mix it all up. Fish filets should be put in ham and than fried. Mixed chard with potatoes should be put in the middle of a plate and then fish over it. Decorate it with grilled tomato slices. Add some olive oil on it.