Visit
ZAJEČAR, THE CENTRE OF TIMOČKA KRAJINA
The Raising Town
It is not only the matter of building new objects, arranging some streets, paving squares, improving lightning, repealing taxes and easing investments. It is about making a different life philosophy, to throw out the spirit of surrender and neglect, to take initiative and responsibility, in which every man should do as much as he can. If we realize this, as did the mayor of Zaječar with his team, then the positive effects are coming as logical consequences
By: Zoran Plavšić and National Review Press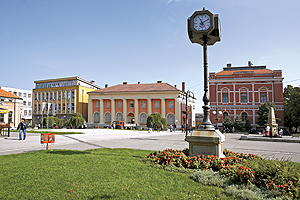 There are five Timok rivers, and only one Krajina. And it is called Timočka Krajina.
On the place where Crni and Beli Timok are uniting, making Veliki Timok, the area of Zaječar, the urban and administrative centre of Timočka Krajina.
It was first mentioned in the famous Turkish document from 1466 (during the reign of Mehmed II the Conqueror), with only eight families, and today Zaječar is a modern town with about 70 thousand citizens who live in 42 settlements. In the vicinities of the valley of Zaječar we see mountains Deli Jovan and Veliki Krš on the north-west, Tupižnica in south-west, and the hillsides of Stara planina on the south-east. Chronics claims that before World War II, Zaječar was the fourth richest town and cleanest town in Serbia. Because of coal abundance, mostly brown and hard coal, it was called "the centre of Serbian Ruhr".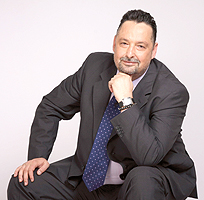 After the horrible war, during global industrialization, Zaječar became a powerful economic, cultural, tourist and sports centre. We visited for festivals such as "Pesma leta", "Turnir duhovitosti", "Gitarijada", poetic and theatre festivals. We remember the beautiful town, 230 kilometres away from Belgrade, with a hotel in the centre, with a department store, with a spacious square on which are the Museum, the Theatre, the municipality building; behind is a church and the old downtown area. The town is full of tourists, businessmen, young people, full of laughter and hospitality. We cannot forget the beer of Zaječar, or its wines from nearby vineyard areas. The famous "Kristal" factory of Zaječar was for a long time decorating the sports jerseys of "Red Star" football players, which played across Europe.
Then, we visited it in the 90s and we saw "the image of a completely ruined town". Economic sanctions and the war ruined it. "Kristal", "Porcelan", "Arsenije Spasić", "Timočanka", KTK "Zaječar", "Zaječar-promet" have all disappeared from the economic scene... Abandoned factories, destroyed engines, a complete economic disaster, eight thousand people left unemployed...
It seemed so late to make some decisions, but some changes have happened already.
TAKING ACTION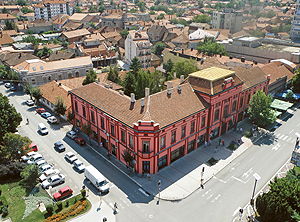 Today, we hardly recognize Zaječar. New life has entered the dark shell, ruined with sanctions and poverty. Zaječar stands up, and its residents, encouraged by the local government elected in 2004, have become aware that most things depend only on them and that they should start the recovery right away. They realized that waiting for the problems to solve themselves can be a much more difficult situation. They began their campaign. In a really short period many streets and squares got a completely new appearance, modern and fancy. On a former trash dump on Popova beach, a beautiful sports and recreation centre, which is almost unique in Serbia. On the edge of the town there is a ski path with a ski lift and cannons for making snow...
– We never wanted to give terms according to personal comfort – says the mayor of Zaječar, Mr. Boško Ničić, the founder and the manager of "I Live for Zaječar" Movement and the coalition which won more than one half of representative terms on the local elections. – We could sit and enjoy small privileges, but instead we decided to work as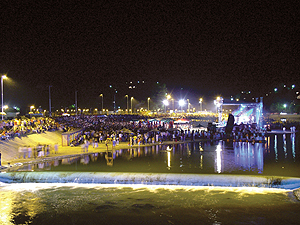 hard as we can. It is not only about many objects in the town centre and in villages but also about a life philosophy different from the one from ten years ago. The people of Zaječar, besides many problems, are not satisfied only with survival. They became aware of their possibilities and they gained self-confidence, and one can do more with those kinds of people than with those who have no beliefs.
In the last five years, says Ničić proudly, we have achieved more in the community of Zaječar than for the last 15 years. The spirit of positive changes and the strength have encouraged the people. The people became interested in accelerating the buildings processes with their own participation, in order to get their streets and buildings arranged as soon as possible, given that they were waiting for decades. Their participation is about 20 percent of the price of asphalt, and the interest is so big that business plans for next year all already made. There are many building projects in villages, too. The people in the villages have also realized that they have to make some participation, so a fixed income was set two years ago.
A MODEL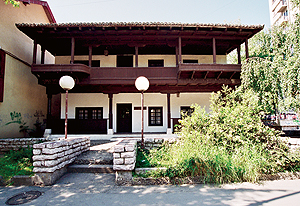 – We have already renovated and equipped 12 cultural centres of which some were completely ruined – says Boško Ničić. – We renovated the streets and the lightning system in villages, we arranged sports fields, church yards and cemeteries. The residents' support was great. In order to solve problems of the transportation of elementary school pupils, we bought new buses and we organized the transportation ourselves. I think that we are the only local self-management in Serbia which solved the problem of transporting pupils on its own, but I am sure that many other towns would do the same. Many people are interested in our model.
The people of Zaječar and their local self-management are aware that the intensive communal building is not enough to make such a big renaissance. We need strong economy which is to be built right from its basis.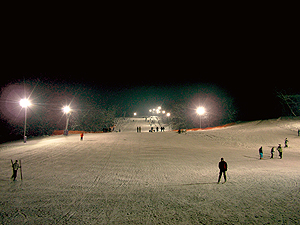 – Regarding the authorities of local self-management, we could not do a thing. We did everything we could in an indiscrete way. We bought the ruined textile factory "Timočanka", with four and a half hectares of land, with the intention of turning it into an industrial zone. Every manager who employs 50 workers in that zone will be free of paying the rent. A textile company is now working there. We are ending the formation of business incubators, whose first users will be some Italian companies which are in software production. We knew that we would remain anonymous in Europe if we don't show our offer and knowledge. We searched for contacts, we visited fairs, we invited people from around the world, and we made great friendships. During the last four years, Zaječar was visited by ten times more ambassadors than ministers from the previous Serbian government. The interest of domestic foreign partners is increasing. The Italians are interested in producing healthy food collaboration with the Agricultural Institute of Zaječar, "Tuš" company from Slovenia will build a supermarket, "Forma ideale" company will build a big market and business centre...
MODERNESS AND IDENTITY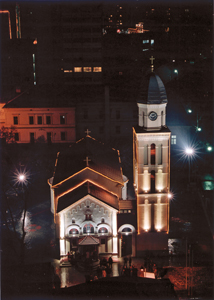 The rich history of this area, from different epochs, is one of the important elements of Zaječar's beauty. The National Museum is preserving all artefacts about it. The pre-Neolithic period, the Antique period, Rome, Byzantium, medieval Serbia, the Turkish slavery, the liberation and the renaissance. Rome brought great changes. Moesia is one of the most important granaries of the Empire, and mining in the valley of Timok is one of the economic centres, One of 17 Roman emperors born in the area of today's Serbia, Galerius, originates from here. His late-Antique palace "Felix Romuliana" was built from 297 to 311, is today the pearl of the list of world's cultural heritage, under the protection of UNESCO, in Gamzigrad, near Zaječar. He was a powerful emperor who ruled in Sirmium and Thessalonica, the son-in-law of Diocletian, the man who conquered the Persians, wanted to spend a peaceful old age after his withdrawal, in the nearby Gamzigrad Spa to heal many wounds of the body and the soul. He called his palace after his mother Romula. Even if it is destroyed now, we can see the beauty of the palace, of the church, the sacrificial altar, the granary, public bathrooms, monumental gates, mosaics. And there are many more thing to discover in "Felix Romuliana"! Serbian and German experts have found about 30 buildings in the last five years, with special magnetic recordings, near the imperial palace, and some of those buildings are monumental. Great excavations are yet to come.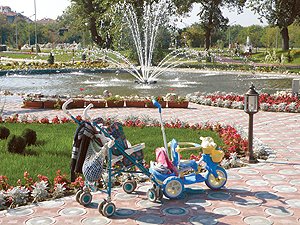 Emperor Galerius died in 311 on his way to Sofia, and his palace in Gamzigrad still attracts experts, tourists and curious people.
History is not the only thing important for Zaječar. For decades, it has been the town of young people, creativity and culture. "Gitarijada", Art Colony of Naive Art, the Festival of Young Poets of Yugoslavia, the International Poetry Festival of Young People of the European Region "Dunav 21", the Yugoslav Comic Book Salon "Maksim", the International Folklore Festival, "Days of Zoran Radmilović"...
In order to keep the young people in Zaječar and to preserve the young spirit, the government decided on founding a university. Local self-management is granting a group of students every year, also helping in advanced studying of young people.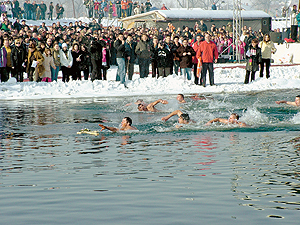 – We are aware of the fact that the future belongs to those who know how to work. Global integrations are real and we want to make part of it. At the same time, I do not think that we should forget who we are – says the mayor of Zaječar, Mr. Boško Ničić. – The spiritual renovation is also important for us. For example, in Kotlujevac settlement, with 20 thousand people, we are building a big Orthodox church. We also help renovating churches in villages, and we renovated some traditional events. It does not mean breaking up with tradition, with cultural and spiritual heritage as a part of our identity, when being modern and successful. On the contrary, traditional values, moral for example, can be a good foundation for building the future.
The people of Zaječar believe in the future much more than ten years ago. The people who love this town are very proud of it. However, we must not make any illusions. With much effort and hard work, and even renunciations, Zaječar cannot become a modern European town in which one can live well. And that is their goal and they are all ready to accomplish it.
***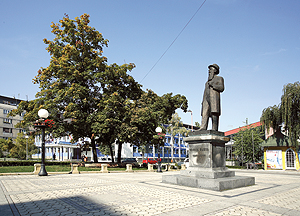 Pašić
The Endowment "Nikola Pašić" was founded almost two decades ago in order to induce a research project on the life and work of Nikola Pašić, a Serbian politician, diplomat and minister, one of the most important European politicians of his time. The Endowment members have built a monument to Pašić, they organized many international scientific gatherings, they made a documentary about him, and they collected all important documents.
***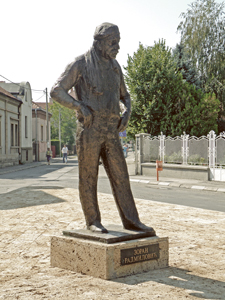 Zoki
"Zoran Radmilović" Foundation, established in 1992, is cherishing the legacy of Zoran Radmilović, the famous actor of "Atelje 212" from Belgrade and the great man of Serbian theatre. Every fall, the Foundation and "Zoran Radmilović" Theatre are organizing a festival called "The Days of Zoran Radmilović", with the participation of all important Serbian theatres.
***
Kafanas
Even today, we can hear stories from a long history of kafana-life of Zaječar. Many kafanas have preserved the spirit and the style of old times. The food is delicious, with many local specialties, the portions are big, the prices are almost two times lower than in Belgrade.
***
Lakes
Grliško, Rgotsko, Sovinac, Glogovičko... The lakes of Zaječar, beautiful and clear, are attracting many tourists, fishermen and hunters. Sovinac, near Salaš, besides the highway Zaječar-Negotin, became an attractive picnic ground and beach. Grliško Lake is between Leskovac and Grlište villages, of about 100 hectares, 28 metres deep. Zaječar gets its drinking water from it. It is full of fish as well. Rgotsko Lake, near Rgotina village, is on the place where quartz sand was found. It is to 40 metres deep, with a sandy bottom, getting the water from underground springs and the most popular beach of the people of Zaječar.