Forgotten Ones
THREE DECADES SINCE THE DEPARTURE OF SLOBODAN CICA PEROVIĆ
First Actor of the Future Century
In the 1960s, he acted in a manner that shall later become the main trend in American movies with the appearance of method actors such as Dustin Hoffman, Al Pacino or Robert De Niro. He played in the first black wave film ("The Rats Woke Up"), in the first Serbian color film ("Priest Ćira and Priest Spira"), in the first Serbian horror movie ("The Butterfly"). He won the "Emperor Constantine" award in Niš, "Golden Arena" in Pula, "Sterija's Award" for his work in the theatre. He said goodbye to his colleagues and the world at the rehearsal for Chekhov's "Cherry Orchard", at the age of 52, when, playing the role of old Firs, he delivered the prophetic final line: "…And I was forgotten"
By: Мarko Tanasković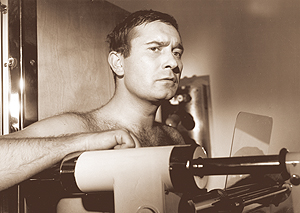 Thirty years ago, on a warm spring afternoon of May 2, 1978, at the Institute of Oncology in Belgrade, the prominent Serbian actor Slobodan Cica Perović passed away after a short and difficult illness. Although he died relatively young (at the age of 52), he left behind a rich and extraordinary artistic work. In almost thirty years of professional acting, he played numerous theatrical, film and television parts, some of them undoubtedly deserving to be enlisted in anthologies. He won the most prestigious acting awards of the second Yugoslavia, such as the "Emperor Constantine" award in Niš (for the film The Rats Woke Up), "Golden Arena" in Pula (for the comedy Men) and "Sterija's Award" for his theatrical work. After his death, a famous theatre critic wrote in the daily Novosti: "An actor of quiet suffering and even quieter joy died, a soul writer of reserved gestures and meticulous expression, a gold digger of the depths of the human soul. Slobodan Cica Perović died, a great actor and vagabond poet, a friend of friends of art."
Today, three decades later, there is not a single monograph about this exquisite artist, none of the acting awards or cultural manifestations carry his name, and during the recent celebration of the fiftieth anniversary of his native theater "Atelje 212", his name was barely mentioned. His colleagues and contemporaries preserve the memory of him, tell tales about his acting skills and adventures in kafanas, about won awards and journeys to distant lands.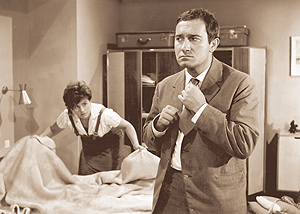 All of them agree in one thing – Cica Perović was a unique and unrepeatable phenomenon in the Serbian culture and one of the greatest ones. Serbia was always proud of having the best actors in the Balkans, perhaps even wider. People such as Žanka Stokić, Ljubinka Bobić, Ljubiša Jovanović, Мilivoj Živanović, Мira Stupica, Ljuba Tadić, Zoran Radmilović are only some of the most remarkable ones in the constellation of great actors. Although Cica Perović belongs to this group of chosen ones due to his splendorous talent and inspired interpretations, he differs from all of them, as the director Živojin Pavlović once noticed, for neither having a predecessor nor a successor, because it is almost impossible to find a match for him among present actors and those from the past.
AVANT-GARDE AND CONNECTION WITH THE WORLD
He was a completely authentic phenomenon, almost an incident in our film and theatre. He was far ahead of his time and, with his specific acting, shaded artistic expression and strong, unconformistic personality, he was a creative bridge between the postwar generations of actors and those who will arrive to the stage soon after his death, in the early eighties.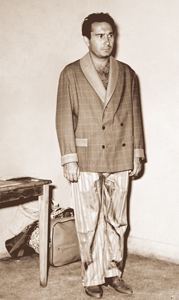 Furthermore, he was the avant-garde connection between Serbian acting and the big world in a certain way, since what he did during the sixties in theater and film, the manner in which he created his characters inside, almost ten years later became the main trend in the American film of the seventies with the appearance of method actors such as Dustin Hoffman, Al Pacino and Robert De Niro, who came out of Lee Strasberg's studio.
Although completely unaware of it, Cica Perović was the purest and best representative of Stanislavski in Serbian theater, one of the protagonists of the new, modern theatrical expression which brought a new attitude towards the text, new speech, new accent, new way of thinking and feeling. Perović was completely different from the others – both with his lifestyle and his understanding of acting. "He was either a last bohemian of the previous century or the first actor of the future" (J. Ćirilov).
He was born in Kragujevac on May 6, 1926, in an army officer's family, and spent his childhood and early youth in Kruševac, Priština and Niš. During World War II, he was sent to a working camp in Germany, where he made Hitler's busts for the Nazis and experienced everyday whippings followed by cold water showers. Although he did not speak much about this period of life, there is no doubt that the horrible experiences from the camp left an everlasting mark on him and contributed to the formation of his numerous characters in pain and suffering.
After the allies liberated prisoners from the camp, he came back to his country on foot and hitchhiking, earning his daily meal along the way as a day laborer on rural estates. After the war, wanting to escape poverty, patriarchal bringing up and formalism, he permanently settled in Belgrade. He started working as an inspector in "Precizna mehanika" and married his colleague Milica, with whom he had a daughter Vesna. He soon enrolled at the Academy of Drama, in the same class with Ljuba Tadić, Ljiljana Krstić, Bora Todorović, Rade and Olivera Мarković, and many other famous actors.
LIFE IN PLAYING, PLAYING WITH LIFE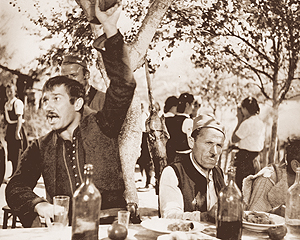 He began acting at the Yugoslav Drama Theater, but soon moved to Belgrade Drama Theater (BDP), where he made his first great successes. At the time, contemporary (mostly American) dramas were played in BDP, in which the new class of talented actors made their debut. At the same time, a battle began for a new theater, urging a more realistic expression and modern themes, attracting a new, younger audience. Rade Мarković, one of the actors who paved the way to the contemporary theatrical expression and new repertoire with Perović, says about him:
"As a very young man, Cica Perović had a stormy Hemingway-like life. When he entered the world of acting, he was already impatient because he had so much do say. And he said it in his own, unrepeatable way. He introduced life into playing and played with life."
Cica Perović had his greatest affirmation on the stage in the role of George from Edward Albee's legendary play Who's Afraid of Virginia Wolf in "Atelje 212". In the brilliant piece directed by Mira Trailović, the first play of "Atelje" which travelled around the world, his class-mate Ljiljana Krstić, with whom he later often acted, played the part of Marta. Everyone who saw that hit play (more than 170 performances) agree that the two of them played the old married couple with more anima than Richard Burton and Elizabeth Taylor who played the same characters in the famous film version. Perović's bitter intellectual George, who runs away from his terrible family situation into the world of imagination, remains one of his most convincing parts. He also received recognition for his superior creation from American theatrical critics, who proclaimed him best foreign actor after playing in Virginiaat the "Lincoln Center" in 1968.
Unfortunately, news about that great award came to the country only several years later. Students' demonstrations were flaming at the time, and since Cica Perović supported the students and spoke on the protests, the authorities and media concealed his great success. The communist culture bearers already then began ignoring and marginalizing him, which also continued after his death, until the present day. Also important is that Cica Perović is one of the rare Serbian actors of the time who never played the part of a partisan. He played in Hajrudin Krvavac's movie The Bridge (1969), one of the most successful movies about the National Liberation War, but the part of a member of the humiliated bourgeois class stripped of power. He played an engineer, designer of the bridge which the partisans should blow up.
ALONG THE EDGES OF GENRES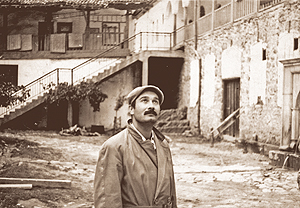 Due to his convincingness and authenticity, without anything excessive, artificial or fake, which the camera recognizes and reveals with ease, Perović was a good actor both in film and on television. In film he searched for new horizons and exciting challenges – he played in the first black wave film (The Rats Woke Up), in the first Serbian color film (Priest Ćira and Priest Spira) and in the first Serbian horror movie (The Butterfly). He was equally skilled in difficult drama roles (Kadijević's The Trek, Petrović's Three and Vrdoljak's Snowstorm), as well as in light comedies he made with Soja Jovanović and Мilo Đukanović (The Dreams Came by Coach, Men, Inspector and Don't Meddle with Fortune).
His unique acting style, always serious, reserved and filled with self-irony, sovereignly moves along the edges of genres and on the border of pathos, calling upon the tragic from the comic and vice versa, squeezing out lyricism from existential roughness. He gained great popularity on television too, where he played in cult TV projects such as Poor Little Hamsters, Mr. Seal, At the Judge and Farm in the Little Marsh. He made his perhaps best role in television, in the touching Chekhov's Pavilion number 6, where, surrounded with supreme actors (Zoran Radmilović, Ljuba Tadić, Paja Vujisić and Stevo Žigon), he brilliantly played the role of the psychiatrist locked with his patients.
Outside the scene, when the curtains are down and the cameras turned off, Cica Perović was unpretentious, reserved and introverted. Although many considered him grumpy, harsh and sharp, those who knew him better claimed that he was a very emotional and generous, even shy man. He raised protective walls around him with his unconventional behavior, running away from aggressive people, fame and show-business, which he did not want.
He led a disorderly, bohemian life, with all its accompanying passions and vice. He loved kafanas, speeding and gambling, and, at the end of his life, drinking. Beautiful women were always around him.
However, it can be said that adventurous journeys around the world were his greatest passion. He traveled most of the planet behind the wheel of his Citroen DS. He intended to write down his experiences in a travel novel, which he never completed.
He died in a way every great actor dreams to die, almost at the stage and completely involved in his part. He delivered his last line before the audience on April 11, 1978, in the play Maria in "Atelje 212". He said goodbye to his colleagues at the rehearsal for Chekhov's Cherry Orchard when, playing the part of old Firs, he delivered his final line:
"... And I was forgotten."
***
New Heroes
Due to his specific appearance and fresh sensibility, Cica Perović played the parts of new heroes in plays such as John Osborne's Look Back in Anger, Clifford Odets' The Big Knife, Tennessee Williams' Cat on a Hot Tin Roof, Eugene Ionesco's Exit the King and Tadeush Ruzhevich's Card Index.
***
Travels
In an interview for NIN, he spoke about his travels:
"The most pleasant thing in them is that you slowly disappear in constant advancing, passing by, in what you notice in a moment. While approaching a city and quickly passing through it, I most often had a complete presentation about it and people who live in it. On the other hand, when I spent a longer time somewhere, I lost criteria; I adjusted to circumstances and people I was surrounded with: my presentation became blurry, I began evaluating them in the familiar bourgeois manner, accepting them as good or bad, rich or poor, according to what I brought among them."
***
Experience
Cica Perović was especially impressed with the attitude towards life and people he met in India during his travels. He was fascinated with how they managed to be happy despite material poverty, which was also in harmony with his life philosophy. "I do not have a sense for material values. I observe life as a flowing river. For me, life is only another experience, nothing more."