Leaders
MTS, REGIONAL LEADER OF MOBILE TELEPHONIA, MTS
The Greatest Network of Friends
Three states, three integrates systems, more than six million connected. MTS practically abolished roaming between Serbia, Republic of Srpska and Monte Negro, building communication unity of those regions, Only from the beginning of this year the number of users grew for 710,000 (480,000 prepaid, 230,000 postpaid). Over 340,000 most successful business people their professional functioning base of the communications over the MTS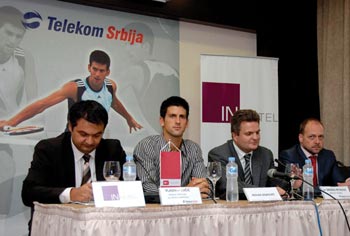 Mobile Telephonia of Serbia, led by the idea that users are also friends, take special effort to fulfill their wishes. The number of more than 5,000,000 satisfied users show that their efforts are not in vain. Througout Serbia, users have recognized friends in MTS and enabled them to have leader status on mobile telephonia market.
From 1998 until today mt:s developed the sense to recognize right things, to see the talet of its users, to believe and to suport them, no matter to which targeted group they belong! For that reason, from Serbian Mobile Telephonia they are always preparing new great offers and inventing new pacages.
On order not to make the whole thing revolve around pacages and tarifes, mt:s came up with a suprise through the lotery "Lucky is in your mt:s number". Together with the State Lotery, lucky winners were presented with "opel astra" car keys, lap tops, mp3 players, 3G an d 2G mobile phones. The one that had the most of the luck is still expected by the mt:s, because the lotery ticket with the posibility to by an aparmant has not been drawn jet!
Thye first and unique community program in Serbia opened remarkable world of posibilities to the users of My Bel Package, giving away discounts for concerts which are organized by mt:s и EXIT, as well as special gifts – set of tickets for concerts of: The Chemical Brothers, Greenfest Red Hot Chili Peppers и Exit.
Serbia' s best ranking tennis player Novak Djokovich became promoter for new postpaid pacage Sport Bel, invisiged specially for those people who nurish sporting spirit. By making of this pacage, all sport fans are able to simply get the right informations on sports, but also to be among the first ones to be plugged to current sport events mt:s network.
Strategicaly inclined to its users, mt:s has offered, through its regional connecting and the beginning of the operations of companies m:tel Monte Negro and m:tel Republic of Srpska, remarkable discounts on service prices and practicaly abolished roaming between three states, connection more than six milliion friends into one network.
NEW PLEASANT SURPRISES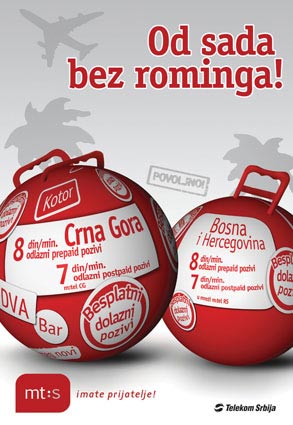 Моbile Telephonia of Serbia with pleasure enchance the fact that in 2007 they have made sagnificant rise in the number of users for total of 710,000. The number of prepaid users rose for 480,000 and the number of postpaid users for 230,000.
The return of friends and partners from their summer vacations was refreshing, because they were met by three new mt:s postpaid тarifes: Hello, Fresh и Mix, as well as new series of prepaid numbers with numeration which start with zero (0)!
Of course, pleasent surprises are followed by price discount of even 35 per cent within Bel postpaid tarife profile from October, 1 with posibility to transfer unused free minutes and SMS messages for all Bel users. mt:s Biznet have the pleasure to support business of more 340 thousands business people whose sucess depend on the quality of communications. From 1 September mt:s has introduced lower prices for business users making their business communications more efficient with additional cutting of the costs of their business. Prices are down even to 46% for calls in mt:s network. Within Biznet group price per call is lower up to 43%, and calls in nacional traffic for 11%.
Family pacage mt:s-a is ideal for family members because it offers the posibility of calls between them for unbelievable price of 0 RSD per minute. Monthly fee for every number in family pacage, now is only 250 RSD (without WAT). Family pacage users have the possibility of buying the mobile phone for 1 RSD for every line in the group, as well as the welcoming present of 5,000 RSD for all cals!
For its postpaid users mt:s has enshured also free insurance– GENERALI POSTPAID INSURANCE. Users can use that priviledge after three payed bills. There are three sorts of insurance pacages: STANDARD, SUPERIOR and SUPERIOR PLUS.
In order to show its gratitude, in October 2004 mt:s has initiated first Loality program in the country. mt:s club has been established with members card distributed to all postpaid and Biznet users. Members of the club get the points on the basis on the amount of their bills, post paid history and the regularity of their payments. Points could be exchanged for presents prepared specially for them.
mt:s empesize that the biggest network of friends in the region is always open for new friendships!

mt:s – You have friends!