Paths

FOLLOWING THE VEIN OF MILEŠEVKA, FROM THE SOPOTNICA WATERFALLS TO THE EMBRACE OF THE LIM
Down the Forefinger of the White Angel
Although it is one of the smaller rivers cutting through the heights of Old Vlas, on its way it shows "extraordinary creative force and imagination". Its very narrow and deep canyon is about ten kilometers long and protected as a natural park. The unique spruce, the colony of griffon vultures, the giddy path cut in the middle of the previous century, crosses in stone and hermitages, villages in which time has stopped, remains of the medieval city of Mileševac (Hisardžika), the seats of the Crna Stena (Black Rock) district, and, above all, the famous Mileševa Monastery, mark this picturesque landscape

Text and photographs: Dragan Bosnić


In the Serbian epic Dušan's Marriage, the honor and bride of the Serbian emperor is saved by his nephew Miloš, disguised as a shepherd. One of the assignments Miloš completed was jumping over three horses with swords. The place where the young warrior jumped over the horses even today carries the name Milošev Do (Miloš's Valley). The highest peaks of Jadovnik, Katunić and Kozomor rise high above the gentle valley. On these 1.700 meters high cones, snow remains until the month of June, providing a continuous flow of water to the Sopotnica Waterfalls. A part of that water, going towards the spacious Milošev Do, gurgles under the name of Mileševka. It is one of the smaller rivers breaking through the crass rocks of the Stari Vlah heights, but showing extraordinary creative force and imagination along its way.

THE WISDOM OF STONE AND THE WISDOM OF WATER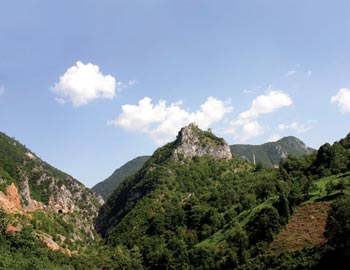 The powerful rampart Ćetanice stood in the way of Mileševka at the very beginning of the river. The river peacefully changes its direction to the side, passes the village of Gvozd, and only when it reaches a dead-end by the Mršava Stena (Skinny Rock), breaks through the crass mountain.
At the very entrance into the canyon, on hardly accessible rocks, a smaller colony of griffon vultures found its sanctuary, obviously not enjoying the crowd in the nearby Uvac canyon. The canyon part of the river is about ten kilometers long, and protected as a national park. Besides the griffon vultures, about twenty spruce trees also found their hiding place in the canyon. Along with the ones in Tara, they are the only self-sown spruce in this part of Europe. Because of the inaccessibility of the canyon, they were discovered only about twenty years ago.
At the beginning of the canyon, Mileševka accepts its second component, the Medjanska river, which comes down from the Zlatar heights and pulls through the hamlets of the Medjani village.
The village of Medjani (eng. Abutment), as well as Gvozd (eng. Iron), according to their names and traces of mines, certainly have a long history in mining. It is possible to pass through the remarkably narrow and deep canyon from that village to its exit by Hisardžik, due to a path cut into the rocks in the middle of the previous century. The path is narrow, in some places even risky, therefore not recommended for individual visitors. The crosses carved into the rocks testify that cutting the path was pretty risky. During the summer months, when the water level is low and the river tolerably cold, it is possible to go through the river bed, but one cannot have a full view of the canyon that way.
The exit from the canyon is especially beautified by a high rock with remains of the city of Mileševac, or Hisardžik, as the local folks call it. During the middle ages, the city was the seat of the Crna Stena district, but its main purpose was to supervise the important caravan road Kotor – Prijepolje – Skopje, and to protect the nearby Mileševa Monastery. On a vertical cliff beneath the city, there is an inaccessible hole, where two hermitages were built. They carry the name of Sava, since it is considered that he dwelled in them.
The regional road Prijepolje – Sjenica today passes by Hisardžik. The remains of the cobble, inns and shrines along the road confirm the fact that it used to be the mentioned caravan road. There have been attempts of restoring the old caravan road through the canyon, so tunnels were dug through the mealy rocks. Fortunately, the idea was dropped, and peace in the canyon preserved, hopefully for a long time.
Hisardžik is famous for its fish ponds, orchards and unique chestnut trees. The most beautiful ornament of the village was the impressive black pine tree, which, after many centuries of existing, recently fell. The second ornament of the village, also present today after almost eight centuries of existence, shines in its full glow. The Mileševa Monastery, although two kilometers away, can be seen from Mileševac as on the palm of one's hand.

WITH SAVA'S BLESSING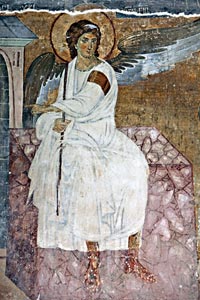 Nothing that Giotto painted could achieve the beauty of the Angel from the Serbian royal endowment, the Mileševa Monastery, wrote the English archeologist Arthur Evans in the Manchester Guardian in 1883. The expressive eyes and the gentle expression on the face of the White Angel were the reason it was literally raised into the heavens, due to the European Space Agency.
The Mileševa Monastery was raised by the fourth ruler from the Nemanjić family, Vladislav, but everything in it aspires towards his uncle, St. Sava. Even today, the most faithful portraits of St. Sava and his father Nemanja – St. Simeon – stand on the walls of the Mileševa church dedicated to Christ's Ascension. There is also the portrait of Vladislav who, through the Holy Virgin, grants his church to Christ.
Vladislav transferred the relics of St. Sava to Mileševa, where they had been kept for three centuries. People in Prijepolje will tell you that part of Sava's gentleness and wisdom passed on to the inhabitants of the Mileševa county. It is considered that Mileševa was the second most significant monastery of medieval Serbia. This is where, by Sava's reliquary, king Tvrtko was crowned as king of Serbia and Bosnia. During the Turkish rule, the monastery was under protection of the powerful vizier Mehmed-Pasha Sokolović, who, before ending on the Janizaru horses, attended the monastery school in Mileševa.
In the late XVI century, there was an uprising of the Serbs in Banat which enraged the Turks so much, that they took the relics of the Serbian saint to the Belgrade Vračar hill and burned them. Soon afterwards, the church in Mileševa caught fire. It was renewed as late as 1863, due to Prince Mihailo Obrenović. Many works on the church and within the monastery complex are carried out today. The quarters were recently built, a new bell tower made, the protective walls reconstructed, and an arc bridge built on the river.

The Kosačanka river joins Mileševka by the monastery. Six kilometers downstream, they both disappear in the waters of the Lim.