Over there, far away
THESSALONICA: DORDJE MIHAJLOVICH, EIGHTY YEAR OLD KEEPING THE SERBIAN SOLDIERS CEMETARY ZEJTINLIK
Guardian of the Secret Tombs
It used to be suburb, today it is in the city center district. There, on approximately 10,000 acres, eternal peace was found for the earthly remains of the 7,565 Serbian soldiers fallen on Thessalonica front line, in the hallway of Motherland. The order upon which this cemetery was established was signed personally by King Alexander in 1926. All of the construction materials, up to the last stone, came from Serbia. Rock for the mausoleum and the crosses was carved in stone pit Momin kamen, near village Dzep in Grdelica Gorge, granite for mausoleum interior came from Kadina Luka, near town of Ljig, and cement from city of Beocin. Cypresses were brought from the Holy Mountain, from Chilandar Monastery seed-plot
Text and photographs by: Mišo Vujović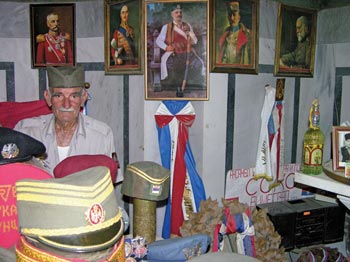 At the entrance of the Serbian Soldiers Cemetery Zejtinlik in Thessalonica, wondering travelers, tourists mostly, excursions and occasional pilgrim at the site of the holy Serbian warriors are met by smartly energetic eighty year old, Djordje Mihajlovich.
For him, wars are not over jet. Every day he fights along the northern Greek border, from the right bank of the river Vardar, over Kodzuh, Veternik, Dobro Polje, Kajmakcalan, all the way to Banic and Florina… Djordje whole- heartedly brings to life gallant times of a small nation brought up to immortal heights, rather perishing on its feet, than living on its knees.
In the killing fields, at the door step of slaved motherland, they left their bones nameless warriors in ragged shoes, penetrating fierce fully Bulgarian and German trenches. They were charging with the hope that their love ones were not loved by someone else, that their sisters were not raped by "Bulgarian brothers", that their children have survived slaughter that they won't stumble across black flag at the charted house…
They were flying to meet their devastated motherland, not caring for their own lives. They were scarifying them singing, and with glory they have crowned ally generals who never counted on Eastern (Thessalonica) front line. Almost 10,000 of them were left at Thessalonica front.
Everyday Djordje is saving from the oblivion heroes of Danube, Drina, Vardar, Kolubara, Sumadija, Timok, from cavalry division…
He remembers the deed of the Duke Vuk and his gallant fate on November 22 1916, in the battle on Grunista, against Bulgarians. To his Volunteer Chetnik Regiment he gave only one command:
"Follow me, brothers!"
ON THE DEAD OUTLOOK OF MEMORY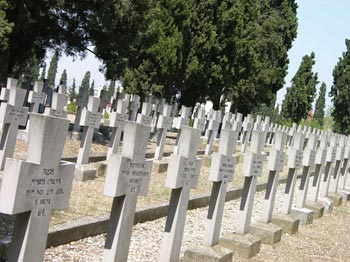 He foster the tombs, preaches destinies like they were Gospels.Thousand dramas in the sea of marble crosses planted in a foreign land are cherished by his soul.
He does not forget castaways in WWII. On Zejtinlik 126 prisoners POW`s and imprisoned partisans are buried, perished in Nazi camps Pavlou, Mela and Harmenkaj in Thessalonica.
Djordje prays everyday for warriors and martyrs of last wars on the land made by bones of Thessalonica immortals.
He says he doesn't`t understand these times, hunt for heroes and bowing those who bare bombs as presents. That is why he is safe here, among the brothers in arms of his grand dad Sava, who gathered scattered bones of his comrades for years and buried them in Zejtinlik. He says, they will never betray him, for shore. Every time he can, he will report to them, every morning. Djordje Mihajlovich begins his history class, under the mosaic of Archangel Michael, where verses of Vojislav Ilich Younger are carved: Unknown stranger, when you pass by chance
Alongside this sacred common grave where they stay
Let it be known, this is eternal refuge
For the heroes of the present day!! Their parents are Serbian brave nation,
Giant in world's history war,
Who passed all the paths of temptation,
Whose fighters are worthy of admiration.  They fell from the bullet, hunger and thirst,
 On Calvary Heights, crucified on the cross,
But with firm belief in final victory,
Never, not even for the moment, was not a loss... "German King Wilhelm was", Djordje continued, "in decree to his warriors, said that they were going against one small but very brave nation, which in wars against Turks, Bulgarians and Austro-Hungarian Empire showed great warrior virtues, showing the proof to the world that they had greatest military capabilities, and which, on their flags sprinkled with blood, wrote only greatest and glorious victories, for those four years. Beware that only readiness for greatest sacrifice and total contempt toward death should enable you to conquer that nation and its country…"

ETERNAL DUSK OF MILUTIN BOJICH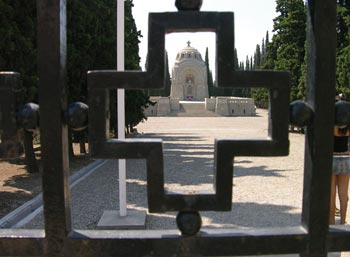 On approximately 10,000 acres, on Serbian Soldiers Cemetery in Zejtinlik, once a Thessalonica suburb, now in a district at city center, eternal peace was found for the earthly remains of the 7,565 Serbian soldiers died and fallen on Thessalonica front line, from 1916 to 1918. In Zejtinlik, as a part of unique Memorial, there a four more ally soldier cemeteries from WWI: French, British, Russian and Italian.
This part of Thessalonica bares name that goes back to Turkish times, when they use to sell cooking oil there – zejtin in Turkish language. Serbian army, on arrival, situated war hospital on that spot; in its vicinity they buried deceased wounded soldiers.
Among the first to be buried there, on the day of st. Demetrius, on November 8, 1917 in Zejtinlik was great Milutin Bojich, poet who wrote "Blue Crypt" and moving completion TheSongsofPainandPride". Milutin died of pneumonia in Military hospital in Thessalonica.
"On that morning", it was written by Vojin M. Djordjevich in his Memento Album of Serbian Soldiers Cemetery in Zejtinlik, "Bojich was awaken by cough. He called the nurse, but at the time she got to his bed, he died. He lived to be only twenty five and a half. In one of the obituaries someone wrote his: His eyes were open. They were looking in the direction of Serbia. Beside his dying bed, sister of mercy was weeping. Next day he was buried on Serbian Soldiers Cemetery near Thessalonica. Funeral was very big with all the honors, speeches and festoons, it was very sad."
That was the way, in the foreign land, far from the home ground, his beloved family and Belgrade, one fruitful life vanished, one great poetical talent and a great hope for our literature – Milutin Bojich, wrote Vojin Djordjevich.
Before eyes of poet closed for good, he had managed to climb to immortality with his "Blue Crypt"; he managed to testify about suffering and passion of his nation through Calvary of Albania.
Pulling back from enslaved motherland, they were dying under lashes of hunger, cold, sickness and Albanian bullets. On the stone island of death, thousands of live corpses arrived, their bones found their resting place in Milutin`s Blue Crypt.
Having crossed Albania, on Corfu – the island of Death, he writes "Blue Crypt".
In Thessalonica, in printing hose "Aquarione" he stamped "Poems of pain and pride". In the fire which in 1917 devastated Thessalonica, printing house was also burnt to the ground and in it, most of the books ready to be published. In that catastrophic fire, Serbian state and military achieves also perished. Behold emperors galleys!
Tie down mighty sterns!
Walk the silent way!
Lordly rite I serve in the hour of nightly chill!
Over these secret waters I pray… In mid September 1922, his family took his earthly remains to bury in family crypt in Belgrade. Great, courageous poet, just a few months before his death managed to write his own epitaph, which is carved over his grave: Give me the peace
To get all the strength,
To give from my heart,
All of the pain and the pride
And when all is said,
As aged leave to fall dead.

BURIED IN COMBAT ORDER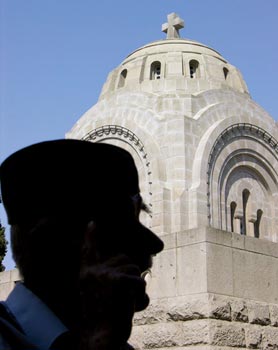 Thessalonica Soldier Cemetery was founded on an initiative of Veteran Associations, and decree of its establishment and building the mausoleum memorial was signed personally by King Alexander Karadjordjevich.
Djordje Mihajlovic grandfather, Savo Mihajlovich, volunteer from Grbalj got the mission, together with his brothers in arms, to start assanation of "regiments graveyards" and to gather and bury in Zejtinlik remains of his comrades buried from 1916 to 1918 behind the enemy lines. Savo Mihajlovich searched Macedonian mountains and found more than 250 smaller and bigger regiment graveyards, in which Serbian soldiers and officers were buried during battles. Warriors- peasants that died were seldom buried behind the front line, without the casket, with wooden crosses over their heads, with carved name rank and formation. Sava`s team succeeded in identifying and take to Zejtinlik heroes from battles of Gornicevo, Kajmakcalan, Gruniste, Cuke, Crna Reka, Sokol, Dobro Polje, Veternik, Kozjak, Kucka and Djurov kamen.Only small number of fighters could be identified.
From the open competition for project for construction of Serbian Soldiers Cemetery in Thessalonica in 1926, until the construction was finished, 10 years passed. On the basis of the project by Aleksandar Vasich, architect Nikola Krasnov and his team made the main project, and construction of the cemetery started under supervision of the delegate appointed by Ministry for Constructions, Nikola Hristodulo. Central place in the cemetery complex was reserved for mausoleum with the chapel, under which they buried the crypt with corbels to store 5,580 earthly remains. In the yards surrounding the mausoleum there are 1,441 graves.
In the graveyard and in the crypt earthly remains were laid in combat order. The way they all fought and died. Officers in first ranks, followed by non-commissioned officers and corporals, than privates and volunteers. On each tablet or cross personal records are carved, rank, name, unit, and sometimes place and birth year.
All of materials, to the last small stone, came from Serbia. Stone for mausoleum and crosses was carved in Momin kamen mine near village of Dzep in Grdelicka Gorge, granite for interior of mausoleum arrived from Kadina Luka near city of Ljig. And cement from Beocin. Cypresses were brought from Holy Mountain, form the seed plot of the Monastery Chilandar.
Mausoleum with the chapel and crypt is 600 square meters big. On the front side against the dome there is mosaic icon of the heavens army commander – Ach Angel Michael, copy of original from Monastery Manasija.
On the opposite side above the entrance to the chapel, under the arch, there is mosaic of another holy warrior – St. George the Victor. This mosaic icon was painted as a paragon of the frescoes with the same name from the Monastery of Visoki Decani.
Beneath it, verses of the Vojislav Ilich, Younger. Djordje Mihajlovich takes his hat down and looking high, to the sky above starts:

I envy their descent, for they mourn them
Because they were pride to their kin and dome:
I envy them, because they fell in glory
For Motherland, King and Freedom!

THE BREED OF GUARDIANS

Interior of the chapel was painted in Moravian style. The great candelabrum was molded from gun cartridges taken from Thessalonica battlefield. Walls have insignia of the names of units fighting on Thessalonica front. Old guardian starts his report:
"Morava squadron, Vardar squadron, Cavalry squadron (4 regiments) Drina and Danube, Sumadija and Tomok`s squadrons…
Regiments: The first infantry regiment "Knjaz Milos" –Vranje, Second infantry regiment of Knjaz Mihailo from Prokuplje, Third from Pirot, Fourth, "Stefan Nemanja" from Uzice, Fifth of King Milan from Valjevo, Sixth of Prince Aleksandar from Sabac, Seventh of King Petar from Belgrade, Eight of Duke Aleksandar from Pozarevac, Night of King Nikola Petrovich from Pozarevac, Tenth of Takovo from Cacak, Eleventh of Karadjordje from Kragujevac, Twelfth of Emperor Lazar from Krusevac, Thirteenth of Hajduk Veljko from Negotin, Fourteenth from Knjazevac, Fifteenth of Stevan Sindjelich from Zajecar, Sixteenth regiment of Emperor Nikola the Second from Nis, Seventeenth infantry regiment from Valjevo, Eighteenth of Prince Djordje from Belgrade, Nineteenth from Kragujevac, twentieth from Zajecar…First Yugoslav, Second Yugoslav, and six artillery regiments: Moravski, Drinski, Dunavski, Sumadijski, Timocki."
In the chapel on the walls plaques, acknowledgements, books, souvenirs from all parts where Serbs live, coat of arms and battle flags of Serbian units from Bosnia and Croatia. Photographs of King Petar, King Nikola, King Aleksandar, last of the great dukes – Zivojin Misich, Stepa Stepanovich, Radomir Putnik, Petar Bojovich. There is also a photograph of fearless woman fighter, Milunka Savich, in peace neglected heroine, who died forgotten, in poverty. He is afraid that we would forget two brave women- Flora Sanders and Catherine Harley, who as a chief of English Ambulance Mission took care of Serbian wounded soldiers. She was buried on English cemetery, and Serbian officers, as a sign of their gratitude, erected a monument and carved following verses: On your tomb, instead of flowers
Serbian gratitude shall blossom forever with flare,
For your deeds and your name
Far successors shall be aware...

First guardian of the Serbian Soldiers Cemetery was Savo Mihajlovich. He was inherited by his son Djuro, to be followed, after his death in 1960, his son Djordje Mihajlovich. He tends to the tombs of secret Serbian warriors almost half a century. Djordje Mihajlovich has a daughter, and she has two girls. His only unfulfilled wish is to have an heir, to continue the bread of guardians.
At the end, we poured a drop, on this piece of Serbian sky on the brotherly land. For them, for the soul, for us, oblivious and unworthy. In front of the doors of home,
In victorious walk.
They died all like one,
For unity and the freedom.
Their deeds shall be celebrated
Until the last judgment day
Glory to the flock of immortals

Peace to the ashes of the great!