History and legend
THE SERBIAN DESPOT VUK GRGUREVIĆ BRANKOVIĆ, THE SON OF GRGUR THE BLIND AND THE GRANDSON OF ĐURAĐ BRANKOVIĆ
The sword of the Fiery Dragon
He was a despot without a country, a hero with no vice or fear, a hope without a successor. He was the magnificent and the tragic last flash of the golden Serbian Middle Ages. He had no equal from the walls of Vienna all the way to Kruševac, from Timisoara to Sarajevo and Jajce. He was respected in Vienna, in Budapest and Stambol, and the diplomatic language between these courts at the time was Serbian. He was buried in Kupinovo, in Srem, where his castle was standing
By: Jovo Bajić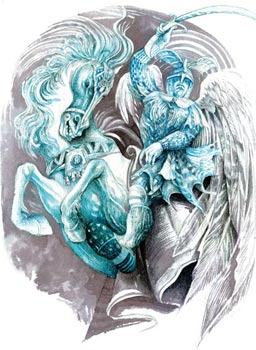 Legends and folk songs call him the Fiery Dragon Wolf. He had two parallel biographies. A mythic and a real one. In his mythic biography, he is considered to be a supernatural anthropomorphic creature, born with amazing marks: "An amazing child: a wolf's paw and an eagle's wing and dragons under his armpit, a blue flame coming put of his mouth, he won't let his mother nurse him." And when he came back from battles, wounded, "the snakes brought him herbs, and the fairies nursed his wounds, and the wolf licked his serious wounds."
The real biography of the Serbian Despot Vuk Grgurević Branković, the son of Despot Grgur the Blind and the grandson of Đurađ Branković gave us the basis for his mythical biography. For twenty years, during which he was present on the historical scene, mostly waging wars with the Hungarian King Matthias Corvinus, Despot Vuk Grgurević fought with Serbian soldiers in about ten great wars. He showed great courage and military skills. The battles he won were mostly in Serbian lands conquered by the Turks. His heroism gave hope to the Serbian people in Turkish slavery that the Serbian country is not totally ruined and that the time will come when the Turks will be conquered and expelled.
As Ilarion Ruvarac claims, Vuk Grgurević was born before 1439 as the illegitimate son of Grgur Branković, the son of Despot Đurađ. Grgur, who was blinded by the Turks, was a Despot for a short time during which he leaned on the Turks. Vuk is first mentioned in 1458 when he was staying in Kruševac with his father and the great Turkish army. He went to Srem with the Turks, where they were beaten by the Hungarian army of Matthius Corvinus. It is said that Vuk took the rank of a Despot after hid father died in October of 1459. Under inexplicable circumstances, he went to Hungary in 1464, to be in the service of the King Matthius Corvinus.

SERBIA STRIKING

The wise Hungarian King Matthius Corvinus realized that the Turks will attack his country, after conquering Bosnia. He did not have enough strength to go directly against the Turks and to conquer them, but he fought with them in the border areas between two countries. He found brave and skillful warriors that he needed among the Serbian people. That's why he called Vuk Grgurević Branković and gave him the rank of a Despot in 1471, giving him many lands: Irig and Slankamen in Srem and Bela Stena in Western Slavonia. His castle was in Kupinovo, a village in Srem. 
A Despot without a land, Vuk Grgurević tried to build endowments on his lands, like his ancestors. The legend says that the Church of St. Nicholas in Slankamen is his endowment, as well as the Monastery Grgeteg in Fruška Gora, for which it is said that it got its name after his father Grgur.
At that time, in Srem, Banat and Bačka, there were many Serbian settlements and many Serbs, so Matthius Corvinus formed special Serbian units which were the main part of the Hungarian army. Besides Vuk Grgurević, there were Serbian princes Stevan and Dmitar Jakšić in the Hungarian army, the sons of the Commander Jakša, who got some lands around Moriš, from the Hungarian king, where they settled. In the Hungarian army, Commander Vladislav Hercegović was very famous, and he owned the town Morović. Among them was also Commander Miloš Belomužević who had some lands in Bačka. 
In the beginning, from 1468 to 1474, the Serbian army, led by Vuk Grgurević Branković and other Serbian commanders waged war with the Hungarian army against the Checz and the Polish, and then King Matthius got the Serbian army to fight against the Turks and the Turkish Sultan Mehmed II. At first, King Matthius directed to Zaslon, on the right bank of Sava, in the area of present Šabac. It was built by the Turks in 1471. King Matthius besieged it for 33 days, and Zaslon fell on February 15, 1476.
After the capture of Šabac, Despot Vuk went to Bosnia with 150 horsemen dressed in Turkish suits, got into Srebrenica on a market day, which was a part of the Serbian country. On that occasion, Serbian warriors killed about 500 Turks in Srebrenica, got their trophy and burned the town. Then Vuk conquered and devastated Kučlat and got into Zvornik, despite his wounded leg. "Vuk came back into the King's camp in Šabac with war trophies. He brought many Serbian people from Bosnia and settled them all in Serbian towns." It is also recorded that the Turkish Sultan Mehmed II was very sad when the Serbian army took over Šabac. Serbian epic poetry sang about the taking of Šabac as well as about other Depost Vuk's adventures.

ADVENTURES AND SONGS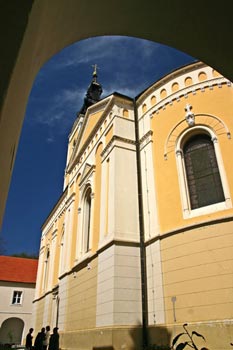 After the defeat in Šabac, the Turkish people qucikly answered and invaded Banat all the way to Timisoara. The army of Despot Vuk and Dmitar Jakšić stood up against the Turks. The intercepted the Turkish army led by the master of of the Sanjak of Smederevo Alibey Mihalbegović and they totally destroyed it. Vuk enslaved about 300 Turks and came to King Matthius with them near the village Berkasovo in Srem. At the end of the same year, Vuk tried to take over Smederevo from the Turks, the capital of their ancestors, but he did not make it.
War adventures of Matthius Corvinus were directed to the west. From 1477 to 1479 he fought against the German Emperor Friedrich of Habsburg. The army approached Vienna, under whose walls King Matthius stretched out his tent. The Serbian companies, led by Despot Vuk, attacked lower Austria, tearing down all obstacles. The people of lower Austria asked King Matthius to withdraw his army and they will accept his rule in return.
The Serbian army of Despot Vuk turned against the Turks again. In the decisive moment of the battle in Hlebno Field, led by the Duke of Erdelj Stefan Batori against the Turks, when the Christian army was to be defeated, Despot Vuk and Dmitar Jakšić entered the battle. The Turkish victory was then turned into a difficult defeat.
In November 1480, King Matthius directed his army to Bosnia. The army gathered under the ramparts of Jajce, where the Hungarian crew was residing. Under the ramparts of Jajce, the army with the Serbian soldiers of Vuk Grgurević, quickly went to central Bosnia. They got to Sarajevo, where they stayed for three days. In the report addressed to King Matthius Corvinus it is said: "We have burned the town, and we took all the treasure and everything else that was to be taken from the town and we burned all the vicinities." On the way back, Vuk beaten the Turkish army near Travnik. One hundred years after this event, the Turks from Sarajevo still mentioned Vuk's name as a curse.
The stay of Despot Vuk in Bosnia and his victory over the Turks were all followed with the Christian people who sang songs about it. There were many decasyllable epic songs and legends about Despot Vuk and his adventures. Some of the songs confronted him with Đerzelez Alija. These songs survived until the 19th century and there are some of them where Despot Stefan is mentioned as Vuk of Jajce.

CYRILLIC DIPLOMACY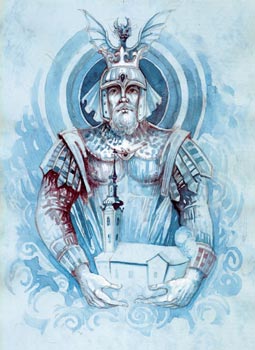 In the fall of 1481, the Hungarian and the Turkish army came into conflict on the Danube. The fight was started in yawls, under the town called Hram. The Serbian soldiers in the Hungarian army, led by Despot Vuk Grgurević, crossed over Danube, fighting the Turks and got all the way to Kruševac, in the south, where they stayed for twelve days. Then Despot Vuk came back and crossed over the Danube, bringing along more than 50 thousand Serbs who settled in Banat and Bačka. This event was described in a folk song.
Right after that, a revenge took place. Suddenly, the Turks crossed over Danube in 1482 and moved on to Timisoara, burning and devastating the area between Tisa and Moriš. They were intercepted by Despot Vuk with other commanders and most of the Turkish soldiers were killed in the battle.
Next year, in the fall of 1483, the Fiery Dragon Wolf was in Bosnia again, on the River Una, where he intercepted the Turks with his army returning from campaigns in Kranjnska and Koruška, from where they got good plunder and slaves. There was a tough two-day battle. Vuk scored a victory and thousands of Turks where left in the field.
Vuk Grgurević had a very good reputation among the Hungarian and the Turkish people. He was entrusted very sensitive diplomatic missions in the peace treaty between the Turkish Sultan Bayezid II and the Hungarian King Matthius Corvinus. There are five letters preserved which testify the diplomatic activity of Despot Vuk. These letters confirm that official contact between the Hungarian kingdom and the Turkish Empire was held in Serbian language and that both sides wrote letter in Cyrillic. There were Serbian office on both the Sultan's and the Hungarian court. Those letters witness that Bayezid II, who ascended the throne in 1481, after Mehmed II, he intended to win Despot Vuk over to his side. As says Nikola Radojčić, "he offered Vuk one area between the Turkish empire and the Hungarian kingdom in which he would be submitted to the Turks like his ancestors were earlier."
Despot Vuk Grgurević Branković died on April 16th 1485. It is not certain if he got killed in a battle or if he died of some wounds or some illness, He was buried in Kupinovo, in Srem. He was married to Barbara Frankopan and they had no children.