People and time

MIŠA ANASTASIJEVIĆ (1803-1885), THE GREAT MERCHANT AND THE FAMOUS BENEFACTOR
The toys of the Danube captain
He was one of the richest Serbs at the time. For some time he dealt in salt and he had eight times bigger property from the former state budget of Serbia. He even lent money to Prince Miloš, from whose revenge he will escape from Serbia forever, some time later. He did not succeed in politics or male children but his merchant fleet had 74 ships, and his business empire employed over 10 thousand people in the middle of the 19th century! Today, in his beautiful endowment stands the Rector's Office of the greatest Serbian university, but Miša Anastasijević is resting out of Serbia for 122 years, forgotten from "his fatherland". Forever?

By: Dragana Bukumirović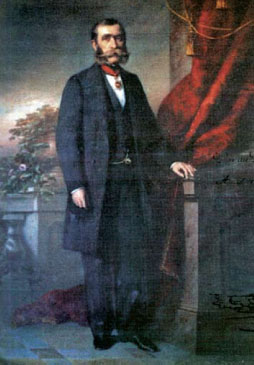 When the fleet of Miša Anastasijević (February 24th 1803, Poreč on the Danube — January 27th 1885, Bucharest) with Serbian flags sailed into the Belgrade pier, at the bottom of Kalemegdan, Serbian Newspaper wrote: "It is a miracle!"
He started as a poor boy, from childhood. It seems that he got his name (he did not inherit it) along the way, on the streets of an island town called Poreč, on the Danube, in his native town. As a child, he loved fishing, he was a shepherd, he learned the elementary reading book and calculus, he was a store apprentice, he pulled ships along the Danube. He made his first money as the prince's customs official and then he invested that money into business. He stared trading in soap, then cattle and stag's antlers and finally he was the main supplier of salt for Serbia from Wallachia and Moldova.
Through many tough years, he worked and he became so rich that, in the 20th century, the people called him "Rothschild of Danube" and "Serbian Onasis".
If he had only one son besides his five daughters (Jelena, Persida, Sara, Ružica, and Anka) for whom he craved, who knows if his fortune would disappear only ten years after his death. His descendants were spending his money, not in a very smart way, and they spent the last coin by the end of the 19th century.
THE TOUGHEST OF ALL SIMPLICITIES
The clever Prince Miloš Obrenović, who did nothing by chance, named Miša Anastasijević for the "Danube captain" of the area from Golubac to the mouth of Timok, on July 17th 1833. Miša got familiar with the Danube. He knew all wonders of this amazing river. That was where he was born, where he studied, traded, made his fortune. He talked to the river, he knew how to control and tame it. Ships in his hands, along Đerdap, "became light as toys". From his first big saving he bought a ship.
We can see the captain's figure on a portrait. A slim man, of thick hair and eyebrows with sideburns and a golden ring on the index finger of his left hand. He looked as a dandy. Some considered him a great gentleman and other said he was a nouveau riche. Anyway, he was a grand style merchant! He had a mysterious character. He did not get into politics, and once he tried, in his mature age, he failed. He was an interesting person in every way.
Details of his biography are clear: he was born on February 24th, 1803, in Poreč, on the Danube Island. He never remembered his parents. His mother Ruža died on labor and his father Nastas right after the boy began to walk. Miša's surname was created from his father's name but his given name stayed unrevealed. There was only a nickname left, Miša.
This only child was raised with no brothers or sisters. He would stay an orphan if his father did not marry Milja, a childless widow. This noble woman took care of him and raised him with great difficulties.
That is how Captain Miša Anastasijević's tempestuous life started in that strange town on the Danube, a border crossing, perfect for trading, attractive for people from all around the country: merchants, soldiers, boatmen, and tramps. When Miša was in Poreč, trading was blooming; ships were built and pulled along the Danube... The town attracted the attention of Commander Milenko Stojković with his harem, theatre, guard and scribes.
The boy grew up in the shadow of Turkish violence. When the Turks attacked, people were escaping along the Danube, to Austria. One night, there was Milja on the boat with the two-year old Miša. They were rowing to the other bank. The woman and the child were in exile for one year and when Belgrade was liberated in 1806 they returned to Poreč.
Even the rich kids did not go to school and Miša learned his calculus and his reading and writing. He tried to make money working as a teacher, he tried to teach people to write for 10 coins, but that did not work. Education was not popular. He found a new job with a man called Dinulović, where he was an apprentice in a store but he also learned the skills of trading.
THE HOUSE WITH STAG'S ANTLERS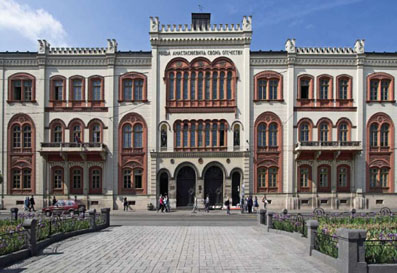 Miša was not a child nor a young man, he just turned 14, when Prince Miloš Obrenović came to Poreč in 1807 and named Stefan Stefanović Tenka for the regional scribe and Joksa Milosavljević for the chief. Miša advanced as well. He was named customs official on the Dobrovac ferry. This important job was the image of power but the chance to get to know important people.
He left this job five years later with a saving of 300 coins and he began trading. In the first year he multiplied his capital funds to 6000 coins, People entered the rich circles with 4000 coins at that time.
This successful businessman is getting married. His fiancée is Hristina, a girl from the village Brzaski, on the Hungarian side of Danube, from the Serbian house of Priest Ilija Urošević. The groom's dowry was the bride's brother Sima Urošević, one of Miloš's secretaries.
His brother-in-law helped him financially and connected him with the greatest merchant in Serbia, Prince Miloš Obrenović, who controlled all trading in the country. The acquaintance with Miloš helped him in quitting retail trade and to start trading in cattle.
These events helped young Miša Anastasijević a lot. At that time, Austria was directing its trading only to its own country and forbid their traders to go to Serbia. Prince Miloš realized that on time. He immediately forbids Serbian traders to go to Austria and he allowed Austrians to cross to Serbia only near ferries, where cattle were selling.
Miša Anastasijević bought cattle from farmers and sold it near the fairies. He traded in stag's and ox's antlers, which were very popular, from which the Austrians made combs and buttons and it brought him a good profit of 40 thousand coins. He built a two-story house in Poreč from that money and he put stag's antlers on the chimneys.
In later moving of Poreč and Milanovac, which was the new name of the town (of which the
National Review
wrote in the previous edition), the house of Miša Anastasijević was moved as well. Before the sinking of the old town kin 1964, because of the building of the electrical power station and the reservoir "Đerdap", the houses of two most popular people from Poreč were moved into the present town of Donji Milanovac. Captain Miša's Palace was built as a story building, with the ground floor in stone and the first floor in "banduk", and the house of Stefan Stefanović Tisa was a ground floor building. Today, when the elevation of the Đerdap Lake falls for five to six meters, one can see the remains of the former Milanovac. One can see the main street, the church and even the property of Captain Miša.
GIFTS AND DEBTS
Prince Miloš was a ruler of a firm hand, which provoked the resistance of the "Defenders of the constitution". They helped the Constitution of 1835 to stop Miloš's monopoly on trading, making it available to anyone. The so-called "Turkish constitution" shared the power between the Prince and the Council, but the despot nature of every ruler stood up against the idea. Miloš renounced the throne in 1839 and he abdicated for the benefit of his older son Milan. He went to Venice with his other son Mihailo.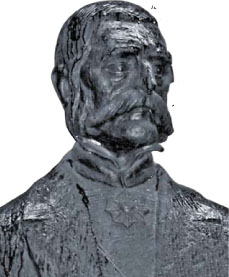 Bitter enemies did not let the dethroned ruler to bring along a thing. Not even the money for his journey. The Prince asked the Danube Captain for a loan. Miša was happy to give him 400 coins. He will be loyal to Miloš Obrenović for a long time but not forever.
Purchasing salt in Wallachia and Moldova was the best business of the century, all the way to the abdication, and Prince Miloš had the monopoly. When he withdrawn, Miša becomes the only renter and the only salt supplier in Serbia. As well as Prince Miloš, Miša was destroying every concurrent supplier. When the Turkish merchants tried to trade in salt, Miša blocked them in Đerdap. He did not give them horses to pull over their ships.
When his daughters got married, the rich merchants got into politics. All five daughters married important political people. Persida married Jovan Marinković, the President of the Serbian Senate, the Prime Minister and the minister in Paris; Sara married Đorđe Karađorđević, Karađorđe's grandson; Ružica married Arsenije Crnojević, the descendant of the old Crnojević family; and Anka married Radovan Raja Damjanović, one of the main organizers of Tenka's conspiracy against Aleksandar Karađorđević. He also became related with Ilija Garašanin who was the most deserving for introducing the regime of defending the constitution. Miša's daughter Jelena married Vasa, Garašanin's nephew.
After Miloš's abdication, Captain Miša was loyal to him for some time more. He did not stand out as a supporter of the Defenders of the Constitution. However, he changed sides. He became friends with Aleksandar Karađorđević when he came to the throne in 1842. The rich merchant was very generous to the court. He organized balls and dinners for the honor of Princess Persida.
Besides the court, he also supported the education and writers. One of the rare people to whom he only lent money was Vuk Stefanović Karadžić. He never gave him a present. It is inexplicable for a rich man who gave donations for the National theatre, for churches and schools... and who never forgot the poor. When he went to Milanovac, he gave jackets to all the girls, blouses to all the brides, "
shkurteljke
" to all old women (a type of dress with a collar made of sable fur with long sleeves).
When the Revolution finished in 1848, trading is developing again. Captain Miša took over the purchase of salt from Wallachia, Moldova and Austria. Thanks to his friends, he sold the salt across Serbia, Bulgaria, Bosnia and Hungary. He was the only salt renter on Danube and Sava, from Sisak to Sulina on the Black Sea. The best time of his trading career will last 15 years, until 1865.
DEATH IN BUCHAREST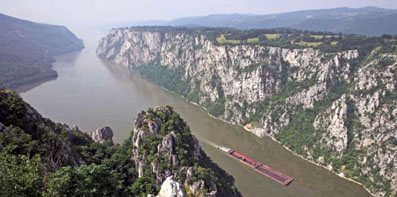 The time after the Crimean War was marked by the conflict of the Defenders of the Constitution with Prince Aleksandar Karađorđević. Among the Prince's enemies was the son-in-law of Captain Miša Anastasijević, Raja Damjanović, the Minister of Internal Affairs and the President of the Supreme Court. The conspirator was sentenced to a long prison term in the notorious Gurgusovačka Tower, called the "Serbian Bastille".
Even if Captain Miša Anastasijević did everything to try to pardon his son-in-law, he failed. Raja Damjanović died in jail and his father-in-law swore to support every action for dethroning the Prince. He had pretenders for the throne in his family, his son-in-law Aleksandar Karađorđević, the ruler's nephew. Some people claim that he "dreamed abut replacing one Karađorđević with the other", so that his favorite daughter Sara can become queen. "Captain Miša's Building" in Belgrade was built to be their Serbian court.
He started building that beautiful palace in 1857 after the project of a Czech architect Jan Nevola. Before the beginning of the Parliament in St. Andrea, he received the ministers in the recently finished palace, with his daughter Sara and his son-in-law, Đorđe Karađorđević.
With his great fortune, Miša opposed to the great amounts of money which Miloš sent to Serbia in order to dethrone Karađorđević. One time, he said that dethroning Prince Aleksandar and the attempt of bringing his son-in-law to the throne, cost him the same as building the palace on the Great market.
On the Parliament in St. Andrea, Miša Anastasijević became President but the Defenders were defeated. It was decided that Serbian Princes Miloš and Mihajlo should come back to Serbia. In order to escape the revenge of Miloš Obrenović, the Danube Captain went to exile. He never dealt with politics again. He left Belgrade and Serbia.
His wife stayed in Belgrade, and he started living a dolce vita. Trading in salt covered his great expenses. He could make anything possible, except one thing: the rich merchant had no son. As the years passed, he suffered more and more because he had no male children to continue the origin.
He pined his hopes on his two grandsons, Aleksije and Božidar Karađorđević. But it was in vain. He lived to see that they were nobodies. One of them was a cosmopolite who married an American girl to save himself from debts and the other got lost in music and literature.
In the meantime, the rich merchant sold all of his salt and his estates were his only source of income. He organized balls, theatre shows and hunting days for the new royal couple, in Wallachia, King Carlo and Queen Silva. When he was out of Romania, he traveled through Europe with a great bunch of relatives and friends and mercilessly spent his money. Where ever he showed up, they used to say: "Gold is running out of him!"
He worked very hard, he lived for a long time and he had a beautiful old age. He died age 82, on St. Sava's day, January 27th 1885, far away from Serbia, in Bucharest, in his houses in Doamnei Street number 6. When he left this world, his property was worth 20 million francs in pure gold!
Captain Miša Anastasijević was buried on his estate in Kležani, in the crypt of St. Archangel's Church, his endowment. The remains of the great benefactor were never moved to Belgrade. He stayed in Kležani, forgotten from "his fatherland", to which he was so generous.
However, Donji Milanovac is keeping the memory of the famous man. The main street is called Captain Miša's Street, there is a memorial building, Miša's Palace and the small square is keeping the monument to the famous businessman and benefactor.
Down the Danube, in the pier, there are many foreign boats. It never happens that a flag of a great powerful boat begins to flutter. We would not wait for that if there were Captain Miša...
***
The empire
The empire of Miša Anastasijević, which is considered to be a multinational company in Serbia, dealt with a lot of money. It employed 10 thousand people, had 23 branch offices (with storages for keeping the salt) in many places on Sava and Danube, a fleet of at least 74 ships, 60 boat agencies, inspectors in Vienna and Budapest, many estates in Wallachia with mobile and immobile inventory and many Wallach workers on these estates.
***
Captain Miša's Building
He was one of the greatest benefactors and endowers of the Serbian people. His greatest endowment, in the Belgrade center, called after him, Captain Miša's Building, today is the Rector's Office of the Belgrade University. It represents an elegant mix of romantic, gothic and renaissance style. The building had a writing in gilded letters: "Miša Anastasijević, to his fatherland". People use to say: "Big as Captain Miša's Building".