Prologue
THE END AND THE BEGINNING
The year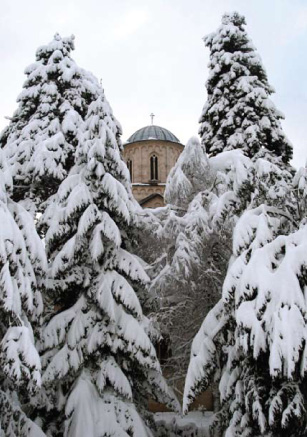 In 2007, many parts of Serbia were hit by floods and fires, negotiations about the southern Serbian province of Kosovo and Metohia were conducted, Marija Šerifović won the "Eurosong" contest, the greatest world newspaper wrote about the "Serbian tennis miracle", the swimmer Milorad Čavić won two golden medals on the European Championship and the magazine
Serbia — National Review
started appearing in print.
In about twenty years, the chronicles will remember this year just this way. "The man is dreaming while God is acting." The time should be filled with our work, we should give it meaning, we should use it to ennoble ourselves as well the world on the road to eternal rest.
Between two numbers of the
National Review
, we have visited the places in Serbia, which are the most important but also the hardest places to be: Kosovo and Metohia. We have traveled the Canyon of Uvac, the Negotin Province, Sremski Karlovci. Wine and roadside monuments, heroes and famous loves, emperors and haiduks, saints and poets, endowers and merchants, vampires and comedians, writers and icon painters, language and music... It is all in front of you and you are welcome.
On the occasion of approaching Christmas and New Year holidays, wishing you all the best from God and people, we should never lose the invincible smile.
Moreover, do not worry about time. You grow older from the outside, but younger from the inside.