Pilgrimage
THE PATHS OF THE HOLY MOUNT OF ATHOS (2): HILANDAR
A Shelter for the Entire Fatherland
Saint Simeon, upon his arrival on the Holy Mount of Athos, generously donated its monasteries. In monastery Vatoped, among founders, his image was painted. The scene of his arrival to the Greek monastery was also portrayed, where he accompanied his son – monk Sava, who after monk's tonsure in Old Rusik, in 1193, became brother in faith to Vatoped. Their encounter in Vatoped was painted in the 14th century by Đorđe Mitrofanović, on the wall of the refectory in Hilandar
By: Mišo Vujović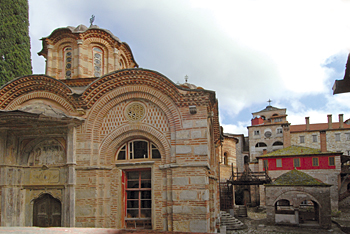 His encounter with father and from that moment his spiritual child, brother in Christ, was noted by Saint Sava in Life of Stefan Nemanja:
"Even him, blessed came to the Holy Mount on the second day of the month November. God-carrying and venerable fathers that lived on Holy Mount accepted him with joy and great honor. At first, he moved to Vatoped Monastery, because he found what he desired, his errant lamb (Saint Sava)…The blessed one, as he justified his kingdom, then he wishes to find a place of salvation there, to all the people who came from everywhere, and he cadged from the emperor kir Aleksa, a friend of his, a deserted place in order to build a monastery on the Holy Mount. With me, sinful from Vatoped, we moved there…" 
And Hilandar became the cradle of the soul and treasury of the memory.
The eternal cresset of heavenly and the scale of Serbia.
The mystical gallery of secrets where in secret rooms found peace all Serbia's victories and defeats. In church of Milutin, Stefan's eyes regain sight. There under the light of Lazarus cresset reign big, mighty and invincible Serbia in which, on the throne of the Holy, shines Obilić's sacrifice of lofty feeling. In that heavenly place on earth, Duke kissed the ax that killed him, lifting his killer, his godfather from the earth to his robe. That is the place where little Saša, repaying Hilandar from Bulgarians, stood up with the greatest and most powerful. That is the place where all Serbs, reconciled, proportionally as in heaven, sleepy but alive, watch and exhort. That is the place where for a long time death with its enhanced lightness mocks fenced transience of living.      
Medieval rulers, while building Hilandar, constructed and enforced vertical of their people. Many of them incurved their soul in holy walls of Hilandar. The greatest blossom that Hilandar experienced was in the time of the Nemanjić dynasty.
Stefan the First-Crowned, King Milutin, Emperor Dušan, Prince Lazar, King Uroš… they all generously supported this holy place, presented monastery with property, villages, woods, meadows, vineyards…
Hilandar becomes the spiritual center of the medieval state, repaying the fatherland a hundred times. As first Serbian University, for centuries Hilandar sheltered spiritual shepherds for the fatherland, archbishops, writers, first lawmakers, painters, philosophers… Almost all Serbian writers of the medieval times, from Saint Sava, Teodor Grammatik, Teodosije, Roman, monk Teoksit to Constantine Philosopher, came from Hilandar and everything they left as inheritance is a priceless mark of that heavenly place. Many Hilandar medieval manuscripts reached European collections in Vienna, London, Paris, Moscow, and St. Petersburg…
CRESSET OF HEAVENLY, SCALES OF THIS WORLD'S SERBIA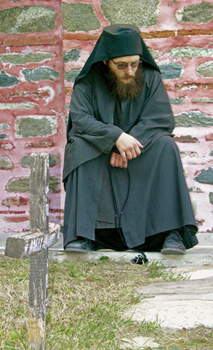 In the Middle Ages, the monastery had an important diplomatic role in relations between Serbia and the Byzantine Empire. In praying stillness, with permanent asceticism, in the same time educated on the highest level of the time, Hilandar monks sharpened their spiritual views. Priors performed most delicate tasks in diplomatic missions. Nation and fatherland were above anything.
Saint Sava in 1206, upon his return to Serbia, became the Archimandrite in Monastery Studenica. He resided in Serbia until 1217, when he returned to Holy Mount, where he started great mission for gaining autocephaly for Serbian archiepiscopacy. He would manage that two years later in 1219 in Nicaea, when he got Thomos on Autocephaly – independence for Serbian archiepiscopacy.
On return from Nicaea, he stops at Hilandar, bringing books, first Book of Rules, on which he would build the church and state organization. The first Serbian archbishop took a few monks from Hilandar, who would be later promoted to pontiffs. First prior of Hilandar, Metodije became the Bishop of Raška. On shepherd throne of Serbian archiepiscopacy, monks from Hilandar rotated Sava II, youngest son of Stefan the First-Crowned, on a spiritual throne of Serbian nation he was replaced by prior Joanikije, and then comes Jevstatije, first to become bishop in Zeta…
Hilandar priors, beside the fact that they were highly educated and had diplomatic talents, also were brave defenders of the holy place from frequent robber mobs attacks from the sea. Precisely for that reason King Milutin had built two pirgs (towers), Hrusija on the dock and "Milutin pirg" on the entrance of the Sava's field in the narrows of Hilandar creek. 
At the beginning of the 14th century, prior Danilo shows great bravery and military skills defending Hilandar from rebelled Spanish soldiers of fortune. In first decades of 14th century prior Danilo was highly respected on Holy Mount, he was a friend of greatest clerics and theologians of that time. His role in breakthrough of Byzantine spirit in medieval Serbia cannot be measured, where he returns, following the path of Saint Sava, after a period spent in Kareja anchoress, around 1311. First, he becomes bishop in Banjska and intermediary in diplomatic affairs for King Milutin, and then he presides as pontiff in Hum, only to become archbishop of Serbia.
FOR THE BENEFIT OF THE PEOPLE AND THE FATHERLAND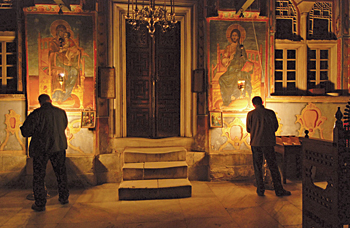 Matter of fact Danilo is founder of the pleiad of Hilandar priors – statesmen, diplomats and archbishops. His hare in Hilandar, Nikodim, who was archbishop from 1317 to 1324, received from emperor Andronicus II two leases with new land properties.
We should not forget diplomatic colossus prior Gevrasije and his part in resolving tense relations between Serbia and Byzantine Empire. He and old man Kalinik, padre of queen Simonida, day and night kept awake on Serbian and Byzantine courts relaxing tight strings between two cross-baring nations. To Great Majordomo, as prior Gevrasije was called, Hilandar owes better part of its material goods. He was the right hand not only to King Milutin and Stefan Dečanski, but also to king Dušan. Always on a mission, he managed to get high number of emperors and kings acts. From 146 acts in the 14th century in connection with Hilandar, 95 of them date from the time of prior Gevrasije…
Emperor Dušan, seeking shelter from the plague on Holy Mount with Empress Jelena and his closest escort, gives highest significance to Hilandar, bringing up development of secret place to its peak. In 1355, five years after Dušan rose archiepiscopacy to the rank of Patriarchy, so he could be crowned as an emperor, Constantinople's Patriarch Kalist excommunicated Serbs for that reason, Hilandar prior Dorotej became the Holy Mount administrator and managed to renew some of the privileges to brothers of Hilandar. During his reign of the Holy Mount Dorotej managed to protect Serbian monks and to some extent to overcome church schism.
Another one of the Hilandarians, old man Isaija had big diplomatic-conciliating mission, mediating with his disciples Nikanor, Silvester, former Holy Mount priest Teofan and Nicodimus the Greek in 1375 between Serbian church and Constantinople's Patriarchy, when church unity was established and Serbian autocephaly Patriarchy was recognized.
Prince Lazar, before the Battle of Kosovo, continued with strengthening Hilandar. He builds outside parvis on Hilandar cathedral church. He gives village Jelašnica to the hospital. Today in archives of Hilandar they treasure Lazars lease certified by Patriarch Spiridon.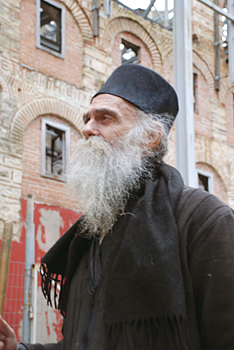 After the Battle of Kosovo and murder of Prince Lazar, there was dispute between noble houses of Branković and Lazarević. Next of kin, brother of Vuk Branković, monk Gerasim was in Hilandar which enables to the Branković family greater influence on monastery, but at the same time, situation reflects on monastery economy, because income from Novo Brdo was abolished by Princess Milica and Stefan Lazarević. Vuk Branković also, by the testimony of document dating from 1393, donated the monastery. In 1356, the Branković family renewed abandoned monastery of Saint Paul, when they bought it from monastery Ksiropotam. It is believed that Gerasim, after Vuk died in a Turkish dungeon, buried his brother in monastery of Saint Paul. 
Economy of Hilandar improved only after Gerasim Branković died, when close relations with the Lazaević family are established once again. Grand Prince Stefan re-established income from Novo Brdo of 100 liters of silver per year with the decree from 1405. Same year Dubrovnik accepted the obligation to pay to Hilandar annual sum of 500 gold coins. One of the donors to Hilandar is Skender Bey's father Ivan Kastriot, to whom prior of Hilandar Atanasije, for 60 florins consigned pirg (tower) of Saint George, where he found shelter in front Turkish invasion. Only foundations of that pirg are left today. In the parvis of Milutin's church Ivan's son was buried, brother of Skender Bey, Repoš, confirming Serbian and Orthodox roots of this Albanian noble people.

***
The seal of mighty Serbia
First Serbian monks were thought how to read and write by Russians and Greeks, learning to transliterate and translate theology and religious book. Hilandar Tipik, first book of Hilandar literature, written in 1199, when also Karejski tipik appeared. In 1200, Saint Sava writes Service of Saint Simeon. Domentijan writes Life of Saint Sava and Life of Saint Simeon. The Hilandar library is filled with books and soon starts to lead in Serbian medieval literature, giving civilization mark to the might and erected Serbia, today depressed from the memory of its bevel progeny. Maybe today the flame of Hilandar will awake us. 
***
Help
Let us not forget that the renovation is progress for the heavily damaged Monastery of Hilandar, the Holy Serbian monastery on the Holy Mount of Athos! Help can be sent directly to the bank account of Hilandar:
BENEFICIARY CUSTOMER:
HOLY MONASTERY HILANDAR, MOUNT ATHOS, GREECE
ACCOUNT (IBAN) No: GR64 0110 8220 0000 8225 1600 068
WITH: NATIONAL BANK OF GREECE S.A., ATHENS, GREECE
SWIFT (BIC): ETHNGRAA
Detailed instructions for other means of donation: www.hilandar.org