Belvedere
CULTURE AS LAST DEFENSE
In the Light of five Gracanica
Life flow and build new beauties. Kosovo Gracanica, beautiful for Serbs as Taj Mahal in Agra for the great nation of India, has its great-great sons in Serbia and in the world(New Gracanica in Libertyville, Canadian in Windsor, Herzegovina's  in Trebinje, Belgrade's  in Tasmajdan…)What does generally Serbian XII and XIV century mean in world heritage and what are, there, obligations of this generation?
By: Professor Dragan Nedeljković (Ph. D.)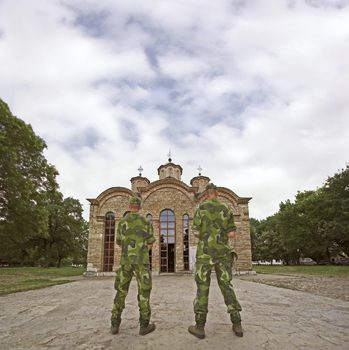 Whenever our position is getting harder, more often I state the thought of Slobodan Jovanovic: "Serbian nation in competition with other nations can survive only as a cultural force." Not overestimating ourselves, we point out creative peaks of our artists, writers and scientists.
On the very top of world science our names are written, too: Pupin, Tesla, Milankovic. European novel of XX century is marked also by writings of Ivo Andric, Milos Crnjanski and Dobrica Cosic. Author of the Bridge over Drina, Travnik Chronicles was laureate of the Nobel Prize; Migrations, in harsh competition with one very strict and choosy literature culture, was promoted as the best foreign novel in France; Time of Death and Time of Evil were compared to   War and Peace and The Possessed . 
Before novels, Serbian folk poetry was received at the "main gate" in Europe, poems of Filip Visnjic, old man Milija, Tesan Podrugovic, which were noted and presented to the world by Vuk Karadzic, so that verses of Serbian Homers echoed in soul of Goethe, brothers Grim, Mérimée and Puskin, and great Polish poet Adam Mickievich started his lectures on renown College de France with a speech on Serbian folk poetry as a highest point of the Slavic spirit, precious contribution to European culture.
Noble searcher for beauty Gabriel Mieux, great connoisseur of the world art, not only European, gourmet Andre Malraux, renown Byzantine experts Russian Lazarev and French Grabar, and with them our oblates to the medieval art, even broader than that, Svetozar Radojcic and Vojislav Djuric, Dejan Medakovic and Vojislav Korac, Dinko Davidov, Gojko Subotic, Milorad Petkovic and many other disciples of the great Byzantine  School, with their bellwether Georgije Ostrogorski, discovered to the world great light of  medieval times, beauty of our monasteries, its architecture and its paintings, unfortunately damaged to a large extent. We have inherited remains of the remains, but it makes even more precious those tragically  reliquiaereliquiarum. Beauty, against all odds, penetrated through all the storms of history to testify of enlightened and unbreakable creative spirit of our nation.
FROM THE BEGINNING OF THE BEGINNINGS
Life goes on and builds new beauties. Those most exceptional have their offspring. Kosovo Gracanica, beautiful for us as Taj Mahal in Agra for great nation of India, has its step sisters, or even better, its grand, grand sons, here and in the world. Praised be noble visionary Milos Spajic, for he reminded us of family of five Gracanica, and praise to Politika, daily newspaper, that wrote about them on March 31, this year bringing glamorous photos of these beauties: New Gracanica in Libertyville, Canadian Gracanica in Windsor, Herzegovina's Gracanica in Trebinje, Belgrade's Gracanica – The Church of Saint Marco in Tasmajdan and their distant arch mother, Gracanica in Kosovo, foundation of King Milutin from 1321, that inspired poets – is there anyone who does not remember verses from Milan Rakic and those unforgettable ones, with tragic note, from Desanka Maksimovic? – And painters, to mention only unreachable, both artistically and morally, Nadezda Petrovic, real heroine.   
One should not stay numb in front all of this beauty. Milos Spajic considers that it would be useful to organize international scientific gathering on a subject of "Byzantine-Serbian XII and XIV century in European and world heritage", and that it would be only natural to start from mother of all Serbian monasteries, Studenica, raised in XII century, with frescoes, those in Church of the Holy Mother, originated from the beginning of the XIII century, when Saint Sava came back from the Holy Mountain and Holy Land in his fatherland to continue his huge and comprehensive legation.
Spajic conception is fruitful. It does not have to be, it not should be, great symposium  of Bysantyne scientists, but elite one, most certainly.Studenica which is «beginning of our beginnings» is a good occasion to speak of great light of our middle ages, of divine and bonding heritage, specially to that exceptionally precious on Kosovo and Metohia, which is indefeasible, but still endangered. I do believe that noble endeavor would receive blessing from the Zica Bishop, blessed gentle Hrizostom, who sits in on the throne of Saint Sava, as well as the consent of prior of Nemanja`s and Sava`s Studenica. Once the senior of Studenica was Great Prior, and he had permanent and honorary seat in the highest bodies of Serbian Orthodox Church. Not the State its Government and complementary Ministries should not dissimulate, nor to revoke its moral and financial support. For only deeds of Love remain – we all should unite around them, conscious that mortal man reaches to Eternal One, the Maker, praising the beauty of creation presented by Him. 

***
"Serbian nation in competition with other nations can survive only as a cultural force." (Slobodan Jovanović)