More than sports
ALEKSANDAR MIJAILOVIĆ, THE PRESIDENT OF THE HUNTING ASSOCIATION "BEOGRAD" AND THE ENDANGERMENT OF SERBIAN HUNTING GROUNDS
Danger Called Man
An area of 35.000 hectares of hunting grounds in Belgrade starts right behind the last houses in the suburbs, in the area of Veliko Selo, Slanci, Višnjica, Padinska Skela. There are so many of them that it is amazing, but what is worrying us is the disturbed natural balance in them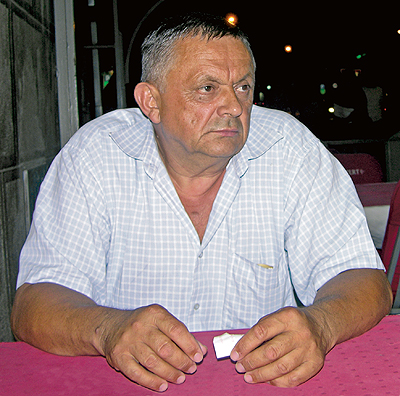 There are spacious and rich hunting grounds in the administrative borders of Belgrade. Even if they are endangered by the two and a half million capital, there is a necessary biological balance set up in them for the survival of several animal species (game, beasts, birds...). Those hunting grounds, which appear right behind the last houses of the Belgrade suburbs, in the acres of Veliko Selo, Slanci and Višnjica, or opposite of Zemun, in Padinska Skela, are taking care of the members of the Hunting Association "Beograd". There are about 600 of them, of different professions and generations, but connected with noble love towards the nature and animals, and hunting passion. The president of the association, founded back in 1895, is the engineer Aleksandar Mijailović, as a volunteer, for the second time, who works in "Imlek".
Belgrade hunting grounds were spreading over 38.000 hectares before the breaking up of Yugoslavia. Now, it is three or four hectares less. In the settlement on the left bank of Danube 30.000 residents lived until the war, and now there are 100.000 of them. The grounds for new settlements have been taken from the hunting grounds.
Two thirds of Belgrade hunting grounds are on the left bank of Danube and in the area of the swamp of Pančevo. They are mostly plowed fields but there are also some forests.
REASONS TO BE WORRIED
– The hunting grounds are much endangered in the last 20 years – says Aleksandar Mijailović for National Review. – The biggest part of this area is owned by the Agricultural Industry "Beograd", which is constantly drying the terrain in the coastal area, between natural coasts of Danube and artificial levees for the defense from floods. Mighty machines reach every part of the land, they level it and plow it, and they clear the vegetation and the trees, destroying the residence of many animals. There are no more green areas by the canal for drainage; tractors are plowing everything, all the way to the coast.
The youngs are disappearing under the wheels and tools of modern agriculture machines. Some time earlier, people placed objects to scare the animals and to make them go away before the beginning of mowing or harvest. Now, there are no such objects. There is no time for that.
Also with placing giant systems for irrigation people do not need existing canals anymore. They are being covered up, the protecting green regions around them are cut down, and the terrain configuration is changed. Constant presence of the man and machines is making impossible the survival of animals in the area.
– On the so-called watchman's house number 5, on the Danube behind Kovilovo, in the area of eight hectares and about 60 ares a breeding farm of pheasants and partridges was built, as well as the so-called gater (enclosed space for breeding wild boars) – says Mijailović. – On the pheasant farm, about 20 thousand pheasants hatch per year and about two to three thousand partridges. The amounts could be bigger, but it would be good to provide bigger space for breeding, which would be enclosed, as well.
Pheasants from the farm are released into the nature in several different ways, says our collocutor; by leaving them in favorable places in the hunting ground or using the "system of accustoming them to wild life", for example.
Some time ago, behind the swampy area in Kovilovo, there was a wild boar residence. A few decades ago, these animals were so endangered that it was threatened by disappearance. About 20 years ago, a shelter was built for wild boars, an enclosed space where males and females were closed in order to mate. However, in the last ten years, the number of wild boars increased. Only during this year, on breeding places in Belgrade hunting grounds, mostly for feeding wild boars, we brought about ten tons of corncob. It is estimated that there are 300 to 400 of them in that area. In this year's hunting season, it is approved to shoot about 120 wild boars.  
JACKALS OF THE CARPATHIAN
On hunting grounds of Belgrade, there are also roe deer. Unfortunately, in the last thirty years, their number reduced. New agricultural technologies of PKB fields contributed to that in great amount, as well as the insufficient human consideration and conscience of the need of protecting animals.
There are also rabbits in Belgrade hunting grounds, which are also endangered – says President Mijailović. – They mostly die from chemical products, all kinds of herbicides, which are used in the fields. Besides, they are destroyed by predators (wild beasts and birds of prey). That is why the Belgrade hunters are forced to get about 200 rabbits from some hunting grounds from Voivodina and to let them into their hunting grounds, to increase their number but also to improve their genetics, to breed better and faster.
In the swampy area of Pančevo, next to Danube, there are different game: quail, wild goose, mallard, woodcock, turtledove, wood pigeon... Those birds find their residence there, during the summer, they build their nests, they breed, and then they move in the end of summer and during the autumn, depending on their kind.
– There are also swans. Every year, near the pheasant farm, there are 20 to 30 of them. They are not intended to be shot and they are preserved by guards. This year, we noticed several swan couples that started hatching in the closed sugar refinery in Padinska Skela.
Besides these species, we mentioned predators living in Belgrade hunting grounds: wild beasts and birds of prey. There are no wolves, but many jackals who came from the Carpathian Mountains about 10 years ago and they breed fast. Those beasts destroy the game, especially the young. In order to protect the game, the Hunting Association "Beograd" is considering prizes for every shot jackal.
There are foxes, as well, but not too much. Their number is controlled in special ways: in the springtime, with the help of dogs, the hunters are digging them out from their holes, with their young. In the winter, especially in January, they hunt them by following their traces in the snow.
Belgrade hunting grounds also have badgers, wild cats, and even marten. There are birds of prey, which include magpies, crows, harriers, and one kind of hawk. There  are several kinds of hawks: buzzards and goshawks. In the last ten years, white-tailed sea eagles have appeared in the swampy area. There are about ten couples, they make their nests there, and they breed. They represent a protected species and Belgrade hunters are taking care of them.
National Review Press
***
Guards and breeders
The hunting season of roe deer and boar starts in the beginning of May. In the beginning of July, starts the hunting of wild boar (suckling pig, pig and sow), and in August of quail. The hunting season lasts until January.
– Every hunting association has a hunting plan or a hunting basis, which is planned for ten years in advance. They include all parameters concerning hunting grounds, animals and hunting associations. According to those, they make yearly plans of managing, defining how many animals they can shot in one season – says Aleksandar Mijailović. – Hunting is organized according to the procedure of the Hunting Association of Serbia and the Hunting Law, under control of game wardens and the hunting ground manager. Hunters are not "animal killers", as the ignorant accuse them. Nevertheless, they are their responsible guards and breeders. In the government structures, which are making hunting laws, the members are mostly veterinarians.
***
Dog selection
For about 25 years now, Aleksandar Mijailović, the President of the Hunting Association "Beograd" is an international kinology judge. He introduced a rule that every year, the dog's appearance is estimated and their innate characteristics are examines. That job is done free for Association members. That is how they manage to educate hunters in choosing and breeding dogs, which directly influences the dog selection.