Health
SLAVICA JANJUŠEVIĆ, THE FOUNDER AND THE MANAGER OF "KIRKA CORPORATION – KIRKA PHARMA"
The Modern and the Ancient Recipes
Using the most modern technology and scientific results, leaning on millennium knowledge and folk tradition, this upstanding company produces top-level tea, bio-cosmetics and many products based on medicinal herbs. Its products are excellently positioned on Serbian, regional and European market, and they penetrate also to the most distant continents
On the Serbian market, in neighboring and many other European countries, even on the North American continent, on pharmacy shelves, health-food stores and super- markets they sell tea, herb extracts, bio-cosmetic products, products for loosing weight and other products by "Kirka Pharma". They are packed in familiar and well-designed packages, produced by highest criteria and most rigorous regulations of contemporary pharmacy, and controlled by the Faculty of Pharmacy in Belgrade. Those products include extracts of best medical herbs picked in Eastern Serbia, in regions of Rtanj, Stara and Suva mountains, then from Golija, Zlatibor, and from Montenegro and East Herzegovina.
About the exceptional quality of medical herbs and products, loudly advocate numerous prizes won on the prestige European and world trade shows. "Kirka Pharma" has received confirmed quality certificates ISO 9001 : 2000 and NASSR standard, several times. The most eminent West European partners of the same trade do not wait to be called, showing their willingness to cooperate.
Behind "Kirka Pharma", stands a woman, its founder and Manager, Mrs. Slavica Janjušević. She is also the creator of an interesting history of this company, symbolically incorporated in its name. It all started in 1989, during the time when it was clearly felt that political and economic order on which Yugoslav state was founded has no future. In addition, at that moment, when everything was breaking apart and decaying, it was necessary that some new, energetic, and brave people come to the scene. The Janjušević family realized that – Slavica, economist in "Prva iskra" from Barič, and Slobodan, a construction manager in "Minel". On Mid Summer Day, August 2 1989, "Kirka Corporation" was founded.
ON THE PATH OF INCLINE
– I have decided to try on my own in new production – remembers Slavica Janjušević. – Next to the railway station in the Belgrade suburbs Zemun Polje, I have bought an acre of land and decided, leaning on experts from "Prva iskra" company from Barič, where I worked earlier, to try to produce pro-chrome equipment. We have made a distiller for the production of essential oils, which was awarded with a gold medal on the Medical Herb Fair in Novi Sad in 1993.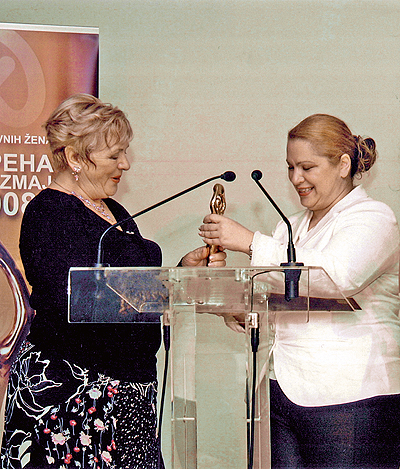 With that first step, at first she was not aware of that, Slavica Janjušević instinctively started a new business in which she will achieve great success. A woman from Srem, native from Vojka, whose mother is by birth from the famous village of Buđanovci and whose uncles were famous beekeepers from Ruma, she had in her family tradition special feelings for medical herbs, folk medicines, and balms. Not only great knowledge, but also preparation skills. Moreover, maybe that old family skill came to life when, after the making of distiller, Slavica in her native Vojka rented 12 acres of land and started growing plantation of medical herbs. Institute "Josif Pančić" followed her it that business.
Medical herbs should be exported instantly. Nevertheless, Slavica thought that for her, but also for Serbia, it is better to make complete products for export, and not to make raw materials for foreign producers. The installment in Zemun Polje, besides the existing distiller, was completed with other equipment for production and packaging of tea and other products from medical herbs.
By that time the new company, "Kirka Pharma", fully shined.
– Besides getting new equipment, they created an expert team and 35 people work in "Kirka Pharma" installment. Among them there are pharmacists, technologists, pharmacist technicians. With the administration team, "Kirka Pharma" employs forty workers. If we include herbalists and cultivators of medical herbs, than this firm employs several hundred families – says Slavica Janjušević for National Review.
HEALING BEAUTY
Offices of "Kirka Pharma" in Mihailo Pupin Boulevard in Novi Beograd are designed with taste. There are many paintings on the walls; some of them ordered by Slavica Janjušević, were painted by eminent artists. Same distinct taste for beauty that could be felt in this space made its mark on the package of "Kirka Pharma" products. That packaging can easily bare the comparison with packaging of well-known world tea and herb preparations producers.
Tea is today the basic element of "Kirka Pharma" production. Many years of experience in this field made a first-class offer in classical tea, but also a very rich offer in tea for special use, which have helped many people to get through various hardships. There are a great number of those who, with the help of "Kirka" tea, successfully stopped smoking, enforced their immunity, regulated blood pressure or solved some other problems. Nevertheless, the greatest number of people successfully got rid of unwanted pounds and cellulites with the help of now famous "Kirkolina" products. Beside the fact that they successfully erase causes of two biggest problems of the 21st century – overweight and cellulites – these products are exceptionally good for everyday regulation of metabolism, reducing windiness and getting rid of toxins, so that they are present in almost every home. Following world trends in the field of diet, but also demands and needs of the market, "Kirka Pharma" always expends the range of products. Among other, they offer tea from distant continents, like various Indian and Chinese tea, but also presently very popular North American cranberry, produced in three different types – to enjoy, but also to help with urological problems.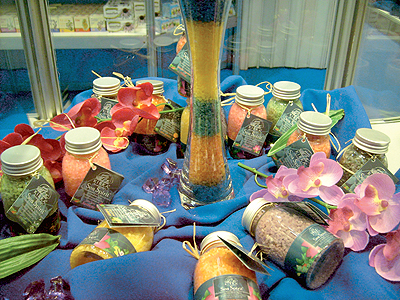 "Kirka Pharma" produces also herbal extracts, various tinctures, compound and essential oils from medical herbs (that have extracts of medical herbs in natural state and are used for production of various preparations). Standardized extracts are being ordered also by other pharmaceutical companies that use them for production of more sophisticated medicines, in cosmetics, even in diet products. They are specially represented in aromatherapy, more and more popular method for relaxation and healing with the help of exceptionally pleasant odors from some herbs.
– We have also developed cosmetics program on the base of medical herbs. Classic fito-products were improved and modernized, adding new ingredients – says Slavica Janjušević. – That treatment produced creams based on marigold such as "DermaCal", with added panthenol, which reacts smoothly on the skin, revitalizing it, refreshing it, and it could be used as a cream after sun tanning. Marigold-based cream is also hand nourishing cream. That is how collection "Kirka Medika" was born, where herbal components of strong fito-therapy effect are embedded in anti-rheumatic cream "ReumArt", marigold cream "DermaCal" and gel for veins "Planta Venol".
ON DISTANT CONTINENTS
"Kirka Pharma" produces baby-cream "Pavlomill", with the best attributes of old "Pavlovićeva mast", now enriched with new herbal additives (oil of marigold, chamomile, panthenol…) Enriched with vitamins, this cream proved exceptional for baby skin.
Many times confirmed and strongly positioned on Serbian market, "Kirka Pharma" products – aside from the chain of small pharmacies and health food stores – are sold in big chains like "Delta Maxi", "Mercator", Metro", "Vero", "TUS", "Pharmanova", "Vetprom", "Vetfarm","Velfarm"… Selling is good in some of the countries in the region, in many European countries, but also in USA, Canada and Australia.
Negotiations are well underway on business and technical cooperation with companies from Austria and Sweden. Renowned partners from Sweden are interested for joint production of special anti-bacteria gel, and deal that has been negotiated for six months is about to be closed.
Renowned and trusty producer on delicate market, with a chain of products, which for a long time present well-known trademark, "Kirka Pharma" gets into new enterprises. Building of new production facilities in Zemun Polje most certainly shall present additional new swing for this great company.
NR Press
***
Sorceress
The catchy name of this company originates from the ancient writings of Homer. Homer's heroine Kirka is a beauty and a sorceress, herbalist, from an ancient island, daughter of the God of Sun Helios and Persieda, the symbol of water and fertility. With her magic potions, she charmed and seduced the mythical wanderer Ulysses. From her mythical depths as if, she entangled in the business achievements of "Kirka Corporation".
***
Dragon Woman
The Association of Business Women and its section the Women Business Club have awarded Mrs. Slavica Janjušević with the "Flower of Success for a Dragon Woman" for 2008 in the category: "the most-European female company".
"Kirka Pharma" got the largest number of points on all of highly established criteria for the nominated category, such as presence and competitiveness on European market, social responsibility, realized innovation, holding to the principles of "good business praxis" and ethical codex of conduct.
Jasna Matić, the State Secretary in the Ministry of Economy and Regional Development, presented this prestigious award.
***
Suppliers
Instead of growing herbs, "Kirka Pharma" turned to suppliers of medical herbs from nature. They could be found in Eastern Serbia, in the vicinities of mountains Rtanj, Svrljig, Suva planina, where there is a tradition of harvesting, drying, and preparation of medical herbs for further use. Similar suppliers could be found in other parts of Serbia, but also in Eastern Herzegovina and in Montenegro. Medical herbs, which could be grown on plantations, like mint, chamomile, and marigold, are obtained from Voivodina. Nevertheless, something has to be imported: green and black tea, hibiscus, cranberry. However, importation never surpasses 15 per cent of processed herbs.